Earlier this week, we checked in on how last year's five American League playoff qualifiers have addressed their rosters since this still-quiet offseason began in November. We'll follow up today with the National League, starting with the reigning pennant winners…
Los Angeles Dodgers (2017 record: 104-58; current FanGraphs projection for 2018: 94-68): The Dodgers' financial clout hasn't been on display this winter, owing to a desire to get under the $197MM competitive balance tax figure in 2018. Los Angeles helped its cause in that regard last month by dumping the contracts of Adrian Gonzalez, Scott Kazmir and Brandon McCarthy on the Braves and only getting back old friend Matt Kemp, whom the team seems likely to flip elsewhere or release prior to the season.
Aside from a household name in Kemp, whose best days are long gone, the newest Dodgers may not be all that familiar to casual fans. Their only major league signing, former back-end Marlins starter Tom Koehler, took a $2MM guarantee to work as a reliever in 2018. There's optimism Koehler will thrive in that role, as FanGraphs' Jeff Sullivan highlighted last month. On the other hand, southpaw Scott Alexander has already demonstrated excellence as a major league reliever, and the Dodgers acquired the groundball machine from the Royals this week in a deal that saw them part with fellow lefty Luis Avilan. LA's hope is that Koehler and Alexander will ably step in for Avilan, 2017 standout Brandon Morrow – who joined the Cubs in free agency – and the still-unsigned Tony Watson.
Speaking of unsigned players, high-end starter Yu Darvish remains without a contract two months after the market opened. Two disastrous World Series starts notwithstanding, Darvish was mostly outstanding as a Dodger after they acquired him from the Rangers at last July's trade deadline. While the Dodgers have discussed a reunion with Darvish this offseason, it's hard to picture it coming to fruition when considering their wariness toward the tax and the expensive pact he's sure to secure.
Generally, Dodgers president Andrew Friedman has been hesitant to hand out large contracts – a key reason the team was only on the periphery in the sweepstakes for the extremely costly Giancarlo Stanton, despite reports that he'd have preferred to play in his hometown of LA. As such, any splashy pickups may be more likely to come via trade than free agency. The Dodgers, in fact, tried to swing a deal for Red Sox center fielder Jackie Bradley Jr. earlier this offseason. That trade would've cost the Dodgers Yasiel Puig, but the Red Sox were uninterested in making the move.
Washington Nationals (2017 record: 97-65; current projection for 2018: 91-71): Fortunately for the Nationals, they haven't and won't lose any integral contributors from last year's team to the open market. Nevertheless, Washington has been active in the rumor mill lately, with catching, pitching and outfield upgrades on the club's radar.
Entering what could be the final season of the Bryce Harper era in D.C., reports have connected the Nationals to the likes of J.T. Realmuto, Alex Avila, Jake Arrieta, Chris Archer, Jake Odorizzi, Greg Holland and Christian Yelich in recent weeks. Adding Realmuto, Avila or Jonathan Lucroy would be especially beneficial for a team that received the worst behind-the-plate production in the majors last season. The Nationals thought they found their solution at catcher a year ago when they signed Matt Wieters, but the Scott Boras client hasn't been effective over a full season since 2013. Although Wieters is guaranteed $10.5MM in 2018, Washington would be hard-pressed to count on him again as a regular.
Just as he did last year with Wieters, there's speculation that Boras could end up talking Nationals ownership into taking on one of his high-profile free agents this winter. Boras has a longstanding relationship with the franchise, and inking any of Arrieta, Holland or outfielder J.D. Martinez to big-money pacts would address areas the Nats have been looking at this winter. To this point, their free agent signings have been modest – they re-upped reliever Brandon Kintzler and brought in reserve first baseman Matt Adams.
Chicago Cubs (2017 record: 92-70; current projection for 2018: 92-70): Free agency has been a mixed bag for the Cubs, who have been aggressive in adding players as others have reached the market. Arrieta is still out there, as mentioned, though the Cubs lost 2017 closer Wade Davis to the Rockies. For now, they're slated to replace Davis with Morrow, who, for what it's worth (maybe nothing), doesn't come with the "proven closer" tag. Morrow is one of five pitchers the Cubs have inked to big league deals this offseason, joining two other relievers (Steve Cishek and Dario Alvarez) and a pair of starters (Tyler Chatwood and Drew Smyly, who's recovering from Tommy John surgery).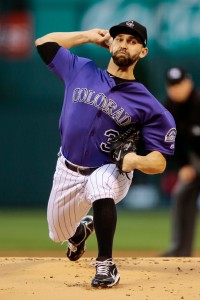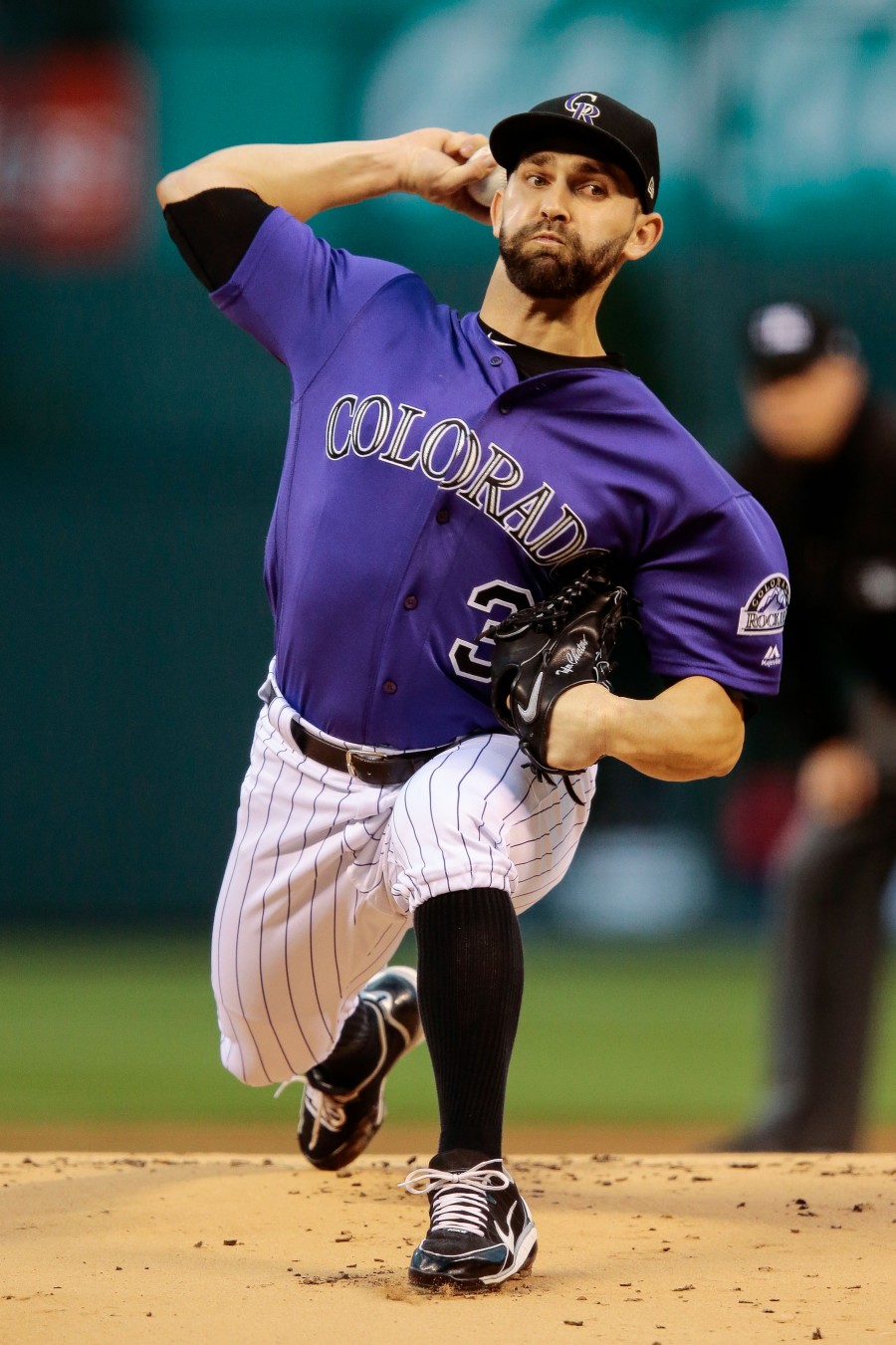 While president Theo Epstein and GM Jed Hoyer have been busy, they're definitely not done upgrading their team's pitching staff. Whether it's a rumored possibility – Arrieta, Darvish, Archer, Alex Cobb, Gerrit Cole or Danny Duffy – or an off-the-radar name, the Cubs will add another starter to round out a rotation that currently includes Kyle Hendricks, Jose Quintana, Jon Lester and Chatwood.
Additionally, Chicago could make a splash in the position player market, as reports have linked them to Yelich, Lorenzo Cain and Orioles infielder Manny Machado,. A left side alignment of Kris Bryant at third base and Machado at short would be transcendent, but the latter's only under control for another year. Consequently, teams have been reluctant to meet the O's lofty asking price for Machado. In the event the Cubs do reel in Machado, it's unclear what it would mean for starting middle infielders Addison Russell and Javier Baez, who are under wraps for the foreseeable future. Notably, the Cubs dangled Baez in talks with the Padres at last month's Winter Meetings.
Arizona Diamondbacks (2017 record: 93-69; current projection for 2018: 84-78): On the heels of a surprisingly great season, the Diamondbacks apparently aren't in financial position to do anything significant in free agency. While ace Zack Greinke is occupying a massive chunk of payroll and has drawn some trade interest this winter, the 34-year-old's contract makes a deal a long shot. Greinke's presence, while highly beneficial in 2017, is one reason J.D. Martinez is likely to sign elsewhere after an incredible second-half run with the D-backs last season.
Meanwhile, 2017 closer Fernando Rodney (Twins) and catcher Chris Iannetta (Rockies) have already left, though they obviously aren't nearly as important as Martinez. The Diamondbacks may attempt to replace Rodney in the ninth inning with either of their two new bullpen pickups, Brad Boxberger or Yoshihisa Hirano. Boxberger, whom they grabbed in a trade with the Rays, has been an effective major league reliever (including a stint as a closer), but injuries have beset him lately. Hirano was a great closer in Japan before immigrating to Arizona last month for a guaranteed $6MM.
To this point, Boxberger and Hirano stand as the Diamondbacks' only noteworthy additions, but GM Mike Hazen expects more moves to occur. Trading starter Patrick Corbin and his projected $8.3MM salary is reportedly a possibility, and clearing his salary would enable the D-backs to address other areas either through trades or free agency. They've aimed high on the trade front, having been connected to Machado, Yelich and Marcell Ozuna (who's now out of the picture after going from the Marlins to the Cardinals). Speculatively, the D-backs could also pursue an offensive upgrade over defensively gifted catcher Jeff Mathis – particularly in the wake of Iannetta's exit – though Hazen has downplayed that possibility.
Colorado Rockies (2017 record: 87-75; current projection for 2018: 80-82): Like division-rival Arizona, Colorado was among 2017's biggest surprises. The Rockies haven't rested on their laurels since the D-backs ousted them in the wild-card game, having signed a trio of established relievers – Davis, Bryan Shaw and Jake McGee – to three-year deals worth a guaranteed $106MM. Davis and Shaw, two newcomers, will replace Holland and Pat Neshek. Thanks to Davis, Shaw, McGee and the Adam Ottavino–Mike Dunn tandem, the Rockies have the priciest bullpen in the game, which they were able to assemble thanks in part to a starting staff that's peppered with inexpensive hurlers.
Of course, it's debatable whether the Rockies' approach is the right one. They're on pace to start next season well ahead of last year's franchise-record Opening Day payroll of $127MM-plus, and that's without having done anything major to upgrade either their rotation – which lost Chatwood – or position player group. The Rockies addressed the latter area to a degree when they brought in Iannetta, though his signing may rule out a Lucroy re-up.
Given that the Rockies' two best players, third baseman Nolan Arenado (two years) and center fielder Charlie Blackmon (one year), are running low on team control, there's an argument that they should be aggressively trying to upgrade their lineup around them. But the Rockies haven't been in on any of Martinez, Eric Hosmer or Logan Morrison to this point. They have shown interest in Jay Bruce, though, and he'd seemingly be a higher-impact signing (and a higher-cost one, granted) than fellow rumored possibilities Mark Reynolds and Carlos Gonzalez – both of whom posted mediocre production as Rockies over the past couple years.
Photo courtesy of USA Today Sports Images.