This piece is part of MLBTR's 2017-18 Offseason In Review series.  Click here to read the other completed reviews from around the league.
The Pirates moved two key veterans and dropped their payroll this winter, but did not embark upon a full rebuilding course.
Major League Signings
Trades and Claims
Option Decisions
Exercised $14.5MM club option over OF Andrew McCutchen
Extensions
Notable Minor-League Signings
Notable Losses
Pirates Depth Chart; Pirates Payroll Information
Needs Addressed
Need is certainly a term that's subject to being defined, even in the baseball context. For the Pirates, it seems, this offseason was focused on tweaking the overall roster mix to infuse some youth and draw down payroll. The Pirates' sparse payroll has long been a source of consternation for the team's fans. But complaints against owner Bob Nutting reached a new high this winter after a pair of trades sent away two core players.
Spending on MLB players had ramped up steadily from 2011 to 2015 — the season in which the Bucs peaked at 98 wins but also fell for the second consecutive season in the Wild Card play-in game. In the ensuing campaign, the Pittsburgh organization moved up to just under $100MM to open the season and expanded its spending to just shy of $110MM by the end of the year. But many felt that the team missed a chance to make further investments around a strong core.
Then, last season, the Pirates saw a reduction in their Opening Day payroll and did not expand past the $110MM line by the end of a disappointing campaign. As the 2018 season draws near, it's clear that the Pirates will be taking a big step back in spending, with around $85MM on the books.
Getting there meant structuring two key swaps. First, the Bucs agreed to send staff ace Gerrit Cole — the former first overall draft pick — to the Astros in exchange for a four-player package. Favoring a spread of useful MLB-ready talent over a big-name headliner, the Pirates brought in three players who'll likely step right onto the active roster.
Colin Moran will help account for the fact that Jung Ho Kang likely won't ever play for the Pirates again. The former sixth overall draft pick will try to make good on his own promise after a strong 2017 campaign at Triple-A. Joe Musgrove will give the team a useful and affordable rotation piece or swingman who helps fill in for the loss of Cole. And the high-powered Michael Feliz will be inserted right into a setup role, where he'll try to harness his big-time stuff — as is reflected in his 96.6 mph average fastball and 14.2% swinging-strike rate in 2017. Feliz could function in the high-leverage role that Juan Nicasio held for much of 2017, before a controversial September move that allowed Nicasio to land with the division-rival Cardinals.
The Cole swap, then, helped fill quite a few openings that had been facing the team entering the winter. Moran will join Jordy Mercer on the left side of the infield, after the Pirates decided to hang onto their long-time shortstop. I had suggested in assessing the team's outlook last fall that Mercer could be jettisoned, but the Bucs decided he was worth a $6.75MM arbitration tab.
Moving Cole made it all but certain that long-time franchise face Andrew McCutchen would also be dealt. The eventual move brought in one MLB-ready asset in righty Kyle Crick, along with prospect Bryan Reynolds, but it was mostly about trimming salary. The Giants took on all but $2.5MM of the cash owed to McCutchen, who will be eligible for free agency following the season.
All in all, the trade was something of an anti-climactic way for Cutch's storied tenure in Pittsburgh to come to a close. He is, at least in part, still within his prime years, so this wasn't just a fond goodbye to a broken-down veteran. At the same time, recent struggles (and a glut of outfielders in free agency) left McCutchen without much of a market, so there wasn't a major haul of talent coming back in return.
Though Crick will factor into the depth in 2018, he won't make the Opening Day roster. One new addition will, though: lefty Josh Smoker. The former first-round pick, who has been resurgent as a reliever, is the only one of several low-cost pick-ups who stuck on the 40-man roster all winter and spring long. (Rule 5er Nick Burdi is also still around, though his fate won't begin to be decided until he's back from Tommy John surgery.)
Had the offseason ended there, we might've seen riots at the gates of PNC Park. But the Bucs front office went on to strike a deal for outfielder Corey Dickerson — who had been designated for assignment by the Rays — that was at least a win in terms of public relations. Dickerson, after all, was an All-Star in 2017 and only required the addition of $1.45MM in salary since the Bucs shed Daniel Hudson (whom the Rays later released) in the deal. While it had seemed the team would utilize a platoon involving the lefty hitting Daniel Nava to replace McCutchen, they'll instead plan to utilize Dickerson as the primary left fielder. He'll need to bounce back from a dreadful second half in 2017, but there's little denying that he gives the Pirates' lineup a significant boost at a minimal cost.
Questions Remaining
In the aggregate, the offseason decisions left the Pirates with a roster mix that includes quite a few young players as well as some veteran holdovers. The Bucs will use the coming season to see whether they can make out a new slate of core performers while trying to contend in a tough NL Central. If the team can't keep pace, some mid-season trades and promotions could well result.
In the rotation, Ivan Nova will serve as the veteran leader of an otherwise youthful group. He could well end up as trade fodder if there's a summer sell-off. Musgrove will join a unit that's expected to feature Jameson Taillon, Trevor Williams, and Chad Kuhl to open the season. The top 40-man depth options are Nick Kingham and Clay Holmes, though it certainly seems possible that the Pirates will look into adding some veteran pieces as players come available.
If the young guns perform as hoped, this could be a solid, cost-efficient unit. But there's also quite a bit of uncertainty and the group isn't exactly teeming with upside. If there's a front-of-the-rotation breakout candidate on hand, it may be long-time top prospect Tyler Glasnow, but his near- and long-term outlooks remain unclear. Glasnow dominated last year at Triple-A but scuffled in the bigs. He got plenty of swings and misses in camp but will begin the year in the bullpen after allowing 13 earned runs in his 16 innings of Grapefruit League action.
Otherwise, the relief unit will again be led by Felipe Rivero, who inked a long-term deal with the club over the winter (as discussed further below). The aforementioned Feliz will join veteran George Kontos in the late-inning unit. The remainder of the pen is loaded with affordable, controllable but largely unestablished pitchers, including Smoker, Edgar Santana, Dovydas Neverauskas, and Steven Brault. Depth comes in the form of Crick, minor-league signees Kevin Siegrist and Bo Schultz, and a group of others that aren't on the 40-man roster. Not unlike the rotation, the Pirates are staking wagers on quite a few inexperienced arms in their relief corps.
In terms of position players, the Bucs will hope that their outfield unit is able to morph back into a strength. Starling Marte and Gregory Polanco are both talented players signed to affordable long-term deals. Whether or not they can turn in full and productive seasons will go a long way toward deciding the team's immediate fate. Dickerson could be a nice addition to this unit, though the 28-year-old will need to bounce back from a .232/.273/.397 slash and 28.4 percent strikeout rate from July 1 through season's end. With one more year of arbitration eligibility remaining, Dickerson could potentially end up as a trade candidate at some point in the relatively near future.
Potential trade candidates also populate the infield. Backstop Francisco Cervelli is earning $10.5MM this season and $11.5MM for 2019. If he can stay healthy, he could still be a quality asset. The versatile Josh Harrison, who's slated to be the regular second baseman, came up in talks all winter long after a strong 2017 season. Though he's plenty useful to Pittsburgh and remains controlled for two more seasons beyond 2018, he also isn't all that cheap with option values of $10.5MM and $11MM. Then, there's Mercer, who'll again command near-everyday time at short but is entering a walk year.
It'll surely be interesting to see how the middle-infield situation plays out over the coming season. Well-regarded prospects Kevin Newman, Cole Tucker, and Kevin Kramer are pressing up from within; it's not inconceivable that any of the bunch could warrant a first MLB promotion during the coming season.
The first base job will be left to Josh Bell after his strong 2017 campaign, but third base offers more possibility for intrigue. Colin Moran is going to get a shot to show his swing changes can sustain a power increase in the majors, with veteran David Freese there to face tough lefties. Recent first-round pick Ke'Bryan Hayes is still a ways off, and Freese isn't considered a regular option at this stage of his carer, so the odds are that Moran will receive a long look.
In addition to the promising youngsters noted above, there are loads of depth pieces on hand in the event that trades, injuries, or stumbles intervene to create a need. Adam Frazier and Sean Rodriguez will be the Bucs' lefty and righty Swiss Army knives, serving as substitute options in both the infield and outfield. Max Moroff and Chris Bostick are alternative 40-man utility choices, while Jose Osuna is likely the first man up in the outfield after a nice spring. Other outfield possibilities on the 40-man are Jordan Luplow and Austin Meadows, the long-time top prospect who is aiming for a bounceback campaign.
Deal of Note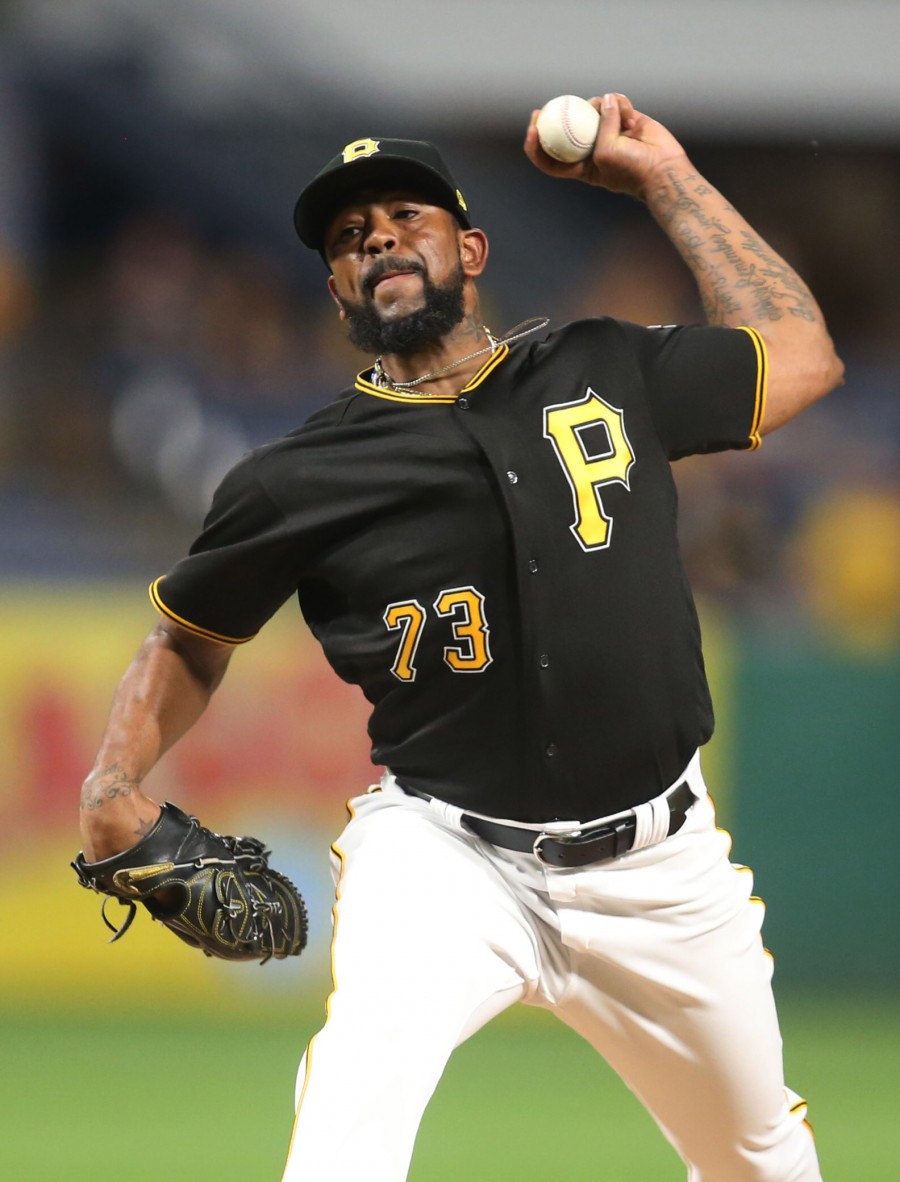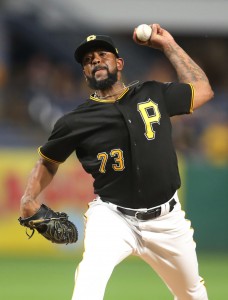 It became something of a gag that the Pirates inked Rivero not long after dealing away Cole and Cutch — as if that relatively limited financial commitment could make up for parting with the team's most talented pitcher and long-time superstar. But the Rivero pact was a legitimately notable extension that should move the needle in the long run.
The 26-year-old lefty, who was acquired from the Nationals for half a year of Mark Melancon, harnessed his premium stuff to become one of the game's best relievers in 2017. He pitched to a 1.67 ERA in 75 1/3 innings with 10.5 K/9 and 2.4 BB/9 while also accumulating 21 saves after taking over the closer's role partway through the season.
So long as he continues to handle the ninth, Rivero is likely keep aggregating the kinds of numbers that would lead to hefty arbitration earnings. The four seasons of arb control, beginning in 2018, quite likely would have cost a good bit more than the $22MM that Rivero will actually earn. Plus, the two years of $10MM options could be of quite some value, given the cost of premium relievers on the open market.
This sort of agreement just won't be as momentous as earlier Bucs extensions — McCutchen, Marte, Polanco — have been (or could be). But it's a move that improves the value of an already high-quality, existing asset. If the organization's payroll is going to remain as tightly controlled as it has been, then this type of deal could one day free the Pirates to make one more addition to a hopeful contending roster.
Overview
It's not difficult to imagine the MLB roster looking quite a bit different by year end than it does now. There are plenty of mid-season trade possibilities, though this roster shouldn't be counted out entirely from contention. Regardless, the number of inexperienced pitchers in the majors and upper-level position prospects who'll open in the minors could be a recipe for turnover. It's tough to get excited over the moves, in the aggregate, but the reasoning behind the approach becomes a bit more apparent when one considers how many potentially worthwhile, cost-efficient 40-man pieces will be tested for the future. Of course, things would probably look a lot more compelling with a few more talented players on the roster and a few more dollars on the payroll.
What are your thoughts on Pittsburgh's offseason? (Link for app users)
[polldaddy poll=9971079]
Photos courtesy of USA Today Sports Images.