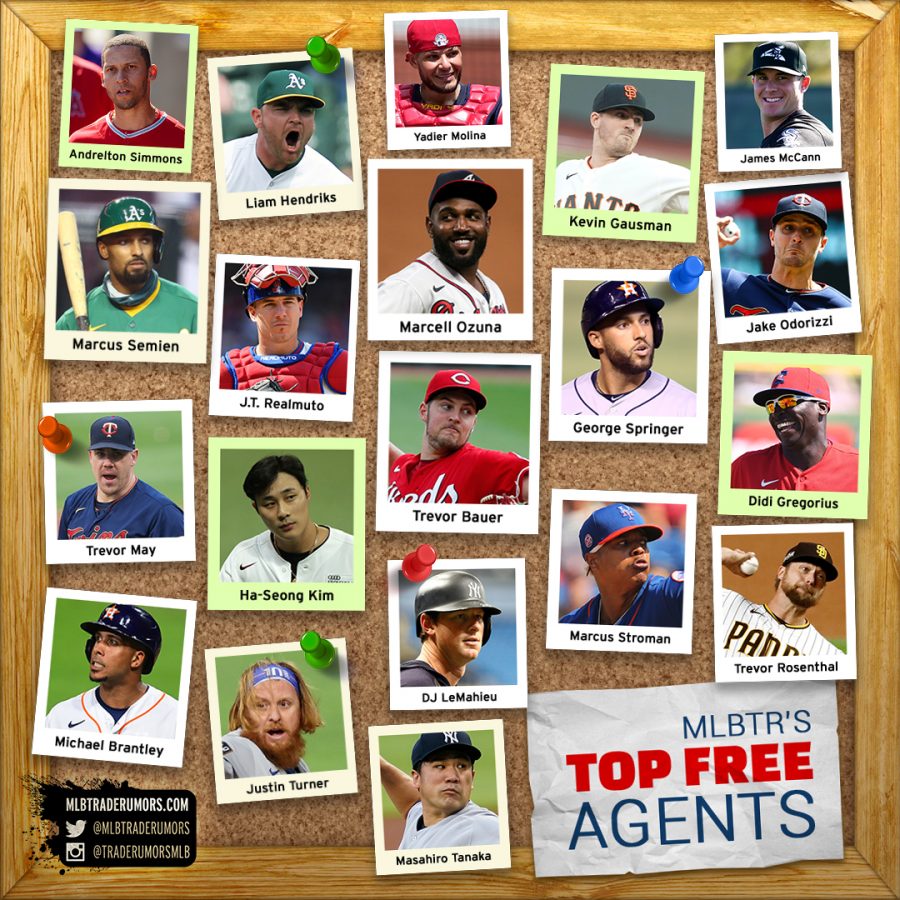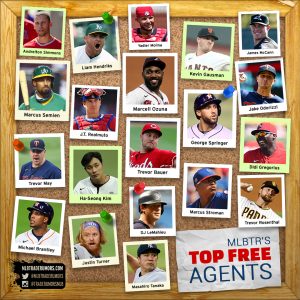 MLB Trade Rumors is proud to present our 15th annual Top 50 Free Agents list! For the entire list of free agents, plus the ability to filter by signing status, position, signing team, and qualifying offer status, check out our mobile-friendly free agent tracker here.
New to MLBTR? You can follow us on Twitter, like us on Facebook, follow us on Instagram, and download our free app for iOS and Android.
MLBTR writers Steve Adams and Connor Byrne joined me in this collaboration, debating free agent contracts and destinations for many hours over the past month.  If you'd like to support the effort that went into this list, please consider a subscription.  Check out all the benefits here!
Our annual Free Agent Prediction for this group is now closed, but you can see the leaderboard here.
We vetted these as much as possible, but with 50 predictions and a volatile free agent and trade marketplace, we know we'll be off on some.  The pandemic only makes the task harder, as we don't know how conservative each club will be in light of drastically reduced revenue in 2020.  Have your say on all of this in the comment section!
On to our top 50 free agents:
1. Trevor Bauer – Dodgers.  Four years, $128MM.  Bauer, 30 in January, has the inside track for the NL Cy Young award this year.  In his stellar 73 innings, Bauer posted an NL-best 1.73 ERA.  He placed second in the league in K% and third in fWAR.  His control was excellent, and his 2.94 SIERA supports the elite nature of his surface-level stats.  Arguably the game's foremost pitch scientist, Bauer was instrumental in putting Driveline Baseball on the map and has engineered his way to the highest fastball spin rate in baseball and a 92nd percentile curveball spin rate.
The abbreviated 2020 season successfully puts Bauer's initial Reds stint in the rearview mirror, as he had posted a 6.39 ERA over ten starts after Cincinnati landed him at the 2019 trade deadline.  Some of Bauer's success in 2020 is owed to an NL-leading .215 batting average on balls in play, an unsustainable figure.  In the three previous seasons, Bauer's BABIP was .306, higher than that of MLB at large.  Bauer is a flyball pitcher, which has at times led to a subpar home run rate.  He's had an erratic career statistically: a 2.21 ERA and sixth-place Cy Young finish in 2018, the 1.73 ERA in the shortened 2020 season, and no other seasons below 4.18.
The third overall pick by the Diamondbacks out of UCLA in 2011, Bauer has been marching to his own drum and generating headlines for his entire career.  He clashed with D'Backs catcher Miguel Montero and others in his rookie season, and landed in Cleveland in an offseason trade.  Bauer spent parts of seven seasons with the Indians, making the news for a drone-related injury, a Twitter conflict with a college student, and throwing the ball over the center field wall after being taken out of his last start for the team.  Bauer also seemingly served as a de facto pitching coach at times in Cleveland, taking a hand in the success of teammates Mike Clevinger and Shane Bieber.  Bauer was eventually traded to the Reds in another three-team deal.
Bauer's grievances with the Astros go back several years, and he's been deeply critical of their sign-stealing scandal.  It's safe to say he's unlikely to sign with Houston despite recent trolling efforts.  The Yankees could be in play, as Bauer has made clear he's past the conflict he had with former college teammate Gerrit Cole.  In September, Bauer walked back his longstanding commitment to exclusively signing one-year contracts in free agency, expressing an openness to longer deals.  Perhaps the idea behind the one-year pledge was flexibility, which Bauer could achieve through opt-outs or by limiting the term to fewer than the seven years he could theoretically receive.  That's why we've landed at a four-year contract.  If Bauer doesn't find the multiyear offers to his liking, it's still possible to imagine a one-year contract — especially one where he exceeds Cole's record $36MM average annual value.
Bauer has also expressed a desire to pitch for a contender known to be strong on technology.  Interestingly, he aims to pitch every fourth day, suggesting he considers himself capable of being the first pitcher to make 40 starts in a season since Charlie Hough in 1987.  I imagine that idea would have been well-received when Bauer was in one-year deal mercenary mode, but it will be harder to square for a team making a large multiyear commitment and/or taking on the downside risk of an opt-out clause.
We've never seen a free agent quite like Trevor Bauer in our 15 years doing this.  While the Reds have issued a qualifying offer to Bauer, they seem unlikely to finish as the winning bidder.  We see the Dodgers, Yankees, Phillies, Mets, Blue Jays, Braves, White Sox, Giants, Angels, Twins, Padres, and Nationals as potential suitors.
Signed with Dodgers for three years, $102MM with two opt-outs.
2.  J.T. Realmuto – Mets.  Five years, $125MM.  Realmuto took over the mantle as the best catcher in baseball in 2018, and hasn't let the title go since.  Thirty years old in March, Realmuto has a 114 wRC+, including a 125 mark this year.  Given that the typical catcher checks in at 90, Realmuto is a major asset with the bat.  He's also adept at controlling the running game, ranking first in MLB since 2018 with a 41.3% caught-stealing rate (minimum 1,200 innings caught).  Statcast rates Realmuto as a 95th percentile pitch framer as well.  Realmuto is the fastest-running catcher in baseball too, a point in his favor for teams worried about his aging curve.  Realmuto's offense and speed are above average for any player, so as a catcher with high-end defensive skills, he really stands out.
A third-round draft pick of the Marlins out of high school in 2011, Realmuto was traded to the Phillies in February 2019 for Sixto Sanchez and Jorge Alfaro.  While Alfaro has faltered for the Marlins, Sanchez's recent success prompted Phillies owner John Middleton to declare he was against the deal unless Realmuto could be signed to an extension.  In Realmuto's two years with the Phillies, a contract extension did not materialize, despite the advocacy of teammate Bryce Harper.  According to Scott Lauber of the Philadelphia Inquirer in June, Realmuto's camp "viewed the five-year, $130 million extension signed by St. Louis Cardinals first baseman Paul Goldschmidt before last season as a potential target."  Exceeding the $23MM average annual value of Joe Mauer's contract may also be a goal.  We believe that as the best catcher in baseball on the open market, Realmuto will set a new AAV record for catchers on a five or six-year deal.
The Phillies have issued a qualifying offer to Realmuto.  Should their efforts to sign him fall short, the Mets, Yankees, Nationals, Astros, Angels,  Blue Jays, Reds, or Cardinals are possible suitors.
Signed with Phillies for five years, $115.5MM.
3.  George Springer – White Sox.  Five years, $125MM.  Aside from Nelson Cruz, no free agent has topped Springer's 153 wRC+ since 2019.  The 31-year-old has consistently mashed since the Astros called him up in 2014, and he rates as one of the 15 best position players in baseball.  Springer has cut his strikeout rate significantly over the years while developing 35 home run power.  Springer has played both right and center field in his career, generally ranking above average defensively.  For teams seeking a middle-of-the-order hitter capable of playing a premium defensive position, you can't do much better than Springer on the free-agent market.
The elephant in the room: Springer was implicated in the Astros' sign-stealing scandal of 2017-18.  Tony Adams' examination of 58 Astros 2017 regular season home games revealed 131 trash can bangs during Springer plate appearances, second-most on the team.  Springer's strikeout rate in 2017 dropped to a career-best, though he bettered the mark in 2020 presumably without cheating.  An analysis by Jake Mailhot at FanGraphs suggested Springer thrived in medium-leverage situations on his trash can bangs, but was actually hurt in other instances.
Springer is an excellent hitter without cheating, as evidenced by his performance the last two seasons.  Much like players have gotten large contracts following steroid suspensions, Springer will find plenty of interest from GMs focused on winning.  He has apologized, and will likely be embraced by fans if he moves to a new team and continues producing.  He'll hear his boos on the road when fans return, but I don't think the PR of the sign-stealing scandal will have a major effect on his free agent market.  The Astros have made a qualifying offer to Springer, and a return does make sense.  Otherwise, the White Sox, Blue Jays, Mets, Phillies, Cardinals, and Nationals are potential fits.
Signed with Blue Jays for six years, $150MM.
4.  Marcell Ozuna – Nationals.  Four years, $72MM.  For teams seeking pure offense, Ozuna's 2020 season stands above everyone else.  The left fielder/DH, who'll turn 30 in November, put up a 179 wRC+ that ranked third in all of baseball this past season.  He topped the NL with 18 home runs and 56 RBIs, monster numbers for a 60-game season.  Ozuna's Statcast profile jumps off the page, with 96th percentile exit velocity, 97th percentile hard-hit rate, and 94th percentile barrel rate.  Ozuna's exit velocity and hard-hit rate have usually been in the top ten percent in baseball, even when he was putting up a modest 108 wRC+ for the 2018-19 Cardinals.
One limiting factor with Ozuna is his defense.  With the Cardinals, a shoulder injury hindered his arm strength, limiting him to left field.  This year, Ozuna started at DH about 65% of the time.  Confirmation of an NL DH for 2021 would open up Ozuna's market, but it helps that most believe the DH will become permanently universal the following year.  A National League club could certainly live with Ozuna as a full-time left fielder in 2021 and then look to work him in more at DH in subsequent seasons.
As a free agent last winter with a qualifying offer attached, Ozuna found the multi-year offers disappointing.  His best offer may have been in the range of the three years and $50MM reportedly offered by the Reds, which prompted Ozuna to take a one-year, $18MM deal with the Braves.  Now, unburdened by a qualifying offer and coming off a monster season, Ozuna is poised to get the high-end multi-year deal he craved a year ago.  The Braves figure to attempt to retain him, though all of their NL East competitors make some measure of sense.
Signed with Braves for four years, $65MM.
5.  DJ LeMahieu – Blue Jays.  Four years, $68MM.  Coming off an uninspiring 2018 season to cap his Rockies career, LeMahieu inked a two-year, $24MM free agent deal with the Yankees.  The move turned out to be a masterstroke for New York, with LeMahieu posting a 146 wRC+ over 871 plate appearances while playing his typical strong second base and holding his own at the infield corners.  It's easy to argue that LeMahieu is the best free agent at first base, second base, and third base this winter.  He's got three Gold Gloves on his resume and finished fourth in the MVP voting in 2019, hitting a career-high 26 home runs.  He topped that with a 177 wRC+ in 216 plate appearances this year, fourth in all of baseball.
2020 was actually LeMahieu's second batting title, as he snagged one in 2016 with the Rockies as well.  LeMahieu rarely strikes out, with a 9.7 K% that ranked second in baseball this year.  His power increased significantly with the Yankees, though one red flag is that he had the third-worst average home run distance in MLB in 2020 at 360 feet.  He was bottom-20 in that regard last year as well, and LeMahieu's 17 opposite-field homers when playing at home since Opening Day 2019 are easily the most in baseball.  (Freddie Freeman is next, at 12.)  In other words, it's not clear that his power that will fully translate everywhere.  LeMahieu is certainly still squaring the ball up, however — he placed in the 86th percentile in exit velocity and 82nd in hard-hit percentage.  It's just that he's more likely to be a 15 home run hitter than 25.
In a normal offseason, Josh Donaldson's four-year, $92MM contract would be within reach for LeMahieu.  While his high-contact hard-hitting style, defense, and versatility should result in a strong market for the 32-year-old, we think he'll fall short of Donaldson in this climate.  The Yankees will look to re-sign him after issuing a qualifying offer, but if they reach their limit the Blue Jays, Nationals, Angels, or Dodgers could be suitors.
Signed with Yankees for six years, $90MM.
6.  Marcus Stroman – Angels.  Four years, $68MM.  Stroman has a case as the best free agent starter available after Trevor Bauer.  Stroman, 29, began his season in July on the IL for a calf injury and then decided to opt out of the 2020 season as a "collective family decision."  His body of work should still position him well in a weak market for free agent starting pitching.  In 2019, Stroman posted a 3.22 ERA and 62% groundball rate across 32 starts for the Blue Jays and Mets, a strong All-Star bounceback from a 2018 season marred by a shoulder injury and a blister.
From 2017-19, Stroman profiled very similar to Dallas Keuchel, albeit with an additional four miles per hour on his fastball.  One of the game's top groundball starters, Stroman isn't a big strikeout pitcher.  While his low 3.00s ERAs in 2017 and 2019 suggest a front-of-the-rotation arm, his continually-climbing SIERAs suggest an ERA closer to 4.00 is the more likely bet.  Because of his elite groundball tendencies, a strong infield defense may help Stroman outperform his peripherals.
While missing the 2020 season doesn't help Stroman's cause, he's well-regarded around the game and may be able to match or exceed Nate Eovaldi's four-year, $68MM pact.  The Mets have issued a qualifying offer, which will be detrimental to Stroman's market to some degree.  In the likely event Stroman declines, the Angels, Braves, Nationals, Giants, Phillies, and White Sox could be possibilities.
Accepted one-year, $18.9MM qualifying offer from Mets.
7.  Ha-Seong Kim – Rangers.  Five years, $40MM (plus $7.625MM posting fee).  The list of 25-year-old legitimate shortstops who can hit for power that have jumped from either NPB or the KBO to Major League Baseball is– check that, it doesn't exist. At least until now. Kim is a unicorn given his blend of age, power, speed and defensive aptitude at a premium position. Most Asian professional players are in their late 20s or early 30s by the time they're either posted for MLB clubs (typically after seven or eight seasons) or reach unrestricted international free agency (after nine seasons). Kim, despite his youth, already has seven pro seasons under his belt thanks to an 18-year-old KBO debut, and the Kiwoom Heroes have agreed to post him for big league clubs this winter.
There's always some degree of uncertainty with hitters coming over from Japan or South Korea to face what is accepted as a superior level of pitching. There's a general expectation that Kim, however, is better equipped to handle the change than most. Baseball America wrote back in May that he'd be a Top 100 prospect in MLB the moment he came over — and that was before he set the KBO ablaze with an outrageous .314/.405/.541 slash — good for a 147 wRC+. Kim walked more often than he struck out (12 percent versus 10.4 percent), belted 30 home runs and swiped 21 bases in 23 tries. (He's 54-for-60 over the past two seasons.) FanGraphs' Eric Longenhagen calls Kim a "5-foot-9 stick of dynamite" with "thunderous" physical tools.
The simple fact is that players with this type of upside typically don't attempt to come to the Major Leagues until they're on the downside of their prime or even beyond it. Kim is bucking that trend, and while he's doing so in the most uncertain economic climate in recent MLB memory, the possibility of landing an in-his-prime bargain who can provide above-average offense at shortstop, second base or third base is so tantalizing that we expect a club to make a bolder play than we've seen for a KBO position player to date.
You could make the argument that Kim is a coveted player for any rebuilding club as it looks to turn the corner or as a high-upside plug-in for a more immediate win-now club. We expect him to trounce previous contracts for older, star-level KBO hitters like Jung Ho Kang (four years, $11.5MM) and ByungHo Park (four years, $12MM). Given that he can play three infield slots, Kim could be theoretically placed on any club. The most sensible fits, in our minds, are clubs several years into a rebuild — Tigers, Orioles, Mariners — or win-now teams with an obvious hole at an infield position. That could be the Angels, A's, Phillies, Reds or Cardinals, but it's frankly pretty easy to make an on-paper case for Kim with any team that isn't completely risk-averse and is willing to spend a bit of money. Kim does not have a geographic preference for where he signs and will likely go to the highest bidder who is willing to plug him directly onto its 2021 Opening Day roster.
Signed four-year, $28MM deal with Padres.  Additional $5.25MM release fee paid to Kiwoom Heroes.
8.  Didi Gregorius – Reds.  Three years, $39MM.  Gregorius, 31 in February, bet on himself last offseason in signing a one-year, $14MM deal with the Phillies.  He was able to deliver a full, healthy season with a 116 wRC+, basically looking like vintage Yankees Didi before his October 2018 Tommy John surgery.  Of the big three veteran shortstops on the market this winter, Gregorius clearly had the best season.
A native of Curacao, Gregorius was born in Amsterdam because his father was pitching there, according to Baseball America.  The Reds signed him for $50K in 2007, and Gregorius steadily improved his stock in the minors.  He was blocked in Cincinnati by Zack Cozart, however, and landed with the Diamondbacks in the same three-team deal that netted Trevor Bauer for the Indians.  Two years later Gregorius was part of another three-team deal, joining the Yankees as Derek Jeter's replacement.  By 2017 he developed an above-average bat and received MVP votes in a pair of 4+ WAR seasons for the Yankees.  This is his shot at a solid multiyear deal, and the Phillies choice not to issue a qualifying offer only helps his market.  The Phillies may look to retain him, but otherwise the Reds and Angels would be good fits.
Signed with Phillies for two years, $28MM.
9.  Kevin Gausman – Giants.  Accepts one year, $18.9MM qualifying offer.  Gausman is the hardest-throwing free agent starter at 95.2 miles per hour on average, and his strikeout rate and SIERA trailed only Bauer.  Gausman turns 30 in January and seemed primed for the first multiyear deal of his career – until the Giants tagged him with a qualifying offer.  For a player who had been non-tendered the previous winter, locking in $18.9MM for 2020 while continuing to pitch in a favorable environment might be too hard to pass up.  Plus, he's the type of player who might be dragged down by a qualifying offer on the open market, with teams not thrilled to give up a draft pick to sign him.
We only have ten starts of the new and improved Gausman, which is why we think he might lean toward the risk-averse side.  His first appearance of the season with the Giants was in long relief, and he missed one start with elbow tightness in September.  The prior year, the righty had bombed in a half-season with Atlanta — primarily due to a spike in BABIP — and then was claimed off waivers by the Reds, who used Gausman somewhat effectively in relief.  But before 2019, Gausman had established himself through solid work over a five-year span in the AL East with the Orioles — a 4.03 ERA over 775 2/3 innings.  From 2016-18, Gausman had almost exactly the same fWAR as fellow free agent Marcus Stroman.  He's a guy with a respectable track record, coming off a season that suggests there's another level for him.  We think Gausman will accept the qualifying offer, but if not, the Mets, Blue Jays, Yankees, Angels, White Sox, Nationals, and Phillies all look viable.
Accepted one-year, $18.9MM qualifying offer from Giants.
10.  Masahiro Tanaka – Yankees.  Three years, $39MM.  If you were an MLBTR reader seven years ago, you remember what a huge deal it was that the Rakuten Golden Eagles posted Tanaka coming off a monster year in Japan at just 26 years of age.  The Yankees won the bidding with a then-massive seven-year, $155MM deal, complete with an opt-out clause and another $20MM posting fee paid to the Golden Eagles.  Just 18 starts into his MLB career, Tanaka was diagnosed with a partially torn ulnar collateral ligament in his throwing arm.  Doctors said surgery was not yet needed.  More than six years have passed since then, and Tanaka never did require Tommy John surgery.
Tanaka's Yankees career has been that of a solid mid-rotation starter, peaking with a seventh-place Cy Young finish in 2016.  He averaged 30 starts per year from 2016-19 and had a healthy 2020 season aside from a mild concussion from a line drive.  Tanaka has impeccable control, but has been prone to the long ball throughout his career with over 16% of his fly-balls leaving the yard (at home and on the road).  He's not as exciting as he was seven years ago, but he'll draw widespread interest as someone who was able to post a sub-4.00 ERA for the big-market Yankees.  And unlike Bauer, Stroman, and Gausman, Tanaka hasn't been tagged with a qualifying offer.  If the Yankees somehow don't keep him, the Mets, Cubs, Braves, Giants, Angels, Blue Jays, Nationals, Phillies, Red Sox, and White Sox are potential suitors.
Signed with Rakuten Golden Eagles for two years.
11.  Jake Odorizzi – Blue Jays.  Three years, $39MM.  Last winter, after a breakout 2019 season, we predicted a three-year deal for Odorizzi.  He may have had a few such offers on the table, but Odorizzi instead chose to accept a qualifying offer from the Twins for a $17.8MM salary.  His 2020 season did not go as planned, as he started the season on the IL for a back injury.  After he made it back for three starts, he was hit in the chest by a batted ball, with the resulting abdomen injury knocking him out for nearly a month.  His lone September start was cut short by a blister, and he didn't wind up pitching again.  So it was a lost season of only 13 2/3 innings for Odorizzi.
Re-entering the market during a pandemic is not ideal, but Odorizzi does benefit from the lack of a qualifying offer and a weak free agent market for starting pitching.  He's shown the ability to miss bats, and averaged 30 starts per year over a six-year period.  Odorizzi still has never gone on the IL for an arm injury, and he maintained his 2019 velocity uptick in this year's limited sample of work.  A multiyear deal should be there for him, with a similar market to Tanaka.
Signed with Astros for three years, $23.5MM.
12.  Liam Hendriks – Phillies.  Three years, $30MM.  Hendriks went from going unclaimed on waivers by 29 teams to making the All-Star team in the span of one year.  Now, he's the best reliever on the free agent market.  The Australian righty, 32 in February, boasts a 1.79 ERA, 13.1 K/9, 2.0 BB/9, and 0.49 HR/9 over 110 1/3 innings since 2019 for the Athletics.  He led all MLB relievers in WAR easily over that period, and his 96.4 mile per hour fastball ranks 11th among those with at least 80 innings.  Hendriks is fifth in MLB in leverage index during that period, so he's done all this pitching in the most critical parts of games.
Signed by the Twins out of Australia in 2007 for $170K, Hendriks had a breakout season a decade ago in the minors.  At the time, Baseball America said he "pumps four quality pitches for strikes."  Nonetheless, Hendriks struggled as a starter in the Majors for the Twins.  Once they decided to move on in 2013, he was claimed off waivers three times in a span of 70 days, landing with Toronto and joining Marcus Stroman in the 2014 Buffalo Bisons' rotation.  He was traded to the Royals that summer, designated for assignment after the season, then traded back to the Blue Jays.  After finally finding success out of the Jays' bullpen in 2015, Hendriks was traded in the offseason to the A's for Jesse Chavez.  After a few years of solid work, Hendriks' ERA sat at 7.36 through 11 innings for the 2018 A's, and they designated him for assignment in favor of Edwin Jackson.
From that low point, Hendriks earned his way back onto the A's 40-man roster and ascended to become not just their best reliever, but one of the best in baseball.  The A's choice not to issue a qualifying offer can only help Hendriks' market. Prior to Brad Hand and his $10MM salary passing through waivers unclaimed, we would have said Will Smith's three-year, $40MM contract with the Braves would serve as a target for Hendriks.  Now, we're not so sure he can get there.  Still, the Phillies, Angels, Dodgers, White Sox, Astros, Giants, Mariners, Marlins, Mets, and Nationals could be suitors as teams in need of late-inning relief.
Signed with White Sox for three years, $54MM.
13.  Michael Brantley – Braves.  Two years, $28MM.  Brantley, 34 in May, ranked 20th in MLB among qualified hitters with a 134 wRC+ over the past two seasons for the Astros.  His .309 batting average during that time ranked eighth in MLB, and his 11.4% strikeout rate was fourth-best.  He's the perfect fit for teams seeking a productive contact hitter who can handle left field.  The Astros signed Brantley to a two-year, $32MM deal in December 2018, and the contract became a rousing success.  It's worth noting that Brantley's signing came after the Astros' sign-stealing is thought to have ended, and he has not been implicated in the scandal.
Brantley, a seventh-round pick by the Brewers in 2005, was traded to the Indians in the 2008 CC Sabathia deal.  He developed into an above-average hitter by 2012, peaking with a 6.5 WAR 2014 season and a third-place MVP finish.  Injuries limited Brantley to 101 games from 2016-17, but he's avoided anything major in the last three seasons.  He has had the luxury of the DH spot in Houston, at which he was utilized more often this year than in the field (though that's partially owed to Yordan Alvarez being out).  Brantley grades out as a solid left fielder, so NL teams will likely be in the mix this winter even if the DH isn't confirmed for that league for 2021.  The Indians chose not to issue a qualifying offer after the 2018 season, nor did the Astros this winter.  The Braves, Astros, Nationals, Cardinals, Blue Jays, White Sox, Cubs, and Dodgers could be suitors.
Signed with Astros for two years, $32MM.
14.  Justin Turner – Dodgers.  Two years, $24MM.  Even at nearly 36 years old, Turner continued to rake with a 140 wRC+ this season for the Dodgers despite a dip in power.  Among those with at least 3,000 plate appearances from 2014 to present, Turner ranks ninth in all of baseball — just behind Bryce Harper — with a 141 wRC+.  It's a remarkable ascension considering his journeyman trajectory prior to landing in L.A.
Turner was drafted in the seventh round as a senior out of Cal State Fullerton by the Reds in 2006, praised for his baseball instincts and love of the game.  After a December 2008 trade to the Orioles, Baseball America noted, "He'll never be a star, and his lack of arm strength may make it tough for him to fill a utility role in the big leagues, but his ability to hit for average and get on base will get him there."  Turner failed to make an impact with the Orioles, who designated him for assignment in May 2010 to make room for Scott Moore.  The Mets claimed Turner off waivers and gave him some opportunities from 2011-13, non-tendering him in 2013 with little fanfare despite a salary projection of less than $1MM.  Turner inked a minor league deal with his hometown Dodgers in February 2014, turning down offers from the Red Sox and Twins.  No team, including the Dodgers, realized that after an offseason hitting with former teammate Marlon Byrd, Turner would establish himself as one of the game's best hitters over the next seven years.
There are a few negatives, as Turner has lost a step defensively and isn't the most durable player.  He'd benefit from the addition of an NL DH, but could certainly handle infield corner work for at least one more season.  It's hard to picture the Dodgers letting Turner go, but if they do, the Nationals and Braves would be good fits.  Turner recently garnered headlines for his removal from Game 6 of the World Series for a positive COVID-19 test, and his subsequent return to the field after the game to celebrate.  The incident will likely have no effect on his free agency but could lead to some form of league discipline.
Signed with Dodgers for two years, $34MM.
15.  Marcus Semien – Angels.  One year, $14MM.  Semien reaches free agency after six seasons as the A's starting shortstop.  He had settled in as a speedy, durable league-average bat with solid defense, until he broke out with a 137 wRC+ and 33 home runs in 2019.  That season earned him a third-place MVP finish, but he was not able to repeat in 2020.  Semien has never really lit up Statcast, and this year he was around the 10th percentile in most batting metrics.
Semien's exploration of free agency comes free of a qualifying offer.  He could seek out a one-year deal and hope for better offensive results, or he could look to max out his payday now with a two or three-year deal.  The A's may try to find a way to keep the Bay Area native, and otherwise the Angels, Blue Jays, Phillies, Reds, and Yankees could be suitors.
Signed with Blue Jays for one year, $18MM.
16.  James McCann – Phillies.  Two years, $20MM.  After J.T. Realmuto, McCann is the best catcher on the free agent market this winter.  The 30-year-old spent four years as the Tigers' starting catcher, topping out at a 94 wRC+.  Facing a potential $3.5MM salary through arbitration, Detroit chose not to tender McCann a contract in November 2018.  The White Sox snagged him as a free agent on a $2.5MM salary.  Surprisingly, McCann made the All-Star team for the Sox in 2019, posting a 109 wRC+ and prompting the club to tender him a contract (with a $1.9MM raise) afterward despite the club already having Yasmani Grandal in tow.  The decision paid off, as McCann posted a stellar 144 wRC+ in 111 plate appearances.
Defensively, McCann has long been known for shutting down the running game.  Pitch framing had been a weakness, but McCann found improvement by working with Jerry Narron last offseason and was able to demonstrate 88th percentile framing in his 245 2/3 innings behind the dish this year.  Overall, McCann has raised his game enough in his time with the White Sox that a three-year deal might be available to him in free agency.  The feeling here is that two is likelier, with the Phillies, Mets, Cardinals, Marlins, Brewers, and Yankees among those who could vie for his services.
Signed with Mets for four years, $40.6MM.
17.  Andrelton Simmons – Yankees.  One year, $12MM.  Simmons, 31, carries a reputation as the best defensive shortstop in baseball.  In eight-plus seasons with the Braves and Angels, Simmons has won the Gold Glove four times.  Looking at 2013-19, Simmons absolutely laps the field in defensive metrics like UZR and DRS not only among shortstops but all players, regardless of position.  He's all over the Statcast Outs Above Average leaderboard for 2017-19.  Offensively, Simmons has a high-contact, low-power profile, peaking with a 105 wRC+ from 2017-18.  His defense was so valuable that he still ranked second among MLB shortstops in WAR during that period, behind only Francisco Lindor.
Simmons' durability was strong from 2013-18, during which he averaged 146 games per year.  But in May 2019, Simmons suffered a Grade 3 ankle sprain trying to beat out a groundball, and had to be helped off the field.  He aggravated the injury in August of that year, and the issue resurfaced this summer.  He ended his 2020 season, and most likely his Angels career, a bit early by opting out on September 22nd.  Simmons only played 265 1/3 innings in the field this year, but it's fair to ask whether he can return to his Ozzie Smith-like ways.  He posted a negative defensive runs saved mark for the first time in his career, and rated in the 20th percentile in outs above average.  While he may receive multiyear offers, Simmons may be best-served to a take a one-year deal in hopes of rebuilding value.  Like fellow free agent shortstops Didi Gregorius and Marcus Semien, Simmons was not issued a qualifying offer.  He could fit at shortstop for several teams, including the Yankees, Phillies, Reds, Blue Jays, and Indians.
Signed with Twins for one year, $10.5MM.
18.  Joc Pederson – Cardinals.  Two years, $18MM.  Pederson, 29 in April, should be one of the more affordable power-hitting outfielders after experiencing a down season.  Just last year, Pederson smacked 36 home runs in 514 plate appearances for the Dodgers, the fourth time he's hit 25+ bombs.  Nearly traded to the Angels in February,  Pederson was part of the Dodgers' left field platoon this year.  He never found his swing, putting up a career-worst 88 wRC+ in 138 plate appearances.  Pederson is strictly a platoon bat, only reaching 100 plate appearances against lefties in one season in his career and never having success against them.
On the other hand, Pederson posted a 132 wRC+ against right-handed pitching from 2015-19, which ranked 21st in all of baseball.  Even in his rough 2020 season, Pederson showed 96th percentile exit velocity, 79th percentile hard hit percentage, and 68th percentile barrel rate, so there's good reason to think he'll get back to mashing righties.  Pederson has been used at all three outfield positions, though he fits best at the corners.  A two-year deal gives him the opportunity to head back to the market in advance of his age-31 season, so he could lock in some cash now and still have another shot at a second decent free-agent deal — perhaps after a better platform campaign.  The Cardinals, Giants, Astros, Nationals, White Sox, and Tigers are potential matches.
Signed with Cubs for one year, $7MM.
19.  Jose Quintana – Red Sox.  Two years, $18MM.  Like Jake Odorizzi, Quintana is another typically reliable starter who had a lost year in 2020.  Quintana, 32 in January, pitched only ten innings for the Cubs this year due to thumb surgery and lat inflammation.  The Cubs expected big things from the southpaw upon acquiring him in July of 2017, sending Eloy Jimenez and Dylan Cease to the White Sox.  Q wound up providing a 4.24 ERA over 439 2/3 innings for the Cubs, short of what he furnished for the White Sox for the better part of five seasons.
Signed as a free agent by the White Sox in November 2011, Quintana was sixth among all MLB pitchers with 18.2 WAR from 2014-17, though he only made one All-Star team.  Even in 2018-19, he wasn't quite the innings eater he once was, averaging 5.4 innings per start.  But even 160 innings of 4.25 ERA ball would have value for MLB teams short on capable starting pitching.  The Red Sox, Blue Jays, Angels, Braves, Giants, Mets, Nationals, or Phillies could fit the bill.
Signed with Angels for one year, $8MM.
20.  Nelson Cruz – Twins.  One year, $16MM.  Even at age 40, all Cruz does is hit.  The Twins' DH posted a 164 wRC+ this year with 16 home runs.  His 150 wRC+ from 2015-20 ranks second in MLB among qualified hitters — behind only Mike Trout.  Despite waiting until age 28 to become an MLB regular, Cruz has become one of MLB's best hitters of the past decade.  He's basically been a lock for 40 home runs every year dating back to 2014.
Cruz is strictly a designated hitter, so uncertainty about the NL DH in 2021 hurts his market.  He's said to be seeking a two-year deal and can't be tagged with a qualifying offer.  If a reunion with the Twins falls through, the White Sox, Rays, or a reunion with the Mariners could make sense.
Signed with Twins for one year, $13MM.
21.  Jackie Bradley Jr. – Astros.  Two years, $16MM.  Bradley, 31 in April, was drafted 40th overall in 2011 by the Red Sox out of the University of South Carolina as a supplemental pick for the loss of Adrian Beltre.  He shook off trade rumors to eventually become a starter in Boston's outfield toward the end of the 2015 season, taking over the center field job in 2016 and holding it for five seasons.  Bradley made the All-Star team in '16 and won a Gold Glove in 2018.  Statcast backed up Bradley's defensive reputation this year, as he ranked in the 99th percentile for outs above average.
Offensively, Bradley has had runs as a 120 wRC+ bat, including a season and a half from 2015-16 and 217 plate appearances this year.  However,  he posted a very consistent 90 wRC+ over 1,643 plate appearances from 2017-19, suggesting he's a bit below average as a hitter compared to the average center fielder.  The result is a floor of about two wins above replacement, with the potential for more.  For those not willing to spend on George Springer, Bradley is the only other starting center fielder on the market.  The Astros, Diamondbacks, Cubs, and Phillies could be interested.
Signed with Brewers for two years, $24MM.
22.  James Paxton – White Sox.  One year, $10MM.  Paxton, 32 in November, has spent his career tantalizing with ace potential but failing to stay healthy.  Nicknamed Big Maple, Paxton hails from Ladner, Canada.  He was drafted 37th overall by the Blue Jays out of the University of Kentucky in 2009.  After the Blue Jays were unable to sign Paxton, president Paul Beeston made public comments about negotiating with Scott Boras, which violated the NCAA's goofy "no agent rule" that only allows for a "family adviser."  As Matthew Sekeres wrote in the Globe and Mail back then, "It's a fine line, and there is a wink-and-nudge nature to the dance."  Fearing NCAA sanctions, Kentucky didn't let Paxton play as a senior.  He wound up pitching independent ball, after which the Mariners drafted him in the fourth round.
Paxton ascended to the Mariners' rotation at the end of 2013, but was limited to 13 starts the following year due to a lat strain, triceps tightness, and shoulder inflammation.  In 2015, Paxton was again limited to 13 starts, this time mainly due to a strained middle finger tendon.  Paxton spent some time in Triple-A to begin 2016, joining the Mariners in June but going down with forearm tightness in August.  Paxton's healthiest years were 2017-18, when he averaged 26 starts and 148 innings per season despite missing time for a forearm strain, pectoral strain, back stiffness, a forearm contusion, and pneumonia.  During this time, his control sharpened and his strikeout rate spiked, culminating in a May 2018 no-hitter against Toronto.
The Mariners traded Paxton to the Yankees in November 2018 for a package of players led by Justus Sheffield.  Paxton made a career-high 29 starts for the 2019 Yankees, though he averaged only 5.2 innings per game and spent time on the IL for knee inflammation.  The Yankees gave him three key starts in the playoffs, the best of which was a win in Game 5 of the ALCS against the Astros.  After a hefty arbitration raise, Paxton underwent a microscopic lumbar discectomy to remove a peridiscal cyst from his back in February of this year.  With the delayed start to the MLB season, he was not expected to miss time, but he was diagnosed with a left forearm flexor strain in August, ending his season after 20 1/3 innings.
Agent Scott Boras spoke to Brendan Kuty of NJ.com in October, saying, "He's back to the James Paxton of '19 in how he feels, how he's throwing."  Boras suggested Paxton returned too quickly from his back injury, accounting for his significant 3.4 mile per hour velocity drop this season.  Given his lengthy injury history, a clean bill of health will be crucial for Paxton.  He could take a one-year deal in an attempt to rebuild value, though he will likely receive multiyear offers as well.  While Paxton can hardly be counted on for more than 150 innings, if he's healthy in October he can serve as a big-game pitcher for a playoff team.
Signed with Mariners for one year, $8.5MM.
23.  Taijuan Walker – Nationals.  Two years, $16MM.  One of the younger free agents at 28 years old, Walker was drafted 43rd overall by the Mariners out of Yucaipa High School in California as a supplemental pick for the loss of, again, Adrian Beltre.  Walker was a teenage phenom in the minor leagues, ranking as a Baseball America top 20 prospect three years running.  He was often a rotation-mate of fellow free agent James Paxton.  Walker made his MLB debut in 2013 at age 21.  Shoulder inflammation sidelined him for most of the first half in 2014, but he was able to win the Mariners' fifth starter job out of camp in 2015, and his 169 2/3 innings that year is a career-high to date.
Mariners managers Lloyd McClendon and Scott Servais had harsh words for Walker at various points, and his performance in Seattle's rotation was underwhelming.  In November 2016 the club sent Walker and Ketel Marte to the Diamondbacks for Mitch Haniger, Jean Segura, and Zac Curtis.  Walker put up his best year in 2017: 28 starts with 2.5 WAR.  Unfortunately, he was diagnosed with a torn UCL the following season and had Tommy John surgery in April 2018.  The D'Backs still tendered him a contract for '19, but Walker was diagnosed with a capsule strain in his right shoulder as he worked his way back.  He made just a single appearance that year and was non-tendered in the offseason, returning to the Mariners on a $2MM free agent deal.
After five starts for the Mariners, three of which were solid, Walker was traded to the Blue Jays for a minor leaguer.  Walker gave up only four earned runs in his 26.3 innings for Toronto.  Like Richards, this was a "good enough" Tommy John comeback season, as Walker averaged 4.85 innings per start and stayed healthy.  He posted a 2.70 ERA, but without the peripheral stats to support even a sub-4.00 mark.  His Statcast numbers were generally unexciting, aside from a 74th percentile hard hit rate.  Nonetheless, there's still upside here in Walker's age and prospect pedigree.  It's easy to see a club that doesn't need to rely on him for bulk innings hoping to catch lightning in a bottle on a two-year deal, and from his vantage point, such an arrangement would allow him to return to the market at 30 years of age.
Signed with Mets for two years, $20MM.
24.  Garrett Richards – Phillies.  Two years, $16MM.  Among free agents with at least 50 innings in 2020, no one threw harder than Richards' 95.2 mile per hour average fastball velocity.  He did a decent job in his ten starts with the Padres this year, posting a 4.27 ERA, 8.0 K/9, 3.1 BB/9, and 1.17 HR/9 in  46 1/3 frames.  Though he'll turn 33 in May, Richards may offer enough upside to land a two-year deal.
Richards was drafted 42nd overall by the Angels back in 2009 out of the University of Oklahoma, a supplemental pick for the loss of Francisco Rodriguez.  Richards became a full-time starting pitcher for the Angels in 2014, making 58 starts over a two-year period despite dealing with knee surgery in-between.  Since then, he's never started more than 16 games in a season.  The Halos' Opening Day starter in 2016, Richards was diagnosed with a torn UCL shortly thereafter.  He chose a a platelet-rich plasma injection over Tommy John surgery, and then experienced nerve irritation in his biceps the following year.  Richards made only 12 starts from 2016-17, but got the Angels' Opening Day nod again in 2018.  In July of that year, an MRI revealed a damaged UCL again, at which point Richards went for Tommy John.
The Padres, knowing they wouldn't get much from Richards in 2019, still gave him a $15MM free agent deal with an eye on 2020.  After ten starts in which he averaged 4.63 innings, Richards was moved to the bullpen with the team hoping he could become a playoff weapon.  Ultimately Richards made four brief appearances in the playoffs, two of which were low-leverage.
Though the decision may have made sense at the time, Richards pitching just 147 1/3 innings from 2016-19 can be largely attributed to the choice not to have Tommy John surgery upon initially learning of his UCL tear.  While I wouldn't necessarily expect him to go deep into games in 2021, it's possible his injury woes are behind him after a healthy 2020 campaign.  He could potentially draw interest from a dozen clubs this winter.  Data-centric clubs will be especially interested, as Richards' fastball and curveball both have some of the highest spin rates in the game.
Signed with Red Sox for one year, $10MM.
25.  Kolten Wong – Red Sox.  Two years, $16MM. The Cardinals' decision to decline Wong's $12.5MM club option came as a surprise to some, but this has long seemed like a plausible outcome. Wong's profile — a pure second baseman lacking in power — is not one that gets paid well even in a normal offseason. Cesar Hernandez found himself non-tendered with a lower projected salary just one offseason ago, for instance.
Wong, 30, was drafted 22nd overall out of University of Hawaii at Manoa by the Cardinals in 2011.  He's been an above-average hitter twice in his career, with 108 wRC+ seasons in 2017 and '19.  Moving forward, I think offensive production right around league average can be expected from Wong.
Wong shines defensively, picking up a Gold Glove last year and showing strong marks in UZR, DRS, and outs above average.  Still, I'm not convinced defense-first, second-base only players like Wong or Cesar Hernandez will do well in free agency.  The Cardinals may try to retain Wong at a lesser rate, but otherwise the Red Sox, Angels, Blue Jays, Diamondbacks, Indians, Tigers, or Yankees could be fits.
Signed with Brewers for two years, $18MM.
26.  Brad Hand – Astros.  Two years, $14MM.  Hand's surprising foray into free agency may serve as the canary in the coal mine for a cratering free agent relief market, and perhaps for free agency as a whole.  31 in March, the southpaw reeled off a superb 2020 season with a 2.05 ERA (22nd in MLB), 33.7 K% (18th in MLB), and 4.7 BB% (11th in MLB).  Since joining the Padres' bullpen in an April 2016 waiver claim, Hand has posted 320 innings of 2.70 ERA ball, 10th in MLB among those with at least 200 innings.  He made three All-Star teams during that time.  The Padres traded Hand to the Indians in July 2018, and his success continued.
Hand's $10MM club option for 2020 seemed like an easy call to exercise – even for the penny-pinching Indians, who could presumably trade the lefty later in the offseason.  Instead, the Indians made efforts to trade Hand prior to the option decision coming due, and offers were so poor or non-existent that they placed him on outright waivers in an attempt to simply avoid his $1MM buyout.  All 29 other teams still passed on Hand, which suggests they feel free agency (for relievers at the very least) will be a buyer's market at levels well below years past.  One element of teams passing on Hand may be a velocity drop this year, down to 91.4 miles per hour.  Another might be a choice not to lock in a $10MM reliever – even a very good one – so early in the offseason.  Regardless, it's difficult to project aggressive bidding on any free agent reliever after perhaps Hendriks.
Signed with Nationals for one year, $10.5MM.
27.  Trevor Rosenthal – Angels.  Two years, $14MM.  Rosenthal, 30, is one of the top relievers on the free agent market.  No free agent throws harder than his 98.0 mile per hour average fastball.  Among free agents with at least 20 innings this year, Rosenthal ranked sixth in MLB with a 41.8 K%, topped only by Jake McGee.  Upon being traded to the Padres at the end of August, Rosenthal put up ten scoreless innings with 17 strikeouts, one walk, and only three hits.  That magic wore off in the postseason, but it was still a stellar bounceback campaign.
A 21st round pick in 2009 by the Cardinals out of Cowley County Community College in Kansas, Rosenthal found immediate success as the Cardinals' setup man, and ascended to closer in their march to the 2013 World Series.  Rosenthal made the All-Star team in 2015, but battled injuries the following year and was removed from the closer role.  An elbow injury surfaced in 2017, necessitating Tommy John surgery in August of that year.  Rosenthal spent 2018 rehabbing without a team, signing a $7MM deal for 2019 with the Nationals.  He struggled mightily for the Nats, earning his release by June.  The Tigers and Yankees then each gave him a shot with no success.
It was under these circumstances that Rosenthal inked a minor league deal with the Royals in December, reuniting with old manager Mike Matheny and impressing the team in the initial version of spring training.  His 14 appearances with the Royals went well enough that the Padres traded Edward Olivares — an MLB-ready, 45-grade outfield prospect — to rent him for September and the postseason.  A qualifying offer may have been a long shot anyway, but Rosenthal is ineligible for one on account of the trade.  A three-year deal may have been more likely for Rosenthal in a normal market, but he should still find a decent contract.
Signed with Athletics for one year, $11MM.
28.  Trevor May – Giants.  Two years, $14MM.  May, 31, is one of the more desirable arms on the relief market this winter.  His 39.6 K% ranked ninth among all MLB relievers, and fourth among free agents.  He averages more than 96 miles per hour on his heater and generally shows good control.  He is a fly-ball pitcher, and was touched up for a 1.93 HR/9 in the shortened season.
May was drafted out of high school by the Phillies in the fourth round in 2008 and traded to the Twins in the December 2012 Ben Revere deal.  He underwent Tommy John surgery in March 2017, which he kindly agreed to write about here at MLBTR in posts here and here.  May was able to successfully return from surgery in 2018 and post a 3.19 ERA over his next 113 innings with the Twins.  He has the premium velocity, strong spin-rate and high whiff rate profile that analytical clubs value over raw saw numbers in free agency.
If the Twins let May leave, he figures to draw the interest of many teams, perhaps including the Angels, Astros, Blue Jays, Cubs, Dodgers, Giants, Mariners, Marlins, Mets, Nationals, Phillies, and White Sox.  Like Rosenthal, he'd be pegged for a three-year deal in a normal offseason.
Signed with Mets for two years, $15.5MM.
29.  Blake Treinen – Marlins.  Two years, $14MM.  Treinen, 32, was utterly dominant for the 2018 A's, posting a 0.78 ERA in 80 1/3 innings and finishing in sixth place in the Cy Young voting.  He battled a rotator cuff strain in 2019, his season ending early with a stress reaction in his back.  After posting a 4.91 ERA and career-worst walk rate in '19, the A's declined to tender Treinen a contract through arbitration.  The Dodgers picked him up on a one-year, $10MM free agent deal shortly thereafter.
Treinen provided good, but not great results for the Dodgers with a 3.86 ERA and 20.6 K% in 25 2/3 regular season innings.  He did finish sixth among relievers with a career-best 64% groundball rate, and still throws 97 miles per hour on average.  Treinen will find plenty of interest from teams like the Marlins, Phillies, Astros, Angels, Blue Jays, Cubs, Giants, Mariners, White Sox, and Red Sox if the Dodgers don't bring him back.
Signed with Dodgers for two years, $17.5MM.
30.  Tommy La Stella – Athletics.  Two years, $14MM.  An eighth round pick of the Braves in 2011 out of Coastal Carolina University, La Stella was traded to the Cubs in November 2014 for Arodys Vizcaino.  La Stella posted a 104 wRC+ in 587 plate appearances in his four years with the Cubs, with most chances coming against right-handed pitching.  After the '18 season, the Cubs felt they were better off replacing La Stella with free agent Daniel Descalso.  That proved incorrect, as the Angels gave La Stella regular playing time in 2019 and he made the All-Star team before fracturing his right tibia with a foul ball.  His strong hitting continued this year, and La Stella was traded to the A's in late August.  He has a 125 wRC+ in 549 plate appearances over the last two years.  That includes a 141 mark against right-handed pitching that ranks 18th in all of baseball and fourth among free agents.
La Stella is capable of playing both second and third base.  He'd fit with many clubs if the A's let him go, including all three of his other former teams plus the Red Sox, Blue Jays, Brewers, Cardinals, Diamondbacks, Dodgers, Indians, Nationals, Yankees, and Tigers.
Signed with Giants for three years, $18.75MM.
31.  Corey Kluber – Twins.  One year, $12MM.  Kluber had a Hall of Fame-worthy peak for the 2014-18 Indians, winning a pair of Cy Young awards while also finishing third twice and ninth once.  His 30.3 WAR ranked third among all starting pitchers during that time, his 28.5 K% ranked fourth, and his 5.2 BB% ranked sixth.  But Kluber, 35 in April, hit a wall in May of 2019 in suffering a non-displaced fracture of his right forearm from a line drive.  He was pulled from a rehab start in August of that year due to an oblique strain, knocking him out for the season after only seven starts.
Facing a $17.5MM club option, the Indians traded Kluber to the Rangers in December 2019 for Emmanuel Clase and Delino DeShields.  Unfortunately, Kluber's Rangers debut in July lasted only one inning before he went down for a Grade 2 tear of the teres major muscle in his right shoulder, ending his season.  With Kluber having pitched only 36 2/3 innings over the last two seasons, the Rangers declined their $18MM club option for 2021 and haven't been able to work out a revised contract.  Kluber's free agency is variable depending entirely on his health.  According to WEEI's Rob Bradford, he's already been cleared for a normal offseason.  Kluber would fit well with a contender seeking a potential big-game pitcher, that won't necessarily rely on him for innings.
Signed with Yankees for one year, $11MM.
32.  Yadier Molina – Cardinals.  One year, $10MM.  Molina, 38, is set to reach free agency for the first time in his storied 17-year career.  He's not quite ready to hang up his catcher's gear and see if Cooperstown might come calling; he's hoping to play for two more years and expressed a willingness to test out the open market if he can't get something done with the Cardinals.
Short of a pursuit of J.T. Realmuto, it's difficult to see why the Cardinals would let Molina go after two rings, nine Gold Gloves, nine All-Star appearances, 2,001 hits, and over 16,000 innings caught.  For a player known mainly for his defense, Yadi has seven different seasons with a wRC+ above 100, including a peak of 132 from 2011-13.  Even now, he's not far below the league average catcher mark of 92.  Molina remains an excellent defensive catcher and could be of interest to teams like the Yankees, Phillies, and Marlins if the Cardinals take a tough negotiating stance.
Signed with Cardinals for one year, $9MM.
33. Charlie Morton – Mets.  One year, $8MM.  Morton reaches free agency after having his $15MM club option declined by the Rays.  The righty, 37 in November, had been a useful starter for the Pirates but experienced a late-career surge upon joining the Astros in 2017.  With Houston, Morton's average fastball velocity climbed up into the 95 mile per hour range, and his strikeout rate spiked.  After the Astros chose not to issue a qualifying offer, Morton signed a two-year, $30MM free agent deal with the Rays and continued dealing in 2019.  That year, he produced a 3.05 ERA in a career-best 194 2/3 innings, making his second All-Star team and finishing third in the AL Cy Young voting.  For pitchers with at least 500 innings from 2017-19, Morton's 28.7 K% ranked seventh in MLB.
This year, Morton was removed from an August start due to shoulder inflammation and spent several weeks on the IL.  Even putting the two limited starts around that injury aside, Morton averaged fewer than five innings per start in 2020.  Despite solid peripherals, his ERA landed at 4.74 on the season, owed in part to a .355 BABIP.  He made an additional four starts in the playoffs this year, pitching well until the Dodgers got to him in Game 3 of the World Series.
Morton could be a hot commodity in free agency, but he was picky last time around and has suggested retirement is a possibility.
Signed with Braves for one year, $15MM.
34.  Jurickson Profar – Tigers.  One year, $7MM.  Profar brings the appeal of age and prospect pedigree.  28 in February, the Curacao native was widely considered the best prospect in baseball prior to the 2013 season. Putting him on the cover of their Prospect Handbook, Baseball America gushed, "Few prospects represent a safer bet to develop into a first-division regular and All-Star than Profar."
Profar played around the infield in that 2013 season, and was expected to open 2014 as the Rangers' starting second baseman after they had traded Ian Kinsler.  Instead, Profar wouldn't appear in a Major League game again until May 2016, a gap of two years and eight months.  He suffered a torn shoulder muscle in March 2014, aggravating the injury in May.  After a platelet-rich plasma injection in September, Profar was expected to be ready for 2015.  However, by February 2015, labrum surgery was deemed necessary.
In 2018, for the first time, a 25-year-old Profar played a full season in the bigs.  He spent time at all four infield positions, posting a 107 wRC+ and career-best 2.8 WAR.  After the season, the Rangers shipped Profar to the A's in a three-team deal.  Plugged in as the A's regular second baseman, Profar managed a 105 wRC+ after a brutal first month.  His salary continuing to rise through arbitration, the A's shipped Profar to San Diego in the offseason for a pair of prospects.  Padres GM A.J. Preller had familiarity with Profar from his time in charge of the Rangers' Latin American scouting.
Profar started the 2020 season as the Padres' second baseman, but was quickly supplanted by rookie Jake Cronenworth and moved to left field.  Profar's streakiness at the plate continued, as he was terrible through August 10th and went on to post a 135 wRC+ in 146 plate appearances thereafter.  That run was the result of a .342 BABIP, with Statcast finding few positives in Profar's season.
Profar may have been the game's best prospect eight years ago, but now he's a 110 wRC+ hitter in the best case and a man without a position.  Some teams might like the switch-hitter for a utility role, but he may be able to find a starting job on a second division club.  The Tigers, Twins, Cardinals, Cubs, Indians, Nationals, Red Sox, Royals, and Yankees could be options.
Signed with Padres for three years, $21MM with two opt-outs.
35.  Adam Wainwright – Cardinals.  One year, $6MM.  Wainwright, 39, joins fellow Cardinals legend Yadier Molina in free agency.  Drafted 29th overall by the Braves in 2000, Wainwright joined the Cardinals in the December 2003 J.D. Drew trade.  After a rookie season in relief culminating in what Derrick Goold called "the curve that froze New York," Wainwright authored a seven-season stretch as one of the best starting pitchers in baseball, despite being interrupted by Tommy John surgery in February 2011.  Despite the missed season, Wainwright ranked ninth among starting pitchers with 31.4 WAR from 2007-14.  He picked up plenty of hardware during that time, including three All-Star nods and four top-three Cy Young finishes.  Wainwright may fall short of the Hall of Fame, but not by a lot.
Wainwright has shown staying power in the second phase of his career despite missing most of 2018 due to an elbow injury.  He had a solid season in 2019 with 31 starts of 4.19 ball, and this year he ranked fourth in MLB with 6.52 innings per game started and 18th with a 3.15 ERA.  Wainwright would like to stay in St. Louis, and there's no reason the Cardinals shouldn't make it happen unless ownership's budgetary restrictions are even tighter than we realize at the moment.
Signed with Cardinals for one year, $8MM.
36.  Robbie Ray – Brewers.  One year, $6MM.  Ray, a 29-year-old lefty, ranked sixth on my MLB Free Agent Power Rankings before the season, ahead of Marcus Stroman.  Needless to say, the abbreviated 2020 season did not go well for Ray.  He walked 20.1% of batters faced in his first seven starts for the Diamondbacks, continuing to struggle after being traded to the Blue Jays at the deadline.
A 12th round pick by the Nationals out of Brentwood High School in Tennessee in 2010, Ray was traded to the Tigers in December 2013 for Doug Fister.  He was on the move again a year later, joining the Diamondbacks in the three-team deal that netted the Shane Greene for the Tigers and Didi Gregorius for the Yankees.
Despite shaky control, Ray pitched well in Arizona.  From 2016-19, Ray struck out 30.8% of batters faced, fourth in MLB among those with at least 600 innings during that time.  He also walked 10.9% of batters faced – dead last among qualified MLB starters.  The result was a decent pitcher with flashes of brilliance, peaking with an All-Star 2017 season that netted Ray a seventh-place Cy Young finish.  Ray does allow his share of hard-hit balls, ranking in the bottom 8% in average exit velocity in four of his last six seasons.  He's now an interesting free agent project, perhaps for a team with enough alternatives to not have to rely on him.
Signed with Blue Jays for one year, $8MM.
37.  Cesar Hernandez – Diamondbacks.  One year, $6MM.  Hernandez, 30, became the Phillies' regular second baseman in July of 2015, replacing Chase Utley.  Hernandez proved a durable, solid replacement, ranking seventh among second basemen in 2016-17 with 6.4 WAR.  Hernandez's bat slipped below league average in 2018-19, but he kept his job and played in all but two games during that period.  Due a raise on his $7.75MM salary, the Phillies chose to non-tender Hernandez after the 2019 season.
The Indians scooped Hernandez up for $6.25MM, and he rewarded them with a 108 wRC+ in 261 plate appearances.  Hernandez's second base defense also graded well, resulting in a 1.9 WAR season that ranks fifth among all free agents.  He's a high-contact hitter whose walk rate has dropped in the last two seasons, but he's still able to get on base by hitting around .280.  Defensively, he's strictly a second baseman.  If the Indians don't retain him, the Diamondbacks, Angels, Athletics, Blue Jays, Cardinals, Cubs, Red Sox, Royals, Tigers, and Yankees could be options.
Signed with Indians for one year, $5MM.
38.  Carlos Santana – Brewers.  One year, $6MM.  Santana, 35 in April, led the AL with 47 walks this year.  Otherwise, his batting average and power cratered, resulting in a career-worst 95 wRC+ in 255 plate appearances.  In 2019, Santana was one of the best first basemen in baseball, with 34 home runs, a 135 wRC+, and 4.4 WAR.  That performance resulted in his first All-Star appearance, a Silver Slugger award, and even MVP votes.
Santana's extensive body of work, primarily with the Indians, suggests there's a solid possibility of a 110-120 wRC+ bounceback season in 2021.  The Brewers, Nationals, and Rockies could be potential fits.
Signed with Royals for two years, $17.5MM.
39.  Alex Colome – White Sox.  One year, $6MM.  Colome, 32 in December, has served as the closer for the White Sox for the past two seasons after coming over in a November 2018 trade with the Mariners.  It was an interesting season for Colome, who allowed just two earned runs in 22 1/3 innings despite striking out fewer than 18% of batters faced and walking nearly 9% of them.  His keys to success were allowing zero home runs and a .200 batting average on balls in play on the season.  Those figures are hardly repeatable, but Colome has an excellent 2020 Statcast profile in terms of exit velocity, hard hit rate, and barrel rate.
Colome has at times missed bats, including 31.4% of batters faced in an All-Star 2016 season for the Rays.  He demonstrated excellent control in that same campaign.  Colome has a 2.95 career ERA over 424 innings despite a SIERA of 3.85, so perhaps there's weak contact for which he deserves credit.  That didn't show up in Statcast in 2019, however, when his average exit velocity was in the bottom 2% of the league.  10 or 20 years ago, a closer coming off a 0.81 ERA season would do quite well in free agency.  These days, however, Colome doesn't exactly have the profile teams like, so interest may be scattered.
Signed with Twins for one year, $6.25MM.
40.  Mike Minor – Angels.  One year, $6MM.  Minor, 33 in December, began his career with several solid seasons for the Braves before missing all of 2015 and '16 due to shoulder surgery.  After a strong comeback season out of the Royals' bullpen, Minor signed a three-year, $28MM deal with the Rangers and returned to a starting role.  Minor put up a strong pair of seasons in 2018-19, working to a 3.84 ERA in 365 1/3 innings.  He was a top-30 starter in baseball during that time, making his first All-Star team and finishing eighth in the Cy Young voting in '19.
Minor lost two miles per hour off his fastball in 2020, however, and struggled to a 5.56 ERA for the Rangers and A's.  Even with the reduced velocity, Minor was able to miss some bats with an above average 25.9 K%.  He's also managed 71 starts since the beginning of 2018, a feat only five other free agent starters topped.  He'll be a useful addition to the back end of a rotation.
Signed with Royals for two years, $18MM.
41.  J.A. Happ – Mariners.  One year, $6MM.  Happ, a 14-year MLB veteran, was drafted in the third round in 2004 out of Northwestern by the Phillies.  The lefty was something of a late bloomer, with his best work coming after age 32.  Happ, now 38, joined the Yankees in a July 2018 trade with the Blue Jays and inked a two-year, $34MM deal to stay there for 2019-20.
Happ's Yankees contract included a vesting option at 165 innings or 27 starts in 2020, pro-rated to 10 starts or 61 1/3 innings due to the shortened season.  In comments to reporters in late August, Happ implied that he felt the Yankees were intentionally trying to avoid his vesting option.  GM Brian Cashman disagreed.  Regardless of the team's intent, Happ wound up making nine starts on the season and has reached free agency.  Though he managed a 3.47 ERA this year, he has a 4.68 SIERA dating back to 2019, including a 1.79 HR/9 rate.  Happ's All-Star 2018 season isn't too far in the rearview, however, and he'll make a solid back of the rotation piece.  His case is bolstered somewhat by Statcast, with 65th percentile hard hit rate and 75th percentile barrel rate this year.
Signed with Twins for one year, $8MM.
42.  Kirby Yates – Padres.  One year, $5MM.  Like Liam Hendriks, there was a time a few years ago where Yates making an All-Star team or getting Cy Young votes seemed highly unlikely.  Yates, 34 in March, was drafted by the Red Sox in the 26th round out of Kauai High School in Hawaii in 2005.  He opted not to sign, choosing to pitch at Yavapai College in Arizona.  He had Tommy John surgery while there, and ended up signing after college with the Rays as an undrafted free agent.
Five years later, Yates reached the Majors with the Rays at age 27.  After a rough 2015 season that saw him allow 10 home runs in 20 1/3 innings, Yates was designated for assignment in the offseason.  The Indians acquired him for cash considerations, but designated him for assignment about a month later.  Then the Yankees traded for him, and he posted a 5.23 ERA in 41 1/3 innings.  The Angels claimed him off waivers in October 2016, and after they designated him the following April, he went unclaimed by the other 29 teams.  He cracked the Halos' 40-man for a brief period before being designated for assignment again, at which point the Padres claimed him off waivers.  That's when things started to click.  Yates just kept getting better for the Padres, culminating in a dominant 2019 season: 1.19 ERA, 41 saves, 41.6 K%, and 5.3 BB%.  That season netted Yates an All-Star appearance and a ninth place finish in the Cy Young voting.
In August of this year, Yates hit the IL with elbow inflammation and ultimately had surgery to remove two bone chips.  While Yates was only able to pitch 4 1/3 innings this year, the surgery sounded relatively minor, and with a clean bill of health he'll be a hot commodity on the free agent market.  The Giants, Astros, Blue Jays, Cubs, Dodgers, Mariners, Mets, Phillies, Red Sox, Angels, Twins, and White Sox could make sense if the Padres don't retain him.
Signed with Blue Jays for one year, $5.5MM.
43.  Greg Holland – Mariners.  One years, $5MM.  Holland, 35 in November, had a dominant run for the 2011-14 Royals.  He posted a 1.86 ERA and 12.6 K/9 in 256 1/3 innings over those four seasons, making the All-Star team in 2013 and '14 and finishing ninth in the Cy Young voting both years.  Though Holland was a huge part of the Royals' success, his 2015 season ended with a UCL tear and he was not able to take part in the Royals' championship run.  With 2016 lost to his Tommy John recovery, the Royals non-tendered Holland.  He signed a $7MM free agent deal with the Rockies heading into 2017.
Holland made the All-Star team and saved 41 games for those Rockies, declining both a $15MM player option and subsequent $17.4MM qualifying offer from Colorado.  The qualifying offer resulted in Holland taking a late March deal from the Cardinals in 2018 for $14MM.  After his late start to the season, Holland's time with St. Louis was disastrous, and he was designated for assignment in July.  He hooked on with the Nationals, returning to form and resulting in a $3.25MM free agent deal with Arizona for 2019.  Holland walked a career-worst 15.8% of batters faced for the D'Backs as he lost the closer role in July and his average fastball velocity dropped all the way down to 91.6.  By August, Holland had been designated for assignment again, and he again signed with the Nats – this time failing to return to the Majors.
Holland made it back to the Royals for 2020, as the team also inked Trevor Rosenthal for a pair of savvy minor league signings.  Aside from an oblique strain, it was an excellent bounceback season for Holland as he struck out nearly 28% of batters faced and walked a career-best 6.3%.  He didn't rate particularly well in Statcast measures, but Holland's 2020 results and closer reputation may be enough for a two-year deal.
Signed with Royals for one year, $2.75MM.
44.  Drew Smyly – Giants.  One year, $5MM.  Smyly was a major piece of the return when the Rays sent David Price to Detroit at the 2014 trade deadline.  He made a career-high 30 starts in 2016, albeit with a 4.88 ERA. Smyly was dealt to the Mariners the following offseason and pitched in the World Baseball Classic, but he ended up needing Tommy John surgery in July that year and never pitched in an official game for Seattle. The Mariners cut him loose that winter and the Cubs inked him to a two-year, $10MM deal with an eye on rotation depth for 2019. Instead, the club picked up Cole Hamels' option and shipped Smyly to the Rangers to save money, making the Cubs another team that employed Smyly but never used him on a Major League mound.
After going two and a half years between MLB starts, Smyly made his Rangers debut on April 1, 2019. His time in Texas went terribly, and they released him in late June. After a few appearances for the Brewers' Triple-A affiliate, Smyly hooked on with the Phillies and joined their rotation in late July. His dozen starts with the Phillies were good enough to net him a one-year, $4MM deal with the Giants.
Smyly made three appearances this year, then hit the IL for a strained left finger.  He returned over a month later to make four September outings.  We have only 26 1/3 innings to go on in total, but Smyly was able to strike out 37.8% of batters faced, 12th in MLB.  Over his past 89 innings, Smyly has worked to a 4.15 ERA with a 29.4 K%.  There may be something interesting here, though Statcast metrics from this year aren't promising.  The 31-year-old southpaw should still draw solid interest in free agency.
Signed with Braves for one year, $11MM.
45.  Jon Lester – Braves.  One year, $5MM.  Lester, a 15-year veteran, comes with a long list of accolades.  From 2008-16, his 37.3 WAR ranked eighth in MLB.  He's made five All-Star teams, and finished top four in the Cy Young voting three times.  Dependable as they come, Lester made at least 31 starts in every season from 2008-19.  He's got three World Series rings – two with the Red Sox, one with the Cubs.
After a successful run in Boston to begin his career, the Red Sox traded Lester to the A's with free agency approaching.  After that 2014 season, the Cubs signed him to a six-year, $155MM contract.  The Cubs got their money's worth, having received 17.1 WAR from Lester.  More importantly, Lester provided a 2.02 ERA in 35 2/3 postseason innings in the Cubs' championship run in 2016.
Though the Cubs paid a $10MM buyout on Lester's $25MM option for 2021, they could certainly bring him back at a lower rate.  Otherwise, the Braves or Red Sox could be interesting options for the southpaw, who turns 37 in January.
Signed with Nationals for one year, $5MM.
46.  Rick Porcello – Tigers.  One year, $5MM.  Porcello, 32 in December, is a 12-year MLB veteran who has seen his share of ups and downs.  He took home the AL Cy Young award in 2016 for the Red Sox, yet has never made an All-Star team or topped 3.0 WAR in any other season.  He was on pace for over 4.5 WAR in 2020, finishing with a 1.7 mark that was second only to Trevor Bauer among free agent starting pitchers.   Of course, FanGraphs WAR is based on the Fielding Independent Pitching stat (FIP), which ignores the fact that Porcello allowed 11.3 hits per nine innings – third-worst among qualified starters.  The end result was a 5.64 ERA in 2020.
Porcello allowed a .373 batting average on balls in play over 59 innings, likely a fluke in that the Mets allowed a .316 BABIP overall, fourth-worst in MLB and Porcello has a career mark of .308.  To be fair, the 7.6 HR/fly-ball rate that led to the best home run rate of Porcello's career was a fluke as well.  In the end, Porcello is a 4.30-type ERA guy who can take the ball every fifth day and avoid the free pass better than most.  The Phillies, Angels, Blue Jays, Braves, Brewers, Cubs, Giants, Nationals, Red Sox, Rockies, and Tigers could make sense.
47.  Cole Hamels – Padres.  One year, $4MM.  From 2007-15, Hamels ranked sixth among all MLB pitchers with 39.3 WAR.  That period, mostly with the Phillies, included four top-eight Cy Young finishes and three All-Star appearances.  Hamels, 37 in December, continued to put in solid work in the second phase of his career with the Rangers and Cubs.  Until 2020, Hamels had started at least 24 games in 13 consecutive seasons.  He was good for a 3.92 ERA from 2017-19.
Upon reaching free agency last winter, Hamels sought a one-year deal with a contender and found it with an $18MM contract with Atlanta.  He irritated his shoulder in a February workout, but was expected to be ready once the season's start was pushed to late July.  Instead, he came down with triceps tendinitis and started the year on the 45-day IL.  He returned for one 52-pitch start in mid-September, and then went on the IL again with shoulder fatigue.  Now, much like Kluber, Hamels' free agency prospects hinge on his medical report.
48.  Mark Melancon – Braves.  One year, $4MM.  Melancon, 36 in March, was a ninth round pick of the Yankees out of the University of Arizona in 2006.  He headed to the Astros in the July 2010 Lance Berkman trade, establishing himself as a solid closer in 2011.  Melancon then joined the Red Sox in the December 2011 Jed Lowrie deal.  After a rough year in Boston, the Red Sox made a move for Joel Hanrahan, shipping Melancon to the Pirates.  Melancon had his greatest success in Pittsburgh, working to a 1.80 ERA over 260 1/3 innings with 130 saves in three-plus seasons while making the All-Star team three times.
The Nationals acquired Melancon near the 2016 trade deadline, sending Felipe Vazquez to the Pirates in return.  Melancon's 30 games for the Nats went well, and he parlayed his success into a four-year, $62MM free agent deal with the Giants – a record for a reliever at the time.  The contract did not pan out for the Giants.  Melancon struggled in 2017, culminating in elbow surgery in September of that year.  Melancon pitched decently for the Giants after that, and San Francisco surprisingly found a team willing to take on the entire remainder of his contract in the Braves.
In his 43 2/3 innings with Atlanta, Melancon managed a 3.30 ERA, 20.7 K%, 4.9 BB%, and 61.4% groundball rate.  Groundballs are Melancon's calling card, as he's second among MLB relievers since 2019 in that regard.  He misses fewer bats than the average reliever, and he's never lit up the radar gun.  Batters do struggle to square him up, based on Statcast, and a two-year deal is possible.
Signed with Padres for one year, $3MM.
49.  Anthony Desclafani – Red Sox.  One year, $4MM.  DeSclafani, 31 in April, was a sixth round pick of the Blue Jays out of the University of Florida in 2011.  They shipped him to the Marlins in November 2012 in Miami's big Mark Buehrle-Josh Johnson-Jose Reyes-John Buck salary dump trade.  Two years later, DeSclafani headed to the Reds in a trade for Mat Latos.
DeSclafani won a rotation job for the Reds out of camp in 2015, producing 31 starts of 4.05 ERA ball on the season.  He opened the following season with a long IL stint for an oblique strain, debuting on June 10th and putting up a 3.28 ERA in 20 starts.  DeSclafani was diagnosed with a UCL sprain in March of 2017 and wound up missing the entire season.  He started off 2018 with another oblique strain, again delaying his debut until June.
In 2019, DeSclafani was able to avoid the IL, resulting in his best season since 2015.  Though prone to the longball, DeSclafani posted a career-best 24% K rate with his typical strong control.  But like many pitchers toward the back end of this list, 2020 wound up a lost season for DeSclafani.  He opened the season on the IL with a mild right teres major strain and struggled all season, getting bumped from the rotation in September and left off the Reds' roster for the Wild Card Series.  One thing that did not suffer was DeSclafani's velocity, a career-best 94.9 miles per hour in 2020.  He'll serve as a solid reclamation project for 2021.
Signed with Giants for one year, $6MM.
50.  Chris Archer – Cubs.  One year, $4MM.  Archer had a strong run of five-plus seasons for the Rays.  He tantalized with a fifth-place Cy Young finish in 2015 as a 26-year-old, but his results never quite matched his peripheral stats in the ensuing seasons.  At the 2018 trade deadline, the Rays sent Archer to the Pirates for Tyler Glasnow, Austin Meadows, and Shane Baz, a lopsided deal that may live in infamy.  For the Pirates, Archer delivered 172 innings of 4.92 ball, missing all of 2020 due to June surgery for thoracic outlet syndrome.   Even at age 32, Archer is a starting pitcher teams can dream on a little bit if his recovery goes well.
Signed with Rays for one year, $6.5MM.
Honorable mentions:
Jake McGee – signed with Giants for two years, $7MM
Matt Moore – signed with Phillies for one year, $3MM
Jonathan Schoop – signed with Tigers for one year, $4.5MM
Jeremy Jeffress – signed minor league deal with Nationals
Robbie Grossman – signed with Tigers for two years, $10MM
Kevin Pillar – signed with Mets for one year, $5MM
Adam Eaton – signed with White Sox for one year, $7MM
Brett Gardner – signed with Yankees for one year, $4MM
Martin Perez – signed with Red Sox for one year, $5MM
Jonathan Villar – signed with Mets for one year, $3.55MM
Brad Miller – signed with Phillies for one year, $3.5MM
Joakim Soria – signed with Diamondbacks for one year, $3.5MM
Darren O'Day – signed with Yankees for one year, $2.5MM
Brandon Kintzler  – signed minor league deal with Phillies
Tomoyuki Sugano – signed with Yomiuri Giants for four years, $40MM
Notable deals for unlisted/non-tendered players:
We realize that a Top 50 Free Agents list with one set of specific team predictions will leave some fanbases dissatisfied.  A few notes to keep in mind:
Most teams will meet some needs through trades and free agents who fell short of this list.
The Indians, Orioles, Pirates, Rays, Rockies, and Royals did not end up with any free agents from this list. Certainly they might be in play on some of the more affordable names.
With this list, we try to present one possible puzzle where everything could happen. Once we start to get picks wrong, it has a ripple effect.
While some teams' key needs have gone unaddressed, we wouldn't recommend reading into it. There are plenty of potential big names on the trade market, including Francisco Lindor, Kris Bryant, and Lance Lynn.
While we try to make spending capacity estimates for each of the 30 teams as part of this exercise, those change quickly with trades, non-tender decisions, and unexpected payroll changes.  Many teams will use the pandemic as a reason to slash payroll, but we don't know the details of those plans yet.
This post was originally published on 11-2-20.