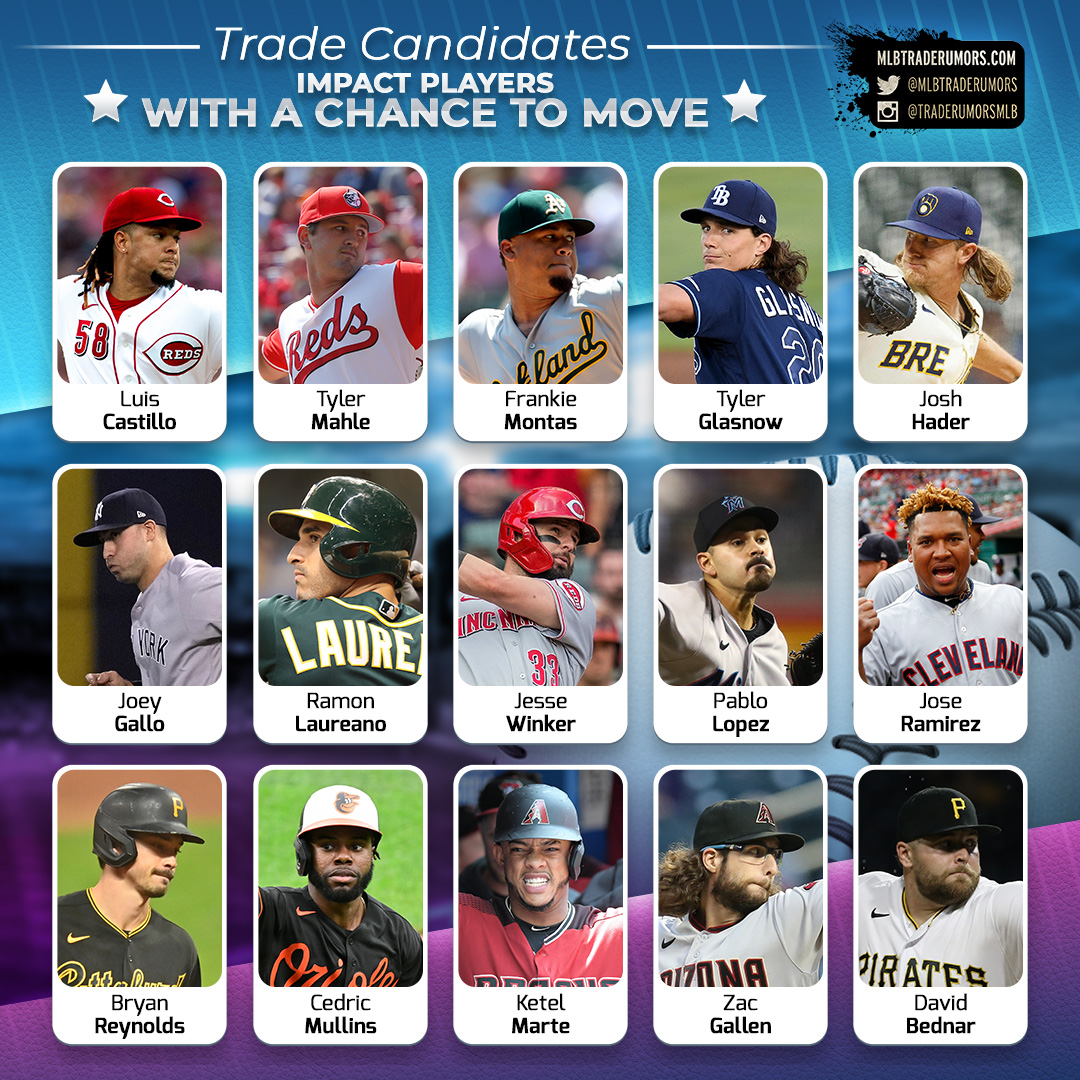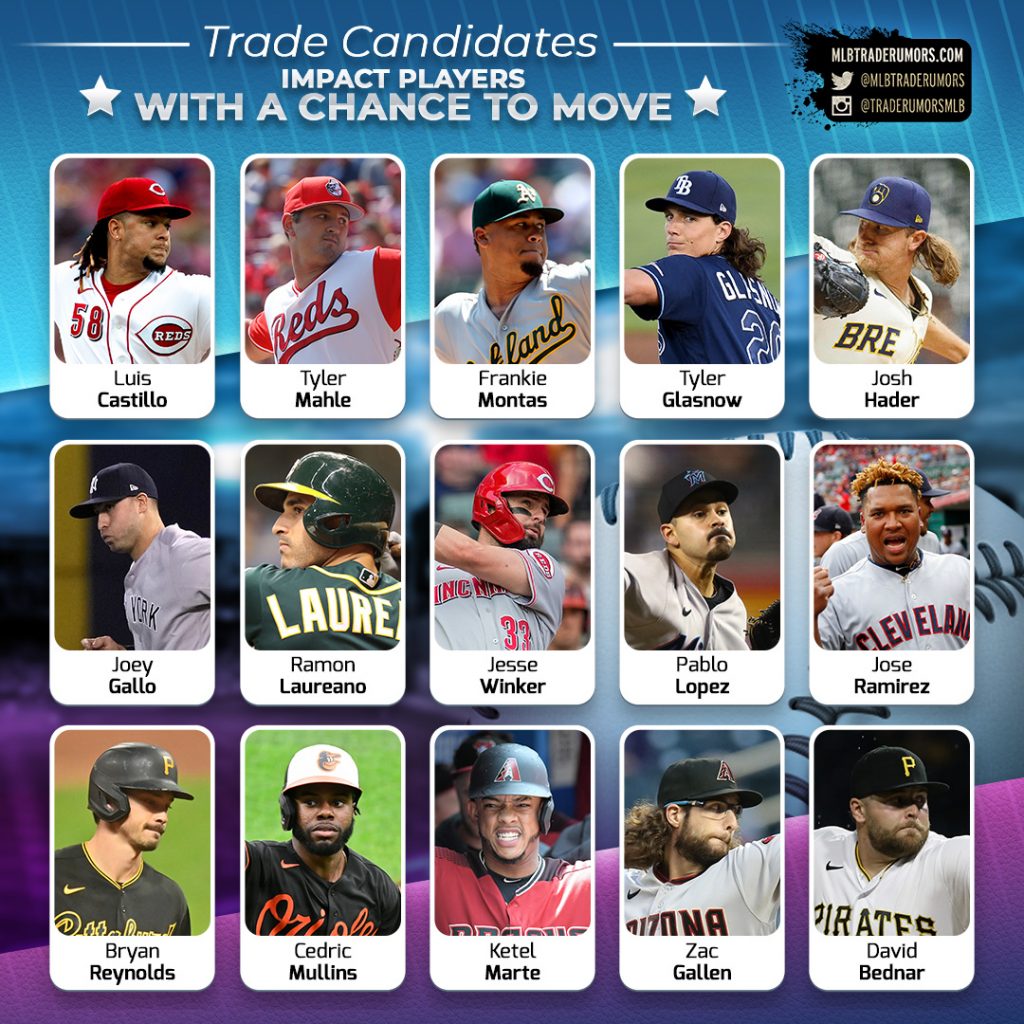 Earlier in the week, MLBTR owner Tim Dierkes published our list of the 14 players we consider to be the likeliest trade candidates following the ongoing MLB lockout. That list was the result of an extensive talk with Tim, myself and Anthony Franco, wherein we considered the possibility of more than 100 players and whether they could (or could not) viably change hands. While that Athletics-heavy list contained who we agreed to be the likeliest, it certainly didn't represent every plausible trade candidate in our eyes.
As Tim noted within that post, we wound up sorting our list of plausible trade candidates into various buckets/tiers. The top 14 was simply the likeliest, regardless of contract or quality of player, but for the remainder of the exercise, we chose to categorize things based on how impactful a player might be to his new team. This, admittedly, is subjective. We didn't establish a defined set of concrete parameters in labeling this group "impact" players; rather, we focused on mid-rotation (or better) starting pitchers, high-leverage relievers and hitters with recent All-Star-worthy performances (even if they didn't necessarily result in an actual All-Star berth). Three wins above replacement in a given season wasn't a firm cutoff, but we did ask at multiple points whether we a player had recently or could be reasonably expected/projected to turn in a 3-WAR season while sorting them.
Once these players were tiered, we further broke them down by whether they were legitimately plausible candidate to change teams or just someone whom other clubs would be trying to pry away. Basically, none of Tim, Anthony or myself would bat an eye to see Luis Castillo or Frankie Montas traded. Bryan Reynolds or Cedric Mullins, though? We'll probably hear about teams trying to pry those players loose from their respective clubs (hence their inclusion), but a deal coming together seems like a long shot and would register as a mild surprise (if only because of the asking price and remaining club control).
As Tim explained, some of these players are interconnected. While the Reds have three starters who could plausibly change hands, we don't necessarily think all three will move. It's the same with the A's roster. They could plausibly move multiple players — GM David Forst said amid November reports of a mandate to slash payroll that they'd have to listen on the whole roster — but that doesn't mean the A's are going to trade seven or eight players.
Anthony will follow this list up in the near future with a collection of solid regulars who we believe could change hands and/or will be in high demand following the lockout, but for now, here's our second tier of trade candidates — legitimate impact players who could plausibly change teams but perhaps aren't as likely to go as those listed by Tim earlier in the week…
Plausible/Decent Chance to Move
Luis Castillo / SP / Reds
The Reds' offseason transactions since the close of the 2020 season have included a salary dump of Raisel Iglesias, non-tendering another quality reliever (Archie Bradley), trading Tucker Barnhart to Detroit, and placing Wade Miley on waivers rather than picking up a reasonable $10MM option. GM Nick Krall kicked off the 2021-22 offseason by declaring a need to "align our payroll to our resources." Rumors of trades involving Luis Castillo, Sonny Gray (listed among our 14 likeliest candidates due to his age and larger price tag) and Tyler Mahle naturally followed.
Even if the Reds aren't actively shopping the 29-year-old Castillo, teams will be calling to inquire, and Krall and his staff will be listening.  The Reds probably aren't going to shop him and simply let him go for the best offer, as they control him through 2023. They could always hold and market him again this summer or next offseason if no enticing offer materializes post-lockout.
Still, Castillo might be the best starting pitcher who could feasibly change hands. He got out to a brutal start in 2021, but over his final 22 starts, Castillo was excellent. He racked up 135 1/3 innings (six-plus innings per start) and notched a 2.73 ERA with a 26% strikeout rate, a 9.4% walk rate and a massive 59.9% ground-ball rate. Castillo's ugly April/May results skew both his 2021 numbers and his collective numbers from 2019-21, but over the past three seasons he's still posted a 3.61 ERA while fanning 27% of his opponents.
Maybe he's not a true "ace," but Castillo is a playoff-caliber starter for virtually any team. He's projected to earn $7.6MM in 2022 and would be owed one more arbitration raise in 2023. Essentially, he'll cost somewhere in the neighborhood of $20MM for the next two seasons — a bargain rate that should be reflected in a huge asking price from the Reds.
Tyler Mahle / SP / Reds
Mahle doesn't have the name value that Castillo brings to the table, and his track record of success is shorter. Nonetheless, he's blossomed into a sharp mid-rotation arm over the past two seasons, sporting a 3.72 ERA with a 28.1% strikeout rate and 8.9% walk rate. Unlike Castillo, he's a fly-ball pitcher, which has at times bitten him at his bandbox of a home stadium; Mahle has given up 30 home runs in 227 2/3 frames dating back to Opening Day 2020, and 24 of them have come at home. He posted a 2.30 ERA away from Great American Ball Park in 2021 and, in his career, has a 5.09 ERA at home versus a 3.72 mark on the road.
A spacious home park would benefit Mahle perhaps even more than your average starter, although his penchant for yielding fly-balls will likely always make him a bit susceptible to the long-ball. Mahle has also been more of a guy who pitches into the sixth rather than completes six or seven frames (5 1/3 innings per start since 2020), but that's increasingly common in today's era of aggressive bullpen usage.
Mahle's shorter track record may give some fans pause, but teams are likely comfortable projecting him as a quality arm based on the past two seasons of missing bats at a high level. And, that shorter track record has left him with a lower price point in arbitration, as he's projected to earn $5.6MM in 2022. Like Castillo, he's controlled through 2023, so there's no immediate urgency to move him — especially given his affordable price tag. Still, teams will be calling, and the Reds can justifiably ask for a strong return.
Frankie Montas / SP / Athletics
Sticking with pitchers who have two remaining years of club control, Montas joins a long list of Athletics who could be traded post-lockout. Amid reports of a mandate to slash payroll, GM David Forst outwardly acknowledged back in November that the A's will have to listen to offers on the majority of their roster.
Montas, unlike free-agents-to-be Sean Manaea and Chris Bassitt, is controlled through 2023. And unlike Matt Olson and Matt Chapman, his projected $5.6MM salary is a bit easier for the A's to stomach. That's why Montas is in this "bucket" of our trade candidate rankings, but even if he's not as likely to move as some of his teammates, a deal is certainly still plausible.
Though Montas isn't without red flags — he served an 80-game PED suspension in 2019 and had never reached 100 innings in a big league season prior to 2021 — it's hard to ignore the quality results. Since 2018, Montas has pitched 401 innings of 3.57 ERA ball with a 24.4% strikeout rate, 7.3% walk rate and 43.7% ground-ball rate. His swinging-strike rate has continued to improve, and this past season's 26.9% strikeout rate was a career-best. He'll turn 29 in May, and he's an upgrade for any team's rotation.
Tyler Glasnow / SP / Rays
Glasnow is the most talented name on this list and, when healthy, looked the part of a legitimate ace with Tampa Bay. From 2019-21, Glasnow tallied 206 innings with a 2.80 ERA and fielding-independent marks to match. He punched out a ridiculous 36% of his opponents, walked just 7.8 percent of them and kept the ball on the ground at a 45% clip. Among the 114 starting pitchers who totaled at least 200 innings in that time, Glasnow ranks tenth in swinging-strike rate and second to only Shane Bieber in his combined percentage of called and swinging strikes. Only Jacob deGrom and Gerrit Cole had higher strikeout rates.
With that type of profile, two years of team control remaining and a projected $5.8MM salary for the 2022 season, a healthy Glasnow would be a no-brainer for the Rays to keep. Of course, Glasnow is not healthy. He's likely to miss most, if not all of the upcoming season after undergoing Tommy John surgery last August. Arb-eligible players who miss an entire season due to injury typically sign on for a repeat of their prior year's salary, meaning that in 2023 Glasnow will likely pitch on the same salary as 2022. Using that same $5.8MM projection, the Rays would be looking at about $11.6MM for one season of Glasnow, when his workload would need to be monitored coming back from major surgery.
Glasnow's career-high innings total in the Majors is 2018's 111 2/3, and his career-high for any professional season is when he reached 155 innings between Triple-A and Pittsburgh combined back in 2017. Realistically, the Rays would probably be thrilled to get 100-120 innings from Glasnow in 2023 — and an $11-12MM price tag on that modest total is rather steep for a team with Tampa Bay's general payroll concerns.
Other clubs would welcome the opportunity to take that chance, however. We've seen two-year pacts for Tommy John rehabbers like Drew Smyly ($10MM with the Cubs), Michael Pineda ($10MM with the Twins) and Garrett Richards ($15.5MM with the Padres). Glasnow's price tag is toward the lower end of that spectrum in terms of dollars, but the cost of trading prospects also has to enter into the equation. For an arm of this caliber, however, there are plenty of teams that would take the plunge.
Glasnow, for his part, recently told Chris Rose that he strongly hopes to remain with the Rays (YouTube link). Perhaps there's a contract to be worked out that could benefit both parties, but Glasnow himself acknowledged the uncertainty surrounding his status and that president of baseball operations Erik Neander will have to listen to some offers if and when other teams come calling.
Josh Hader / RP / Brewers
Teams have been trying to get their hands on Hader for years, and the Brewers have steadfastly refused all overtures. The reluctance is understandable, as Hader has established himself as arguably the best reliever in the sport. In 282 1/3 career innings, he's posted a 2.26 ERA and fanned exactly four out of every nine batters faced. No longer being used for multiple innings at a time, Hader posted a career-best 1.23 ERA in 58 2/3 frames this past season. The homer he allowed to Freddie Freeman in the NLDS isn't a great note on which to close a season, but looking at Hader's broader playoff track record, he has a 1.88 ERA and 23-to-3 K/BB ratio in 14 1/3 innings.
Trading the game's most impactful reliever wouldn't be easy for president of baseball operation David Stearns, but Hader's value is at its apex. He's also projected to see his salary spike to $10MM in 2022, with a fourth and final arbitration raise coming in 2023. Hader is dominant, but the typically low-payroll Brewers are flirting with what would be a record $123MM payroll. It's not accurate to suggest that the presence of a second powerhouse reliever, Devin Williams, makes Hader expendable, but Williams' excellence would at least slightly soften the blow of a theoretical Hader trade.
Milwaukee could still stand to improve its offense, and moving Hader could both free up some financial resources and simultaneously net some immediate help for the big league lineup. The Brewers don't have to move Hader now, to be clear. However, they probably wouldn't move him in-season if they're contending — meaning it's now or next winter, when they'd be marketing one year  and a $15MM+ salary. That would net far less long-term value. It's a fine line to walk.
Joey Gallo / OF / Yankees
Gallo popped 13 homers in 58 games following a July trade from Texas to the Bronx, but it's fair to say the deal didn't work out as New York had hoped. Gallo's strikeout rate, which had dipped a bit with the Rangers, spiked to 38.6% as a Yankee. The resulting .160/.303/.404 batting line in 228 plate appearances is one of the more bizarre slashes you'll ever see from a regular player.
Struggles in New York aside, Gallo was hitting .223/.379/.490 through 388 plate appearances in Texas and had bashed 25 homers in that span — putting him on pace for what would've been his third career 40-homer season had he not dropped off with the Yankees.
Gallo has as much power as anyone in baseball, and he's made himself into a strong defender in the outfield corners (who can handle center from time to time). However, he's projected to earn $10.2MM in arbitration this season, and it'd be understandable if the Yankees were hesitant at that price based on his post-trade struggles. New York is projected to top $226MM in luxury tax concerns, so moving Gallo could prove beneficial if owner Hal Steinbrenner is again intent on dipping beneath the threshold (wherever that'll ultimately lie in 2022).
The Yankees have Aaron Judge, Aaron Hicks and Giancarlo Stanton as outfield options, with Estevan Florial serving as a possible reserve. Were they to give Gallo a change of scenery by moving him to a team seeking pop in the outfield, they could always sign a free agent to replenish some of the depth. It's not clear that the Yankees will shop Gallo once the lockout lifts, but the New York Post's Joel Sherman wrote about the possibility back in October, reporting within that as many as seven other teams tried to land Gallo at the deadline. If he's on the block, there'll be interest.
Longer Shots due to Asking Price and/or Remaining Club Control
Ramon Laureano / CF/ Athletics
Given Forst's comments and the reports of forthcoming payroll reduction, it's viable that anyone earning a salary of some note will at least be discussed. Laureano, projected to earn $2.8MM this coming season after his first trip through the arbitration process, also represents one of the few plausible center field options on the market, which should lead to plenty of teams inquiring on his availability.
Trading Laureano is more complicated than moving some of his teammates. He's currently in the midst of an 80-game PED ban which, beyond raising questions about his performance to date, could come with major service time implications. Laureano still needs to serve 27 games of that suspension, which could impact his path to free agency. He currently has three years and 14 days of service time, meaning he'd need 158 days in 2022 to cross the threshold into four years of service and remain on track to hit the open market post-2024. There are only 187 days in a standard season, making it unlikely he'll end up accruing the necessary time on the roster to get to that point. (Remember that off-days spent on the MLB roster count as a day of service.)
There's always the small chance that some other factor impacts this trajectory (e.g. the ongoing labor talks, a potentially shortened 2022 schedule, a grievance filing), but as it stands, Laureano could wind up under team control through 2025 rather than 2024. An extra year of team control both heightens his appeal but also makes it tougher to trade him.
Beyond the service-time considerations, Laureano underwent core muscle surgery after the season, which adds another layer to a complicated scenario. But looking solely at Laureano's numbers, he's a difference-maker for a team in need of a center fielder (e.g. Phillies, Marlins, Guardians). A career .263/.335/.465 hitter with 25-homer pop, good speed and plus center field defense isn't a hard sell.
Jesse Winker / OF / Reds
I explored Winker's situation at length last week, with the bottom-line point being that it makes little sense to listen to offers on starting pitchers with two years of club control remaining (e.g. Castillo, Mahle, Gray) without doing the same on Winker. The 28-year-old slugger has had some issues with durability, doesn't hit lefties well (though he'll still draw his walks against them) and isn't a great defender. That's an odd trio of qualities to focus on when talking about someone's trade candidacy, but the other side of the coin is more compelling: Winker's production against right-handed pitching is at Bryce Harper/Juan Soto levels of brilliance.
Since 2020, Harper and Soto are the only two qualified hitters in baseball with a better mark than Winker's 169 wRC+ against righties. In terms of more traditional slash metrics, he's batting an outrageous .322/.417/.619 when holding the platoon advantage. With all the talent on the Reds' roster, I think Cincinnati should be in aggressive, win-now mode. Krall's early comments and their dealings since 2020 suggest otherwise, however, and if you're going to listen on the other guys with four-to-five years of MLB service — why not listen on Winker as well? Cleveland, Colorado, Philadelphia and so many others are looking for offensive upgrades in the outfield corners.
Pablo Lopez / SP / Marlins
As is a common refrain on this list, the Marlins have no urgency to move Lopez, who'll turn 26 in March. He was limited to 102 2/3 innings by shoulder issues last season and has yet to top 111 2/3 frames in a Major League season, but Lopez has been pretty darn good when healthy. From 2020-21, in particular, he's compiled 31 starts and 160 innings of 3.26 ERA ball with a 26.4% strikeout rate and a 6.7% walk rate. He's in his first trip through arbitration and projected for a highly reasonable $2.5MM salary.
So, why even bother considering a move? The Marlins are still hopeful of landing some help in center field, and they're also so deep in pitching talent that it borders on comical. The old adage that a team can never have too much pitching always rings in the back of our minds, but the Marlins aren't short on options beyond Lopez. Sandy Alcantara, Trevor Rogers, Elieser Hernandez, Jesus Luzardo, Sixto Sanchez, Edward Cabrera, Braxton Garrett, Nick Neidert, Cody Poteet and Daniel Castano are all on the 40-man — and top prospect Max Meyer is quickly rising through the minors. Injured top prospect Jake Eder will be back in 2023.
Jose Ramirez  / 2B, 3B / Guardians
The favorite subject of so many hypothetical trade scenarios from fans, Ramirez does feel likely to end up traded … at some point. The question is whether now's the time. Cleveland has him for $11MM this year plus a $13MM option in 2023. Given Ramirez's elite play, there's little chance of the Guardians extending him beyond that 2023 season, but there's also good sense in Cleveland taking another run at the AL Central with Ramirez as a focal point. The pitching is still excellent, and while the lineup clearly needs another bat or two, the 2022 payroll is currently projected at only $49MM. There's room to add some help for Ramirez and Franmil Reyes, and a deep farm system could also provide some in-house upgrades.
It's also impossible to look at the situation without accounting for public relations. We're only a year removed from Cleveland trading Francisco Lindor in a wildly unpopular move, and many fans' anger with further fueled by the team's name change. The newly-named Guardians are looking to usher in a "new era" of Cleveland baseball, and trading their best player for a second straight offseason isn't a great way to foster good will.
If the first half of the season goes poorly, I'd expect Ramirez to be among the most talked-about names at the 2022 trade deadline, and there'd be a much stronger chance he moves at that point. With regard to the offseason, however, there's just not enough urgency to push something across the line unless Toronto or another on-paper suitor puts forth an over-the-top offer. Even then, fans who've already purchased new Guardians gear bearing Ramirez's name are going to feel rather jilted. It'd be tough for the front office to make this move now.
Bryan Reynolds / OF / Pirates
Reynolds is the best player on a last-place team that's squarely in the midst of a rebuild so it's hardly a surprise that he's been in trade rumors dating back to the summer. Rival teams know the Pirates are open for business, and it's only natural they'd try to acquire a center fielder capable of posting a .302/.390/.522 slash like the one Reynolds logged in 2021.
On the one hand, there's an argument that the rebuilding Buccos ought to listen on anyone — and they surely will. But on the other hand, Reynolds is 27 and controlled another four seasons. His trade value won't diminish substantially if the Pirates hold onto him, giving the fans at least one recognizable and marketable star player. Reynolds is a Super Two player who's projected to earn an eminently affordable $4.5MM in 2022, so there's no financial pressure. Everyone has their price in a trade, especially on a team like the Pirates, but for some context, that price reportedly included Mariners uber-prospect Julio Rodriguez (and more) when the two teams last talked. Baseball America currently ranks Rodriguez as the No. 2 prospect in all of baseball.
Cedric Mullins / OF / Orioles
Most of what was written about Reynolds applies to Mullins. The Orioles' breakout star put together a 30-30 season last year while hitting .291/.360/.518 and is controllable for another four seasons — through age 30. No one expects the Orioles to contend in 2022, but they'll get a look at top prospects like Adley Rutschman, Grayson Rodriguez and D.L. Hall this year. Reinforcements from the farm are on the way, and it's feasible that by 2023 (and certainly by 2024), they could be on the cusp of turning a corner. Mullins will be under control, affordable and in his prime at that point.
The Orioles aren't going to declare anyone on their Major League roster "untouchable," but Mullins would only be available for a staggeringly strong offer. A Mullins trade doesn't seem likely, but teams are going to at least try to force GM Mike Elias' hand.
Ketel Marte / 2B, CF / Diamondbacks
Teams have been trying to pry Marte from the D-backs for more than a year. Arizona reportedly took the extra step of plainly telling rival clubs in early July — weeks before the trade deadline — that Marte wouldn't be moved. That probably didn't stop clubs from trying, and teams will be trying again post-lockout. The Marlins, Yankees, Mariners and quite a few others have at least been speculatively linked to Marte, whose team-friendly deal heightens his appeal. Marte will earn $8MM in 2022, and his contract calls for a $10MM team option in 2023 and a $12MM team option in 2024.
Dating back to 2019, Marte boasts a .318/.374/.543 batting line with 48 dingers, 79 doubles, 11 triples and a lowly 14% strikeout rate (versus a 7.6% walk rate). He's rated poorly in center field, from a defensive standpoint, but is well-regarded defensively at second base. A 28-year-old switch-hitter with power, some speed, plenty of versatility and a grand total of $30MM owed to him over the next three years ($21MM of which isn't even guaranteed) is wildly appealing. The D-backs, however, have shown little inclination to move him in the past, and assistant GM Amiel Sawdaye echoed that sentiment in November, calling Marte a "cornerstone" player around whom the D-backs can build.
Zac Gallen / SP / Diamondbacks
Twenty-six years old and controlled another four seasons, Gallen is precisely the type of pitcher that pitching-needy teams like the Rangers, Twins, Nationals and so many others would dream of acquiring. A forearm issue slowed him in 2021 and limited his workload, but Gallen has now made 50 starts in the Majors with a 3.46 ERA, a 27.6% strikeout rate and a 9.6% walk rate to show for it. He's already been traded twice — going from St. Louis to Miami in the Marcell Ozuna deal before being flipped to Arizona in what amounted to a rare prospect-for-prospect swap sending Jazz Chisholm back to the Fish.
The D-backs didn't even trade Merrill Kelly at this past summer's deadline when he was a fourth starter with 1.5 cheap years left on his contract. It's hard to imagine they'll be excited about the idea of giving up four seasons of Gallen — particularly when his stock is down a bit, owing to last season's arm issue. Gallen closed out the 2021 season quite well, with a 3.19 ERA and 52-to-15 K/BB ratio in his final 48 frames (eight starts). Sawdaye listed Gallen as a "cornerstone" player right alongside Marte, adding that the D-backs never plan to fully punt on a given season. Their signing of Mark Melancon for two years and $14MM meshes with the notion that this is not a team on the brink of a full-fledged teardown. Teams can try to nab Gallen, but it'd likely require some young MLB-ready talent going back to Arizona. Overall, the odds are low.
David Bednar / RP / Pirates
One of several pieces acquired in last winter's Joe Musgrove trade, the 27-year-old Bednar stepped up and solidified himself as the Pirates' likely closer in 2022. Through 60 2/3 innings, Bednar posted a tiny 2.23 ERA with a 32.5% strikeout rate, an 8.0% walk rate and a 41.4% grounder rate. Bednar yielded only five home runs all season (0.74 HR/9) and averaged 97 mph on his heater. He looks the part of a legitimate high-leverage weapon, and he's controlled for five more years — all the way through 2026.
With such good results, a pre-arbitration salary and so much team control remaining, Bednar probably isn't going anywhere. (As a bonus, he's a Pittsburgh-area native.) The Pirates can't (or at least won't) simply trade every player who shows some semblance of value, after all. That said, the last thing most rebuilding clubs need is a high-end closer, and bullpen help is always in demand. Bednar will be 29 or 30 by the time the Pirates are realistically turning a corner, and the attrition rate on relievers is higher than anywhere else on the diamond. The argument for capitalizing on his value right now is pretty clear, but as with the rest of this "long shot" list, it's hard to see a team meeting what would surely be a pretty substantial asking price.