With the trade deadline now less than two months away, we at MLBTR are setting our sights backwards for a bit to highlight past trades of rental players to provide a loose guideline of what sort of returns fans can expect with their teams' current rental players. With an arbitrary cutoff point of 2017-21, we're counting down the top 10 returns that a team got when selling a rental player. We've already published some honorable mentions as well as entries No. 10, No. 9, No. 8, No. 7, No. 6, No. 5, No. 4 and No. 3. If you disagree with our rankings, let us know! It's all part of the subjective fun! Onto No. 2…
The Marlins and Starling Marte at one point both hoped the dynamic outfielder would spend the final years of his career in Miami. Marte, whom the Fish acquired from the D-backs at the 2020 trade deadline when he had a season and a half of club control remaining, immediately took a liking to South Beach and voiced a desire to remain there long-term. A then-32-year-old Marte was willing to talk extension during the season in 2021, and the two parties headed into the All-Star break in the midst of extension negotiations.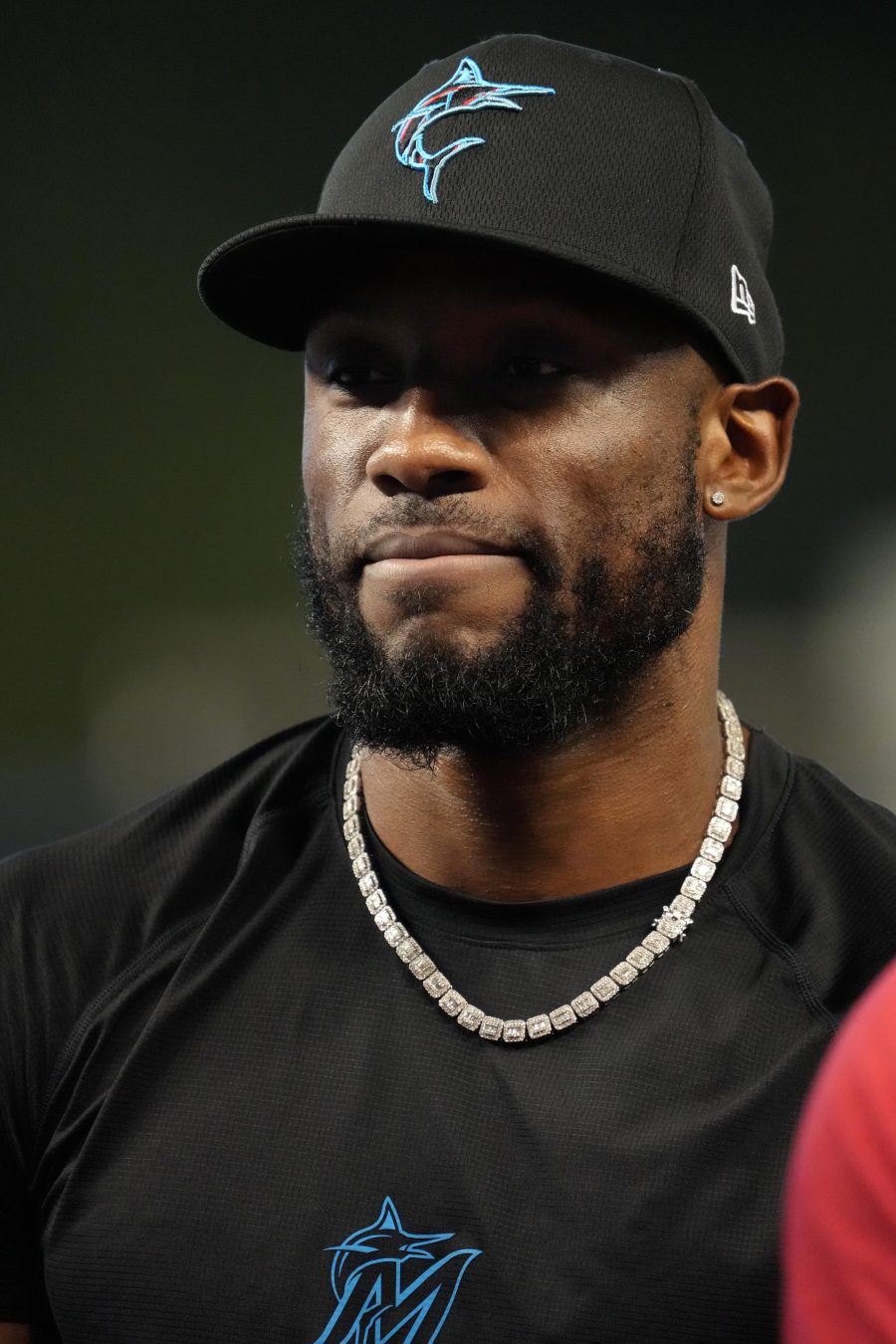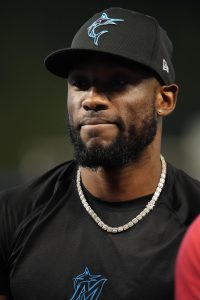 Reporting from Craig Mish, Jordan McPherson and Barry Jackson of the Miami Herald at the time indicated that Marte was seeking a four-year extension offer that would cover his age-33 through age-36 seasons — a reasonable request for a player of his caliber. Marte entered that year's All-Star break with a strong .271/.382/.411 batting line, after all, and was a career .287/.341/.450 hitter entering that 2021 campaign.
The Marlins said all the right things publicly about wanting to keep Marte, but Mish and McPherson reported after the All-Star break that the team had topped out on a three-year offer worth less than $40MM. That type of offer was never going to get a deal done — Marte wound up signing a four-year, $78MM deal in free agency in the offseason, remember — and it was a bit surprising the Fish even put it out there. Regardless, the focus shifted to finding a trade partner for Marte, and in the end, things could hardly have worked out better for Miami.
Marte, as one would expect, quickly became a hot commodity on the trade market once it became clear that an extension in Miami wasn't happening. The Giants, Yankees, Phillies and Astros were among the teams showing interest, and San Francisco in particular appeared to be a strong on-paper fit. There was never any talk about the Athletics harboring interest in Marte, and their outfield appeared largely set anyhow — at least from the outside looking in. Just days after the trade deadline, however, Ramon Laureano was hit with an 80-game PED ban. He'd almost certainly already gone through the appeals process by that point, so there's a chance the A's had a strong inkling they'd need some outfield help by the time they swung their July 28 deal for Marte.
Regardless of the circumstances that led to the trade, it was a legitimate shocker. There'd been virtually nothing to link the two teams prior to the deal, and a low-payroll club like the A's taking on an expensive rental player didn't seem plausible. Miami, however, kicked in $4MM to help cover the remainder of Marte's salary. Owner Bruce Sherman was likely plenty OK with doing so, given the return.
Jesus Luzardo entered the 2020 season as the top left-handed pitching prospect in baseball. He had a decent but not elite rookie campaign during the pandemic-shortened 2020 sprint (4.12 ERA in 59 innings). Paired with a strong showing during his 12-inning cup of coffee as a 21-year-old late in the 2019 season, he looked ready for primetime and entered the '21 season regarded as a breakout candidate who could soon front Oakland's rotation.
Things didn't pan out that way. Luzardo was rocked for a 5.79 ERA through his first six starts and was placed on the injured list after sustaining a hairline fracture in his left pinkie. The injury, one of the more bizarre IL trips in recent memory, occurred after Luzardo hit his hand on a desk while playing video games. The lefty apologized to the team and fans after the fact, calling the injury "stupid" and "immature." Luzardo returned a month later, this time pitching out of the bullpen, and allowed 11 runs in 10 innings before being optioned to stretch back out as a starter.
Embarrassing injury aside, the future still seemed plenty bright for Luzardo, even with a poor 38 innings to begin his 2021 season. Perhaps the video game incident contributed to the forthcoming decision. Perhaps the A's just didn't feel Luzardo would live up to his prospect status. Or, more likely, perhaps vice president Billy Beane and general manager David Forst knew full-well what was coming in the offseason — massive payroll cuts from ownership and the inevitable teardown of a roster that won 97 games in both 2018 and 2019 — and simply felt they needed to push all-in for a ring in 2021.
The 56-46 Athletics traded Luzardo, who still had five years of club control remaining, to the Marlins in order to acquire the final two-plus months of Marte's contract before he reached free agency.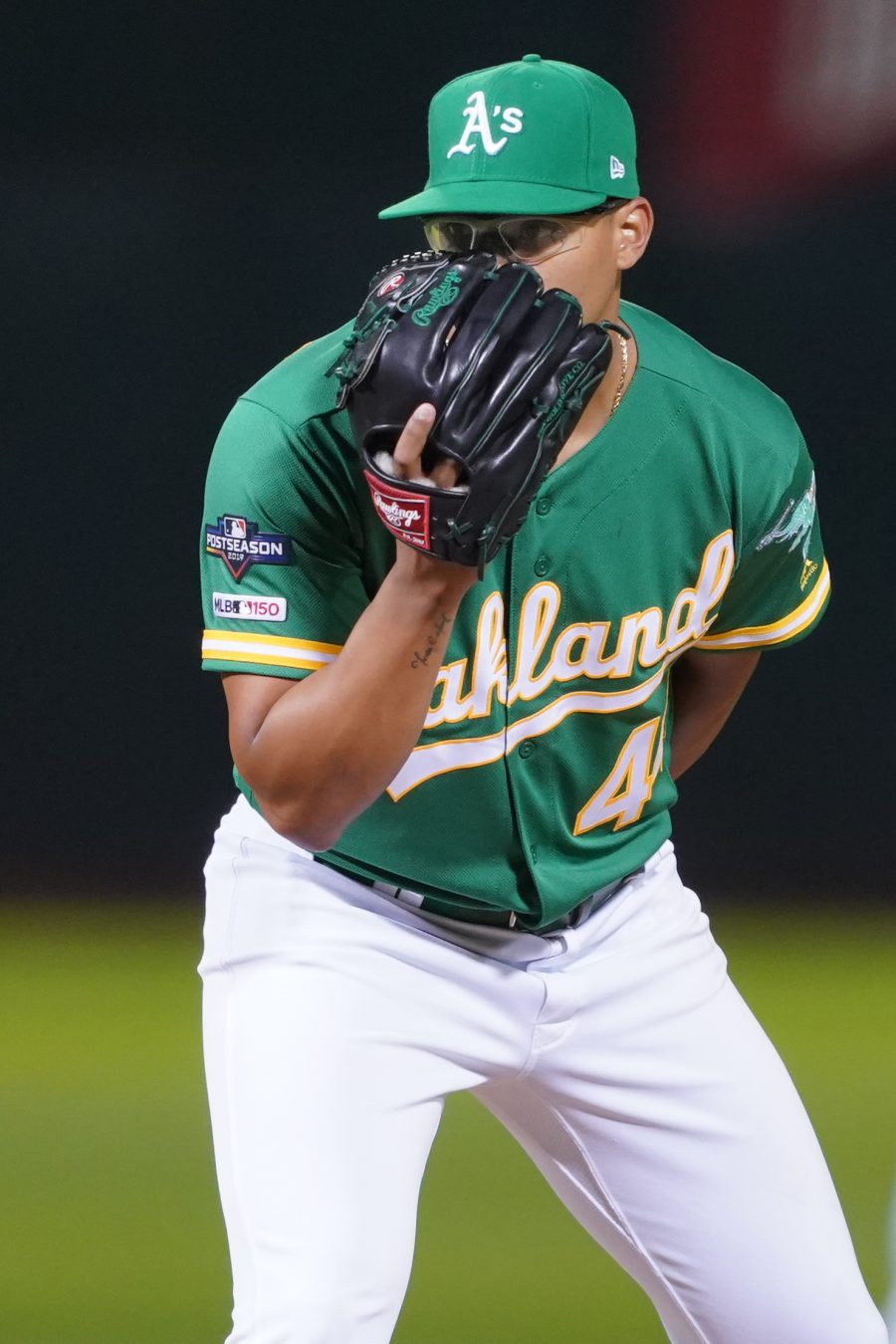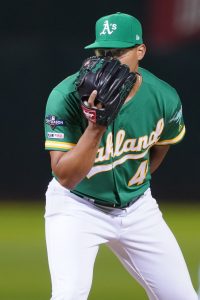 I used the term "deadline-season stunner" at the time of the trade and still feel that holds up. It's simply rare for an MLB-ready pitcher with this much promise and this much club control to be moved at all — let alone for a two-month rental. That the acquiring team was a small-market, low-payroll club like the A's and hadn't been linked to Marte whatsoever only added to the surprise. In all likelihood, this trade coming together required a perfect storm: the looming PED ban for Laureano, the regrettable freak injury for Luzardo early in the season, and career years/breakouts from several A's pitchers (Frankie Montas, Chris Bassitt, Cole Irvin, James Kaprielian) that all made Luzardo feel a bit more expendable.
In an all too common refrain for the tortured Oakland fanbase these days, the trade hasn't worked out for the A's. Granted, Marte was brilliant in green and gold, hitting .316/.359/.466 with five homers, 16 doubles, a pair of triples and a hefty 25 steals in just 56 games. The Athletics couldn't have realistically asked for much more than that, but the rest of the team didn't hold up well enough to even reach the postseason.
The A's still finished 10 games over .500, but Oakland lost nine of its final 13 games, finishing third place in the AL West and winding up five games out in the AL Wild Card chase. Marte reached free agency and was ineligible for a qualifying offer by virtue of that midseason trade. Oakland received no compensation for his departure, and ownership gutted payroll as the front office embarked on yet another rebuild.
Down in Miami, things got out to a rocky start as well. Luzardo's velocity was down a bit in a dozen post-trade starts, and he posted a 6.44 ERA with the Marlins overall in his first run with the club. It wasn't a great start.
Things took a sharp turn in Miami's favor the following season. Luzardo, born in Peru but raised in Florida, looked far more comfortable in the first full season of his homecoming. A forearm injury limited him to 100 1/3 innings, but he broke out with a 3.32 ERA, a 30% strikeout rate and an 8.8% walk rate — all while displaying a career-best 96.4 mph average on his heater. His swinging-strike and opponent chase rates were the highest of his career, and he gave up less hard contact than he had during his ugly 2021 campaign.
The Marlins received trade interest in Luzardo over the winter and surely could've moved him for a haul of young talent if they'd preferred, but the Fish held onto the still just 25-year-old lefty and now find themselves in the running for a postseason berth. Miami has won eight of ten games and is just three and a half games behind the division-leading Braves in the NL East. If the season ended today, the Fish would land the National League's second Wild Card spot.
Luzardo has been a key part of that, although his recent six-run clunker did mark his third start of five or more runs allowed this year. Even with that trio of rough outings, Luzardo has a 4.17 ERA. His 27.3% strikeout rate and 6.4% walk rate are much more encouraging, however. Like many pitchers on a Marlins club that is playing multiple players out of position, Luzardo's been hampered by his defense (.335 BABIP). Fielding-independent metrics like FIP and SIERA both peg him at 3.58 so far this season.
Dating back to Opening Day 2021, Luzardo has given the Marlins 32 starts and 178 innings of 3.69 ERA ball with a 28.8% strikeout rate and 7.7% walk rate. He's not only regained any velocity that dipped in 2021 but is now averaging a career-high 96.8 mph on his heater. Luzardo's swinging-strike and chase rates both suggest there's the potential for even more strikeouts. Even if his results never catch up to the strong marks he's receiving from fielding-independent numbers, the 2021-22 version of Luzardo is already a playoff-caliber starting pitcher. He may not be an "ace," and fans can debate whether he's more of a "No. 2" or "No. 3" type starter, but he's solidified himself as an above-average starter with upside for more.
The Marlins control Luzardo for three more years beyond the current season. He reached arbitration as a Super Two player this past winter and is already earning $2.45MM. As a Scott Boras client, an extension isn't likely, so expect Luzardo's name to pop up in trade rumors again as he inches closer to free agency. Even by Miami payroll standards, he's a bargain in 2023 and will be again in 2024, so a trade in the short-term doesn't seem likely. For now, he'll continue slotting into the rotation of a surprisingly competitive Miami club that could enter the deadline as a buyer if it can maintain any semblance of its current pace.
As for the A's, they're on the opposite end of the spectrum, with their primary 2023 goal at this point being to avoid the worst record in big league history. It's hard to blame the Oakland front office for going all in and trading Luzardo, knowing the fire sale was coming, but the A's would be a lot less futile with him in the rotation. Or, at the very least, the farm system would likely be stronger with the influx of young talent they could've acquired by putting him on the market as part of the rebuild this past offseason.
Images courtesy of USA Today Sports.