With the trade deadline now less than two months away, we at MLBTR are setting our sights backwards for a bit to highlight past trades of rental players to provide a loose guideline of what sort of returns fans can expect with their teams' current rental players. With an arbitrary cutoff point of 2017-21, we're counting down the top 10 returns that a team got when selling a rental player. We've already published some honorable mentions as well as entries No. 10, No. 9, No. 8, No. 7, No. 6, No. 5, No. 4, No. 3. and No. 2. If you disagree with our rankings, let us know! It's all part of the subjective fun! Now for the top spot in our series…
The 2021 season was a disaster for the Twins. Fresh off a division title in the shortened 2020 season, they entered the year as the team to beat in the American League Central but faceplanted with a 9-15 showing in the season's first month and never recovered. Offseason signings of Andrelton Simmons, J.A. Happ, Alex Colome and Matt Shoemaker all flopped. Top prospect Alex Kirilloff, expected to be a key contributor, was limited to 59 games thanks to a torn ligament in his wrist. Kenta Maeda followed up his Cy Young runner-up season with an injury-shortened year that ended with him undergoing Tommy John surgery. Jose Berrios was the only pitcher who even reached 110 innings on an injury-ravaged Twins staff.
Berrios was also one of several veterans the Twins wound up trading once they waved the white flag on their 2021 season. After years of failed extension efforts, he was traded to the Blue Jays in exchange for prospects Austin Martin and Simeon Woods Richardson. That trade was one of the headline moves of the entire 2021 trade deadline, but it wasn't the defining move of the summer for the Twins.
That distinction goes to the first trade they made, jumping the market to send designated hitter Nelson Cruz to the Rays in a trade that brought back a pair of pitching prospects: the since-DFA'ed Drew Strotman and a near-MLB-ready right-hander by the name of Joe Ryan. The Twins also sent minor league righty Calvin Faucher to the Rays as part of the deal — he's since made his debut but hasn't pitched particularly well — so it can be argued that this wasn't a pure rental, but the heart of the trade was a half season of Cruz for the aforementioned prospects.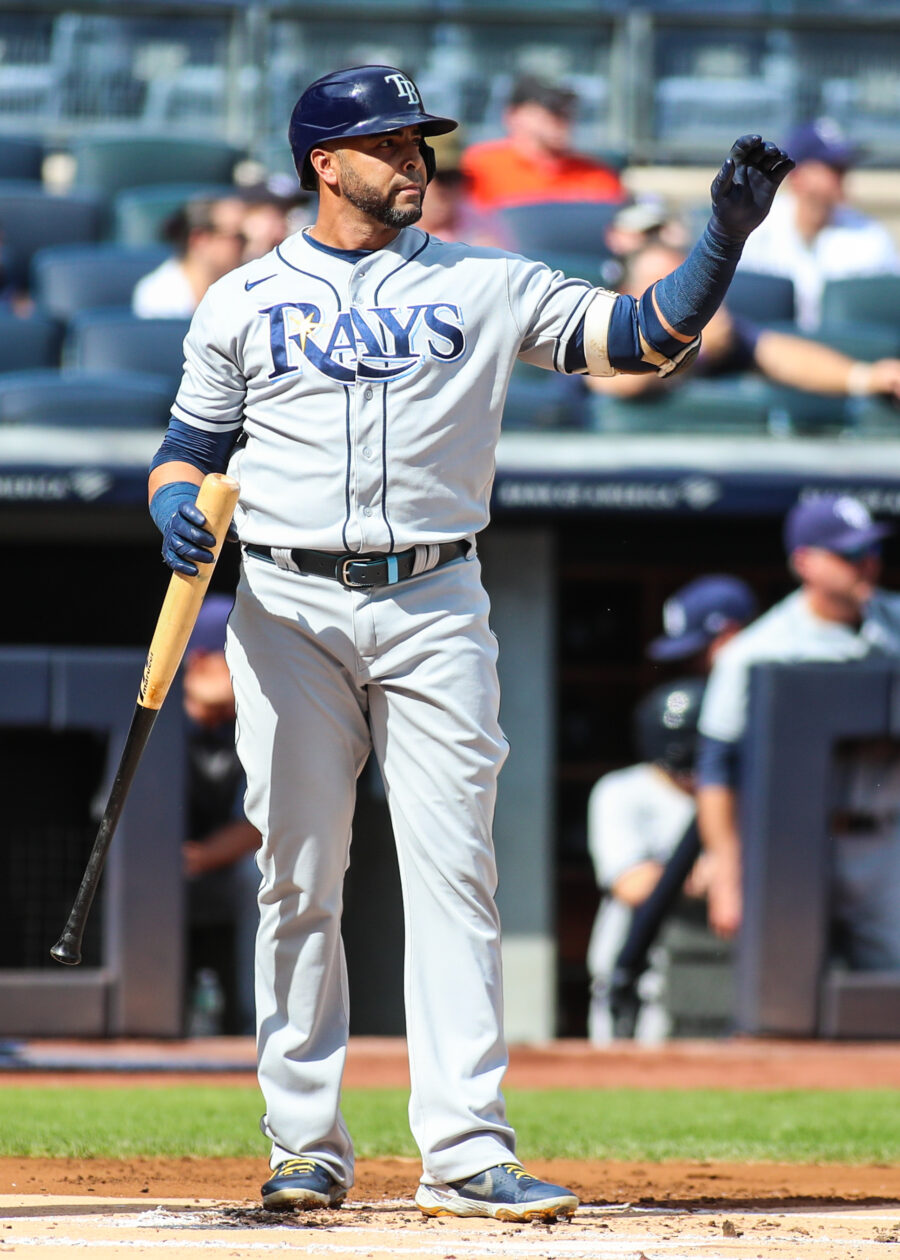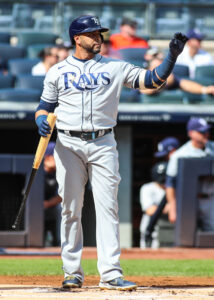 Regardless of how things play out with Faucher, there's no getting around the fact that the trade didn't work out as the Rays hoped. Cruz was hitting .294/.370/.537 with 19 homers in 346 plate appearances at the time of the trade, and Tampa Bay hoped they were acquiring a heart-of-the-order slugger who could deepen their lineup and provide some needed thump in the postseason. Cruz kept hitting for power (13 homers, 238 plate appearances), but his strikeout rate spiked as his walk rate plummeted.
The end result was a .226/.283/.442 slash, plus a 3-for-17 showing in an ALDS loss to the Red Sox. One of those hits was a solo home run, but Cruz's well below-average OBP and dramatic rise in strikeouts (from 18.2% in Minnesota to 26.5% in Tampa Bay) fell shy of expectations. Cruz hit free agency following the season and went on to sign a one-year deal with the Nationals.
The now-26-year-old Strotman's time with the Twins lasted barely a year. He was hit hard in Minnesota's Triple-A rotation following the trade and moved to the bullpen the following year, which did little to quell his long-running command issues. He's since bounced to the Rangers and Giants via waivers, the latter of whom was able to pass him through waivers unclaimed. He currently has a 6.54 ERA in Triple-A Sacramento. Strotman was an upper-level pitching prospect who had a chance to debut in the Majors in relatively short order, but his half of the trade (quite clearly) hasn't panned out.
The other half of the Twins' return is another story entirely.
At the time of the trade, Ryan had only just begun to sneak onto the back-end of top-100 prospect rankings around the industry. He was in the midst of a strong season with Triple-A Durham, pitching to a 3.63 ERA with a 34.9% strikeout rate against a 4.7% walk rate. Ryan's lack of velocity — he averages under 93 mph on his fastball — perhaps created some skepticism about his ability to continue missing bats at that level in the big leagues, but his atypical release point has allowed him to continually befuddle hitters despite his pedestrian velocity.
Ryan's time in the minor leagues with the Twins was brief, to say the least. Minnesota had the right-hander make just two starts in Triple-A following the trade before summoning him for his Major League debut. In his next four starts, Ryan held opponents to a 2.45 ERA with a 25-to-3 K/BB ratio in 22 innings. He was hit hard in his final outing of the year, finishing out the season with a 4.05 ERA and 30-to-5 K/BB ratio in 26 2/3 innings.
The Twins had seen enough to not only pencil Ryan into their 2022 rotation, but make him their Opening Day starter after just five big league appearances. Ryan's 2022 campaign, his age-26 season, marked a significant step forward. The right-hander made 27 starts, pitched to a 3.55 ERA and fanned a quarter of his opponents against a tidy 7.8% walk rate. If there was any doubt about his status as a surefire big league starter, it'd largely been eliminated.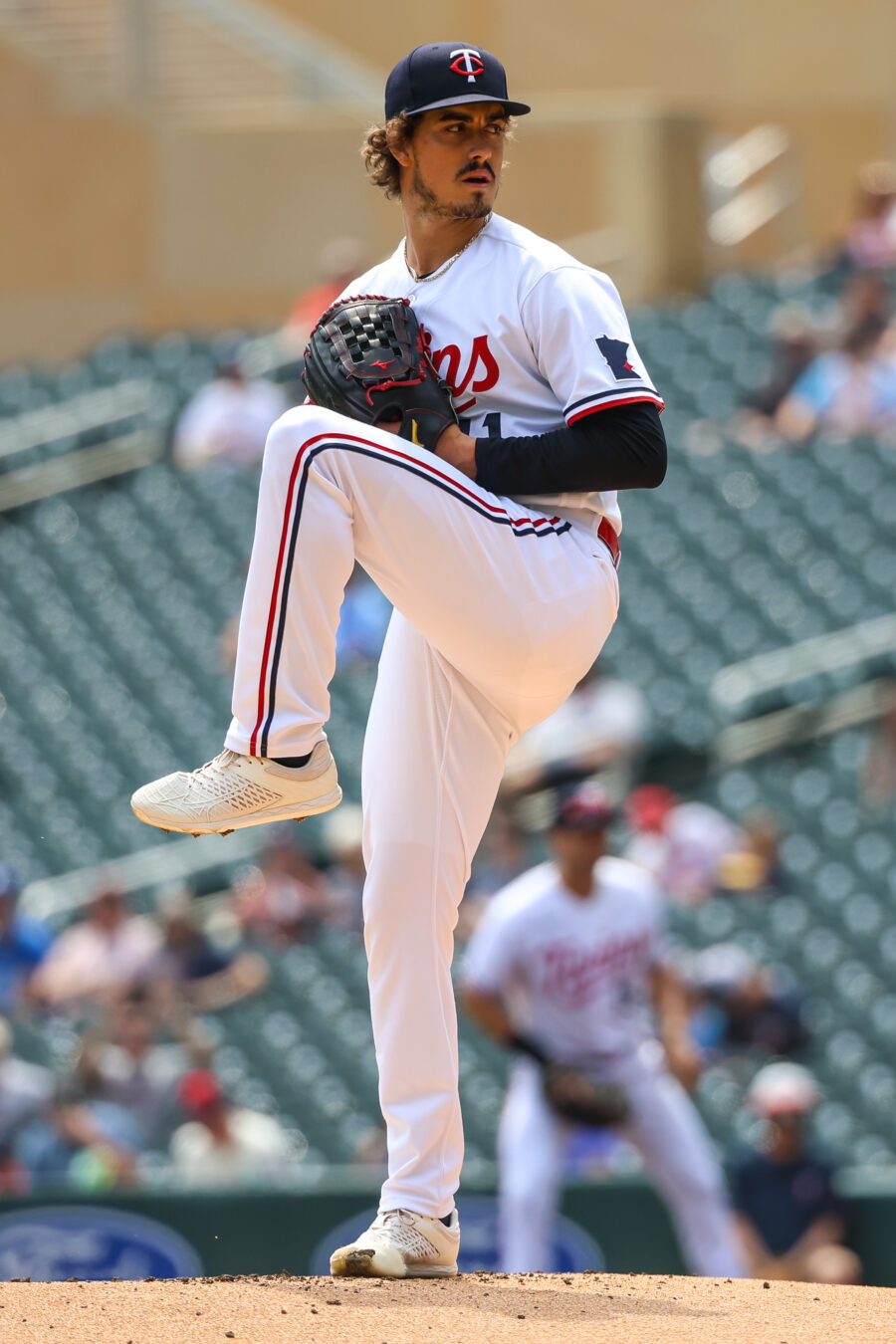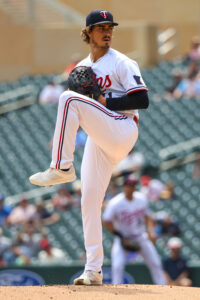 Continuing on at that pace would've made Ryan a clear building block for the Twins, but he's taken his game to another new level so far in 2023. Long an extreme fly-ball pitcher, Ryan has added a splitter that's helped him up his ground-ball rate and further neutralize left-handed opponents. Ryan's 35% ground-ball rate is still lower than average by nearly 10 percentage points, but it's a huge increase from the 27.7% mark he posted in 2022. Lefties weren't effective against him in the first place, hitting just .202/.288/.348 in 2022, but they've flailed away at a .199/.242/.281 clip in 2023. The addition of that splitter has helped out against righties, too; they're hitting just .225/.257/.373 against Ryan this year. Statcast credits the newly implemented splitter with a .196 "expected" opponents' batting average and a .283 expected slugging percentage.
Ryan entered play today with a 3.30 ERA, 27.1% strikeout rate and 4.5% walk rate in 84 1/3 innings. After averaging just over 5 1/3 innings per outing last year, he's been given a longer leash by the Twins in 2023 and averaged a bit better than six innings per start. The mustachioed righty has already surpassed his 2022 total of 2.1 FanGraphs wins above replacement, and his 1.8 WAR over at Baseball-Reference is rapidly approaching last year's mark of 2.3. He's a candidate for a 2023 All-Star bid, and if he can sustain this pace, he'll likely find himself on the periphery of Cy Young voting later this season.
Because Ryan fell well shy of a full year of service time in 2021, he didn't accrue a full year of service until the completion of the 2022 season. He'll finish the 2023 campaign with two-plus year of service and won't be eligible for arbitration until after the 2024 season. The Twins control him all the way through the 2027 season, though his performance through his first 46 career starts certainly makes him a logical extension candidate for the Twins if the two sides can find a palatable middle ground.
It's difficult for teams marketing rental players to command any degree of highly ranked prospects, let alone a near-MLB ready arm who can step into a big league rotation just weeks after the swap is completed. The Twins' willingness to jump the sellers' market — Cruz was traded more than a week before the deadline — and his status as perhaps the top bat available on the market created the right circumstances for Minnesota to strike gold and set a new benchmark for modern-day rental returns.
It's probably not realistic for fans hoping their teams can cash in on a high-end rental player to expect a return this good, but the Twins surely don't mind Ryan's status as a best-case scenario for a return in this type of swap. Their decision to re-sign Cruz for a third year netted them a half season of excellent offense and, quite possibly, six-plus years of a pitcher who's increasingly looking like a front-of-the-rotation arm. It's the type of return any GM or president of baseball operations dreams of every July but the type that is rarely achieved.
Images courtesy of USA Today Sports.