The Mariners hold a tight lead in the AL West with less than a month to go. While certainly not assured, they've got a real shot at securing their first division title in over two decades.
While an offensive explosion in the second half is a big part of that success, Seattle's pitching staff kept them afloat while the lineup was struggling for the bulk of the year. The M's rotation deservedly draws plenty of praise, but their bullpen has arguably been even better.
Only the Yankees have gotten a lower ERA out of their bullpen than Seattle, whose relievers are allowing 3.43 earned runs per nine. The Astros' group is the only one with a better strikeout rate than the M's 26.5% clip; that's also true of their 12.9% swinging strike percentage. Only the Yankees and Cardinals have kept the ball on the ground more frequently.
Seattle's relief corps has been excellent across the board. They were confident enough in their relievers to trade closer Paul Sewald for controllable offensive help at the deadline. Thus far, they've been proven right in their evaluation. Since the Sewald deal, only the Dodgers and Braves have a lower bullpen ERA.
This production isn't new. The Mariners had a top ten bullpen in both 2021 and '22. It's rare consistency for the area of the roster that tends to be the most volatile. The M's have found that success despite essentially not investing in the bullpen. Their only major league free agent signings of relievers of the past two offseasons have been low-cost pickups of Sergio Romo and Trevor Gott, neither of whom remains on the roster.
Instead, Seattle has built their bullpen through waivers and trades. The biggest additions have come at the expense of the Padres. The M's acquired Andrés Muñoz as part of the lopsided Austin Nola/Ty France seven-player swap at the 2020 deadline; Muñoz was rehabbing from Tommy John surgery at the time. A day later, Seattle sent middle reliever Taylor Williams to San Diego for then-prospect Matt Brash.
Yet the Mariners have constructed their bullpen on far more than that two-day stretch from three seasons back. As recently as last winter, Seattle plucked a trio of quality relievers from other clubs at little cost.
Justin Topa (controllable through 2026)
None of Seattle's offseason moves has worked quite as well as the Topa pickup. The M's acquired the 32-year-old righty in a January trade that sent minor league pitcher Joseph Hernandez to Milwaukee. The move didn't generate many headlines at the time, as injuries and middling results had kept Topa to 17 appearances for the Brewers between 2020-22. Since landing in Seattle, he has been one of the best relievers in the American League.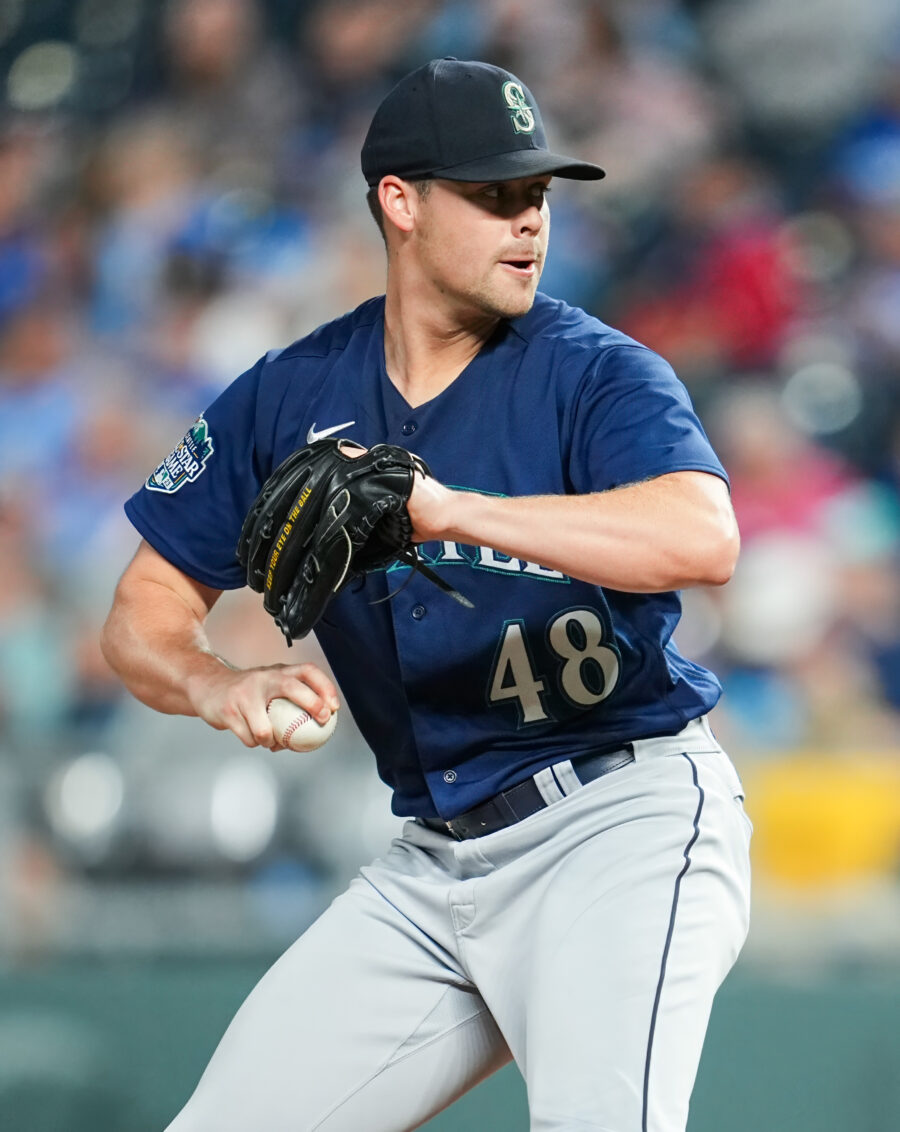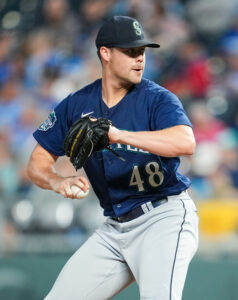 Over 55 1/3 frames, he carries a 2.11 ERA. While Topa's 22.4% strikeout rate and 8.5% swinging strike rate are each fringy, his 95 MPH sinker has enabled him to keep the ball on the ground at a huge 57.7% clip. He has handled hitters from both sides of the dish and kept his walks to a minuscule 6.3% rate. Topa has held 22 leads and saved a pair of games.
He'll be eligible for arbitration for the first time next offseason. The M's can control him for three seasons beyond this one, essentially the entire back end of his expected prime. It remains to be seen whether Topa will stay healthy for multiple seasons. An injury history that included two Tommy John surgeries and flexor tendon surgery is among the reasons that Milwaukee moved on from him. Even if this winds up being his most productive season, this trade will very likely go down as a win for Seattle.
Hernandez has logged 43 innings of 3.98 ERA ball as a 23-year-old for Milwaukee's High-A affiliate. He's striking out just 17.8% of batters faced against a huge 13.6% walk rate. He didn't appear among Baseball America's midseason ranking of the Brewers' top 30 prospects and will be eligible for the Rule 5 draft for a second time this winter if not added to the 40-man roster.
Gabe Speier (controllable through 2027)
Seattle grabbed Speier off waivers from the Royals at the start of the offseason. As was the case with Topa, the 28-year-old southpaw had nondescript results in scattered time before landing in Seattle. Speier appeared at the major league level with the Royals each year from 2019-22 but never reached 20 MLB innings in a season. He posted a cumulative 3.83 ERA without missing many bats and had been blitzed for a 14.51 ERA over 30 Triple-A outings a year ago.
Given the astonishingly poor minor league results, it's easy to understand why K.C. put him on waivers. Yet Speier has broken through at the big league level with Seattle, turning in 45 2/3 innings of 3.74 ERA ball. He's striking out almost 30% of opposing hitters after running a 20.2% strikeout rate for Kansas City. Speier has walked fewer than 4% of opponents while keeping the ball on the ground at a huge 56.9% clip.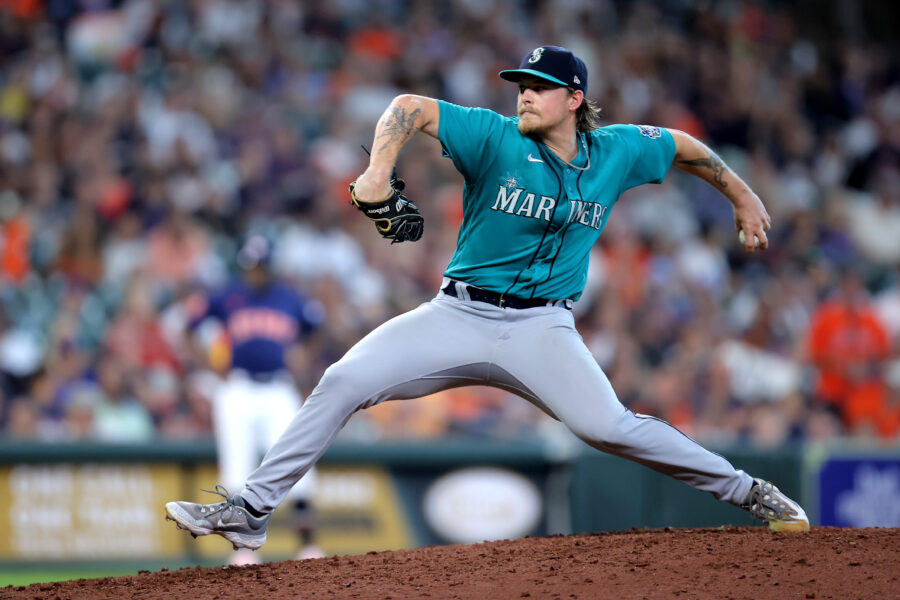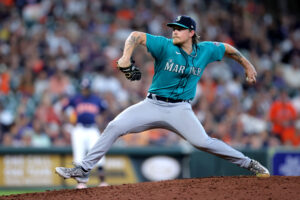 Speier isn't as complete a pitcher as Topa. He's best suited in favorable platoon situations, with right-handed hitters able to elevate the ball against him, leading to some home run issues. Speier has been a nightmare for opposing southpaws, though. He's running a 26:1 strikeout-to-walk ratio in 85 plate appearances against lefties. Left-handed hitters have hit 70% of their batted balls on the ground.
It seems directly tied to an approach change, as Speier has dramatically upped the use of his sinker against same-handed batters while cutting back on his slider. He'd seemingly gotten too predictable last season, using his slider quite often when he got in favorable counts. He's now keeping hitters honest with the fastball even when he gets ahead, both keeping the ball on the ground more frequently and making the slider a more effective complementary offering when he does go to it.
Tayler Saucedo (controllable through 2027)
Yet another sinkerballer claimed off waivers, Saucedo joined the Seattle organization on a claim from the Mets in January. He'd never played for New York, who had snagged him from the Blue Jays earlier in the winter. Saucedo had posted a 5.40 ERA in 28 1/3 innings over parts of two seasons for Toronto.
The 30-year-old lefty has tallied a career-high workload in the Pacific Northwest. Over 42 1/3 frames, he has posted a 3.19 ERA. Saucedo hasn't shown the same command as Topa or Speier, but he's inducing grounders at a 60.9% clip that even surpasses the rates of his teammates. While his 21.3% strikeout rate is a little below average, he's getting swinging strikes on a strong 13.6% of his offerings.
Saucedo's strikeout and walk marks are far better against same-handed opponents. He has been adept at keeping the ball on the ground against hitters from either side of the dish. The M's are probably best served keeping him away from opposing teams' top righty bats, though they have enough bullpen depth to deploy him situationally when his ground-ball ability is most valuable.
—————————
None of Topa, Speier or Saucedo were headline-grabbing acquisitions. They're likely still not familiar names to many fans outside Seattle. Yet they've been productive moves on the margins for the M's front office. Topa cost a minor league pitcher who is struggling in High-A. Speier and Saucedo were acquired for no more than a waiver fee. All three pitchers are playing for around the minimum salary.
The trio has turned in a 2.95 ERA while holding opponents to a .241/.301/.328 batting line over 143 1/3 combined innings. While not the flashiest performers, they've been the latest effective bullpen finds for a Seattle front office that has hit on quite a few low-cost relievers in recent years. It's among the reasons they felt they could trade their closer without punting the season. With a month left to play, their bullpen depth has kept up its end of the bargain, leaving the M's right in the thick of the division race.
Images courtesy of USA Today Sports.