The Mariners have made it official: top prospects Jarred Kelenic and Logan Gilbert have had their contracts selected to the Major League roster and will make their MLB debuts tonight against the Indians. Seattle has also selected the contract of right-hander Paul Sewald.
To make room on the 26-man roster for that trio, the Mariners have optioned outfielder Taylor Trammell, lefty Aaron Fletcher and righty Wyatt Mills to Tacoma. Additionally, Seattle designated outfielder Braden Bishop for assignment and transferred both Nick Margevicius and Ljay Newsome to the 60-day injured list to open spots on the 40-man roster. Margevicius, according to the team, has been diagnosed with thoracic outlet syndrome. Newsome is weighing options for a UCL injury.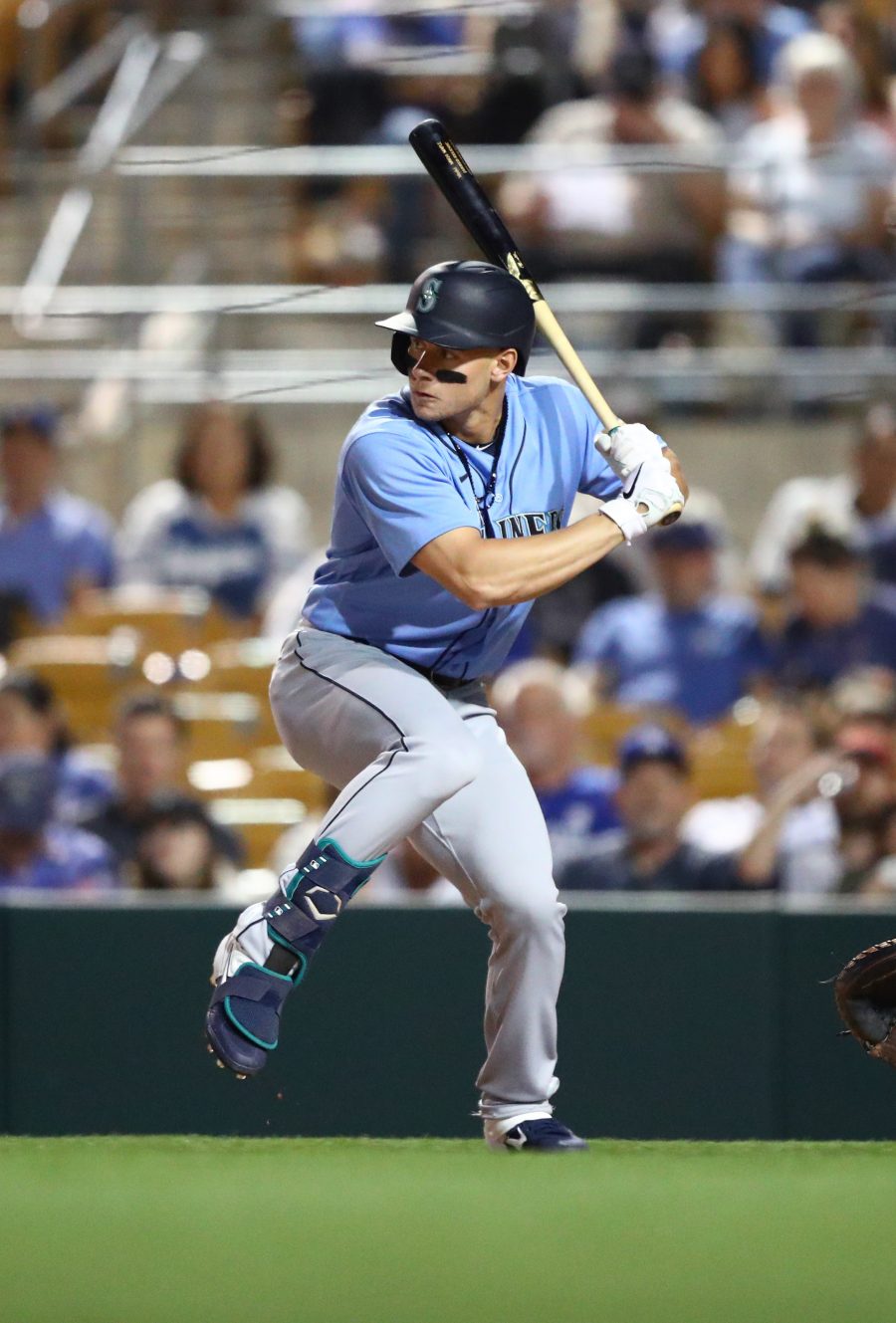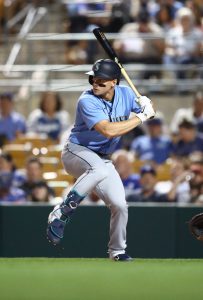 The promotions of both Kelenic and Gilbert were reported to be taking place earlier in the week. Kelenic comes to the Majors as one of the game's top overall prospects — a potential five-tool outfielder who was the No. 6 overall pick in the 2018 draft. Kelenic, in many ways, has become the face of the Mariners' rebuilding effort. Not only is he the top-ranked prospect in a farm system that was rapidly turned from one of the game's thinnest to one of the game's best, but he was the centerpiece of the trade that saw the Jerry Dipoto-led front office trade away Robinson Cano — the signature addition of predecessor Jack Zduriencik.
Kelenic, who has yet to turn 22, had an even brighter spotlight cast upon him after now-former Mariners president Kevin Mather revealed during a recorded interview that Kelenic had turned down an extension offer and the club planned to call him up in late April. It was a clear nod to service time manipulation, one that prompted Kelenic and agent Brodie Scoffield to publicly state that the Mariners had made clear that he'd have been in the Majors last summer had he accepted their offer prior to the 2020 season.
As if that situation didn't cast enough eyes on Kelenic, he quickly put on a display in Triple-A Tacoma that illustrated why he is so highly regarded within the industry. Kelenic homered twice in his Triple-A debut last week, and he's gone on to bat .370/.414/.630 with a pair of steals in a total of 29 plate appearances in what the organization hopes will be the only Triple-A time he ever needs.
ESPN's Kiley McDaniel ranks Kelenic as the No. 3 prospect in all of baseball, and Kelenic checks in as the game's No. 4 overall prospect on the lists penned by Baseball America, MLB.com, Keith Law of The Athletic and Eric Longenhagen of FanGraphs. Scouting reports on him are rife with superlatives. BA calls him an "elite young hitter" who projects to be an "offensive force," while FanGraphs touts him as a "lethal offensive threat" who'll hit enough to be a star regardless of his defense — which nearly all suggest to be solid in the outfield corners, at least during his younger seasons.
For all of the focus on Kelenic, the also-touted Gilbert seems to get lost in the shuffle at times. Selected just eight picks after Kelenic in the first round of that 2018 draft, Gilbert tore through minor league lineups in 2019 and may well have been positioned for a call to the big leagues in 2020 had their been a full season. As with Kelenic, Mather said in that interview that Gilbert would be in the big leagues just a few weeks into the season.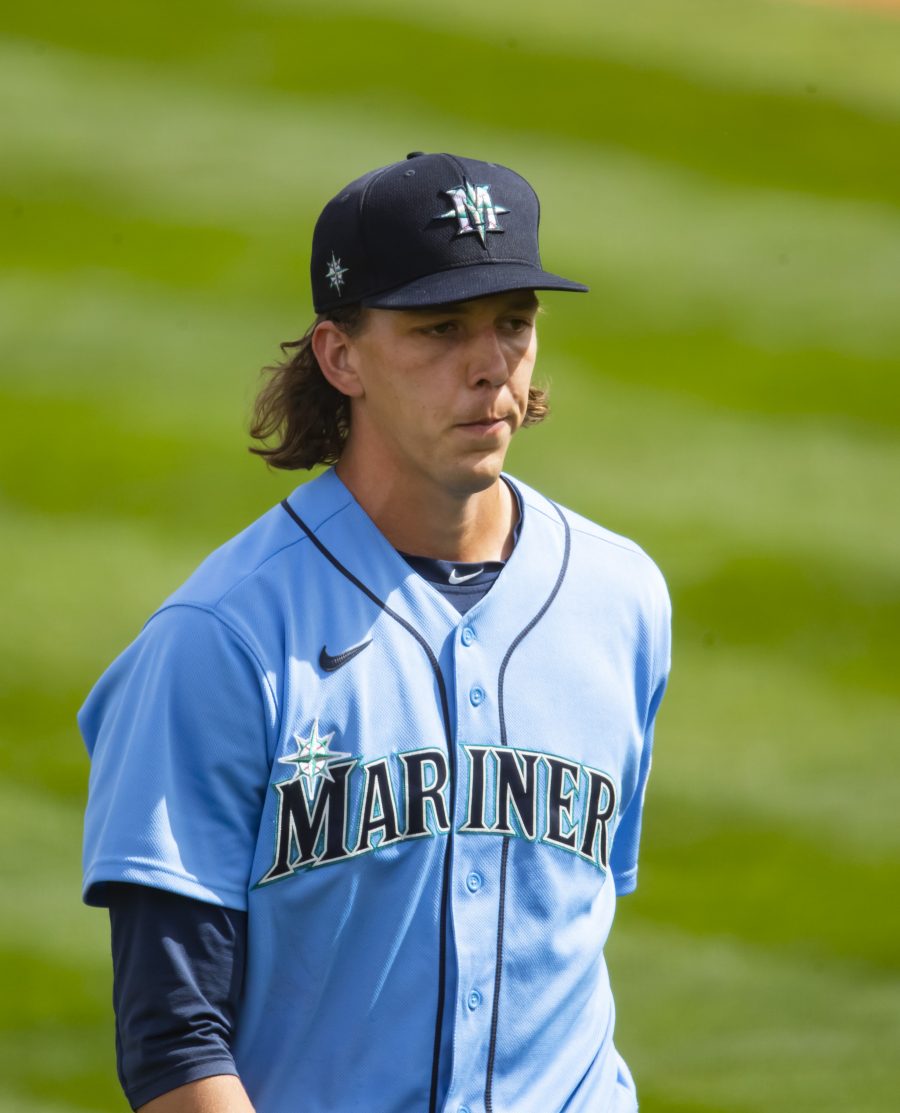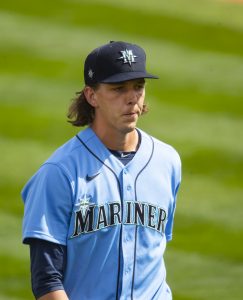 Gilbert, who recently turned 24, racked up 135 innings across two Class-A levels and Double-A in 2019, pitching to a minuscule 2.13 ERA with a huge 31.7 percent strikeout rate against a tiny 6.3 percent walk rate. While he's not ranked among the game's five best prospects, none of the aforementioned prospect rankings have Gilbert listed any lower than No. 47 overall.
Both BA and MLB.com rank Gilbert as the game's No. 28 farmhand, painting the 6'6″ 225-pound righty as a viable mid-rotation starter with the upside to develop into even more than that. He doesn't have the triple-digit fastball we've practically come to expect from so many top pitching prospects, but Gilbert has a mid-90s heater with three average or better secondary offerings and, as Law writes, "some of the best command of anyone on this list."
The organizational hope is that Gilbert steps up as a foundational piece in an increasingly promising young mix of starters. Ideally, recent first-rounders George Kirby and Emerson Hancock will join him over the next year or so.
The timing of those promotions remains to be seen, but with regard to both Kelenic and Gilbert, they'll be controlled all the way through 2027 even if they never return to the minors. Both are now likely to be Super Two players — assuming they stick in the Majors and assuming Super Two designation survives the upcoming wave of collective bargaining talks. That would make both players arbitration-eligible four times rather than the standard three, with the first offseason of arb eligibility coming post-2023.
Seattle will also get its first look at the 30-year-old Sewald, a former Mets reliever who has spent parts of four seasons in the big leagues. He's had some solid stretches out of the 'pen in Queens, but the overall body of work was lacking, as the righty owns a 5.50 ERA in 147 1/3 Major League innings. That said, he also has a career 3.01 ERA in parts of five Triple-A campaigns and had been absolutely lights-out so far in Tacoma, tossing 4 1/3 shutout frames with 10 strikeouts and no walks. It's always possible that a change of scenery will unlock something, and this is indeed a change for Sewald, who'd spent his entire career prior to 2021 in the Mets organization.
Turning to the players who are being sent out, Trammell will now head to Tacoma and get regular at-bats as he looks to get on track. A well-regarded, top-100 prospect himself, the 23-year-old made the big league roster out of Spring Training but struggled in his initial look at MLB pitching. Through his first 95 trips to the plate, the former No. 35 overall pick (Reds, 2016) managed just a .157/.255/.337 output with a troubling 43 percent strikeout rate.
Trammell spent the 2020 season at the alternate sites for the Padres and Mariners — he was part of last summer's Austin Nola trade — but hadn't played in a game setting since 2019 and has never taken a plate appearance in Triple-A. With Kelenic, Kyle Lewis and Mitch Haniger now slated to make up the Mariners' starting outfield, there weren't going to be everyday at-bats for Trammell. Given his prospect status and his ceiling, the Mariners clearly want to make sure he's getting everyday reps to build toward a future where he's a vital piece of a dynamic outfield mix.
Bishop, meanwhile, now becomes a candidate to either be traded or passed through outright waivers, where any team can claim him. The 27-year-old hasn't hit much in a small sample of 99 Major League plate appearances, but he does have a career .267/.355/.465 slash in Triple-A and is capable of playing all three outfield spots. He's also optionable for the rest of the season, so a club with some depth issues in center field — e.g. the Phillies or Pirates — could have interest in taking a look either via waiver claim or a small trade.
As for Margevicius and Newsome, their diagnoses are obviously quite unfortunate. The Mariners initially placed Margevicius on the injured list with shoulder inflammation, but a thoracic outlet syndrome diagnosis is typically followed by an invasive surgery to remove a portion of the pitcher's rib. TOS surgery has a much spottier track record of recovery for pitchers than Tommy John surgery, and if Margevicius ultimately goes under the knife, it'd quite likely end his 2021 season. Manager Scott Servais revealed last night that Tommy John surgery was on the table for the 24-year-old Newsome, so it's hardly a surprise to see him moved to the 60-day IL with a confirmed diagnosis of a UCL injury.
All told, it's a rather lengthy list of transactions for the Mariners — but one they hope will mark a watershed day in their organization's history. It's probably unfair to any prospect to view him as a potential organizational savior and tie the fate of a broad-reaching rebuild to his successes or failures, but right or wrong, those are the type of expectations fans will place on the likes of Kelenic and Gilbert. They'll now join Lewis, the reigning AL Rookie of the Year, on a roster that seems to skew younger and younger as the months tick by.
Should this youth movement bear fruit in the form of multiple productive young stars, the Mariners will look all the more formidable in the long run. Seattle has just $19.2MM in guaranteed salary on the books next year — including the $3.75MM they owe to the Mets as part of the Cano/Kelenic agreement — and that number drops to $14MM in 2023. Considering this is a club that has in the past trotted out a $158MM Opening Day payroll, the confluence of this group's arrival and next year's star-studded free-agent class offers Mariners fans the hope of finally reaching an oasis in desert of a playoff drought that now spans two decades.