After watching Andrew Friedman and Joe Maddon depart, and then overhauling their roster this offseason, the Rays will rely on a strong young rotation to remain competitive in the AL East.
Major League Signings
Notable Minor League Signings
Trades And Claims
Notable Losses
Zobrist, Escobar, Myers, Hanigan, Joyce, Rodriguez, Peralta, Hellickson, Ramos, Jose Molina, Cole Figueroa, Oscar Hernandez (to Diamondbacks in Rule 5 Draft)
Needs Addressed
It was already going to be a transformative winter for the Rays with longtime team executive Matt Silverman taking over for Friedman as the team's top baseball decision-maker, yet the club's chain of command was further shaken up when Maddon exercised an out clause in his contract and left to manage the Cubs.  (The Rays' tampering charge against Chicago is still unsettled.)  After a lengthy search for a new manager, Kevin Cash was hired to lead this new era of Rays history.  Though Cash has only a couple of years as a scout and two years as the Indians' bullpen coach on his post-playing resume, he was considered by many to be a top managerial prospect, and in fact was almost hired by the Rangers earlier in the offseason.
The 37-year-old Cash is currently the youngest manager/head coach in any of the four major sports, which perhaps exemplifies the Rays' overall offseason youth movement.  Tampa's farm system was in need of rebuilding following several years of unproductive drafts, and thus almost all of the Rays' moves this winter brought them back at least one pre-arbitration prospect in return.  Of all that young talent, Daniel Robertson is probably the best long-term prospect, and he looks to be Tampa Bay's shortstop of the future.
For 2015, however, the youngster best positioned to help the club immediately is Steven Souza.  Ranked as the 37th-best prospect in the sport by Baseball America, Souza received just 26 plate appearances for the Nationals last season but is best known for his spectacular catch to clinch Jordan Zimmermann's no-hitter.  Tampa Bay's outfield mix includes Desmond Jennings playing mostly in left field, with Souza and Brandon Guyer (both right-handed hitters) sharing time with Kevin Kiermaier and David DeJesus (both left-handed hitters). Souza and Kiermaier will be given every opportunity to step up as everyday options.
The Rays overhauled their catching situation by releasing Jose Molina (eating his $2.75MM 2015 salary in the process) and trading Ryan Hanigan as part of their big three-team deal with the Padres and Nationals.  The newly-acquired Rene Rivera figures to see much of the time behind the plate, and while the veteran is better known for his excellent pitch-framing than his bat, Rivera posted a .252/.319/.432 line over 329 PAs in San Diego last season.
John Jaso will notably not be an option at catcher due to his concussion history, as the Rays will instead use him mostly at DH with perhaps some time at first base or even in left.  Jaso will essentially replace Matt Joyce's role in Tampa's lineup — the left-handed power source in need of a platoon partner due to struggles against lefties.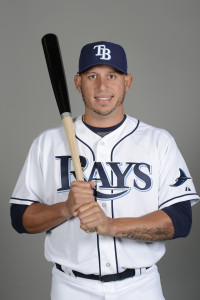 As usual, the Rays weren't big players in free agency, with Asdrubal Cabrera's one-year, $7.5MM deal accounting for almost all of their free agent spending.  He'll add a veteran presence to the middle infield, though it remains to be seen where he'll start. Going by his below-average career defensive metrics (-10.6 UZR/150 at shortstop, -2.5 UZR/150 at second base), Cabrera would be a better fit at the keystone.  With Cabrera filling one MI spot, Nick Franklin and Logan Forsythe will battle for playing time at the other, with two post-hype prospects (Hak-Ju Lee and 2008 first overall pick Tim Beckham) and minor league signee Alexi Casilla also in the hunt for playing time.
Despite losing two very versatile options in Ben Zobrist and Sean Rodriguez, the Rays have retained much of their signature infield flexibility.  Furthermore, with Cabrera only signed for one year, the team has left the door open for its younger infielders to establish themselves going into 2016.
Questions Remaining
Once the Rays underachieved over the first few months of the 2014 season, it was only a matter of time before they pared down last year's team-record $76.87MM payroll.  David Price, the biggest piece, was moved at last year's trade deadline. The cost-cutting continued with Yunel Escobar (owed $13MM in 2015-16), Hanigan ($8MM in 2015-16), Zobrist ($7.5MM in 2015), and Joel Peralta ($2.5MM in 2015) all traded along with players like Rodriguez, Joyce, Jeremy Hellickson and Cesar Ramos who were becoming more expensive in arbitration.  The Rays took a chance with an "unsustainable" payroll in 2014 in order to take a shot at a World Series, and their big bet simply didn't pay off.
Zobrist's defensive versatility and still-potent bat made him a 5.7 fWAR player in 2014 — a total topped by only 11 other players in baseball.  Given how 26 other teams outscored the Rays last season, losing Zobrist and Joyce's lefty power will only make it harder for Tampa Bay to score runs.  While Wil Myers had a major sophomore slump in the wake of his 2013 AL Rookie Of The Year campaign, trading him is a bold move.  Clearly the Rays weren't totally sold on Myers' potential, yet given his high ceiling and Tampa's need for young talent, Myers could eventually turn into a regret if he breaks out in San Diego.
Perhaps the bigger issue for the Rays is that in order to get into contention, they'll need several players coming off tough seasons to get back on track.  Evan Longoria tops the list, as despite playing in all 162 games and posting 23 homers and 83 runs, he contributed only a .253/.320/.404 slash line and a career-low 107 wRC+.  Longoria already carries an outsized role with the Rays given his big contract and face-of-the-franchise status, and the team is now counting on him to an even greater extent to make up for the lineup's lack of pop.  If Longoria's 2014 season was the first hint of a decline phase, his contract could quickly become an albatross for the low-revenue Rays.
Tampa Bay also needs rebound years from James Loney and Grant Balfour, both of whom disappointed after signing expensive multi-year contracts last winter.  Loney produced only 0.9 fWAR over 651 PA, while Balfour struggled to a 4.91 ERA and 5.9 BB/9 and lost the closer's job in June.  Both players could also be midseason trade candidates if they return to form and the Rays are out of the race.
Deal Of Note
Of all the Rays' trades this winter, the Joyce-for-Kevin Jepsen swap was the only one that saw Tampa receive only Major League talent back in return.  Jepsen enjoyed the best season of his seven-year career in 2014, posting a 2.63 ERA, 10.4 K/9 and 3.26 K/BB rate over 65 bullpen innings for the Angels.  The right-hander has been a solid relief option in two of the last three years (injuries hampered him in 2013) and at worst, he projects to be a good setup option for the Rays.
I say "at worst" since the back of the Tampa Bay bullpen is somewhat in flux right now, as Jake McGee is sidelined until late April due to elbow surgery.  McGee will certainly figure to get first crack at the closer's job when he's healthy given his outstanding 2014 season, and until he's back, Brad Boxberger is likely the top choice as interim closer.  If McGee has a setback or Boxberger regresses a bit from his own excellent 2014 form (he allowed a .227 BABIP last year), then Jepsen figures to get the call ahead of Balfour, though Jepsen only has five career MLB saves.  All in all, a solid reliever like Jepsen was a good return for the Rays in exchange for a somewhat limited player in Joyce, who brings little defensive value and struggles against southpaws.
Overview
Taken as a whole, Silverman's very busy offseason almost breaks down as a series of one-for-one replacements.  The Rays have a new veteran middle infielder (Cabrera for Escobar), a slugging lefty bat (Jaso for Joyce), a solid righty reliever (Jepsen for Peralta), a touted young outfielder (Souza for Myers) and a defensive ace at catcher (Rivera for Hanigan/Molina).  The irreplaceable piece is Zobrist, of course, though if Franklin or Forsythe step up at second and Longoria and Loney get hitting again, that will help fill the void.
Another internal replacement should come in the form of Matt Moore, who is slated to return from Tommy John surgery in late June or early July.  With Moore on the way back, the Rays felt comfortable in dealing Hellickson and using Nathan Karns, Burch Smith or Alex Colome as the fifth starter until Moore is healthy.
If Moore is able to rediscover his 2013 form, that will only help a Tampa rotation that could already be the best in the AL East.  Alex Cobb, Chris Archer, Drew Smyly and Jake Odorizzi comprise the Rays' top four, and given the limitations on offense, Tampa Bay will need this quartet to live up to their considerable potential to give them a fighting chance of getting back to the postseason.
A lot of things went wrong for the Rays in 2014, but despite their many changes, it wouldn't be a total shock if they got back over the .500 mark.  There are just so many questions up and down the roster about young players and possibly-declining veterans, however, that it seems 2015 may be more about rebuilding than the beginning of a new stretch of winning Rays baseball.
Photo courtesy of Tommy Gilligan/USA Today Sports Images