The Athletics haven't seen one of their starters post a sub-3.00 ERA in a season since left-hander Rich Hill accomplished the feat in 2016, albeit during a truncated run in their uniform. Hill fired 76 innings of 2.25 ERA/2.54 FIP ball that year before the out-of-contention A's sent him and outfielder Josh Reddick to the Dodgers for a three-player package. Now, three years later, one part of the Athletics' return is on track for the top season an A's starter has put up since Hill's exit.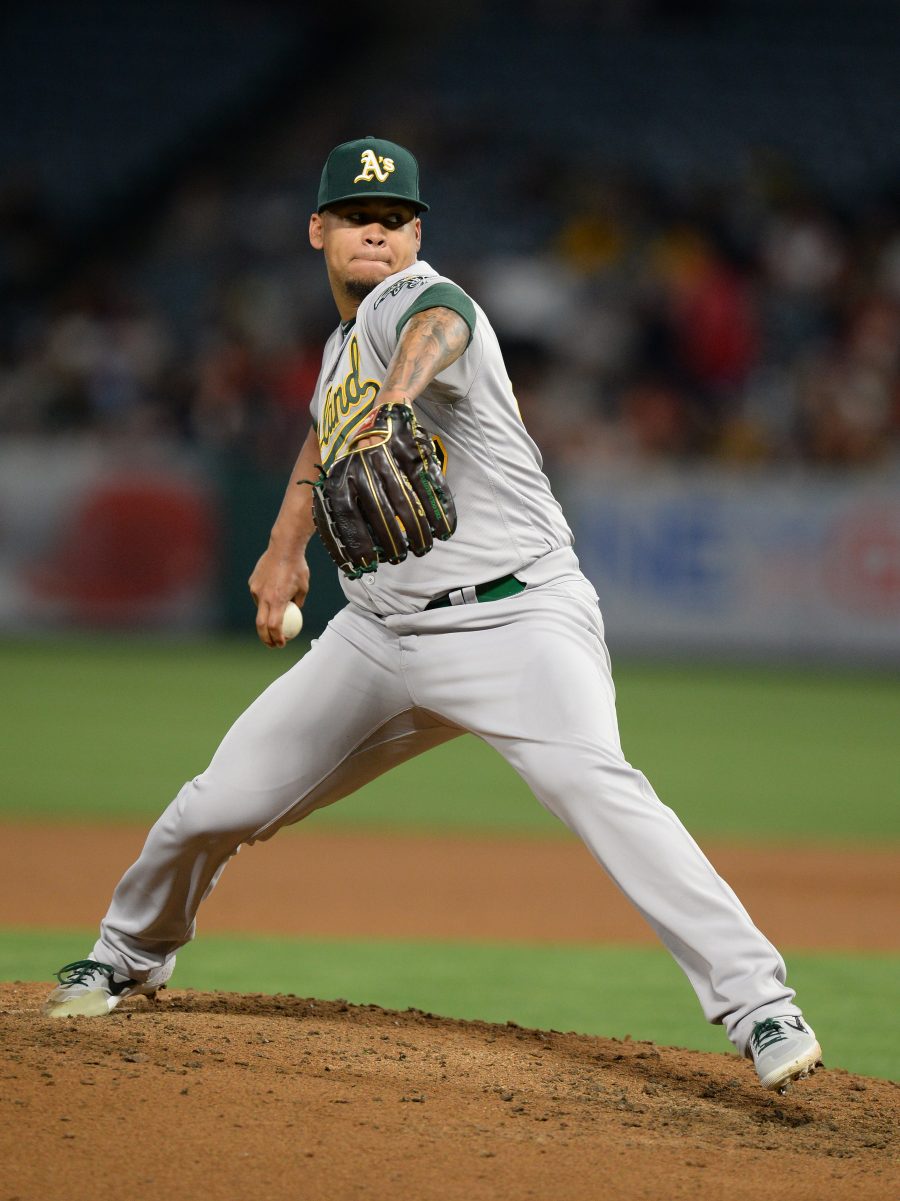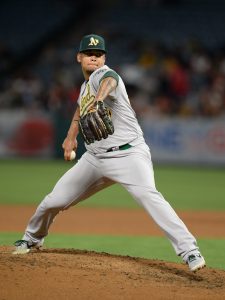 When he joined the A's in the Hill trade, right-hander Frankie Montas ranked as Baseball America's 82nd-best prospect. Despite Montas' high upside, it was already the third deal involving him since he signed with the Red Sox in 2010 as a free agent from the Dominican Republic. The Red Sox traded Montas to the White Sox in 2013 in a large, three-team swap which delivered righty Jake Peavy to Boston. Two years after that, the ChiSox flipped Montas to the Dodgers in yet another three-club trade – this time to land third baseman Todd Frazier.
While Montas has been somewhat nomadic as a professional, it appears the 26-year-old has found a home in Oakland. Montas didn't pitch in his first year with the organization because of a rib injury, and he then registered inconsistent results between the majors and minors in 2017. However, in logging a 3.88 ERA/3.90 FIP in 65 major league innings last season, Montas pitched his way into the A's 2019 rotation. They're now the beneficiaries of an ace-like version of Montas, who has amassed 76 innings of 2.84 ERA/3.04 FIP ball to emerge as one of the majors' breakout starters.
Montas' quality run prevention last year came with fewer than six strikeouts per nine innings, but that figure has rocketed to 9.36 this season. Meanwhile, Montas is walking fewer hitters (2.37 per nine, down from 2.91), generating far more ground balls (51.4 percent now versus 43.7 in 2018) and inducing significantly more infield flies (11.7 percent, up from 4.5). Unsurprisingly given those numbers, home runs haven't haunted Montas, who has yielded HRs on 10 percent of fly balls. So the A's have a starter who racks up strikeouts, seldom walks anyone, keeps the ball on the ground and stops it from leaving in the ballpark. That sounds a lot like the 2016 version of Hill, which is a high compliment.
The question is: How is Montas doing this? Well, it helps when you're one of the hardest-throwing starters in baseball. His high-spin four-seam fastball clocks in at upward of 97 mph, which ranks fifth in the game and just ahead of stars Gerrit Cole, Walker Buehler and Jacob deGrom. Hitters have mustered an unimposing .279 weighted on-base average versus Montas' four-seamer, and they've done even worse against his slider (.198) and splitter (.243), according to Statcast. Montas throws each of those pitches at least 17 percent of the time, but he relies primarily on his sinker (38.6 percent). It's a drastically different repertoire than Montas offered in 2018, when his sinker (55.4 percent) was his go-to pitch. He also occasionally featured a changeup that's no longer in the picture.
Of course, altering your pitch mix doesn't guarantee stardom. You'd better be able to command those pitches, too. Montas has to this point. Heatmaps via FanGraphs (2018, 2019) indicate he's doing a better job keeping his pitches down and locating fewer of them in the middle of the plate compared to last season. In the process, Montas has thrown more strikes in general, raised his swinging-strike rate from 8.6 percent to 11.1, fooled more hitters into chasing his offerings outside the zone and dropped his contact rate against by nearly 5 percent. When hitters have made contact off Montas, it hasn't been particularly damaging, and that doesn't look as if it's going to change. After all, his xwOBA against (.283) is even better than the nonthreatening .292 wOBA batters have managed so far. Beyond that, there's nothing unusual in the .306 batting average on balls in play Montas has surrendered.
When Oakland unexpectedly earned a wild-card berth in 2018, it used reliever Liam Hendriks as an opener because it was lacking a front-line starter. Hendriks ended up enduring a rough outing during a loss for the Athletics, who are once again in wild-card contention. And if the A's make it back to the one-game playoff this year, they just may be able to turn to an ace-like hurler in Montas.
Regardless of how the team's season shakes out, it looks as though it has a long-term building block in Montas. The fact that Montas will make a minimal salary through next season and isn't scheduled to become a free agent until after 2023 is all the better for the low-budget A's, who also have no shortage of other promising starters. While Sean Manaea, Jesus Luzardo A.J. Puk, James Kaprielian and Jharel Cotton have all dealt with notable injuries of late, the ability is evident in each case. With at least some members of that group eventually slated to join Montas in Oakland, the club may be on the cusp of boasting a controllable, talent-rich rotation.
Photo courtesy of USA Today Sports Images.