Myriad issues have weighed down the Marlins during their 16-year playoff drought, but it wasn't that long ago they at least boasted an elite outfield. Back in 2017, the trio of Giancarlo Stanton, Christian Yelich and Marcell Ozuna led the Marlins to a first-place ranking in fWAR in the grass (16.8). Stanton enjoyed an NL MVP-winning, 59-home run season; Yelich continued to post underrated production (he's not underrated anymore); and Ozuna recorded a career year that he hasn't replicated since. Of course, those players' contributions weren't enough to even get the Marlins to the .500 mark, and that season proved to be all three outfielders' last hurrah in Miami.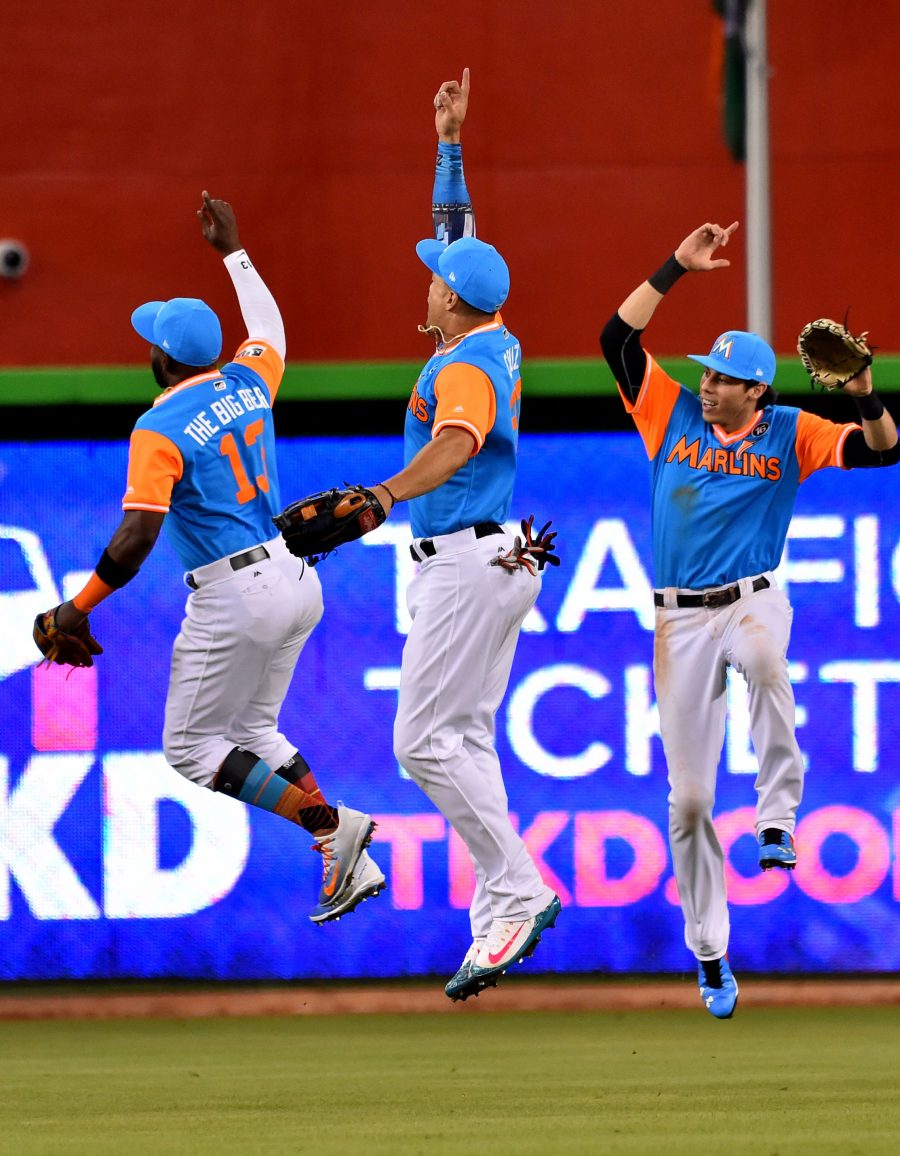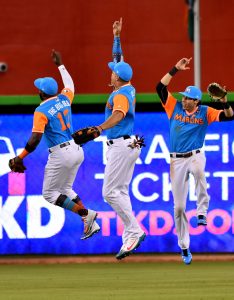 Prior to the 2018 season, the non-contending Marlins and a new ownership group headed by Bruce Sherman and Derek Jeter went on a campaign designed to slash payroll they inherited from predecessor Jeffrey Loria and build up a bottom-of-the-barrel farm system. To achieve those goals, the Marlins decided all three of their star outfielders were expendable, and they moved each of them on the heels of their standout 2017 showings.
Stanton, then 28 years old, was the most accomplished member of the trio at the time. He was also the owner of a historic, franchise-record contract worth $325MM over 13 years that he signed in November 2014. Stanton still had $275MM left on the deal three years ago, making him ripe for a change of scenery from the Marlins' perspective.
The Giants, Cardinals and Dodgers were among those that pursued Stanton when the Marlins put the slugger on the block. Both San Francisco and St. Louis reportedly agreed to acquire Stanton, but he used his full no-trade clause to block moves to those cities; meanwhile, his hometown Los Angeles club didn't make a good enough offer for Miami's liking. That created an opening for the Yankees, Jeter's team for all of his Hall of Fame playing career, to swoop in and grab Stanton to pair with fellow hulking corner outfielder Aaron Judge.
Stanton and Judge had combined for 111 home runs during the prior season, and the Yankees no doubt had designs on them leading them to championships in the future. Thanks in part to injuries to both players, that hasn't happened yet, and when healthy, Stanton hasn't been the same player he was in 2017. While he has been good, the Yankees probably want more out of Stanton going forward with him still guaranteed an exorbitant amount of money through 2027.
As for the details of the trade, the Yankees took on the vast majority of Stanton's money (the Marlins paid $30MM) in exchange for second baseman Starlin Castro and two prospects in right-hander Jorge Guzman and infielder Jose Devers. Castro had shown himself to be a roughly average regular with the Cubs and Yankees from 2010-17. The widely held belief was that the Marlins would end up flipping him and the $22MM left on his deal before he ever played in their uniform. As it turned out, though, Castro spent the last full two years on his pact in Miami, where he produced – you guessed it – roughly average production (3.6 fWAR in 1,323 plate appearances). He's now a member of the NL East rival Nationals, who signed him in free agency last offseason.
The Marlins were never going to contend during the remainder of Castro's contract, so the bigger motivation for them was getting as much of Stanton's money as possible off the books and trying to bolster their system. Guzman and Devers have helped them do the latter to at least some degree. Now 24 years old, the hard-throwing Guzman ranks as the Marlins' No. 19 prospect at MLB.com; he climbed to the Double-A level last season and registered a 3.50 ERA/4.37 FIP with 8.24 K/9 and 4.61 BB/9 over 138 2/3 innings. Devers, 20, checks in even higher than Guzman on MLB.com's list (No. 11), though he failed to hit a homer in 138 plate appearances in High-A ball last season. FanGraphs then wrote that it only considers him "a lefty utility bench piece."
Thus far, getting out from under Stanton's onerous contract has been the biggest plus of that trade for the Marlins. Between his deal and his no-trade rights, it was obviously a challenge to find a trade partner for him. The team was in a better position with both Yelich and Ozuna, though.
Unlike Stanton, Yelich – on the cusp of his age-27 season, signed to a sweetheart contract and having combined for 10.0 fWAR from 2016-17 – should have commanded a king's ransom in return. Yelich wanted out, so the Marlins were extra motivated to move him. Unsurprisingly, a significant number of teams – including the Padres, Cardinals, Rangers, Nationals, Diamondbacks, Athletics, Phillies, Blue Jays and Braves – were connected to him in the rumor mill. The Marlins aimed high in Yelich talks, reportedly asking the Jays for Vladimir Guerrero Jr. and the Braves for Ronald Acuna Jr., but those teams predictably balked at those requests. Ultimately, the Marlins sent Yelich and the $43.25MM in guarantees he had left to the Brewers in January 2018 for a four-prospect package consisting of Lewis Brinson and Monte Harrison, infielder Isan Diaz, and righty Jordan Yamamoto.
Sure, the Marlins were letting go of an eminently valuable player, but they didn't expect Yelich to turn into an all-world superstar as soon as he arrived in Milwaukee. But that's what happened. He succeeded Stanton as the NL MVP in his first year as a Brewer, might have won it again last season if not for an injury, and is now the owner of by far the richest contract in Brewers history after inking an extension last month. His acquisition is one of the greatest the Brewers have ever made. The Marlins' end hasn't worked out nearly as well.
Brinson was the Marlins' headlining pickup in the Yelich swap, among the absolute top prospects in baseball at the time, but hasn't come close to living up to the hype so far. The 25-year-old managed a stunningly poor 25 wRC+ (.173/.236/.221) and failed to hit a homer in 248 trips to the plate as a Marlin last season. He has now accounted for minus-2.9 fWAR in 709 major league PA. Harrison's still a solid prospect – FanGraphs ranks the 24-year-old No. 102 in the game – and has a chance to turn out as the best part of the return for the Marlins. Diaz, 23, hit well in Triple-A ball last year, but he was in over his head during his first MLB stint. And while it's not saying much, Yamamoto has actually been the most valuable MLB contributor the Marlins have gotten from this trade to this point. After holding his own in the minors from 2017-19, the 23-year-old debuted in Miami last season and turned in 78 2/3 innings of 4.46 ERA/4.51 FIP ball while averaging better than a strikeout per frame.
Despite his unhappiness, tthe Marlins perhaps could have kept Yelich and tried to build around him. But they just about had to trade Ozuna, then a Scott Boras client who wasn't going to sign an extension before his last two years of team control ran out. There was widespread interest in Ozuna, whom the Marlins wound up sending to the Cardinals for a quartet of young players – righties Sandy Alcantara and Zac Gallen, outfielder Magneuris Sierra and lefty Daniel Castano.
The Cardinals got two respectable years out of Ozuna before losing him to the Braves in free agency this past winter; because they gave him a qualifying offer beforehand, his departure netted the Redbirds a 2020 compensatory draft pick after Competitive Balance Round B. Perhaps that selection will morph into a valuable young player, as Alcantara and Gallen have at least shown themselves to be. Still just 24, Alcantara parlayed a 95 mph-plus fastball into an impressive MLB season last year, when he tossed 197 1/3 innings of 3.88 ERA/4.55 FIP ball. Gallen may have been able to join him as a long-term linchpin in Miami's rotation, but the club instead flipped him to Arizona last July in a deal for shortstop prospect Jazz Chisholm.
While Gallen has already proven he can handle the majors – he made an eyebrow-raising 80-inning debut between the two teams in 2019 – Chisholm hasn't gotten past Double-A ball yet. But the 22-year-old logged great production at that level after the trade and is generally regarded as a top 100 prospect. So, perhaps he'll develop into a nice MLB consolation prize from the Marlins' pre-2018 outfield fire sale. On the other hand, it seems less hopeful Sierra or Castano will amount to much. The light-hitting, speedy Sierra hasn't posed a real threat in the minors. The 25-year-old Castano has prevented runs at a good clip since he joined the Marlins' system, but he's not regarded as a prospect of note.
Overall, these certainly aren't the most inspiring results the Marlins could have hoped for when they sold off their top-notch outfield. The Yelich trade would still look particularly regrettable even if he hadn't evolved into the superstar he has become since the deal. On the bright side, the Marlins have seen Yamamoto and Alcantara show well in the majors, and there's also hope for some of the other players they received as products of these trades (especially Chisholm).
Photo courtesy of USA Today Sports Images.