The White Sox made an early splash by signing a powerful 27-year-old Cuban first baseman, acquired a new center fielder, swapped their closer for a third base prospect, and tinkered with small-scale free agent signings.
Major League Signings
Jose Abreu, 1B: six years, $68MM (may opt into arbitration once eligible)
Scott Downs, RP: one year, $4MM (includes $4.25MM club option for 2015 with $250K buyout)

Matt Lindstrom, RP: one year, $4MM (club option exercised)
Ronald Belisario, RP: one year, $3MM (can be controlled through 2016 as arbitration eligible player)
Paul Konerko, 1B/DH: one year, $2.5MM ($1MM deferred until 2021)
Felipe Paulino, SP: one year, $1.75MM ($4MM club option for 2015 with a $250K buyout)
Mitchell Boggs, RP: one year, $1.1MM (can be controlled through 2015 as arbitration eligible player)
Total spend: $84.35MM
Notable Minor League Signings
Trades and Claims
Notable Losses
Needs Addressed
White Sox GM Rick Hahn explained his plan to Paul Sullivan of the Chicago Tribune in late October: "Obviously getting better quickly is the goal, but the final determining factor is whether it's going to make us better for an extended period of time. I'm not going to keep churning this thing every two years with short-term fixes. Eventually you have to pay the piper for that and we want to set up something that's sustainable over an extended period."  Hahn also made it clear in various offseason interviews that he felt good about the team's pitching depth and aimed to add position players.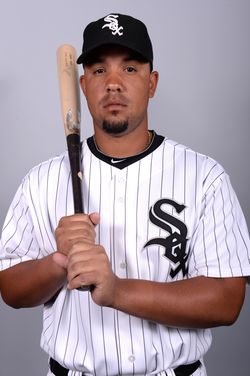 It's no surprise, then, that the key moves of Hahn's offseason involved acquiring three position players.  Jose Abreu (pictured), Adam Eaton, and Matt Davidson are all in their 20s, with Abreu the oldest at 27.  Abreu is controlled through 2019, Eaton through '18, and Davidson through '19 or later.  The newly-acquired trio is Major League ready or close to it, as is summer acquisition Avisail Garcia.
As I explained shortly before the October signing, Abreu checks all the boxes for the White Sox: long-term value, a contract that isn't monstrous by typical free agent standards, and no loss of a draft pick to sign him.  Five teams offered $60MM+ for the Cuban slugger, but the White Sox prevailed with a six-year, $68MM deal that stands as the largest ever for an international free agent and the largest in team history.  The White Sox hope Abreu can provide 30+ home runs annually as their first baseman for the next six years.
The Eaton trade was struck during baseball's Winter Meetings, in a collaboration with the Diamondbacks and Angels.  The main piece the Sox had to surrender was 26-year-old southpaw Hector Santiago, who compiled a 3.51 ERA, 8.4 K/9, 4.3 BB/9, and 1.10 HR/9 in 130 2/3 innings as a starter in 2013 and remains under team control through 2017.  With Erik Johnson and Andre Rienzo coming on, the White Sox had the depth to spare Santiago, who still has to figure out command and home run issues.
Eaton, often described as a "dirtbag" type of ballplayer, comes with questions of his own.  The former 19th round draft pick exceeded expectations in the minor leagues, earning a cup of coffee with Arizona in 2012 and becoming a popular Rookie of the Year candidate for 2013.  However, that spring he sprained the UCL in his left elbow, and didn't return to the big leagues until July.  Eaton is 25 with only one healthy month in the Majors to his name.  The White Sox are gambling that he can be the scrappy consistent on-base threat with good defense that he appeared to be one year ago.
The third major pickup was Davidson, who was also acquired from Arizona.  The Sox snagged Davidson straight-up for closer Addison Reed, a 25-year-old with four years of team control remaining.  As MLBTR's Jeff Todd noted in his D'Backs Offseason In Review, Reed is not without his flaws, and the cost of saves in arbitration may cut down his years of team control.  Davidson, 23 this month, hit .280/.350/.481 with 17 home runs in 500 Triple-A plate appearances and picked up 87 late-season plate appearances with the big club.  Ranked 88th among all prospects by ESPN's Keith Law, Davidson "should be an above-average regular at third base given a season or two there to continue to progress."  If that is the eventual outcome, the White Sox did very well in acquiring Davidson for perhaps three years of a good (and increasingly expensive) closer.
The White Sox traded Jesse Crain and Matt Thornton during the season and Reed in the offseason, so the bullpen demanded fresh arms.  Hahn kept the commitments relatively light, exercising Lindstrom's option, and signing Belisario, Downs, and Boggs for a total of $12.1MM.  Belisario and Boggs were non-tendered by their previous teams in December, and the Sox can control them beyond 2014 if it makes sense.
Belisario and Boggs will be projects for renowned pitching coach Don Cooper, as will scrap heap rotation hopeful Felipe Paulino.  The 30-year-old last had significant time in the Majors in 2011, undergoing Tommy John surgery in July 2012 and shoulder surgery in September 2013.  When he was right, Paulino whiffed about a batter per inning and consistently worked at 95 miles per hour, and the White Sox could have the bargain of the offseason if they can get 25+ starts out of him.  The White Sox did at least look into a bigger addition for the rotation, Japanese righty Masahiro Tanaka.  After an exploratory meeting with the pitcher in January, the Sox made an offer that one GM guessed was around $100MM.  It doesn't seem that the Sox came close to signing Tanaka.  As with their crosstown rivals, potentially paying him $108MM over the next four years did not make sense, even if his ability and youth were worth a bid.
In a process that dragged into December, White Sox all-time great Paul Konerko signed on for one more year at a meager $2.5MM.  It was a sentimental signing of a limited player who fits poorly onto the team's roster.  As explained by Jim Margalus of South Side Sox in an excellent reflection on the move, "Even the most ardent Konerko supporters acknowledge that he's significantly compromising the roster, but they're writing it off as a fair sacrifice because of the alleged effect he has on others."  The signing reminds me of the Mariners bringing Ken Griffey Jr. back for the 2010 season, which didn't end well.
On the coaching front, the White Sox added hitting coach Todd Steverson in October, and extended manager Robin Ventura in January to avoid him entering 2014 in lame-duck status.
Questions Remaining
Despite the positive vibes from Rick Hahn's offseason, the White Sox still have a below-average collection of 25-and-under players and a farm system that Baseball America ranks 24th and Keith Law ranks 27th in the game.  The 2014 draft will continue pushing things in the right direction, as the Sox have the third overall pick and a bonus pool near $10MM.  Still, Hahn and company want to get back to contention quickly, and the team needs a good amount of work in the short-term.
The Sox never did address their catching situation this offseason, instead deciding to give the Tyler Flowers/Josh Phegley tandem another shot.  I've heard they had significant interest in free agent Jarrod Saltalamacchia, particularly if he could have been had on a two-year deal, but Salty wound up with the Marlins on a three-year pact.  The Sox picked up Adrian Nieto in the Rule 5 draft, but keeping a Double-A type backstop on the Major League roster all season would be challenging.
The acquisition of Eaton seemingly pushed Alejandro De Aza into a fourth outfielder role, for which he may be best suited anyway.  With a $4.25MM salary, De Aza might have more value to another team, and it's likely the Sox will continue to explore trades.  Then there's 25-year-old Dayan Viciedo, who hit 25 home runs in 2012 but slumped last year.  He's controlled through 2017 and could still be a long-term piece, but I imagine the Sox will be open-minded to trade proposals.
Chicago's middle infield tandem of Gordon Beckham and Alexei Ramirez has come up in trade rumors in the last year.  The disappointing Beckham has two years of team control remaining, while Ramirez is signed through 2015 with a club option for '16.  Ramirez is guaranteed $20.5MM over the next two years, his age 32-33 seasons.  His trade value could be limited by the continued availability of free agent shortstop Stephen Drew.  Both Beckham and Ramirez figure to frequent the pages of MLBTR this summer.
The White Sox have uncertainty at the back of their bullpen after the Reed trade, with Nate Jones the current favorite to close games in 2014.  The franchise hasn't put together a particularly strong bullpen since their 2005 World Championship season.  
Deal of Note
If an MLB team wants to throw a large, unrestricted sum of money at a player in his mid-20s, players coming over from Cuba and Japan are basically the only options.  The White Sox took advantage of the opportunity by signing Abreu.  At $68MM, his contract defied my expectations by a good 25%, but it still leaves room for upside.  Accounting for the cost of a draft pick, the Mets paid a similar amount for Curtis Granderson's age 33-36 seasons, a deal that strikes me as mostly downside risk.  If Abreu can provide the White Sox with 25+ home runs per year, a .340 OBP, and average defense, he'll easily be worth $11.3MM per year compared to continually rising market prices.  And certainly, there's some chance of Abreu's power translating to a few 35-40 home run seasons in the bigs.
It should be noted that given the standard clause allowing Abreu to opt for arbitration once eligible, he might end up being paid more than $68MM over the next six years.  In particular, given good production he'll prefer arbitration over the sixth year of the contract, and possibly even the fifth.  If he's good enough to justify that, it will be worth the extra money for Chicago.
Overview
This is rebuilding, White Sox style.  Like any team trying to improve its young talent base, they've recently taken a few steps back in the name of the greater good.  But unlike the Cubs or Mets, the White Sox aren't on a four or five-year plan.  Hahn has been acquiring Major League ready talent, and while the White Sox are a long shot for 2014, don't count them out for '15.
Photo courtesy of USA Today Sports Images.