MLBTR is publishing Offseason Outlooks for all 30 teams. Click here for the other entries in this series.
Myriad injuries helped jeopardize the Mets' postseason chances in 2016, but the team went on a tear over the final month and a half to secure its second straight playoff berth. Another World Series appearance wasn't in the cards, though, as the Mets ran into October buzzsaw Madison Bumgarner and fell to the Giants in the National League wild-card game. Now, for the second offseason in a row, New York is in danger of losing lineup cornerstone Yoenis Cespedes.
Guaranteed Contracts
Arbitration-Eligible Players (service time in parentheses; projections via MLB Trade Rumors)
Free Agents
Mets Depth Chart; Mets Payroll Information
When the Mets acquired Cespedes from Detroit prior to the 2015 non-waiver trade deadline, they were three games above .500 and at risk of missing the playoffs for an eighth consecutive season. After his move to New York, Cespedes slashed an outstanding .287/.337/.604 to help lead the club to a 37-22 regular-season finish and an NL East title. Cespedes' bat cooled off in the playoffs, particularly during the Mets' five-game World Series loss to the Royals, but the outfielder was nonetheless instrumental in their return to relevance and would have been a significant loss had he signed elsewhere as a free agent. It appeared that would happen, but after he couldn't find any offers to his liking on the market, Cespedes shockingly re-signed with the Mets on a three-year, $75MM deal in late January. That agreement came with a catch for the Mets, though: They had to give Cespedes a three-day opt-out window after this year's World Series.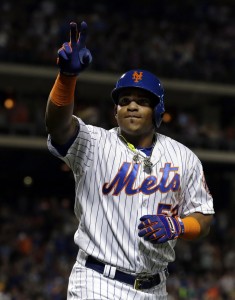 Shortly after the Fall Classic between the Cubs and Indians concluded, Cespedes unsurprisingly voided what was left of his contract in order to take another shot at free agency. Having batted .280/.354./530 with 31 home runs in 534 plate appearances this past season, the 31-year-old likely has a better chance than any other impending free agent to land an accord worth upward of nine figures. Cespedes has expressed a desire to spend the rest of his career with the Mets, but it's difficult to envision him falling into their laps again on a deal similar to the one he just vacated.
This winter's class of free agents is far less enticing than the group from last year, when fellow outfielders Jason Heyward and Justin Upton were among seven players to secure pacts well in excess of $100MM. That should drive up the price to sign Cespedes, for whom the Mets reportedly aren't willing to engage in a bidding war or go past the three-year mark on a new contract. Between Cespedes' opt-out and his latest foray into free agency, the Mets will issue him a qualifying offer. If he signs elsewhere, they'll receive a first-round draft pick as compensation.