MLBTR is publishing Offseason Outlooks for all 30 teams.  Click here for the other entries in this series.
After a pair of World Series appearances in 2014-15, the 2016 Royals fell shy of a postseason berth and now face considerable payroll questions as the core of their championship-winning roster stands one year from free agency.
Guaranteed Contracts
Arbitration-Eligible Players (service time in parentheses; projections by MLB Trade Rumors)
Contract Options
Other Financial Commitments
Free Agents
Royals Depth Chart; Royals Payroll Information
The Royals' back-to-back World Series appearances revitalized Kansas City baseball, but as is often the case, success proved difficult to sustain. With an 81-81 finish on the season and players like Lorenzo Cain, Mike Moustakas, Eric Hosmer, Wade Davis and Alcides Escobar all set to hit free agency following the 2017 season, the Royals have a plethora of questions on their hands.
First and foremost is whether the team can afford to make any significant additions this winter. General manager Dayton Moore flatly said that his expectation was that the team's payroll would "regress" in 2017 after opening the 2016 campaign with a franchise-record mark of nearly $132MM. Meanwhile, team owner David Glass was less definitive when asked about reducing payroll, somewhat nebulously suggesting that it's impossible to know where the 2017 payroll will sit because no one yet knows what opportunities will be presented in the coming offseason. As noted in the above-linked payroll breakdown at Roster Resource, though, the Royals already project to have a $139MM payroll to open next season. The notion of adding any significant pieces is somewhat difficult to anticipate, then, unless Glass is comfortable with the ledger rising into the $140MMs and possibly the $150MMs.
As such, the question becomes one of whether the Royals will actually subtract some pieces from the 2016 roster. Davis' name was mentioned frequently in July before a forearm strain shelved him through the non-waiver trade deadline, and Kansas City has reportedly already received some early interest in its closer. Late-inning relief help is one of the few commodities that is in relatively large supply this winter — Aroldis Chapman, Kenley Jansen and Mark Melancon are all free agents, and the market also bears some quality setup options as well — but Davis' contractual status is likely an attractive feature. Many teams will be reluctant to pay the record-breaking prices that the top names will command. Acquiring Davis would yield a premium relief arm with only a one-year, $10MM commitment required. Of the core pieces that could potentially leave after the 2017 season, Davis arguably has the most trade appeal if Moore and his staff do shed some big league talent/payroll.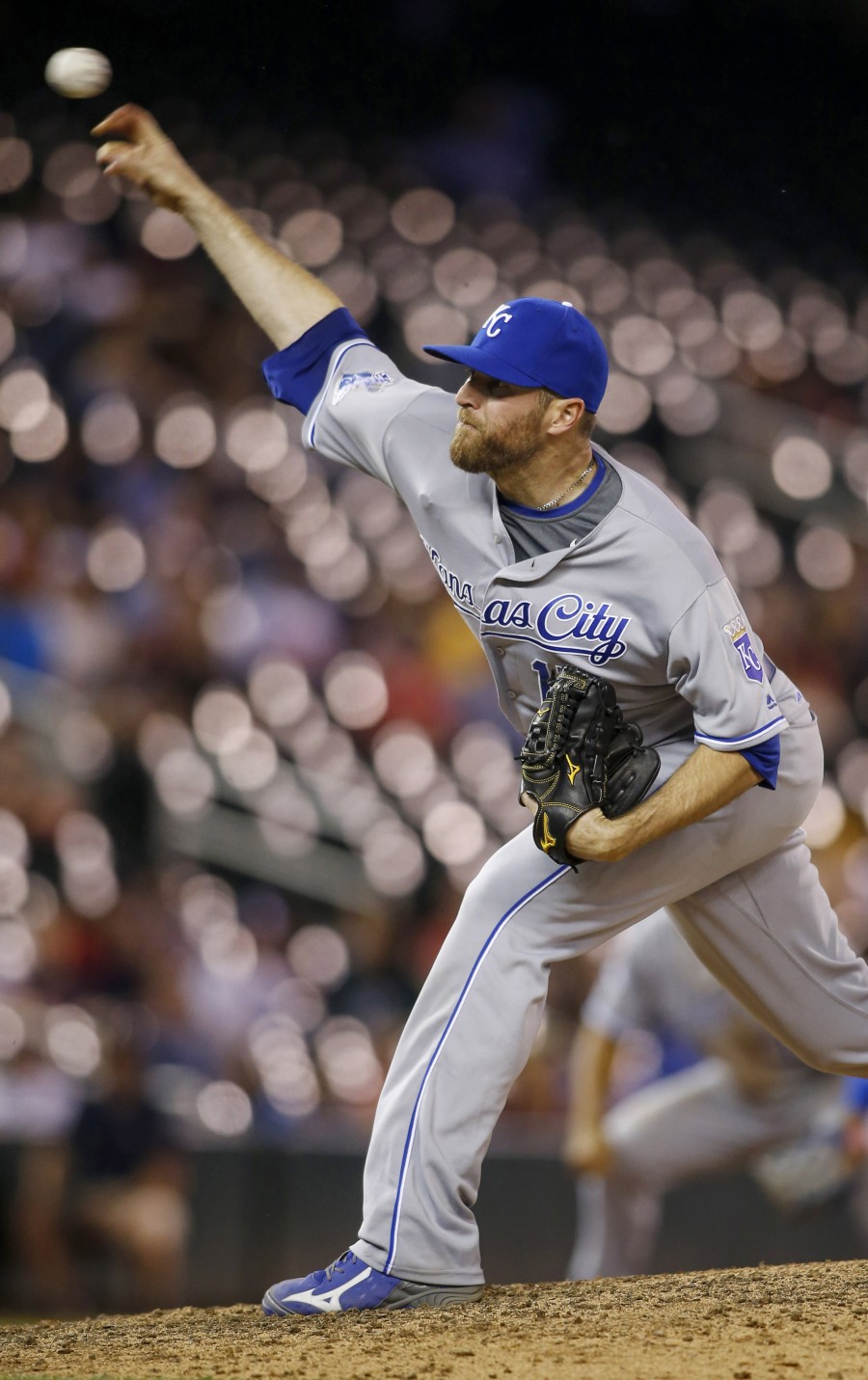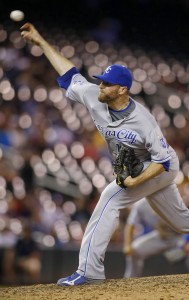 Certainly, teams would have interest in Cain, Moustakas, Hosmer and Escobar, but there are concerns across the board with that quartet. Cain missed more than two months of the season and ended the year on the shelf with a wrist strain. Moustakas didn't play the final four months due to a torn ACL. Hosmer's productivity tanked in the second half, and he's projected to earn a hefty $13.3MM next year. Escobar continued to impress with the glove and on the bases, but he's a defense-first player with no power and sub-.300 OBP skills. Looking elsewhere, Ian Kennedy had a strong finish but is on a contract that is teeming with downside (he can opt out after the 2017 season if he performs well but would be owed a total of $62.5MM over the next four years if he struggles and forgoes that opportunity). Jason Vargas' $8MM salary is fairly manageable, but he missed the majority of 2016 recovering from 2015 Tommy John surgery.
Those names could all come up in trade talks this winter, but it's also important to note that a full-on fire sale doesn't seem to be in the cards for the Royals. After all, improved performance from Alex Gordon and returns to health for any combination of Cain, Davis, Moustakas and Vargas would represent an immediate means of improvement in Kansas City. And with the Tigers suggesting that they'll trim payroll while the White Sox and Twins continue to struggle to put contending teams on the field, there's certainly reason for Moore and his staff to believe that this core is capable of a final push for the division in 2017. If it doesn't go as planned, plenty of those names would make appealing deadline chips, after all.
On that note, there's no more obvious area of need for the 2017 Royals than in the rotation. Breakout star Danny Duffy figures to lead that group, and he'll be joined by Yordano Ventura, Kennedy, Vargas and one of Chris Young, Mike Minor or sophomore Matt Strahm, who wowed in the bullpen but is viewed as a starter in the long haul. Dillon Gee, too, could factor into the mix, but he's coming off thoracic outlet syndrome surgery and could be a non-tender candidate.
Unfortunately for the Royals, they're faced with the same dilemma that is facing most other clubs; everyone needs starting pitching, but the free-agent market is relatively barren. Despite that fact, Kansas City reportedly plans to opt against investing an additional $7MM into Edinson Volquez and will elect a $3MM buyout over exercising his $10MM option. That may indicate that the team doesn't plan to spend big money on starting pitching, so minor league deals or lower-cost targets like Tommy Milone, Bud Norris or Jhoulys Chacin could be in order. Alternatively, the Royals could look to sign a pitcher to a two-year pact but heavily backload the deal so as to only commit a few million in 2017 while saving the bulk of the payout for the 2018 season, when the books clear up.
The other half of the pitching staff will need some work, too — especially if the Royals do ultimately find an offer for Davis that is to their liking. Kelvin Herrera is a dominant late-inning arm, but Joakim Soria's return to the team has been somewhat of a flop so far. Strahm could reprise his role if the Royals feel they have ample rotation depth, and the Kansas City Star's Rustin Dodd recently highlighted fast-rising prospect Josh Staumont as a potential midseason factor from the right side. Brian Flynn proved a useful southpaw (2.60 ERA in 55 1/3 innings), but the Royals are going to need to find some arms either within their system or late in the offseason. From Kansas City's vantage point, there's merit to the idea of waiting out the market and snatching up one or even two of the middle relievers/setup men that fall through the cracks while waiting for bigger deals that never materialize. It's also worth noting that there's reportedly been mutual interest between the Royals and righty Peter Moylan about a new contract, so he could return on a one-year deal.
Looking around the diamond, the Royals are more set. Salvador Perez remains one of the best catchers in baseball, Hosmer is locked in at first base despite his second-half collapse, Moustakas will return to the hot corner and Escobar is penciled in at shortstop (once his option is exercised). Gordon will hope for better results at the plate in the second season of his now-troublesome-looking four-year, $72MM deal, and Cain will continue to hold down the fort in center field (though there's been some talk of occasional time in right to help keep his hamstring healthier). With Jarrod Dyson and Paulo Orlando representing options for the remaining outfield spot, the Royals don't necessarily need to look there, although an upgrade to the right-handed side of the platoon wouldn't hurt. Orlando is one baseball's least disciplined hitters and owes his solid batting line almost entirely to a .380 BABIP that he can't be expected to repeat. Dyson, meanwhile, doesn't hit much but is a defensive wizard and provides huge value on the bases, which led to 3.1 rWAR and fWAR. If he can maintain 2016's K/BB improvements, he's a solid and affordable option.
Second base and DH are the other two potential spots to add some talent, but the Royals do have options at second in Christian Colon, Whit Merrifield and Raul Mondesi Jr. (though the latter of that group seems likely to head to Triple-A for continued work at shortstop so he can prepare to take over for Escobar at shortstop in 2018). Like Orlando, Merrifield got by with some significant BABIP fortune (.361) but showed little plate discipline and virtually no power. Colon's glove can handle the job, but his bat looked an awful lot like that of Omar Infante last season, whom the Royals released midway through his ill-fated four-year deal. Kansas City would be a nice fit for Chase Utley on a one-year deal, but the Royals could also hope to snatch a veteran second baseman late in the winter on a minor league deal or a lower-cost one-year pact.
As for the DH slot, the first question facing the Royals will be whether to tender a qualifying offer to Kendrys Morales. Given the financial uncertainties surrounding the roster, that seems unlikely, as adding a $17.2MM commitment for a strict DH would shoot the team's estimated 2017 payroll to nearly $160MM. The free-agent market does feature a number of somewhat redundant first base/DH types; Brandon Moss, Pedro Alvarez, Mitch Moreland, Adam Lind, Logan Morrison and even Ryan Howard are all available, and it's unlikely that they'll all find lucrative deals. Grabbing one of those players on an affordable one-year pact makes some sense, but the DH spot could simply be kept open to help Moustakas and others get some days off from fielding. That would not only help to keep them healthier and also give the Royals a means by which Cheslor Cuthbert could get into the lineup, though the 24-year-old did fade down the stretch.
Ultimately, the Royals are in a somewhat unenviable spot — stuck in the middle between contention and a need to rebuild. They probably feel this is their last shot at contending with this core, but there are myriad holes throughout the lineup and few ways to patch them without sending payroll soaring into uncharted and unsustainable territory. The Royals reportedly operated at a loss this season, so tacking on tens of millions more to the payroll isn't a sound business decision. But, their means of plugging holes with homegrown talent took a hit when they used a solid-but-not-overly-deep farm system to acquire Johnny Cueto and Ben Zobrist in 2015. Those trades subtracted four pitchers — Sean Manaea, Brandon Finnegan, Cody Reed and John Lamb — that could otherwise be immediate rotation options for a club that now finds itself with an unreliable mix of starters. You'll never hear the Royals or their fans complain about it, of course, as the 2015 World Series outweighs any long-term troubles for the franchise. Nonetheless, a poor start to the 2017 season could be the precursor for a summer sale, and even if the Royals are able to contend in the AL Central next year, this is a franchise that is destined for a significant amount of turnover beginning next winter, at the latest, when its core hits the open market.
Photo courtesy of USA Today Sports Images.