This is the latest entry in MLBTR's Offseason In Review series. The full index of Offseason In Review posts can be found here.
After years of modest-to-little offseason spending, the Orioles exploded for the biggest spending spree in club history.  A lot of familiar faces are back for another AL East run, though the O's still have some questions to answer in the rotation.
Major League Signings
Chris Davis, 1B: Seven years, $161MM
Darren O'Day, RP: Four years, $31MM
Yovani Gallardo, SP: Two years, $22MM (includes $2MM buyout of $13MM club option for 2018)
Hyun Soo Kim, OF: Two years, $7MM
Matt Wieters, C: One year, $15.8MM (accepted qualifying offer)
Pedro Alvarez, 1B: One year, $5.75MM
Zach Phillips, RP: One year, $510K
Total spend: $243.06MM
Notable Minor League Signings
Trades And Claims
Extensions
Notable Losses
Needs Addressed
If the theme of the Orioles' offseason was unexpected spending, the tone was set early on when Matt Wieters accepted the team's one-year, $15.8MM qualifying offer to return for the 2016 season.  With Caleb Joseph and Steve Clevenger already lined up as the new catching tandem, Wieters' return created a bit of a surplus, so Clevenger was dealt to Seattle as part of a trade that saw Mark Trumbo come to Baltimore.
Trumbo will see some time as the Orioles' designated hitter against lefty starters, but he'll probably spend most of his time in right field, where he has posted below-average (-10 defensive runs saved, -11.8 UZR/150) metrics.  The O's will live with that lack of glove work as long as the move to Camden Yards suits Trumbo's power bat.  Trumbo has 131 homers in 2760 career PA despite playing much of his career in pitcher-friendly ballparks in Seattle and Anaheim, though the challenge for him has always been getting on base.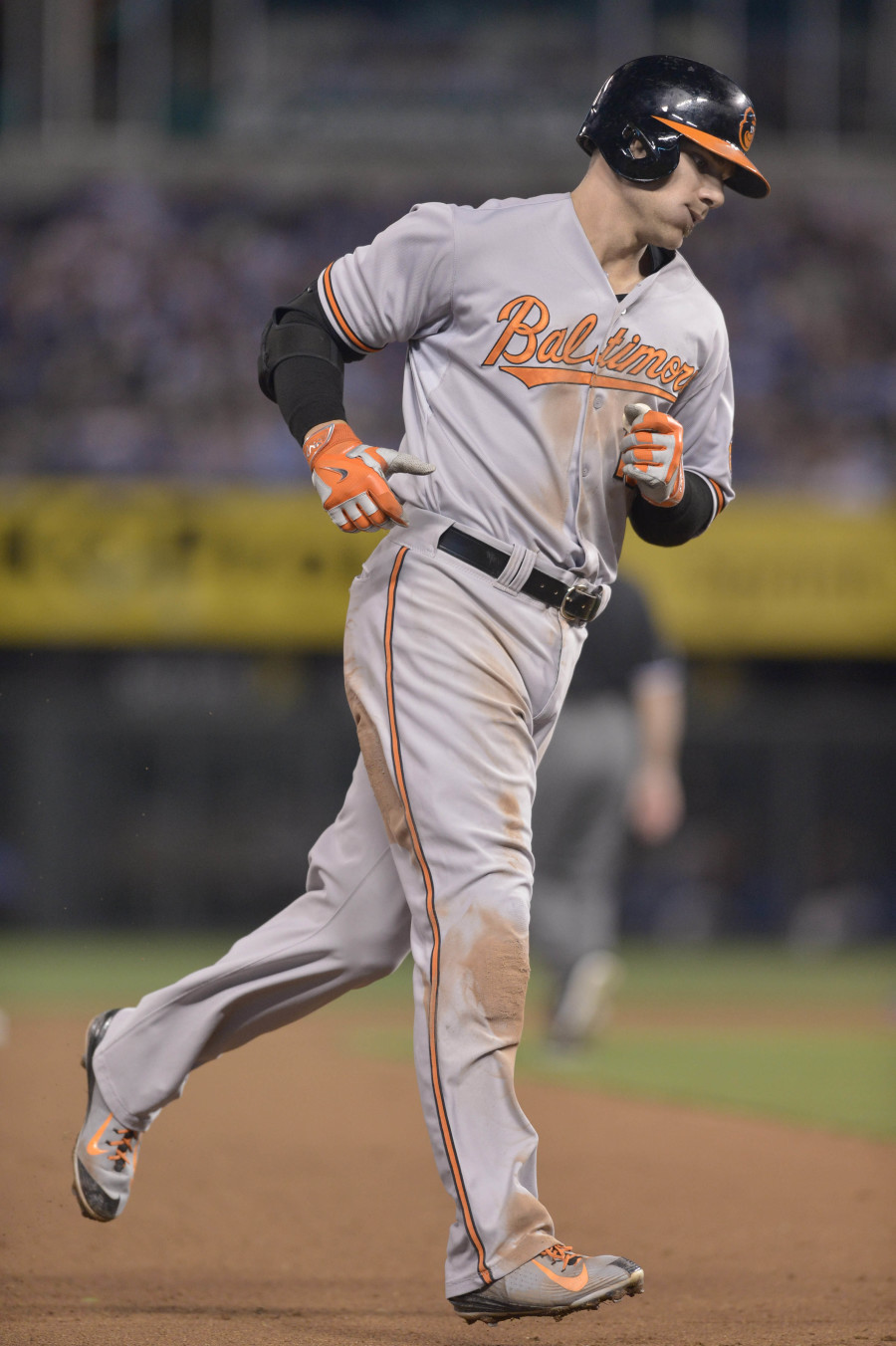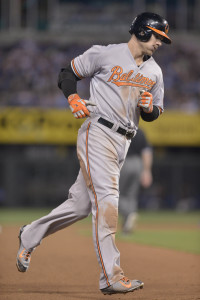 Through Trumbo was on hand as a possible first base replacement, the O's were focused on Chris Davis as their top winter target and eventually re-signed the slugger on a team record seven-year/$161MM contract ($42MM of which is deferred).  It was a stunning outlay, especially considering that talks between the two sides seemed to stall at one point over a $150MM offer, though that could have just been some negotiating gamesmanship on Baltimore's part.  Still, the $161MM figure topped expectations, especially considering that Davis' market seemed rather quiet — the Tigers were the only other club known to have a clear interest in Davis (as a left fielder, rather curiously), with the Red Sox, Cardinals and Blue Jays also rumored to have at least explored a signing at some point.
Another Scott Boras client joined the Orioles in Pedro Alvarez, who will more or less be a full-time DH in his first stint in the American League.  It's possible that Alvarez's one-year, $5.75MM deal could be one of the offseason's biggest bargains given the move to Camden — like Trumbo, he has shown big power in a pitcher-friendly environment, launching 111 homers over the last four seasons despite playing home games at PNC Park.  Perhaps more importantly for the defensively-challenged Alvarez, he can now focus exclusively on hitting in the DH role, and also be protected from tough lefty pitching due to Trumbo's presence.  Alvarez isn't a flawless signing, of course, as we'll explore in the "questions remaining" section.
Gerardo Parra left to join the Rockies, and while the Orioles explored some bigger names in the outfield (more on that later), they addressed their corner vacancies in the form of Trumbo and Korean signing Hyun Soo Kim.  The O's have been quite active in the international market under Dan Duquette (with Wei-Yin Chen standing out as the only real success story) and the club hopes Kim can be a solid option in left on at least a platoon basis.  The 28-year-old Kim posted monster numbers over 10 seasons in the Korean Baseball Organization, and he'll form the left-handed hitting side of a platoon with Nolan Reimold slated for time against opposing southpaws.  Rule 5 draft pick Joey Rickard could also see some at-bats against left-handed pitching as the O's endeavor to keep him on their 25-man roster.
With these new options in the outfield and at first base, the Orioles were comfortable letting Steve Pearce leave in free agency, although they did have some discussions about bringing back the veteran utility man.  Pearce ended up staying in the AL East, signing a one-year deal with Tampa Bay.
On the bullpen front, the Orioles bought back a familiar face in Darren O'Day, inking the long-time setup man to a four-year, $31MM deal.  The signing may have been extra sweet for the Orioles since their beltway rivals in Washington were reportedly O'Day's second choice and he came very close to signing with the Nationals.  O'Day and closer Zach Britton will again team up to headline what should continue to be a very solid Baltimore bullpen that also stands to benefit from full seasons out of Mychal Givens and oft-injured, out-of-options prospect Dylan Bundy.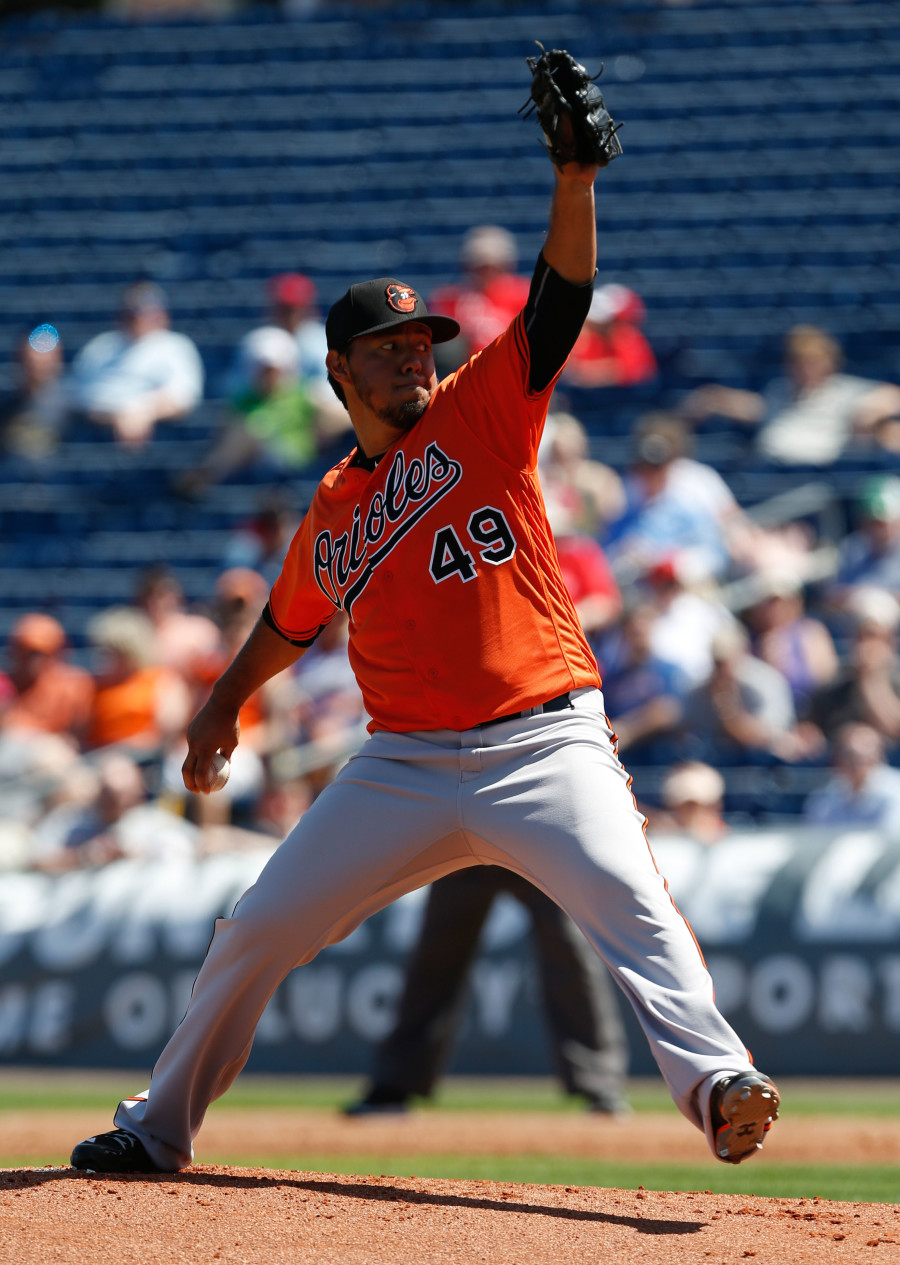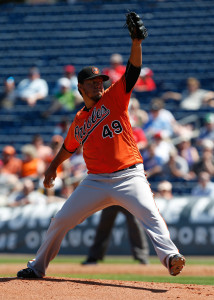 What's an Orioles offseason without a medical controversy surrounding a signing?  This time it was Yovani Gallardo who ran afoul of Baltimore's notoriously stringent physicals, as the original three-year, $35MM agreement morphed into a two-year, $22MM contract with a $13MM club option for 2018 after the O's discovered an issue with Gallardo's shoulder.
Of course, durability is Gallardo's chief calling card: the righty has averaged 32 starts and 191 innings per season since 2009.  Though his strikeout rate has steadily dropped over the last three years and he posted just a 5.9 K/9 last season (against 3.3 BB/9), Gallardo has posted at least 2 fWAR in each of the last four seasons and proved last year in Texas that he could succeed against American League lineups.
Questions Remaining
In terms of being a pure replacement for Chen, Gallardo matches up quite well since the two have been almost equally valuable since 2012.  Considering that Chen is seven months older and cost the Marlins a five-year, $80MM commitment (albeit with an opt-out clause), the O's did well on paper in landing Gallardo at a fraction of the money and years.
The bigger question, of course, is that if Gallardo merely replaces Chen's production, it won't do much to help a rotation that badly struggled in 2015.  If Chris Tillman and Miguel Gonzalez both scuffle again, Ubaldo Jimenez reverts to his 2014 form and Kevin Gausman doesn't take the step forward from promising young arm to reliable front-of-the-rotation starter, Baltimore is going to have to win a lot of slugfests.
It could be that the Davis negotiations prevented the O's from pursuing one of this winter's top free agent aces.  For all of the money the Orioles spent this winter, they had to keep a lot of powder dry to land Davis, who didn't sign until January.  By that time, many of the biggest pitching names on the market were already long gone.  Since the O's were able to add several bats with first base experience anyway and had a clearer need for pitching than hitting, it could be argued that Baltimore should've prioritized an ace rather than a top slugger like Davis.  Such a strategy might ultimately have been a non-starter, however, given how owner Peter Angelos is so hesitant about any kind of major pitching signing.
Also on the pitching front, the O's were linked to such names as trade target Hector Santiago (who thought he was on the verge of being dealt to the Orioles in November) and free agent Scott Kazmir, whose injury history could've led to an interesting run through the Baltimore medical gauntlet.  Baltimore did add one depth option in Odrisamer Despaigne, who will join Mike Wright and Tyler Wilson as the Orioles' first line of rotation replacements.
While Trumbo and Alvarez bring a lot of pop, they also bring a lot of whiffs to a club that already had the third-highest strikeout rate in the game.  Neither slugger is much of an on-base threat and both are defensive liabilities, though playing one of them regularly at DH should mitigate a bit of that last concern.
It's fair to say that Trumbo would be slated as the regular DH and Alvarez wouldn't be on the roster at all had Baltimore succeeded in landing one of their top outfield targets.  The Orioles were linked to Jay Bruce and Nick Markakis in trade rumors and were also connected to several of the offseason's biggest free agent outfielders — Justin Upton, Alex Gordon, and Yoenis Cespedes.  Had the Davis talks fallen through, the O's would likely have made a harder run at any of these three, though they reportedly made Cespedes an offer in the five-year, $90MM range when negotiations with Davis were at an impasse.  It's worth noting that Upton and Cespedes both signed contracts with opt-out clauses, which the Orioles refuse to offer.
That stance against opt-outs may have cost them Dexter Fowler, who had one of the offseason's stranger free agent stints.  Fowler was still unsigned in late February thanks to the qualifying offer dragging down his market, though for a couple of days it seemed like the Orioles were going to add both Gallardo and Fowler to three-year deals in the $33-$35MM range.  Instead, Gallardo signed his two-year deal and Fowler didn't sign at all, surprisingly returning to the Cubs on a one-year contract when several media outlets were reporting an agreement with Baltimore.  The situation led to some strong displeasure expressed by Fowler's agent Casey Close, though it seems the two sides were never as close as reports indicated.  Without Fowler to solidify right field, the O's will have to get by with Trumbo's shaky defense.
Deal Of Note
The O's were ultimately comfortable in surrendering their first-round pick (14th overall) to sign Gallardo, and they did recoup another first-rounder (27th overall) as compensation for Chen.  All in all, Baltimore will have five picks between the #27-91 selections of this year's draft, and you wonder if the team wasn't hoping for an even bigger draft haul in the form of an extra pick from Wieters' free agency.
Wieters' acceptance of the qualifying offer caught many by surprise, perhaps even a few in the Baltimore front office.  If a return wasn't in the cards, then that move was unquestionably the biggest domino to fall in the Orioles offseason.  If Wieters turns down the QO, then Clevenger isn't dealt and perhaps Trumbo stays in Seattle…then perhaps the Orioles have more pressure to get a deal done with Davis and sign him earlier…and then maybe the O's have time to get in on a top starter who's still on the market while they have an extra $15.8MM to spend.  The possibilities are endless.
Not only was Wieters projected to be the top free agent catcher on the market, it was doubly stunning that a Boras client was one of the first three players to accept the QO given how the agent has so disparaged the qualifying offer system.  Still, in this context, the QO isn't too different from the "pillow contract" strategy that Boras himself has pursued with other clients.  Wieters was limited to just 101 games over the last two seasons due to Tommy John surgery, and had an overall subpar year at the plate when healthy and playing 148 games in 2013.
MLBTR's Tim Dierkes predicted Wieters would land a four-year, $64MM deal this winter simply due to his potential, track record and the lack of catching depth on the open market, though given how other players (including some notable Boras clients) have been affected by the qualifying offer, Wieters' list of suitors could've been shorter than expected.
Rather than risk settling for a below-expectations contract, Wieters decided to take the $15.8MM (not a bad payday at all) on the table and spend another year in a familiar situation in order to improve his stock for next winter's free agent market.  Staying healthy will be key, of course, and Wieters' spring has already been interrupted by some elbow discomfort.
The 2016-17 free agent class is notably thinner than this year's crop, so if Wieters is healthy and productive, he'll be in much better position to land that huge multi-year deal.  Assuming he signs elsewhere after a strong campaign, the Orioles will still get their compensatory first-rounder for Wieters, just a year later than expected.
Overview
In Duquette's first four offseasons as Baltimore's executive VP of baseball operations, the team spent roughly $116MM combined on Major League free agents.  Needless to say, the O's adopted a much different strategy towards the open market this winter, more than doubling that $116MM total.  You had to figure some increase was necessary given how many key names were free agents, though the sheer amount of spending raised eyebrows.  Only the Cubs, Tigers and Giants dedicated more to MLB free agents than the Orioles did this winter, and their total would've been even higher had they successfully landed Fowler.
Bringing back three of their own free agents is a clear sign that Angelos and Duquette believe in the core of this team, and the additional spending on new talent reinforces the notion that the Orioles are counting on a pennant run.  With at least $145MM (not counting pre-arbitration salaries) already committed to the payroll, it's a safe guess that they'll be comfortable spending more at the trade deadline to add another piece if they're in contention.
That piece may well end up being a starting pitcher, as despite all of the spending, the Orioles are really just doubling down on their recent strategy of winning games via a big offense and a strong bullpen.  A lack of starting pitching depth won't necessarily doom a team (just ask last year's Royals and Blue Jays), though a lot will have to go right for Baltimore's rotation to just be average.  Still, an average rotation may be all it takes considering the Orioles will be rolling out a lineup that includes Manny Machado, Adam Jones, Davis, Trumbo, Alvarez, Wieters, an emerging talent in Jonathan Schoop and maybe a hidden gem in Kim.
How would you grade the incredibly busy Orioles' offseason? (link to poll for mobile app users)
Photos courtesy of USA Today Sports Images