Check out all the published entries in our Offseason in Review series here.
The Cubs added tons of veteran talent to an already-strong team, mostly through free agency.
Major League Signings
Notable Minor League Signings
Trades And Claims
Notable Losses
Starlin Castro, Chris Coghlan, Frandy De La Rosa, Wander Cabrera, Chris Denorfia, Jonathan Herrera, Dan Haren, Jason Motte, James Russell, Tsuyoshi Wada, Tommy Hunter, Fernando Rodney
Needs Addressed
Entering the offseason, it was no secret that the Cubs had a middle infield surplus with Addison Russell, Javier Baez, and Starlin Castro.  With four years and $38MM remaining on his contract, Castro was the most likely to go.  The Yankees were a natural match, having shown interest in Castro during the summer.  As Yankees GM Brian Cashman told John Harper of the New York Daily News, the Cubs initially asked for outfielder Brett Gardner and were rebuffed.  Then, after a month of the Cubs pestering Cashman for swingman Adam Warren, the Yankees gave in and the trade agreement was reached.  Still, the Castro trade was delayed for a few days, as the Cubs were simultaneously attempting to sign Ben Zobrist as a free agent.
The Cubs achieved Theo Epstein's "multiple-bank shot," moving on from Castro after six big league seasons.  I was surprised by the Cubs' plan to move Castro to make room for a second baseman from outside the organization.  Instead of plugging Baez in at second base, the Cubs went with veteran Ben Zobrist, who turns 35 in May.  Zobrist served as Joe Maddon's Swiss Army knife for six seasons after establishing himself in the Majors with the Rays.  While Zobrist may not be the defensive asset he once was, he's still an excellent high-contact hitter and potential three-win player.  The Cubs should get good value with Zobrist at $14MM a year, despite the riskiness of signing a player through age 38.  He's a clear improvement over Castro, and with the Yankees taking on Castro's contract, two-thirds of Zobrist's deal is covered.  The Cubs can rest assured that competition was stiff for Zobrist, with the Mets and Giants willing to go to $60MM and the Nationals making a play.
With the addition of Warren, the Cubs proved that Castro did indeed have mild positive trade value despite the middle infielder's contract and up-and-down career.  In Warren, the Cubs received a useful pitcher who is under club control for three years.  The 28-year-old can serve as an effective reliever or credible fifth starter depending on the Cubs' needs.
The Cubs' primary offseason need was to add an impact starting pitcher.  Though Epstein later told WEEI the Cubs were "very interested" in the best available option, free agent David Price, the Cubs' president also admitted, "We ended up a distant third" in the bidding.  Shortly after Price's agreement with the Red Sox, the Cubs reached an agreement 37-year-old veteran starter John Lackey on a two-year deal.  Epstein had previously signed Lackey as Red Sox GM six years prior.  As Epstein explained in that same WEEI interview, "There's risk inherent in longer pitching contracts, and having a pitcher the caliber of John Lackey on a two-year deal was a no-brainer for us."  I thought Lackey would command a three-year deal even at his advanced age and with a qualifying offer attached, so plucking him from the Cardinals on a two-year term was a big win.
By the Winter Meetings, the Cubs had made significant improvements to an already-strong club, without surrendering prospects or adding a major financial burden (at least for a big-market team).  Soon, it became apparent the Cubs' biggest move was yet to come.  They were again tangling with the Cardinals and Nationals for a free agent: Jason Heyward.  We'll have more on the Heyward signing in the Deal Of Note section.
With the Cubs adding Zobrist, Lackey, and Heyward,  the rich got richer.  Heyward was penciled in at a new position, center field, since Dexter Fowler was expected to sign elsewhere as a free agent and the Cubs already had Jorge Soler as the right field incumbent.  It appears that the Cubs kicked around a lot of trade possibilities, likely involving Soler and Baez.  Meanwhile, the team quietly re-added Trevor Cahill on a one-year deal.  Cahill turned down a more definitive rotation offer from the Pirates to stay with the Cubs, even though he seems likely to begin the year in the bullpen.  Cahill's contract calls for incentives both for starts and relief appearances.  The 28-year-old first joined the Cubs in August on a minor league deal.  He pitched for the big league club in September and after a dominant month out of the pen became a key late-inning reliever in the playoffs.  The signing gives the Cubs four potential swingmen, along with Warren, Clayton Richard, and Travis Wood.
As February came to a close, the Cubs' offseason seemed to have reached a successful conclusion, as they were down to tinkering with free agents on minor league deals.  Then, in the course of a few hours, Epstein stunningly completed another multiple-bank shot.  First, news broke that outfielder Chris Coghlan, whose presence on the Cubs' roster was already somewhat redundant, had been traded to Oakland for Aaron Brooks.  This trade seemed mostly about clearing Coghlan's $4.8MM salary.  Coghlan, a free agent after 2016, raked right-handed pitching with a .277/.354/.478 line from 2014-15.  Brooks, meanwhile, will soon turn 26 and has yet to experience big league success.  He's got an interesting change-up and could develop into a useful pitcher, but it was a light return for Coghlan.
Shortly after the Coghlan trade, the Cubs announced that center fielder Dexter Fowler had re-signed on a one-year deal.  Although media reports suggested Fowler had a multiyear agreement in place with the Orioles, Fowler, his agent, and Orioles executive vice president of baseball operations Dan Duquette later said that was never the case.  Instead, Fowler's talks with the Orioles fell apart when they wouldn't give him an opt-out clause, and the Cubs swooped in with a low-risk one-year deal.  While it's true the Cubs sacrificed another potential draft pick, Fowler basically fell into their laps.  Heyward is now penciled in at his natural right field position, Fowler returns in center, and the Cubs have a pair of highly-regarded young players in Soler and Kyle Schwarber in left field.
Continued analysis after the break …
Questions Remaining
In Soler and Baez, the Cubs have a pair of big league ready, highly-regarded early-20s players without starting roles.  This is generally a good problem to have.  Still, each player would ideally be getting regular playing time, and the Cubs' acquisitions at least imply uncertainty in the pair.  So far, the Cubs have taken the safe route with Soler and Baez, holding onto them and hoping their value either increases or stays the same.  Without knowing the trade offers that came in this winter, it's difficult to assess that decision.  Most likely, the depth will be necessary, as the Cubs can mitigate the damage of injuries to their starters better than most teams.  Of course, Soler and Baez may still be traded anytime between now and August 1st.
By the playoffs, the Cubs had assembled a strong bullpen, which included resurgent veterans like Cahill and Richard.  The club could have issues if those resurgences don't carry over, as Warren was the only real offseason addition.  Though the Cubs have Wood and Richard from the left side, it seems that left-handed relief was an area of focus for them given the minor additions of Rex Brothers (since released), C.J. Riefenhauser, Edgar Olmos, Jack Leathersich, and Manny Parra.
Did the Cubs do enough to improve their rotation?  Jake Arrieta, Jon Lester, Jason Hammel, and Kyle Hendricks remain in place, and on paper Lackey definitely makes the rotation better.  The biggest concern is regression or injury for Arrieta, who tallied nearly 250 innings in 2015.  The Cubs have a slew of swingmen to step in if someone gets hurt, but it's still true that the front office chose to allocate most of their free agent budget to add to a strength, position players.  Given the Cubs' trade chips and this offseason's unprecedented free agent starting pitching, it was surprising to see the Cubs only come away with Lackey.
The Cubs were unable to reach a long-term agreement with Arrieta, instead avoiding arbitration with a one-year,  $10.7MM deal.  Arrieta is due another potentially large raise for the 2017 season, after which he'll be eligible for free agency.  I think the fact that the Cubs did not add a $20MM+ starting pitcher leaves the door open for an Arrieta extension, even if agent Scott Boras strongly prefers to take his clients to the open market.  In October, I suggested Arrieta's salary expectations covering his free agent years would likely match that of Zack Greinke, and then Greinke signed an unprecedented six-year, $206.5MM deal with the Diamondbacks.  That would be on top of Arrieta's 2017 salary.  Arrieta just won the Cy Young award with a season for the ages.  Can his price really get any higher if the Cubs wait another year, or even two?  In general, do the Cubs want a Greinke-like contract on the books?  Arrieta's contract status will be an ongoing question mark for Epstein and company.
Speaking of Epstein, the Cubs' chief architect is signed only through 2016.  Based on public comments from Epstein and Cubs owner Tom Ricketts, a new contract seems inevitable.  Comments Ricketts made to Bruce Levine of CBSChicago.com indicate that a new deal for Epstein is likely to once again make him baseball's highest-paid executive.  With Andrew Friedman earning $7MM a year with the Dodgers, I wonder if Epstein's new contract will push a $10MM salary.
Deal Of Note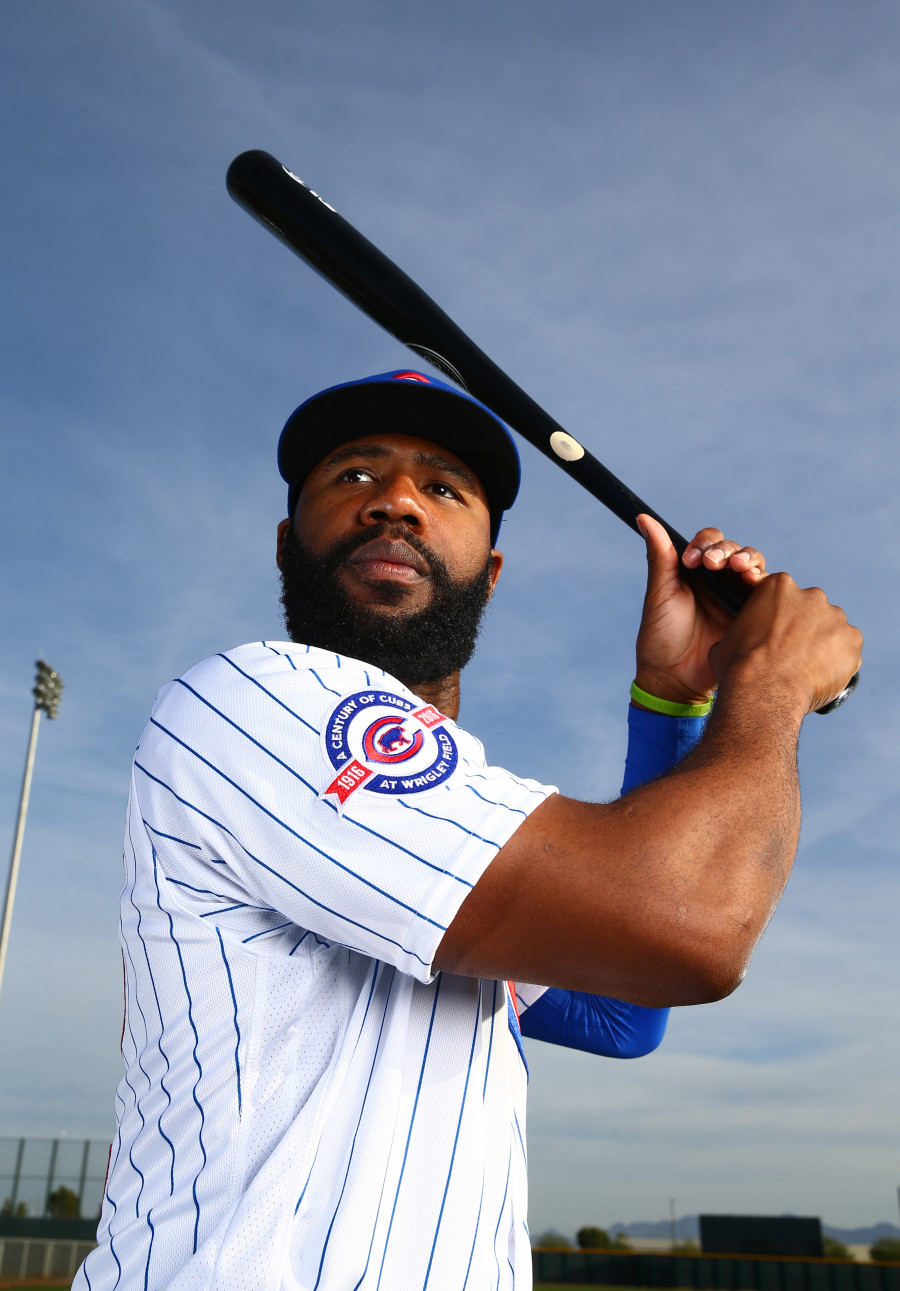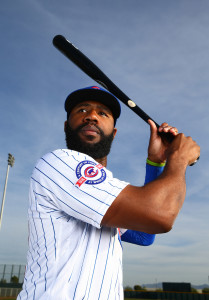 I was surprised to see the Cubs aggressively pursuing Jason Heyward, because right field didn't seem like a primary need for the club.  Nonetheless, they signed the offseason's best position player to an eight-year deal guaranteeing $184MM.  The Cubs also stoked a longtime rivalry, as the Cardinals tried to retain Heyward.  Crucially, Heyward can opt out of his deal with the Cubs after three years.  If he doesn't opt out after that 2018 season, and then picks up 550 plate appearances in 2019, he has another chance to opt out.  As Matt Swartz explained in a January article for MLBTR, it's not likely Heyward opts out after 2019 if he doesn't after 2018.  Swartz values Heyward's opt-out clauses at about $25MM, so the Cubs were able to reduce the guarantee to Heyward by about 12% by taking on downside risk.
Including an opt-out clause was a prerequisite to signing Heyward, who was an unusually young free agent at 26 years old.  Now that the Cubs have Heyward and this contract, they have to hope he does opt out after 2018, making this a three-year, $78MM deal.  If Heyward's 2018 season is good enough to compel him to opt out (to which Swartz assigns a 50% likelihood), then it likely means the Cubs got more than their money's worth.  If the momentum does begin to swing clearly toward Heyward opting out after 2018, the Cubs will be presented with another Arrieta-like situation.  They'll have already gotten surplus value and will have to decide whether to re-up with the player at market price.
Overview
This is the Cubs team fans expected Epstein to eventually build, when he was hired in the fall of 2011.  The team is overflowing with controllable position player talent for the long-term, supplemented by big-market style free agent signings.  Though they didn't reach the World Series, the 2015 Cubs had the Cy Young winner, Rookie of the Year winner, and Manager of the Year.  Based on FanGraphs' projected standings, the Cubs are the preseason favorite, and no other team is close.  On paper, the Cubs are a popular World Series pick.
The problem with such high expectations for any team is that "the field" still has much better odds of having the World Series winner.  Mostly, preseason favorites that fall short are done in by injuries, and the Cubs are just as susceptible as any team.  After four years, the Theo Epstein front office has stacked the odds nearly as far in the Cubs' favor as possible, but it won't mean anything until the franchise gets the championship monkey off its back.
So, how would you grade the Cubs' winter moves? (Poll link for app users … )