This is the latest entry in MLBTR's Offseason In Review series. The full index of Offseason In Review posts can be found here.
The A's significantly shook up their roster yet again in order to rebound from last year's 94-loss disappointment.
Major League Signings
Notable Minor League Signings
Trades And Claims
Extensions
Notable Losses
Dan Otero, Ike Davis, A.J. Griffin, Edward Mujica, Fernando Abad, Craig Gentry, Sean Nolin, Lawrie, Pomeranz, Chavez, Brooks, Scribner, Leon
Needs Addressed
In MLBTR's Offseason Outlook piece about the Athletics last October, Charlie Wilmoth suggested the the A's could explore "spending heavily on righty relievers in an attempt to improve by building a good bullpen around Sean Doolittle, Fernando Rodriguez and (Drew) Pomeranz," with the logic that upgrading the bullpen would cost less payroll-wise both now and in future commitments.
Since the Billy Beane/David Forst front office are always one to consider an "off-the-grid possibility," relief pitching was indeed a major focus of Oakland's winter, specifically right-handers.  The A's spent $32MM (the bulk of their winter spending) on multi-year deals for Ryan Madson and John Axford, both of whom will serve as setup men for Doolittle.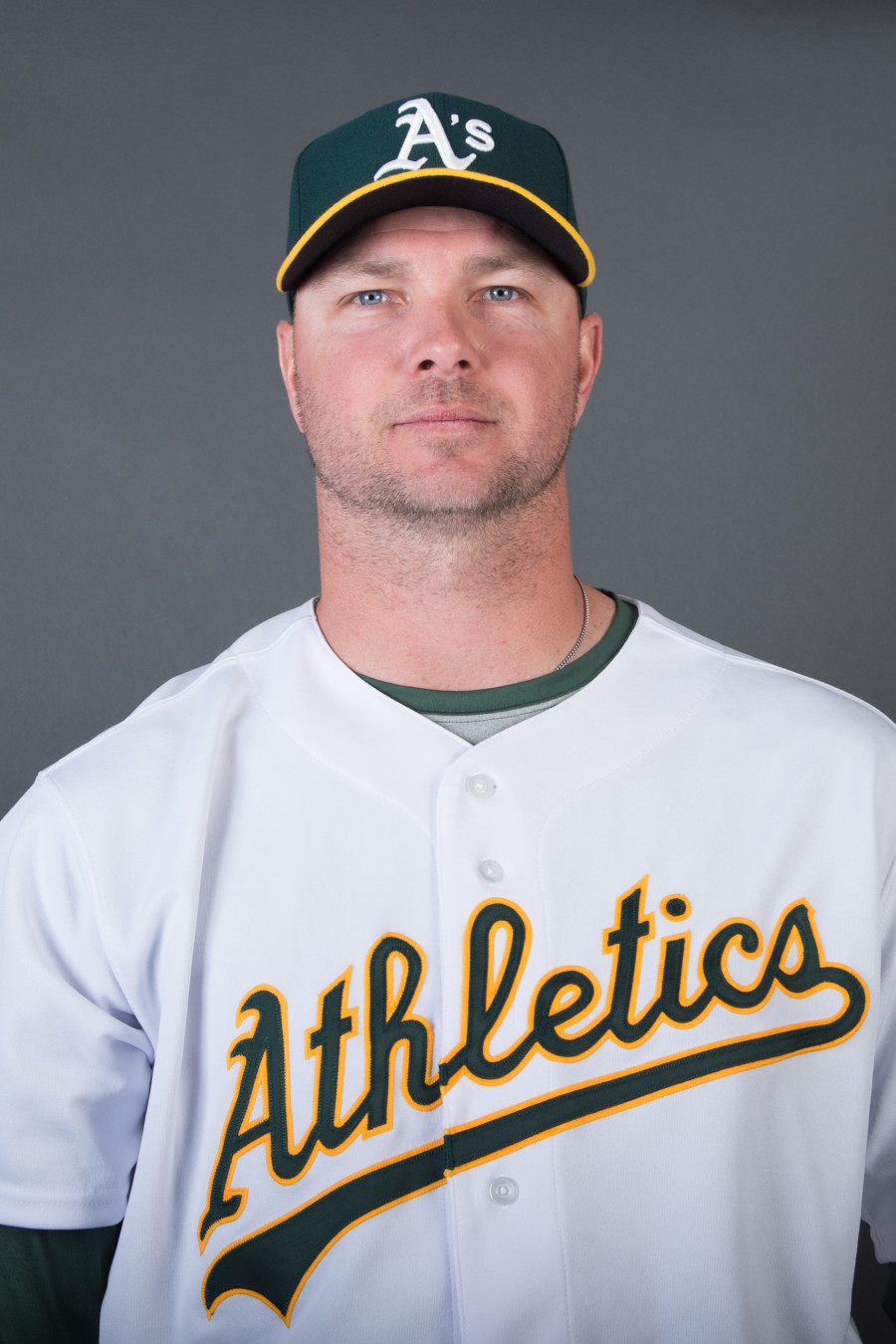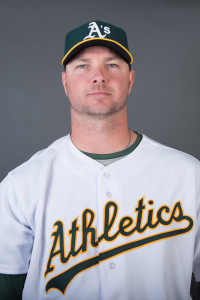 Madson's re-emergence as a top reliever after missing three seasons to injury was a big factor in the Royals' World Series championship, and the A's will hope he can continue his good form as both a setup man and possible closer should Doolittle run into problems.  Axford will go from one of baseball's most hitter-friendly parks in Coors Field to one of its most pitcher-friendly in the Coliseum, though the hard-throwing Canadian didn't have as many issues with homers last year (a modest 0.6 HR/9) as he did his career-long struggle to limit walks.
With Jesse Chavez becoming increasingly expensive in arbitration, the A's dealt the veteran swingman to Toronto for Liam Hendriks, who will only become arb-eligible for the first time next winter.  Hendriks was shifted into a full-time relief role last season and blossomed, posting a 2.92 ERA, 9.9 K/9 and 6.45 K/BB rate over 64 2/3 IP for the Blue Jays.
In addition to these three righties, the A's also addressed the left-handed side of their bullpen ledger by acquiring Marc Rzepczynski as part of a multi-player trade with the Padres.  "Scrabble" had a bizarre 2015 season that saw him post a 5.66 ERA over 35 innings due in large part to a freakishly high 25% home run rate, a .381 BABIP and a stunningly low 54% strand rate.  ERA predictors had a much more favorable view (3.36 FIP, 2.75 xFIP, 2.49 SIERA) of the southpaw's season, so if the A's limit Rzepczynski into more of a traditional LOOGY role, he should be fine.
The Padres deal sent Pomeranz and Rule 5 draft pick Jabari Blash to San Diego with Yonder Alonso also coming back as part of the trade package to Oakland.  Alonso will essentially fill Ike Davis' role as a left-handed hitting first base complement, platooning with Mark Canha.  Alonso is a strong defender and posted career highs in average, OBP and OPS over 402 plate appearances last season, including a .287/.364/.398 slash line against righties.
The Athletics will substitute a Lowrie for a Lawrie at second base this year, as they dealt Brett Lawrie to the White Sox and brought back veteran Jed Lowrie for his second stint in Oakland.  Lowrie has a checkered injury history and he's a pricey acquisition for the A's (owed $15MM through the 2017 season), though he gives the club positional flexibility since he can also handle shortstop and third if Marcus Semien or Danny Valencia need some time.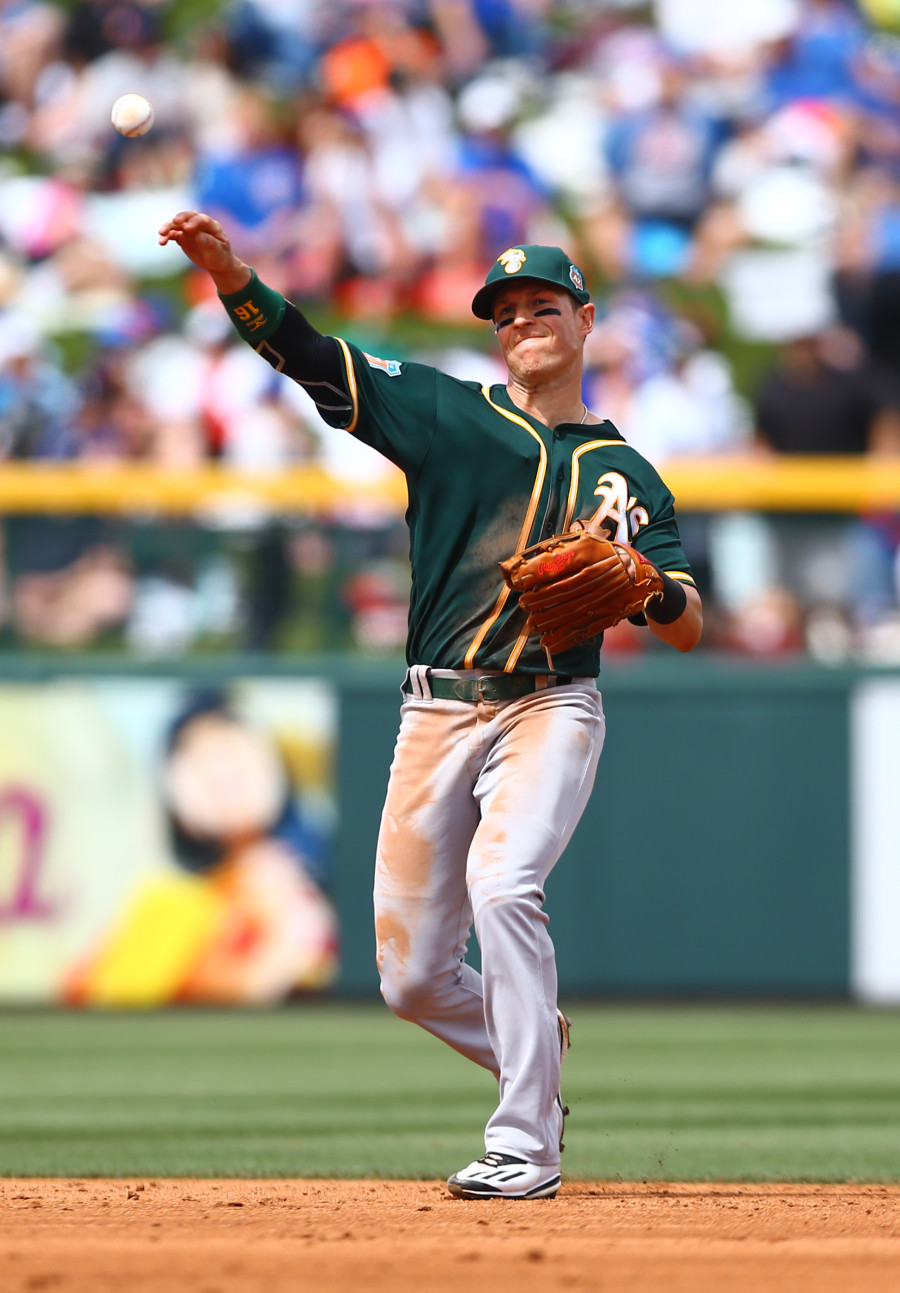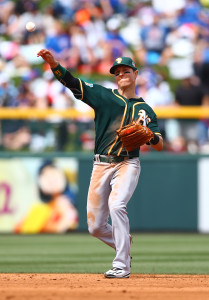 Speaking of versatility, the A's picked up Chris Coghlan with the intent of turning the former Rookie of the Year into a super-utility man capable of playing all over the diamond rather than just his usual left field.  Coghlan also gives the A's a strong lefty bat who has an .831 OPS against righty pitching over his last two seasons with the Cubs.
As much as Oakland builds its roster around platooning and depth, the A's are certainly hoping that Khris Davis can emerge as an everyday player in left given his already-apparent potential as a power bat.  Davis has 60 homers over his first 1132 career PA and has posted pretty similar splits against righties and lefties, though the downsides are a lack of walks, a lot of strikeouts and below-average left field defense.
Finally, the A's added two major rotation pieces in Rich Hill (who we'll cover later) and Henderson Alvarez, though the latter isn't expected until May as he's still recovering from the shoulder surgery that sidelined him for most of 2015.  If healthy, Alvarez's grounder-heavy, low-strikeout approach would seemingly be a good fit at the Coliseum, and he's still only 25 years old with two productive, 187-inning seasons under his belt.
Questions Remaining
The idea of Hill and Madson earning a combined $28MM in free agency would've been unthinkable at this time last year, given how both pitchers were so tenuously hanging onto their careers.  The signings are similar to the Athletics' free agent outlays on Scott Kazmir and Billy Butler in recent years — since the A's can't afford the biggest names on the market, they pay mid-market prices for players who have some question marks attached to them in the hopes that the players will either keep producing at a high level or bounce back from disappointing seasons.  This strategy obviously carries some risk (Kazmir worked out for the A's while Butler to date hasn't), especially since if both Hill and Madson don't live up to expectations, their deals are bigger albatrosses on Oakland's payroll than they would be for a team with more financial flexibility.
No matter if you're playing in a big market or a small market, however, spending a lot of money on a bullpen overhaul can be dangerous given how reliever performance can vary so wildly from year to year.  It was just two winters ago that the A's invested a large chunk of payroll in relief pitching and the plan was successful for much of the season, save for the most expensive of those relievers (Jim Johnson) having a rough year and the bullpen's late collapse that cost them the Wild Card game against Kansas City.
Madson will earn the fourth-highest salary of any Athletics player this season, and Oakland needs more from the three players ahead of him on that list.  Lowrie has to stay healthy and the A's must hope his .240/.318/.369 slash line over the last two seasons was a sign of injuries and not decline as he enters his age-32 season.  Coco Crisp is earning $11MM in the last year of his contract but can't be counted on for anything more than a backup role due to his own plethora of injuries over the last two seasons.  Butler was a sub-replacement level player in the first year of his three-year, $30MM deal and since he is limited to DH-only duty, he'll need a big turnaround at the plate to give the A's some return on that contract.
While benching Butler or Crisp may be unpleasant from a payroll standpoint, the A's have alternatives in place should either veteran again struggle thanks to their usual platoon-heavy roster.  Semien, Josh Reddick and maybe Davis and Valencia could be the only Athletics playing pretty much every day, with Davis or Valencia sitting against tough righties.  Sometimes the platoon system works well (2014) and other times (2015) less so, as even a couple of players getting hurt or having off-years can disrupt the A's strategy of optimizing their lineups.
Sonny Gray is a proven front-of-the-rotation pitcher, though beyond him, the A's have some uncertainty in the pitching staff.  Hill's apparent revival is based on just four starts.  Chris Bassitt and Kendall Graveman have a combined 39 career big league starts, and the advanced metrics haven't thought too much of either pitcher during their brief tenure in MLB.  Bassitt posted big strikeout totals over his last few minor league seasons but only a 6.61 K/9 in 115 2/3 Major League innings.  Graveman is a groundball pitcher whose 4.05 ERA last season may have been a bit goosed by a 1.2 HR/9 — he has done a much better job at keeping the ball in the park at the minor league level, and limiting homers shouldn't be that big a problem at the Coliseum.
Felix Doubront was intended to be the fifth starter though his status is in question due to an elbow injury.  Jesse Hahn will likely step in if Doubront misses time; Hahn's health is also a bit uncertain given how forearm problems limited him to just 16 starts last year, though in theory, he would only need to be a short-term fill-in until Alvarez returns in May.  The A's were hoping to have Jarrod Parker available in some capacity at least as a reliever or spot starter, though the injury-plagued righty's career could well be in jeopardy after undergoing another elbow surgery.
With little pitching depth to spare and Gray as the only sure thing in the rotation, it's rather curious in hindsight that Oakland dealt away so many arms (Chavez, Pomeranz, Sean Nolin, Aaron Brooks) in trades this winter.  Top prospect Sean Manaea is very likely to make his MLB debut this season though perhaps not until the A's can assure that Manaea wouldn't earn enough service time to claim Super Two eligibility.  Lefty Dillon Overton, ranked by Baseball America as the eighth-best prospect in Oakland's system, will start the season in Triple-A and might also get a look in the Show later in the year.
Both the A's and Reddick have expressed mutual interest in working out an extension as the outfielder enters his last year under contract, though not much progress seemed to be made on that front before Opening Day (Reddick's deadline for talks to end) hit.  Another healthy and productive season could put Reddick in line for a big payday on the open market — MLBTR's Tim Dierkes currently ranks Reddick as having the sixth-most earning power of any free agent next winter.  Given that the Athletics' extension history over the last decade consists of locking up young players or handing short-term, multi-year deals to veterans, it would be surprising if the club broke with recent precedent and kept Reddick around for the long haul.  If the A's struggle again, Reddick could very well find himself traded at the deadline, or simply be allowed to walk after the season with Oakland recouping a draft pick via the qualifying offer.
There will undoubtedly be a ton of trade rumors about Gray if the A's are out of the race by midseason, as the young ace is scheduled to become arbitration-eligible for the first time this winter.  Gray drew a lot of trade interest this winter and, despite Beane and Forst's insistence that they're keeping the ace, there has been a lot of speculation that the A's will eventually trade Gray as his price tag rises.  Even if Gray is dealt, however, the move doesn't necessarily have to happen at this trade deadline or even next winter.  Gray's first arb year will net him roughly $5-6MM in salary for 2017, which is hardly an onerous sum to pay in a winter when the A's have Crisp, Hill, Reddick and Coghlan all coming off the books.  I would consider it likely that Gray remains in Oakland throughout the 2016 season unless the front office decides to completely rebuild.
Deal Of Note
Hill overhauled his throwing motion and pitch selection last season and looked completely dominant over four September starts with the Red Sox, turning him from a lightly-regarded journeyman into a hot offseason commodity, with at least 20 teams reportedly showing interest.  Hill received at least one larger offer than the one-year, $6MM deal he signed with the A's but chose Oakland since the club was willing to give him a full-time rotation job.
Yet the big question is, how much stock can the Athletics put in just four starts and 29 innings' worth of information?  Hill's numbers (1.55 ERA, 11.17 K/9, 7.2 K/BB rate, 48.4% grounder rate) over those 29 innings were exceptional, and even the ERA predictors (2.27 FIP, 2.50 xFIP, 2.29 SIERA) were favorable despite such big outliers as a .197 BABIP or a whopping 87.9% strand rate.  It's worth noting that Hill has become more of a strikeout pitcher in recent years, posting an 11.7 K/9 over his previous 71 2/3 innings prior to 2015, though those added strikeouts came with a lack of control (6.2 BB/9) and those innings were spread out over four seasons, speaking to Hill's inability to retain a big league job.
The A's obviously assume that Hill won't keep up those Cy Young-worthy numbers all season long in 2016, though the difficult part is guessing whether Hill has actually turned a corner and can at least be a reliable rotation piece, or if he'll fall off the map completely.  Before last year, Hill hadn't even recorded a big league start since 2009, when he posted a 7.53 ERA over 13 starts for the Orioles.
Rather than spend on a more established veteran starter looking to rebuild value on a one-year deal in a pitchers' park, Beane and Forst took the riskier route in betting on Hill's late-career renaissance.  If Hill looks even remotely as good as he did in Boston, however, the $6MM will be a nice bargain.
Overview
The Athletics primarily focused on adding veterans to the Major League roster this winter, yet another example of how Beane has traditionally been loath to enter a full rebuild during his tenure in Oakland.  Though the A's are just 90-127 since August 1, 2014, Beane and Forst clearly still think the core of this team can be successful.  The A's have roughly $86.8MM committed in salaries (hat tip to Cot's Baseball Contracts), their largest Opening Day payroll of the 21st century and the third straight season their payroll has cracked the $82MM plateau.
With so many question marks dotting the roster and an offseason's worth of moves that didn't necessarily solidify many of those positions, it's hard to know what to expect from Oakland this year.  If all goes well, it's not hard to see the A's once again emerging as under-the-radar contenders in the AL West.  Another down season, however, could lead to yet another roster shakeup, with this one perhaps being more about reloading the farm system than making another run at contending in 2017.
What's your take on the Athletics' winter? (Link to poll for mobile app users)
Photos courtesy of USA Today Sports Images