While stars like David Price, Zack Greinke and Jason Heyward grabbed the lion's share of attention during free agency last offseason, plenty of players have emerged as key cogs this year after settling for contracts of significantly less value over the winter. Steve Adams of MLBTR touched on the top minor league signings of 2016 earlier this week, so we'll avoid those 10 names. Jeff Todd then examined several other cheap offseason pickups, including Pirates free agent addition David Freese, and we'll also leave him out of the discussion.
For this exercise, we'll order the list from the earliest signing to the latest and focus on one- and two-year deals. As you'll see, there's no shortage of low-cost, high-impact talent from last year's pool of free agents.
Nov. 13, 2015 – Marco Estrada Signs Two-Year Deal With Blue Jays:
Well before fellow free agent starters Jeff Samardzija, Mike Leake and Ian Kennedy landed long-term commitments worth between $70MM and $80MM, Estrada inked a modest pact (two years, $26MM) to remain in Toronto shortly after the market opened. Although he posted personal-best marks in ERA (3.13) and innings pitched (181) in 2015, there was skepticism surrounding Estrada's success because of an underwhelming K/BB ratio (2.38), unusually low batting average on balls in play (.216), high strand rate (79.2 percent) and subpar ground-ball rate (32.2 percent). So far this year, Estrada's K/BB ratio (2.54), BABIP (.193), strand rate (80.3) and grounder average (34.4) continue pointing to a substantial amount of good fortune related to his ERA (2.93), which is at a meager 3.06 in 285 1/3 career frames as a Jay. Not surprisingly, then, there's a notable discrepancy in Estrada's WAR figures dating back to last season. The 33-year-old ranks 37th among starters in fWAR (3.7), but he's 12th – wedged between aces Jacob deGrom and Chris Sale – in results-based RA9-WAR (7.8).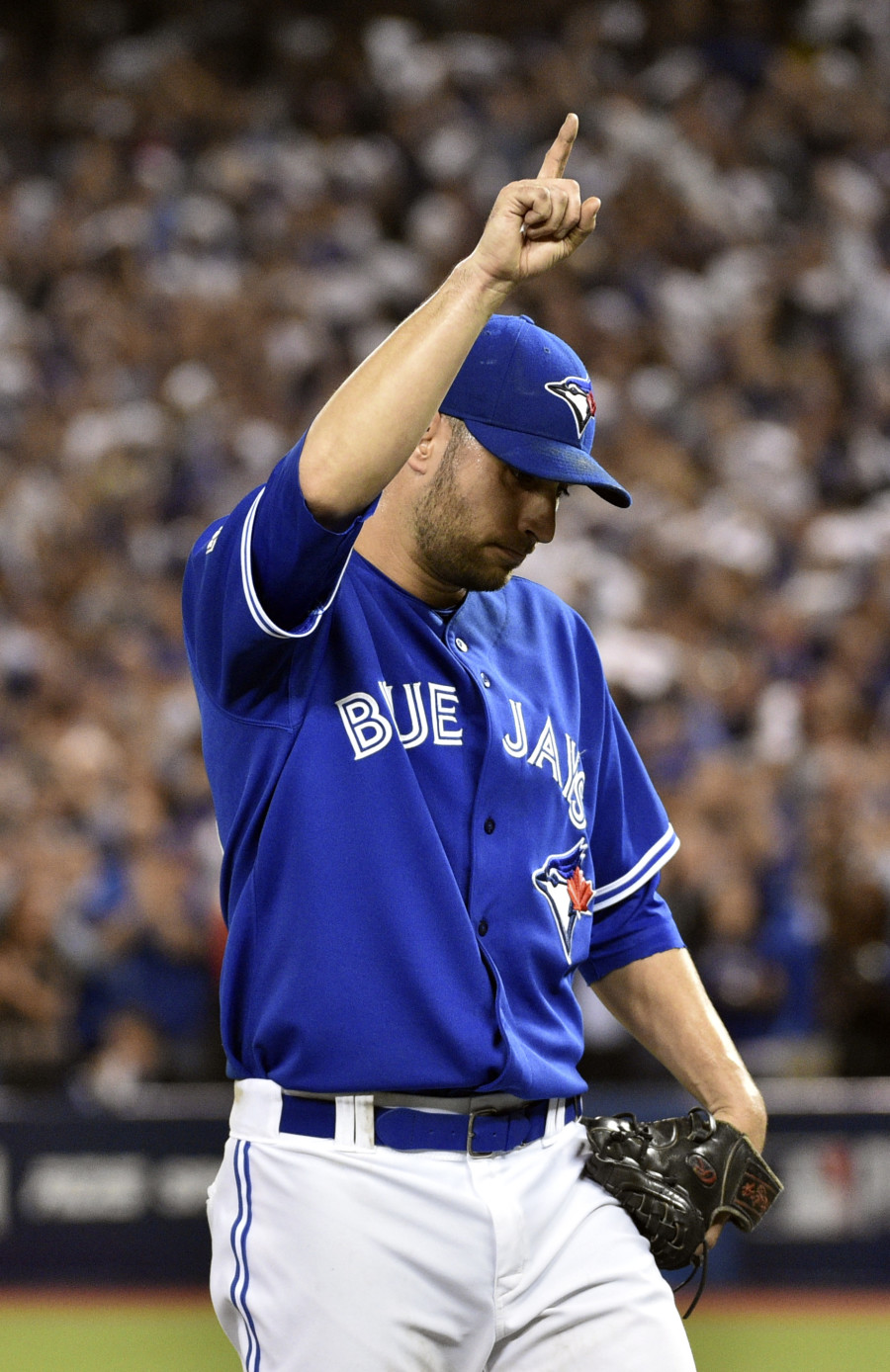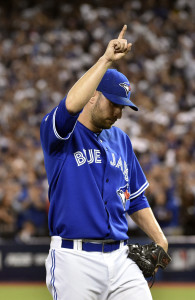 Estrada is dominating with both his fastball and changeup, as FanGraphs shows, and although he allows plenty of fly balls, they don't travel far. The ex-Brewer's 17.6 percent infield fly percentage leads all starters. Thanks in part to that, Estrada has yielded less distance on his fly balls than the vast majority of starters, per Baseball Heat Maps, and fly balls that don't take long trips often lead to outs. It also helps to have a Kevin Pillar-led outfield defense supporting you, as Estrada does.
With so few hitters able to solve Estrada, his batting line against this season is a ridiculous .171/.252/.332. Expecting Estrada to stifle offense anywhere near that well going forward is likely too much to ask, particularly when factoring in his current lower back troubles, but it's still fair to say Toronto hauled in one of the offseason's greatest bargains when it re-signed him.
Nov. 17, 2015 – Athletics Sign Rich Hill:
Prior to last September, Hill hadn't made a major league start since 2009. Between 2007-15, the southpaw appeared in the majors with seven different teams – including multiple stints with the Red Sox – and toiled with a host of minor league clubs. As recently as last August, Hill was in the independent Atlantic League as a member of the Long Island Ducks. The Red Sox then brought back Hill on a minor league deal in mid-August, and they summoned him to the majors a month later. Beginning Sept. 13, Hill went on a four-start rampage that saw him strike out 32 hitters, walk five and compile a 1.55 ERA across 29 innings. Hill parlayed that three-week run into the richest payday of his career when he agreed to a one-year, $6MM deal with the Athletics, who have reaped the rewards of his 2016 excellence and are now in position to turn him into one or more useful future pieces by the Aug. 1 trade deadline. Now that Drew Pomeranz is off the market, the 36-year-old Hill could end up as the best starter to change hands in the next two weeks. The curveball- and fastball-loving Hill warrants the hype, too, having amassed a 2.25 ERA, 10.66 K/9, 50 percent ground-ball rate and 14.5 percent infield fly mark in 76 innings this year. Who wouldn't sign up for those numbers at a $6MM price?
Nov. 25, 2015 – Braves Sign Bud Norris:
The right-handed Norris isn't exactly an exciting name, but the rebuilding Braves deserve credit for signing a short-term filler piece for a drop in the bucket ($2.5MM) and turning him into possible long-term help a few months into the season. After Norris split time between their bullpen and rotation and recorded a 4.22 ERA in 70 1/3 innings, the Braves sold as high on him as they figured possible when they dealt the 31-year-old to the Dodgers for two prospects on June 30. One of those prospects, lefty Phil Pfeifer, was a third-round pick just a year ago. For his part, Norris has held his own since ditching a changeup for a cutter in June – as FanGraphs' Jeff Sullivan wrote a couple weeks ago – and won't have to take such an inexpensive deal during the upcoming offseason if he continues as a quality option in LA.
Dec. 17, 2015 – Indians Sign Rajai Davis:
There was fear entering the season that the Indians' Michael Brantley-less outfield would hold back the prospective playoff contenders, but Davis has helped the Tribe jump ahead of the AL Central pack. In his first 308 plate appearances of the year, Davis has batted a respectable .260/.320/.423 with a career-high nine home runs. Combine that with 24 steals in 27 attempts and strong defense, particularly in left field, and you have a player whose 2016 contributions FanGraphs values at $16.2MM – nearly $11MM more than his $5.25MM base salary. Outfield work done by Davis, rookie sensation Tyler Naquin, Lonnie Chisenhall, Jose Ramirez and even now-suspended PED offender Marlon Byrd has helped Cleveland thrive without Brantley, who has missed all but 11 games because of right shoulder issues.
Dec. 17, 2015 – Pirates Re-Sign Sean Rodriguez:
Rodriguez's biggest selling point has long been his ability to play several different positions, which has continued to be the case this season. The 30-year-old has suited up at every position except catcher and pitcher in 2016, and he has appeared in double-digit games at first base, second base, shortstop and right field. The 2016 version of Rodriguez has mixed that versatility with far better offensive production than usual, having batted .260/.340/.521 through 192 PAs. That line is appreciably better than Rodriguez's .231/.299/.383 career mark in 2,281 trips to the plate, and he has already reached the 10-homer plateau this season for just the second time. Rodriguez – who's also walking in 9.4 percent of PAs (up a lofty 7.3 percent from last year's measly 2.1) – is on a team-friendly $2.5MM salary, giving the playoff-contending Pirates three offseason dollar store standouts in him, Freese and minor league signing Matt Joyce.
Dec. 18, 2015 – Mets Re-Sign Bartolo Colon:
When Colon accepted a one-year, $7.25MM offer from the Mets last winter to return for his age-43 season, FOX Sports' Ken Rosenthal reported that he left better offers on the table from elsewhere to remain in New York. The Mets are fortunate he did because not only can Colon hit home runs and field his position with aplomb, the righty's also filling the role of a capable starter yet again. In 104 1/3 innings this year, Colon has pitched to a stingy 3.11 ERA while continuing to keep walks at a minimum (1.64 per nine). His output has been especially valuable with Matt Harvey's struggles and subsequent season-ending injury, not to mention recent health questions surrounding Noah Syndergaard and Steven Matz. Even if the fastball-tossing Colon regresses toward ERA estimators like FIP (4.05), xFIP (4.12) and SIERA (4.38) over the season's second half, he'll still be worth what the Mets paid him, and that's without considering the surplus value the club has already collected from him in 2016.
Dec. 18, 2015 – Rangers Re-Sign Colby Lewis:
Unfortunately for Lewis and the Rangers, the right-hander went on the shelf for at least a couple months when he suffered a strained lat muscle toward the end of June. When healthy, he logged a terrific 3.21 ERA in 98 innings, served as a top two starter on the Rangers' shaky staff, and easily lived up to the $6MM the club gave him during the offseason. Lewis was getting by without many strikeouts (5.6 per nine innings), but he generally avoided walks (1.74 per nine) and, despite not having pitched since June 21, still ranks tied for 18th in the league in RA9-WAR (3.0). It's unknown how much Lewis will contribute when he comes back from injury, but the 36-year-old has already played a critical role for a team with a four-game advantage in its division.
Dec. 30, 2015 – Orioles Sign Hyun Soo Kim:
Kim emigrated from the extremely hitter-friendly Korea Baseball Organization to the majors for a two-year, $7MM contract with the Orioles, but he came close to never even taking a meaningful at-bat in the States. After an awful spring showing, the possibility of the Orioles selling Kim back to the KBO or at least sending him to the minors came up, though he ultimately stayed on the O's roster and has so far been a resounding success. The lefty-swinging Kim, whom the Orioles have deployed almost exclusively against righties, has slashed a fantastic .329/.410/.454 in his first 173 major league PAs. While Kim's .370 BABIP won't last, the 28-year-old has helped his cause by hitting the ball hard and consistently putting it in play. Kim's 10.4 percent walk rate is nearly in line with his 12.7 percent strikeout mark, so it appears that the Orioles at least have a patient, high-contact platoon weapon on their hands. Not bad for an average of $3.5MM per year.
Jan. 11, 2016 – Cardinals Sign Seung-hwan Oh: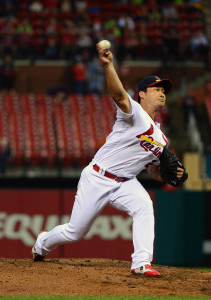 The Cardinals signed Oh, also known by the enviable nicknames "Stone Buddha" and "Final Boss," to a deal worth a max of two years and $11MM after he established himself as a force in both Korea and Japan. Oh's brilliance has carried over to the majors, too, as he's 17th among relievers in ERA (1.75) and 11th in K-BB percentage (26.1) through 46 1/3 innings. The Korea native's emergence has been even more fortuitous for the Cardinals in light of the unexpectedly terrible season Trevor Rosenthal has endured, leading the 33-year-old Oh to recently take the helm as the Cardinals' closer. The Cards have already extracted $11.7MM in value from the lights-out Oh, FanGraphs indicates, which is slightly more than the worth of his multiyear accord.
Jan. 19, 2016 – Dodgers Sign Joe Blanton:
After quietly turning in an excellent season in relief for the Royals and Pirates last year, Blanton took the Dodgers' $4MM offer and has been even better in 2016. The longtime starter has piled up 48 1/3 innings, the sixth-highest total among relievers this year, and pitched to a 2.05 ERA. Blanton has backed that figure with 9.05 K/9 against 2.61 BB/9 while forming a nearly unbeatable late-game trio with Kenley Jansen and Adam Liberatore.
Jan. 20, 2016 – Padres Sign Fernando Rodney:
As was the case with the Braves and Norris, the rebuilding Padres deserve plaudits for taking a low-cost, short-term flyer on a veteran and then shipping him to a contender for an interesting futures piece a few months later. In the Padres' case, they dealt Rodney to the Marlins on June 30 for hard-throwing, well-regarded pitching prospect Chris Paddack. The 39-year-old Rodney was never going to aid a winning Padres team, but the same might not be true of Paddack. Rodney, on the other hand, accepted a cheap contract in base value from the Padres (but one with lots of incentives) and has since registered a nearly spotless 1.01 ERA across 35 2/3 frames. Projection systems like ZIPs and Steamer forecast an ERA in the mid-3s during the second half, which would still render Rodney quite useful, but it's clear the Padres wanted to move on from him at peak value. His ERA has already climbed .70 points since he switched uniforms, so it appears the Friars did just that.
Jan. 28, 2016 – Rays Sign Steve Pearce:
While with the Orioles in 2014, Pearce hit .293/.373/.556 with 21 homers and totaled a stunning 4.9 fWAR in just 381 PAs. The longtime minor leaguer was unable to follow up on that in 2015, however, as he hit a disappointing .218/.289/.422 in 325 plate trips. That led Pearce, 33, to take a one-year, $4.25MM deal from the Rays, with whom the infielder and designated hitter was in the midst of revisiting his 2014 form before going on the disabled list June 21 with a strained hamstring. Pearce quietly batted .322/.393/.540 with nine homers in 196 PAs prior to the injury and started to draw trade chatter as a result. He should still garner interest if he returns by the deadline, making last-place Tampa Bay's minimal investment in him all the more worthwhile.
Jan. 28, 2016 – Astros Sign Doug Fister:
Fister, 32, doesn't possess the skills he had during his heyday from 2011-14, but the 6-foot-8 righty still generates grounders (48.5 percent), ranks toward the top of the league in average fly ball distance, and leads all Astros starters in ERA (3.64) through 111 1/3 innings. An below-average K/BB ratio (1.82), .257 BABIP (34 points lower than Fister's career mark) and a high strand rate (78.5 percent) are worrisome going forward. However, during a season in which Dallas Keuchel, Collin McHugh and Mike Fiers have struggled to prevent runs and Lance McCullers has only made 11 starts, the Astros have gotten bang for their buck from their one-year, $7MM investment in Fister.
Feb. 25, 2016 – Cubs Re-Sign Dexter Fowler:
The 30-year-old Fowler was a competent big leaguer for several seasons before 2016, so he shouldn't have had difficulty finding work. However, his attachment to first-round compensation via the qualifying offer system helped keep him dangling on the free agent market past the start of spring training. Finally, in the last week of February, Fowler returned to the Cubs on a one-year, $8MM pact – including a $9MM mutual option for 2017 or a $5MM buyout – but only after spurning the Orioles. With Fowler having hit .290/.398/.483 through 284 PAs this season, the Cubs can probably forget about retaining him next year via that inexpensive mutual option. The center fielder should instead be able to net a lucrative multiyear deal on the North Side of Chicago or someplace else. For now, though, Fowler's a valuable, underpaid member of a World Series-contending club.
Feb. 29, 2016 – Rangers Sign Ian Desmond: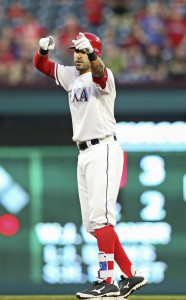 Like Fowler, the qualifying offer system had a hand in keeping Desmond out of work until the end of February. The fact that Desmond's performance dropped off a cliff last year with the Nationals obviously didn't help matters, either. Regardless, for $8MM, Desmond has certainly been a steal for the Rangers, who gambled by moving him from shortstop to the outfield. In response, the 30-year-old has been one of the league's premier defensive center fielders this season, and he has complemented that aspect of his game with marvelous production at the plate (.316/.370/.514, 15 home runs in 392 PAs) and on the base paths (15 stolen bases in 18 tries). This version of Desmond is a star-caliber player who will soon earn money commensurate to that. Until then, Texas will continue enjoying his all-around mastery at a discounted cost.
Photos courtesy of USA Today Sports Images.