The MLB playoffs are underway, which means we're only a few weeks from seeing a slew of high-profile players hit the open market in search of big-money contracts. Of the players who reached free agency last winter, 12 signed deals of at least three years in length and worth upward of $10MM per annum. While it's obviously too soon to fully evaluate those pacts, several don't look all that great through one year. Those who struggled in 2017 could certainly justify the contracts in future seasons, but it's not exactly encouraging if a player falls well short of expectations at the very beginning of his deal. As you'll see below, a few of last year's biggest signings did just that in 2017…
Yoenis Cespedes, LF, Mets – four years, $110MM: Aside from Jacob deGrom, injuries didn't spare any Mets star in 2017, Cespedes included. For the second straight season, lower body issues sidelined Cespedes for a significant chunk of games. The 31-year-old appeared just 81 times for the disappointing Mets this season, but the good news is that he didn't drop off much from 2016 when he took the field. With a .292/.352/.540 line, 17 home runs and a .247 ISO in 321 plate appearances, Cespedes provided the type of offensive production the Mets signed up for – on a rate basis, anyway.
Aroldis Chapman, RP, Yankees – five years, $86MM: A few weeks after winning a championship with the Cubs, Chapman returned to the Yankees on the richest deal ever given to a reliever. While the 29-year-old left-hander continues to throw incredibly hard, his first season as the highest-paid reliever of all-time has been rocky on occasion. Chapman went through a slump in August and lost his job as the Yankees' closer, but he regained form when the calendar turned to September and returned to the ninth inning early in the month. Dating back to Sept. 1, Chapman has gone 13 straight appearances without allowing a run, including a pair of outings in the playoffs. He concluded the regular season with more-than-respectable run prevention and strikeout/walk numbers across 50 1/3 innings (3.22 ER, 12.34 K/9, 3.58 BB/9), but his production in each category was still among the worst of his career. Chapman also notched a personal-low swinging-strike rate of 13.5 percent (down from 18.6 percent in 2016).
Dexter Fowler, CF, Cardinals – five years, $82.5MM: Also a member of last year's title-winning Cubs, Fowler bolted Chicago for archrival St. Louis' massive offer. The switch-hitting 31-year-old opened his Cardinals tenure with another quality offensive season (.264/.363/.488 with 18 homers and a career-high .224 ISO in 491 PAs), but he wasn't able to maintain the widely publicized gains he made as a defender in 2016. Despite only playing in 118 games, Fowler ranked second last among outfielders in Defensive Runs Saved (minus-18) and sixth from the bottom in Ultimate Zone Rating (minus-5.9).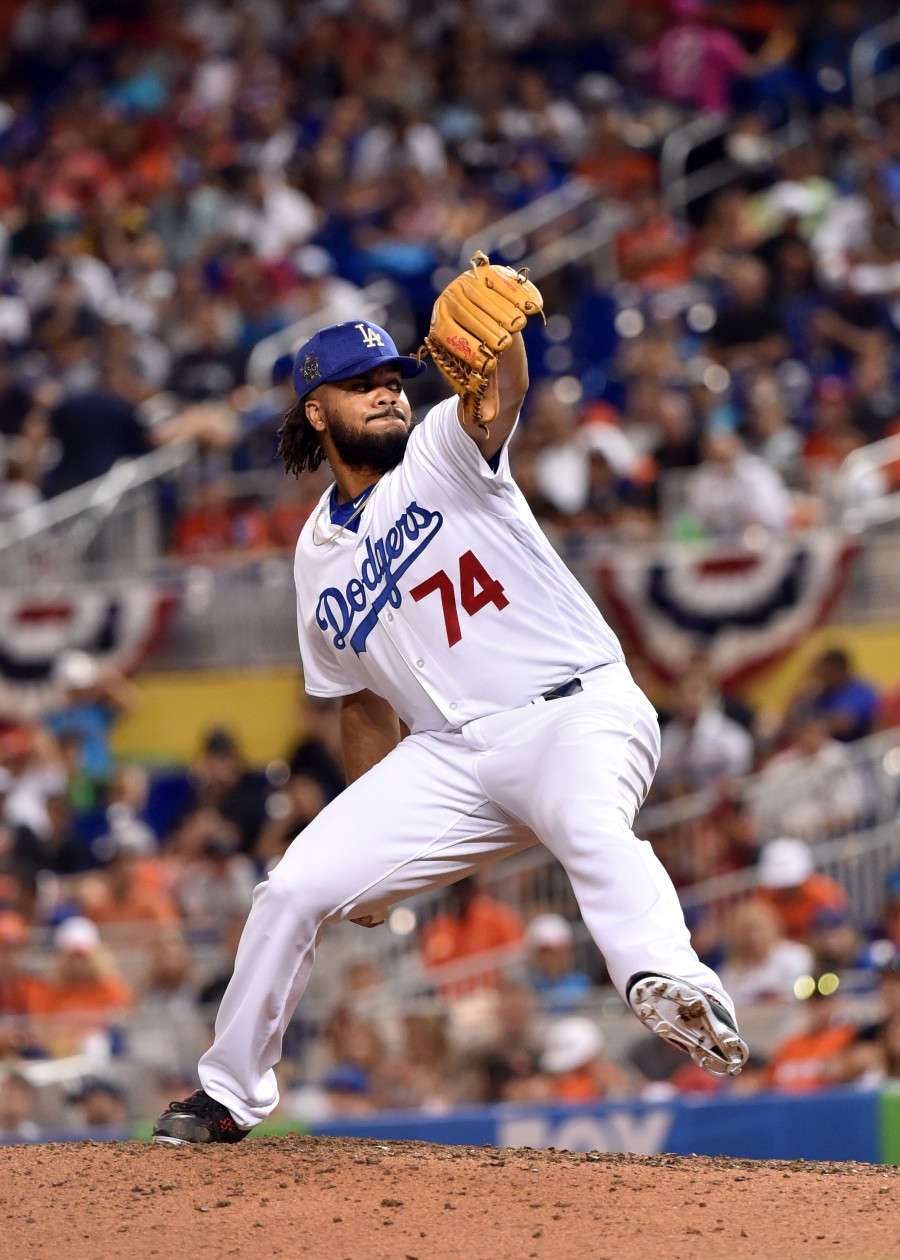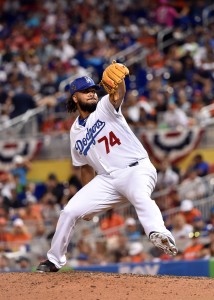 Kenley Jansen, RP, Dodgers – five years, $80MM: Finally, a player who has been virtually flawless in Year 1 of his new contract. The Dodgers undoubtedly feel fortunate right now that Jansen spurned other teams' advances and chose to stay in LA last winter, given that he turned in an otherworldly regular season and could be integral to a World Series run in the coming weeks. Over 68 1/3 innings during the season, the cutter-throwing Jansen placed first among qualified relievers in ERA (1.32) and fWAR (3.5). And with 14.36 K/9 against .92 BB/9, he finished second in both strikeout and walk percentage. The 30-year-old Jansen has continued his excellence in the Dodgers' first two playoff games, both wins over the Diamondbacks, adding 2 2/3 scoreless frames.
Ian Desmond, OF/1B, Rockies – five years, $70MM: Considering the Rockies gave Desmond big money to play first base, a position he had never lined up at prior to this season, the union between the two looked odd from the start. Ultimately, most of Desmond's action in 2017 came in the outfield, but his year was utterly disastrous regardless of position. It began inauspiciously when he suffered a fractured left hand during spring training in mid-March and never really got off the ground thereafter. Desmond, 32, battled other injuries and ended up taking just 373 trips to the plate. All told, he hit a subpar .274/.326/.375 with a career-worst ISO (.100). Along the way, he saw his groundball percentage skyrocket to 62.7 percent (up from the low-50s in prior seasons) and his batted-ball authority trend in a disturbing direction. Among 301 hitters who amassed at least 250 at-bats this year, Desmond ranked 290th in expected weighted on-base average (.256, per Statcast – via Baseball Savant).
Edwin Encarnacion, DH/1B, Indians – three years, $65MM: Even though Encarnacion was one of the game's preeminent sluggers from 2012-16 with the Blue Jays, his market didn't develop the way many expected it to last offseason. Finally, after going nearly two months without a deal, he stunningly signed with a Cleveland franchise that doesn't have a big-spending reputation. The Indians were able to use their windfall from last year's run to the World Series to justify an Encarnacion signing from a financial standpoint, though, and he continued to thrive offensively in his first regular season with the Tribe. The 34-year-old batted .258/.377/.504 with 38 HRs in 669 PAs, sitting out only five games for a club that tallied an AL-best 102 wins. Encarnacion will miss some time after suffering a sprained ankle during Game 2 of the Indians' ALDS series against the Yankees, but he seems likely to play again this postseason. Cleveland has a 2-0 stranglehold over New York and looks like a sure bet to advance to the next round, which means we probably haven't seen the last of Encarnacion in 2017.
Justin Turner, 3B, Dodgers – four years, $64MM: Between Jansen and Turner, no team did better on big-money deals last winter than the Dodgers. Despite playing in 21 fewer games than he appeared in last season (130 to 151), Turner registered 5.5 fWAR for the second straight year. His performance during the regular season was worth upward of $44MM, according to FanGraphs, which suggests that Turner is already close to living up to the value of his contract. The once-anonymous Turner batted .322/.415/.530 with 21 long balls in 543 PAs, and he managed to record more unintentional walks (59) than strikeouts (56). The 32-year-old's brilliance has extended into the Dodgers-Diamondbacks series, too, as he's 4 of 8 with a homer and five runs batted in thus far.
Mark Melancon, RP, Giants – four years, $62MM: 2017 was a nightmarish season for both the Giants and Melancon, whom they signed to help repair a bullpen that melted down too often last year and helped earn them an early playoff exit. The season for the Giants and Melancon began ominously, however, as he blew a save and picked up a loss on Opening Day against the D-backs. The Giants went on to win a paltry 63 of their next 161 games, meaning the playoffs were never on the table for the longtime contenders, and Melancon didn't help matters. While Melancon put up normal strikeout/walk numbers (8.7 K/9 against 1.8 BB/9) and a 52.7 percent grounder rate, the former Pirates and Nationals closer blew five of 16 save chances and pitched to a 4.50 ERA (up from a combined 2.39 from 2012-16). Further, after racking up at least 71 innings in each of the previous four seasons, injuries limited him to 30 frames in his first year in San Francisco. Melancon underwent right forearm surgery last month, capping off a season to forget.
Josh Reddick, OF, Astros – four years, $52MM: Reddick endured a terrible late-season stretch as a Dodger in 2016 after they acquired him in a deadline trade with the Athletics, but that didn't stop the Astros from handing him a sizable contract over the winter. The gamble has paid off so far for Houston, which saw Reddick serve as one of the top complementary pieces in a loaded offense during the regular season. The lefty-swinging 30-year-old batted a career-best .314/.363/.484 line in 540 PAs and was worth 3.5 fWAR, his highest figure since 2012. FanGraphs valued his contributions during the 162-game campaign at nearly $28MM.
Rich Hill, SP, Dodgers – three years, $48MM: Unlike this year's market, one which could feature Jake Arrieta, Yu Darvish, Shohei Otani and Masahiro Tanaka, free agency wasn't rife with appealing starting pitchers last winter. As such, the only starter on this dozen-player list is Hill, whose re-signing was yet another shrewd offseason move by the Dodgers. The 37-year-old Hill's not exactly a workhorse, but he did manage his highest innings total since 2007 – 135 2/3 – during the regular season, and the left-handed journeyman continued to perform like a front-line starter. Hill ranked seventh in the majors in K/9 (11.01) and 20th in ERA (3.32).
Mark Trumbo, DH/OF, Orioles – three years, $37MM: The market wasn't all that kind to defensively limited mashers a year ago, so Trumbo was among those who went without a contract for a while (until January, to be exact) before inking a deal that fell short of projections. Now, given that the 2017 version of Trumbo looked nothing like the AL-high 47-HR man they saw the year prior, the Orioles would probably like to undo their decision to bring him back. Trumbo, 31, didn't even hit half as many long balls this season (23), and his ISO dropped from .277 to .163. Unsurprisingly, then, the overall production (.234/.289/.337 in 603 PAs) left a lot to be desired. Going by fWAR (minus-1.2), Trumbo was the second-least valuable position player in baseball this year.
Kendrys Morales, DH, Blue Jays – three years, $33MM: This looks like another regrettable signing, one the Jays made only a few days into free agency last offseason. Although the switch-hitting Morales chipped in 28 homers in 608 PAs, those didn't provide enough of a lift to an underwhelming .250/.308/.445 line. On the bright side, Morales likely deserved better – his .358 xwOBA easily outpaced his actual wOBA (.320). However, that's probably not of much comfort to Toronto right now.
Photo courtesy of USA Today Sports Images.