As we continue to wait for the new homes of Bryce Harper and Manny Machado, let's move on to the 13th team payroll projection. Below find the links to the earlier posts in this series.
Philadelphia Phillies
Los Angeles Dodgers
Los Angeles Angels
Atlanta Braves
New York Yankees
Chicago White Sox
Boston Red Sox
Minnesota Twins
Milwaukee Brewers
San Francisco Giants
St. Louis Cardinals
Chicago Cubs
If you have questions about financial information made available to the public and the assumptions used in this series, please refer to the Phillies piece linked above.
Today, we look into a club that has surprised the baseball world move after move this winter: the New York Mets.
Team Leadership
Despite having been around for 57 seasons, the Mets have really had only three owners. They were founded as an expansion franchise in 1962 by Joan Payson with her widower running the show for five years after her death before he sold the club to publisher Nelson Doubleday's company in 1980. Doubleday individually grabbed the club along with Fred Wilpon in 1986 and Wilpon, along with his business partners, bought out Doubleday in August 2002 with the Wilpon ownership group assuming full control. To say that Wilpon ownership got off to a bad start is quite an understatement as the team made just one trip to the playoffs from 2003-14, memorably falling to St. Louis in a seven-game NLCS in 2006 before a pair of heartbreakingly close playoff misses in 2007 and 2008. The club was rejuvenated, fueled by elite young pitching, in 2015, reaching the World Series and following that up with another playoff trip in 2016, albeit just a Wild Card Game loss.
Following an eight-year run during which Sandy Alderson rebuilt the club into a true contender, Wilpon went outside the box — way outside the box — and hired former Creative Artists Agency player agent Brodie Van Wagenen to be the new general manager in October 2018. Although his hiring was initially met with some skepticism and questions about possible conflicts of interest, Van Wagenen has set the baseball world on fire with a series of marquee moves, as we'll discuss below.
Historical Payrolls
Before hitting the numbers, please recall that we use data from Cot's Baseball Contracts, we'll use average annual value ("AAV") on historical deals but actual cash for 2019 and beyond, and deferrals will be reflected where appropriate. And, of course, the value of examining historical payrolls is twofold: they show us either what type of payroll a team's market can support or how significantly a given ownership group is willing to spend. In the most useful cases, they show us both. We'll focus on a 15-year span for the Mets, covering 2005-18 for historical data as a means to understanding year 15: 2019. This period covers nearly the entirety of Wilpon's sole ownership, so this provides an excellent window into what to expect from the club. We'll also use Opening Day payrolls as those better approximate expected spending by ownership.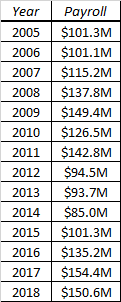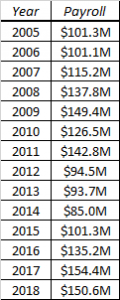 Wilpon kept spending largely consistent during the early days of his sole ownership, but payroll jumped in a big way to fuel the successful teams of the late 2000s. As that roster aged and faded, the payroll dipped substantially, including a massive one-year drop of nearly $50 million before the 2012 season. Payroll largely stagnated until a return to significant spending in the 2016 season as the Mets attempted to return to the World Series, followed by another jump before the 2017 year.
The Mets paid a $1.1 million luxury tax bill for the 1999 season under the previous tax regime, but that was the only year in club history during which they've incurred the tax. They came in narrowly under the threshold in 2003 by less than $1 million, but they haven't come particularly close to the tax line over the past 15 seasons. The club has regularly played in the international amateur space, though they're not known for the type of boundary-pushing spending that teams like the Yankees, Red Sox, Dodgers, and Cubs have employed.
Future Liabilities
Mets spending in 2019 is set to take a new leap, setting a new franchise high by a solid margin. Unsurprisingly, a bevy of guaranteed deals lead the way.


Despite some huge numbers for Cespedes and Cano, the club is far from hamstrung by its current deals as there is very little money committed beyond the 2020 season.
Speaking of Cespedes, he provides unquestioned offensive firepower…when he's on the field. Since being acquired by the Mets at the 2015 trade deadline, signing a new deal with the club before the 2016 season, opting out, and securing a long-term deal covering the 2017-20 years, Cespedes has blasted his way to a powerful .282/.346/.543 batting line. However, Cespedes has seen his games played dwindle each year, tumbling from 159 in 2015 to 132 in 2016, 81 in 2017, and finally just 38 last season. The front office has given repeated indications that any contribution from Cespedes in 2019 will be gravy given his lengthy recovery timeline following heel surgery.
While Cespedes has struggled to stay on the field, new Met Cano has been a picture of consistency, playing at least 156 games each year from 2007-16 before dipping all the way to 150 games in 2017. However, Cano was slapped with an 80-game suspension last year after a test revealed the presence of a diuretic in his system before undergoing arthroscopic knee surgery in December. It's likely Van Wagenen's tenure will be defined in large part by how Cano performs in his new (old) city. Regardless, from a purely financial standpoint, Cano represents a fairly safe risk: whenever he plays, he has been remarkably productive and if he fails another drug test, Cano will be suspended for an entire season without pay. It's also worth noting that the Mariners are subsidizing Cano's deal both by sending cash to the Mets annually and by absorbing the remaining amounts due to Jay Bruce and Anthony Swarzak.  It should be noted that the most sought-after player in the Cano deal was reliever Edwin Diaz, who fell 13 days short of Super Two status for 2019 and will therefore earn just $570,800 in his first year with the Mets.
Among the guaranteed deals for current players, longtime Met Juan Lagares is the sole remaining holdover who spent a significant chunk of time under the Alderson regime. Lagares plays a mean center field and runs well, but his bat never developed, so it figures that the Mets will pay his 2020 salary and wish him well nine months from now.
The remaining players are all middle class veterans on short-term deals. Frazier and Vargas both enter their walk years while Van Wagenen filled out the remainder of his roster by throwing modest sums of cash at solid, unspectacular veterans. Lowrie enters off of a stellar year but turns 35 shortly after Opening Day. Ramos, Familia, and Wilson each enjoyed success in 2018 and prior years, though each comes with a recent red flag: a knee injury for Ramos, a domestic violence suspension for Familia, and a nightmarish loss of command in recent years for Wilson.
Finally, we get to the payments to ex-players, and holy smokes, what a walk down memory lane this is. Wright has two years remaining on his eight-year contract, though insurance figures to pay about 75 percent of his guaranteed money, after which the team owes him $3.1 million annually through 2025. Santana's deferred money carries just two years into the future.
But Strawberry, Bonilla, and Saberhagen? They basically define the risk of long-term deferrals. The team will spend over $3 million on that trio through the 2020s while owing nearly $2.8 million to the Strawberry-Bonilla duo for additional years. It's true that those dollar figures aren't astronomical when considering team budgets, but $3 million represents an annual flier on someone like Shelby Miller or a modest bullpen upgrade like Shawn Kelley. Instead, the Mets will continue to spend that cash on players through their 60s. Yikes.
Turning to the arbitration ranks, the Mets feature their best talent:


deGrom and Syndergaard are arguably the team's two best players. Wheeler finally recovered from a slew of injuries to realize his promise as a strong rotation cog, and Matz still carries plenty of promise to do the same. Conforto played at an All-Star level in 2017 before slipping to be a merely plus regular in 2018; he just turned 25. Only d'Arnaud figures to play a less than prominent role as his sterling 2015 becomes a thing of distant past more so than a predictor of future stardom. Nevertheless, the arbitration table carries much of the intrigue for the Mets in 2019 and beyond.
What Does Team Leadership Have to Say?
Wilpon didn't offer much insight as to what team spending would look like early on in the offseason, stating only that "Brodie knows what the parameters of what the payroll is and what we're planning to do."
Accordingly, this pushes us toward Van Wagenen for insight on the team's expected spending…which also yields no useful information. Back in November, the general manager stated that the club was "open for sure to moving money off the roster" but "willing to add money as well" before deferring more specific questions to ownership.
It seems that franchise leadership has no interest in making their spending plans public knowledge. For competitive advantage purposes, I can't say I blame them.
Are the Mets a Player for Bryce Harper or Manny Machado?
Probably not. They haven't been mentioned as one of the clubs seeking a sit-down opportunity with either mid-20s star and that speaks volumes, especially now that we've reached February.
Furthermore, following his expensive forays into the marketplace to acquire Cano and Familia, sources indicated that Van Wagenen would be focusing his efforts on an outfield bat, rotation depth, or a lefty reliever, not exactly an indication that Harper or Machado would be meeting with Mets brain trust in the near future.
Still, it can't be ignored that Mets play in a major metropolitan area and feature a fan base that supported attendance totals regularly in excess of three million annually, even eclipsing four million fans in 2008. They exceeded 2.6 million fans only twice since then. If ownership and the business operations folks believe that a contending Mets team can draw at least 3.1 million fans like they did each year from 2006-09, that extra revenue could surely support another marquee addition, though doing so would push the team into taxpayer status depending on how Wright's insurance coverage is factored. They currently have a tax payroll of approximately $186.5 million, meaning they can only afford a $20 million addition before exceeding the tax line.
For now, assume that the Mets are out on both players while holding a tiny glimmer of possibility in the back of your mind. While you hold onto that thought, consider this idle, baseless speculation: in addition to Wright's, Cespedes' contract is insured as well, though the Mets were hazy on the specifics. If they truly think that he'll be unable to play at all in 2019 and the policy covers roughly 75 percent of his salary after a disability period is reached, the club may recover something north of $10 million on the policy. The prospect of another big expenditure starts to look eminently more reasonable.
What Will the 2019 Payroll Be?
Well, it'll be a new team record, that's for sure. But just how high will it go?
Currently, team payroll comes in at $159.5 million including the substantial payments of deferred money. The luxury tax won't be a factor unless the team adds $20 million or more to current payroll, so this number is a good approximation.
How much room is there for additional expenditures? It seems reasonable to assume that Van Wagenen took the job with the understanding that payroll would increase by some amount, even if that amount is more in the five-to-ten percent neighborhood than something more substantial. A ten percent increase fits the bill as the club seeks to contend in their final years of depressed-cost control over deGrom and Syndergaard. But don't be stunned if the percentage increase is more like fifteen or twenty in the end. For now, we'll estimate at the low number.
Projected 2019 Payroll: $165 million
Projected 2019 Payroll Space: $5.5 million