This is the latest post of MLBTR's annual Offseason in Review series, in which we take stock of every team's winter dealings.
It was a relatively quiet winter on the transaction front for the Astros, but an action-packed offseason wasn't necessary for the back-to-back American League West champions. Although Houston has lost more notable players than it has gained in recent months, the team will nonetheless enter the 2019 season as the runaway favorite in its division and a legitimate World Series contender.
Major League Signings
Trades And Claims
Notable Minor League Signings
Notable Losses
[Astros Depth Chart | Astros Payroll Information]
Needs Addressed
A world-class rotation was a staple for the Astros during their two-year run of dominance from 2017-18, a span in which their starters ranked third in the majors in ERA (3.58) and second in fWAR (37.3). While right-handed aces Justin Verlander and Gerrit Cole have been at the helm of the group lately, they weren't in the mix for the entire two-year period. Dallas Keuchel, Charlie Morton and Lance McCullers Jr. were around for the full run, but the Astros entered the offseason in danger of losing Keuchel and Morton to free agency. Meanwhile, president of baseball operations Jeff Luhnow & Co. knew the club would have to get through 2019 sans McCullers, who underwent Tommy John surgery in early November.
Given the uncertain statuses of Keuchel and Morton and the unavailability of McCullers, the Astros figured to be aggressive in addressing their rotation during the offseason. However, with Opening Day approaching, they haven't made any headline-stealing additions to their starting five. That could change if the Astros re-sign Keuchel, who stunningly remains available and whom they have interest in bringing back, but it seems a reunion will only occur if the 2015 Cy Young winner accepts a short-term contract. Unlike Keuchel, Morton's long gone, having taken a two-year, $30MM offer from the Rays back in November. The 35-year-old's exit from Houston ended a fruitful tenure which began when it signed him to what became a bargain deal (a two-year, $14MM guarantee) entering its World Series-winning 2017 campaign. Even though Morton blossomed in Houston after several mediocre and/or injury-filled seasons elsewhere, the Astros didn't regard him as a must-keep piece, evidenced by their choice not to issue him a qualifying offer and their subsequent one-year contract proposal.
While Morton was unwilling to say yes to the Astros' single-year offer, the same wasn't true for left-hander Wade Miley, whom they reeled in for $4.5MM at the start of February. Now 32, Miley is only a year removed from having to settle for a minor league contract with the Brewers after two straight woeful seasons divided between Seattle and Baltimore. However, the longtime innings eater ultimately pitched his way back to relevance in Milwaukee, where he posted a terrific 2.57 ERA/3.59 FIP over 16 starts and 80 2/3 frames. Now, thanks to his 2018 renaissance, Miley's a lock for the Astros' season-opening rotation.
It appears Miley and the Astros' other hurlers will work primarily with Robinson Chirinos, whom they brought in on a low-risk pact after the in-state rival Rangers parted with him. Chirinos, 34, is stepping in for free-agent departures Brian McCann and Martin Maldonado – the latter of whom rejected the Astros' two-year offer toward the beginning of the offseason. The Astros tried to pull in bigger fish at the position, though, as they showed interest in J.T. Realmuto before the Marlins traded him to the Phillies and pursued Yasmani Grandal prior to his one-year, $18.25MM commitment to Milwaukee. Either Realmuto or Grandal would have given the Astros a clear-cut No. 1 catcher, which they may not have at the moment. Chirinos has typically lived up to the role as an offensive player, to his credit, but he's no world-beater behind the plate. Conversely, backup Max Stassi carries more questions as an offensive player than a defender. While Stassi was an elite defender in 2018 who also managed solid offensive numbers in the aggregate, his production with the bat careened off a cliff after a red-hot April/May. Nevertheless, having lost out on Realmuto and Grandal, the Astros are banking on the disparate skill sets of Chirinos and Stassi complementing one another in 2019.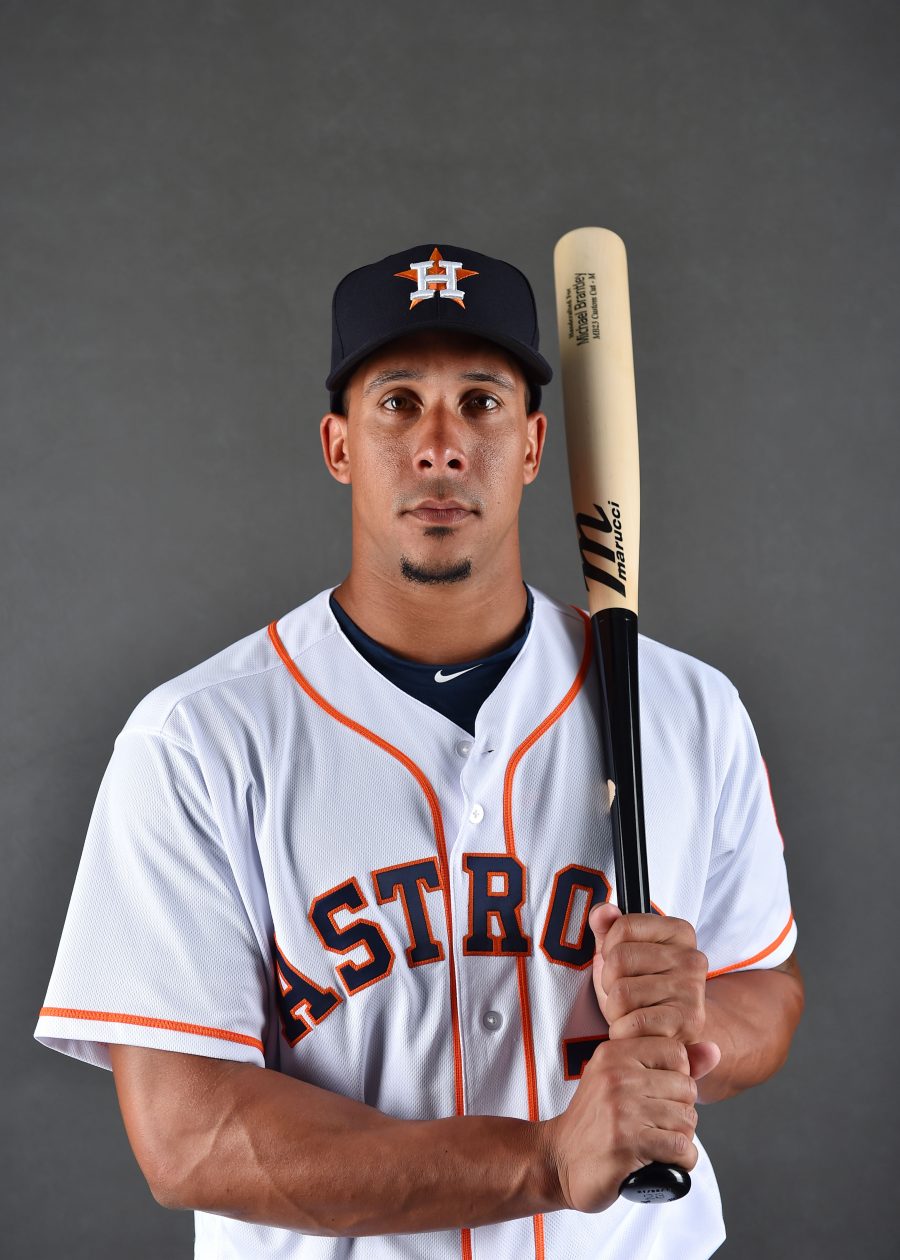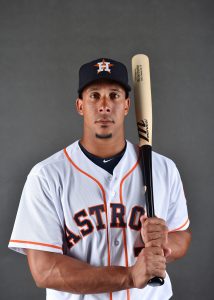 Chirinos is one of two new regulars in Houston's starting lineup, but the other – left fielder Michael Brantley – comes with much more fanfare. The Astros' headlining offseason acquisition, Brantley inked a two-year, $32MM deal which fell short of contract predictions from both MLBTR and FanGraphs. The longtime Indian has generally performed like a big-money player since his breakout 2014 season, though he was seldom available from 2016-17, when shoulder and ankle injuries robbed him of all but 101 games and stunted his numbers.
Fortunately, Brantley bounced back during his platform season, appearing in 143 games and slashing .309/.364/.468 (124 wRC+) over 631 plate appearances. Along the way, he struck out a paltry 9.5 percent of the time – the second-best rate in the majors – thereby continuing a career-long trend. It's worth noting the Astros' lineup was a bear to strike out even before Brantley showed up, as their offense registered the majors' second-lowest percentage (19.5) in 2018. Now, an attack which already boasted Jose Altuve, Alex Bregman, Carlos Correa and George Springer should be all the more frightening with Brantley's arrival. Plus, as a rare lefty in a righty-heavy lineup, the 31-year-old will give Houston a bit of variety at the plate.
The Astros had a need for Brantley thanks in part to the free-agent status of switch-hitting utilityman Marwin Gonzalez, whom they've since lost to the Twins on a two-year, $21MM accord. Gonzalez's contract looks like a more-than-reasonable pact Houston easily could have afforded, and the team did show interest in re-signing him. But long before Gonzalez exited in February, the Astros found a contingency plan in Aledmys Diaz, a mid-November acquisition from the Blue Jays. The Astros are preparing Diaz for a super-utility role to help make up for Gonzalez's loss, yet it may be a lot to ask of the 28-year-old. After all, Diaz has only seen extensive major league action at a pair of positions – shortstop and third base – and is just two seasons removed from a dreadful offensive showing. The good news is that the righty-swinging Diaz rebounded in 2018 to essentially match Gonzalez's output at the plate (.263/.303/.453 in 452 PAs vs. .247/.324/.409 in 552 attempts). A repeat of that production would be welcome for the Astros, whom Luhnow noted could afford to trade young righty Trent Thornton for Diaz thanks to a backlog of "upper-level pitching." So, even though it's anyone's guess what the Astros will get from Diaz, the trade seems like a worthwhile gamble on the team's part – especially considering he's controllable for four years.
Questions Remaining
The presences of Verlander and Cole surely give the Astros' rotation a high floor, though it's evident this is a riskier group than last season's. Missing are Keuchel, Morton and McCullers, who spun a combined 572 innings of above-average pitching in 2018. No single member of that trio – let alone all three – will be easy to replace, though all-world prospect Forrest Whitley, 21, could be one of the rotation's saviors sometime this season and there are multiple other intriguing young hurlers at or near MLB readiness. Regardless, it would be unwise to rule out further moves from Luhnow, who swung brilliant deals for Verlander and Cole in the recent past and who has at least tried to bring in another mid- to high-caliber arm since last season ended.
The Astros have been connected to Keuchel, James Paxton, Nathan Eovaldi, Robbie Ray, J.A. Happ and Lance Lynn at times dating back to November. The Diamondbacks' Ray is the lone member of that group who hasn't changed teams since then, and Houston could circle back to him (or look to another starter on the trade market) during the season if its rotation falls flat. As things stand, it appears the Astros will open the season with Miley, Collin McHugh and Brad Peacock backing Verlander and Cole. Despite the stellar run prevention numbers he put up last season, it's hard to trust Miley, whose strikeout and walk numbers underwhelmed (5.58 K/9, 3.01 BB/9) and who benefited from an unsustainable home run-to-fly ball rate (5.2 percent, compared to 12.2 percent lifetime). He's an obvious candidate for negative regression, even if he's able to continue using his cutter to induce out-friendly contact. Less skepticism is deserved in regards to McHugh and Peacock, who have held their own as both starters and relievers in the majors.
On paper, the losses of McHugh and Peacock from the Astros' bullpen will hurt the unit, but that's not to say the club is set up poorly at the end of games. Quite the contrary, actually, as it's due to receive full seasons from Roberto Osuna and Ryan Pressly – who joined the team in trades last summer – and continues to boast other healthy, established veterans in Hector Rondon, Will Harris and Chris Devenski. They could be joined by electrifying 26-year-old Josh James, who looked like a front-runner for a starting job before suffering a strained right quad in late February. James, like the rest of the aforementioned relievers, is a righty, and if there's one quibble with the Astros' bullpen, it's the lack of a proven lefty. The team didn't bring back Tony Sipp, who just signed for a relative pittance with the Nationals, even though he devastated both left- and right-handed hitters last season. The Sipp-less Astros will hope for breakouts from Cionel Perez and Reymin Guduan, a couple hard-throwing southpaws with minimal major league experience.
Meanwhile, with Altuve, Bregman, Correa, Springer and Brantley in the fold, the Astros will once again have a top-tier offense supporting their pitching staff. There are still some questions in their position player group, however, including: Will last year's weak defensive showing carry over (Chirinos in, Maldonado out won't help matters)? Will Diaz emerge as a reasonable facsimile of Gonzalez? Will well-compensated right fielder Josh Reddick rebound from a below-average 2018? How will designated hitter Tyler White follow up a 237-PA season in which he slashed an eyebrow-raising .276/.354/.533 (144 wRC+)?
White won't have to approach last season's numbers to properly replace ex-Astro and current free agent Evan Gattis, whose offensive production was pedestrian in 2018. Yuli Gurriel was similarly mediocre, though he remains the Astros' preferred option at first base. Gurriel doesn't seem to have a stranglehold on his position (and nor does White on his), however, considering the Astros reportedly pursued Paul Goldschmidt, Nelson Cruz, Edwin Encarnacion, Jose Martinez and Jose Abreu over the winter. Luhnow has also demonstrated previous interest in Tigers slugger Nicholas Castellanos, who could again end up on the Astros' radar in the coming months if they're not content with their 1B/DH situation. Otherwise, should the Astros need an in-season offensive boost, perhaps they'll shift Brantley to first/DH or relegate Reddick to the bench to make room for standout corner outfield prospect Kyle Tucker.
2019 Season Outlook
While there are clearly some legitimate concerns with elements of the Astros' roster, and it's arguable the team should have been more aggressive to improve it over the winter, the star-laden outfit still looks well-equipped to continue as a major league superpower and a division champion in 2019. Plus, with Whitley and Tucker among the talented youngsters in the fold as potential in-season reinforcements, Houston should only grow stronger as the year progresses, potentially setting it up for another title run.
How would you grade the Astros' offseason moves? (Link for app users.)
Photo courtesy of USA Today Sports Images.