First of all, there's more than a decent chance that Mookie Betts will still be a member of the 2020 Red Sox.  As per Sox president/CEO Sam Kennedy, the team's intention to get payroll under the $208MM luxury tax threshold is a "goal but not a mandate," so it isn't as if the Red Sox are going into any sort of fire sale mode.  While it seems the club will trim some salaries, they could achieve a lot of those savings in other areas (i.e. other trades or non-tenders, or J.D. Martinez could opt out of his contract) before fully exploring the idea of trading the 2018 American League MVP.
This being said, it wouldn't be much fun if this post was titled "Looking To Pour Cold Water On A Fascinating Trade Possibility."  And, with Betts still firm in his intent to test the free agent market after the 2020 season, there's certainly a chance he will be wearing another uniform anyway on Opening Day 2021.  For a Red Sox organization that is looking for a creative way to shed salary and reload its minor league system, trading Betts before his final year of team control is an option that should at least be on the table, if certainly not one to be taken lightly.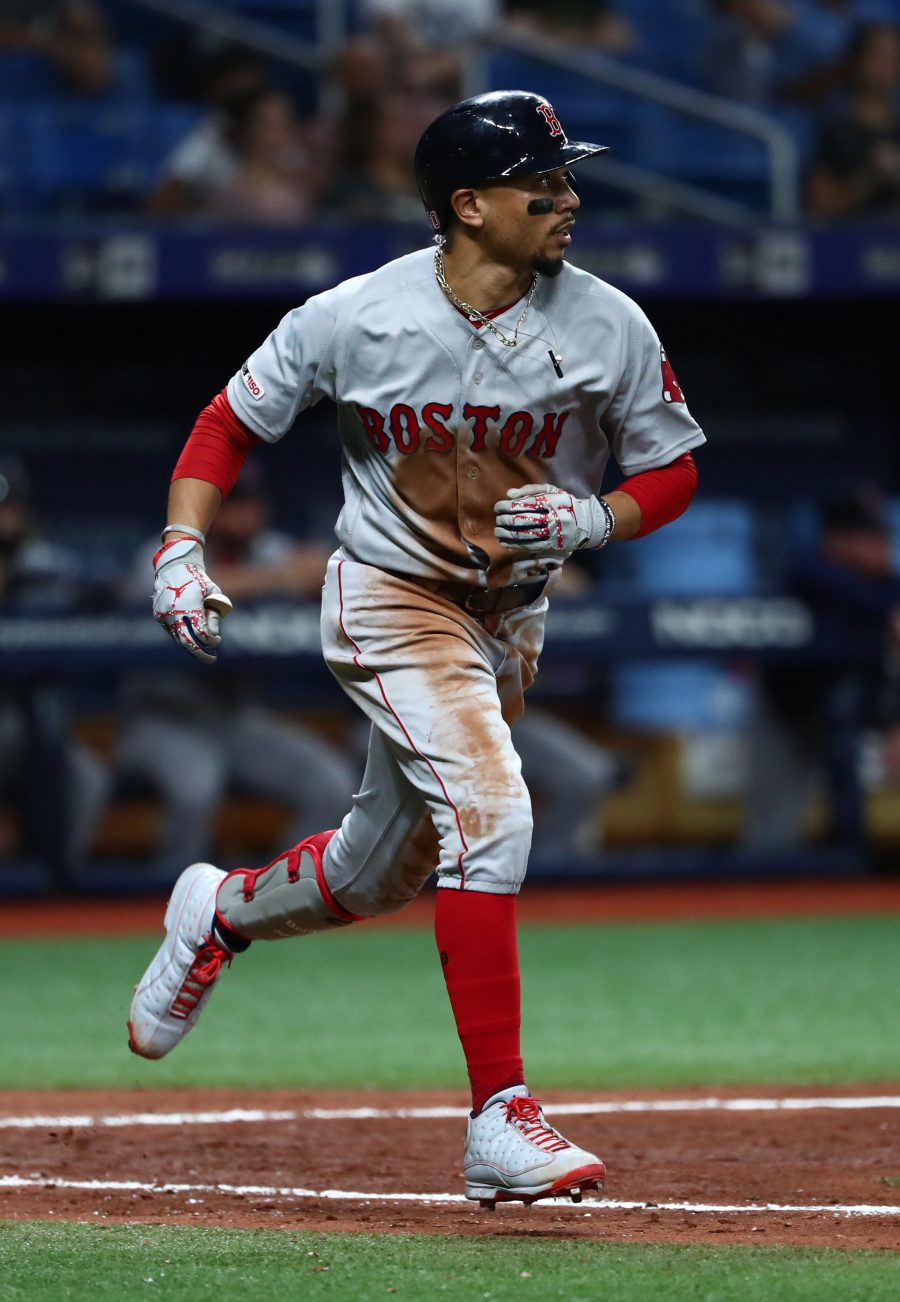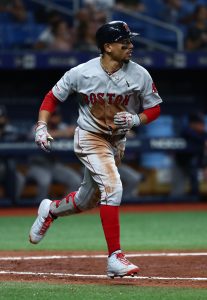 Betts earned $10.5MM in 2018 after defeating the Red Sox in an arbitration case, and his epic MVP campaign saw his salary rise to $20MM in 2019.  After hitting .295/.391/.524 with 29 homers over 706 plate appearances last season, Betts is in line for another big raise in third and final trip through the arb process.  Matt Swartz will be publishing MLBTR's official arbitration projections within a few weeks, though he has informed me that Betts is currently projected to earn $27.7 or $27.8MM for the 2020 season (depending on whether Betts' base 2019 salary is increased by a bonus should he win a Gold Glove).
That number certainly looms large in any discussion of a Betts trade, given that several teams may balk at committing that much money to a single player (even a superstar like Betts) if they have luxury tax concerns of their own.  Plus, a team trading for Betts would have to be expecting to have him for one season at the most.  Betts has been so adamant in exploring free agency that it's very unlikely that he pulls a Paul Goldschmidt and signs an extension with a new team rather than finally get a crack at the open market.
With only one year of Betts on offer, the Red Sox know that trading the outfielder won't solve all their problems.  There's no chance, for instance, of another payroll-clearing blockbuster like Boston's legendary August 2012 trade with the Dodgers, since Betts lacks the long-term appeal that Adrian Gonzalez (the Dodgers' primary target) held for Los Angeles.
Teams also aren't going to clear out their farm systems for just one year of Betts, though Boston can reasonably assume to top what the Diamondbacks received from the Cardinals for Goldschmidt last December.  Betts is over five years younger than Goldschmidt and a more valuable defensive player, so the Red Sox will definitely aim for more than the already-impressive package the D'Backs received — a controllable young starter (Luke Weaver), a controllable young everyday catcher (Carson Kelly), a Competitive Balance Round B pick in the 2019 draft, and another prospect in infielder Andy Young, currently ranked by MLB.com as the 23rd-best Diamondbacks minor leaguer.  That said, Goldschmidt was also only making $14.5MM in salary in 2019, whereas Betts' 2020 salary could be almost double that number.
Let's go through the other 29 teams to see if we can find a fit as a Betts suitor…
No Chance
The Marlins, Blue Jays, Orioles, Royals, Tigers, and Mariners are all rebuilding.  And the Red Sox would never trade Betts to the arch-rival Yankees, as amusing as it would be to see New York somehow land another Boston superstar almost exactly 100 years after the Babe Ruth deal.
Probably Not
The Rockies don't have much salary wiggle room to add an expensive player like Betts.  Likewise, payroll restraints will likely keep the Pirates and Diamondbacks out of the mix, though Arizona GM Mike Hazen knows Betts well from their time together in Boston.  The Brewers also likely face similar financial restraints, plus they don't have much elite young talent to grab Boston's interest.  The Rangers are another team without much in the way of blue-chip minor league talent, and while Texas is planning to spend more as the team moves into its new ballpark next season, longer-term acquisitions would seem to make more sense for the Rangers than a win-now move like acquiring Betts.  Likewise, the Giants are more apt to pursue a long-term option if they go after any premium players at all (i.e. their interest in Bryce Harper last winter).
I put the Cubs a tick above the other "probably not" teams because they're under increasing pressure to win in 2020, and could potentially be open to some type of creative swap that could see Chicago and Boston shift around several of their undesirable contracts, in addition to sending Betts to Wrigleyville.  But there would seemingly be a lot of moving parts in such a deal, and the Cubs have their own set of luxury tax concerns.  Plus, while the Sox and Cubs have made a few minor trades since Theo Epstein took over the Cubs' baseball operations department, one wonder if Red Sox management could be hesitant about sending a star player Epstein's way.
Probably Not, AL Contenders Edition
The Red Sox wouldn't have quite the same reservations about sending Betts to another AL rival as they would about putting him into the Yankee pinstripes, but moving him within the AL East to the Rays seems unrealistic.  The Sox probably also wouldn't be too keen to further strengthen the Astros' juggernaut lineup, though Houston is already facing something of a luxury tax crunch with its own crop of star players.  The Indians have taken steps to cut back spending over the last year and can quite likely be ruled out of a Betts pursuit, as much as Cleveland is still trying to keep its contention window open for as long as possible.
While neither the Twins or Athletics are big spenders, it's possible either team could see a Betts trade as a unique opportunity that merits a one-year payroll spike.  Trading for Betts could be seen as a souped-up version of Minnesota's strategy from the 2018-19 offseason, which making short-term acquisitions in lieu of major financial commitments.  Acquiring Betts would cost more than just money, of course, and it remains to be seen if the Twins or A's would be open to giving up the minor leaguers necessary to pry him away from the Red Sox.
Makes Some Sense
I put both the Nationals and Cardinals leaning closer to the "probably not" category, though trading for Betts would be an eye-popping way for either team to reload if Anthony Rendon or Marcell Ozuna was lost in free agency.  Trading for Betts could be seen as a one-year stopgap for teams that are strongly trying to contend in 2020, and the Nats or Cards could then let him walk in free agency and pursue a longer-term star in the 2020-21 offseason (a pursuit that would likely include an attempt to re-sign Betts).  It's rather doubtful that Washington would be eager to deal from a relatively thin farm system, however, while St. Louis may have used up most of its expendable but MLB-ready pieces in the Goldschmidt trade.
The White Sox flirted with the idea of adding a superstar to the ranks with their pursuit of Harper and Manny Machado last offseason, and while Betts would be a much shorter-term addition, it would certainly announce the end of Chicago's rebuild in a major fashion.  If you're wondering why the Pale Hose would look to add Betts for 2020 when they're far more than just one player away from contention, the club has explored such a tactic in the past — the White Sox made an offer to the Orioles about acquiring Manny Machado in the 2017-18 offseason, when Machado was also a year away from free agency.
As incredible as it would be to see Betts and Mike Trout in the same outfield, the Angels probably aren't willing to move top prospects for one year of Betts, especially given how GM Billy Eppler has worked hard to reload a once-barren farm system.  Still, the firing of manager Brad Ausmus hints at an increasing impatience within Angels ownership, and Eppler is also entering the last year of his contract, so I can't entirely rule the Halos out as a potential dark horse.
The Braves and Dodgers each have the prospect depth to get Boston's attention, though neither team is likely to swap much of its top talent for just one year of Betts since neither is exactly in outright "win-now" mode.  It could be argued that Los Angeles could be a bit closer to this category if the Dodgers fall short of another World Series, though the Dodgers have tended to save their biggest trades for the July 31 deadline (when they have a firmer idea of their needs) rather than the offseason.
The Win-Now Teams
Since Betts is only signed through 2020, his most logical trade matches are the teams who definitely want to contend next season, and could be most open to a bold deal to make a postseason berth happen.
As much as Phillies GM Matt Klentak has insisted that he is looking to build a sustainable contender, he'll be expected to more immediately start bearing the fruits of the Phils' rebuild process and the team's splashy 2018-19 offseason.  Philadelphia's 81-81 record has led to rumblings that manager Gabe Kapler could replaced, and another down year could also put Klentak's own job security in question, though the general manager is signed through 2022.  The Phillies made big trades for J.T. Realmuto and Jean Segura last winter, though whether they have enough young talent left (or at least enough they're willing to part with) to acquire Betts remains to be seen.  Also, as much as Betts would upgrade the Phils' middling offensive production, pitching would seem to be Philadelphia's much more pressing need.
Perhaps no GM is under as much of a microscope as Padres general manager A.J. Preller, as executive chairman Ron Fowler is on record as saying that "heads will roll" in the organization if San Diego faces another "embarrassing" season.  Assuming that the Red Sox would be okay with making another big trade with the Padres in the wake of the controversial Drew Pomeranz swap in 2016, a Betts trade would be the kind of major transaction the Padres seemed to be on the verge of making all last offseason, but never completed despite talks about numerous star players with multiple teams.  Even if the Padres are more than one player away, the club's highly-regarded minor league pipeline has so much depth that they could afford to spare a few pieces for Betts and still boast a top-five system.  Would a Betts trade be the wisest long-term move?  Not really, but after nine straight losing seasons, some type of step towards competitive baseball is definitely needed.
The Reds are a club in more pressing need of lineup help, and since president of baseball operations Dick Williams has set the playoffs as a firm goal for 2020, Betts could very well be a target.  Betts' salary wouldn't be as big an issue as it would seem for a smaller-market team since the Reds are also planning to spend more.  Though Williams has also hinted that the Reds are more apt to explore free agency rather than trades, these plans for an aggressive winter make Cincinnati seem like a solid bet to at least discuss a trade with the Red Sox.
The Mets further thinned out an already shallow farm system in their July trade for Marcus Stroman, and Betts' salary could prove problematic for a team that has never been too eager to spend despite operating in the New York market.  That said, the Mets are firmly planning to contend next year, and GM Brodie Van Wagenen has already shown a penchant for headline-making trades in his first season on the job.  Betts would be such a clear and obvious solution to the Mets' longstanding center field problem that, while it's not exactly a "one player away" scenario for a team with so many bullpen questions, putting Betts alongside the likes of Pete Alonso, Michael Conforto, Jeff McNeil, and J.D. Davis makes for an awfully scary lineup.
Photo courtesy of USA Today Sports Images