If there was any doubt remaining that the Dodgers' new ownership group would drastically alter the franchise, it has now been completely eliminated. The Dodgers and Red Sox have officially completed a massive nine-player blockbuster trade that sends Josh Beckett, Adrian Gonzalez, Carl Crawford, and Nick Punto to Los Angeles for James Loney and four prospects.
The four prospects are right-hander Allen Webster, infielder Ivan De Jesus, outfielder/first baseman Jerry Sands, and right-hander Rubby De La Rosa. The Red Sox will pay just $12MM of the over $270MM owed to Beckett, Crawford, Gonzalez, and Punto, so their savings are considerable. Adding the four new players represents a substantial financial commitment by the Dodgers:
Gonzalez will earn $21MM per season through 2016 and obtain a raise to $21.5MM for 2017-18. The total exceeds $130MM when accounting for the remainder his 2012 salary.
Crawford will earn $20MM in 2013, $20.25MM in 2014, $20.5MM in 2015, $20.75MM in 2016 and $21MM in 2017.
Beckett will earn $15.75MM per season through 2014.
Punto earns $1.5MM per season through 2013.
With this trade as well as the previous acquisitions of Hanley Ramirez, Randy Choate, Brandon League, Shane Victorino, and Joe Blanton, the Dodgers have absorbed more than $300MM in future payroll obligations in the last month or so. As Jeff Euston of Cot's Baseball Contracts notes (on Twitter), the club now has a $193.75MM in contract obligations for next season, $133.6MM for 2014, $90MM for 2015, $88.65MM for 2015, and another $90MM for 2016. The Red Sox, on the other hand, are now on the hook for just $45.6MM in 2013, $34.4MM in 2014, $12.75MM in 2015, and $2.45MM in 2016 (Twitter link).
Both Beckett (10-and-5 rights) and Crawford (limited no-trade clause) had to approve the deal, and Buster Olney of ESPN reports (on Twitter) that neither player asked for any kind of compensation to do so. The Dodgers were not included in Gonzalez's limited no-trade clause. Los Angeles claimed both Gonzalez and Beckett off trade waivers yesterday, plus Punto and Crawford both cleared earlier this month. Bill Shaikin of The Los Angeles Times reports (on Twitter) that the Blue Jays are believed to have claimed De La Rosa off waivers, but he was pulled back and will technically be included in the deal as a player to be named later.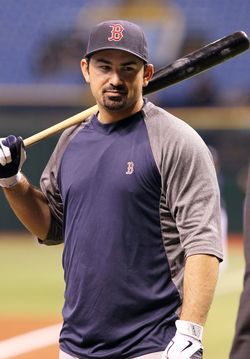 The Dodgers, who currently sit three games back of the Giants in the NL West race, are adding an impact left-handed bat to pair with the right-handed Matt Kemp in Gonzalez. The Southern California native spent the first five full seasons of his career a little further south with the Padres, so he's certainly familiar with the division. Gonzalez, 30, is hitting .300/.343/.469 with 15 homers in what is generally considered to be a down year compared to his career average of .294/.372/.509 and 30 or so homers annually. Dodgers' first basemen have hit just .244/.289/.357 this season, so even down year Gonzalez represents an enormous upgrade.
Beckett, 32, has pitched to a 5.23 ERA in 21 starts and 127 1/3 innings this season while battling thumb and back issues. His strikeout rate (6.6 K/9) is a career-low and PitchFX shows that his velocity has tapered off into the low-90s. Moving into the easier league and a more pitcher-friendly ballpark should help his numbers, and Beckett gives Los Angeles a pitcher with a proven playoff track record. Current Dodgers' starters have combined for just 11 career playoff starts, six by Blanton. Beckett alone has 13 playoff starts and a World Series MVP to his credit.
Crawford, 31, had Tommy John surgery two days ago and will miss the rest of the season. He hit just .260/.292/.419 with 14 homers and 23 steals in 161 disappointing games with the Red Sox after averaging .299/.340/.448 with 13 homers and 50 steals in eight full seasons with the Rays. Crawford is expected to be able to return to action early next season, meaning Victorino is likely to be allowed to leave as a free agent.
The Dodgers recently lost Jerry Hairston Jr. to a hip injury for the remainder of the season, so the 34-year-old Punto gives them some protection and added depth on the infield. He's hit just .200/.301/.272 with five steals in 148 plate appearances for Boston this year while playing all four infield positions. He's a year removed from a .278/.388/.421 line as a part-time player with the Cardinals.
Loney, 28, has hit just .254/.302/.344 with four homers in 359 plate appearances this season and will become a free agent this winter. He figures to serve as a stopgap first baseman for the Red Sox for the next six weeks or so.
Webster, 22, has pitched to a 3.55 ERA in 121 2/3 innings for the Dodgers' Double-A affiliate this season. The 25-year-old De Jesus has been up and down between Triple-A and the big leagues in recent years, hitting .301/.354/.416 in over 1,200 minor league plate appearances since 2010. Sands, 24, has been also been up and down these last two years. He owns a career .291/.363/.557 line nearly 900 Triple-A plate appearances. De La Rosa, 23, just returned from Tommy John surgery and pitched to a 3.71 ERA in ten starts and three relief appearances for Los Angeles last season. Click here for a more in-depth look at the prospects headed to Boston later today.
A trade of this magnitude had many helping hands along the way, though Gordon Edes of ESPN Boston first reported that the two sides were discussing this massive deal. Check out this post for all of the pre-completion rumors and reports. Michael Silverman of The Boston Herald and an Roche of WBZ (on Twitter) first reported completion of the trade while Jon Heyman of CBSSports.com and Dylan Hernandez of The Los Angeles Times added details (Twitter links). Photo courtesy of US Presswire.