Simply put, no one had a more shocking offseason than the Arizona Diamondbacks, piloted by GM Dave Stewart.
Stewart snatched prized right-hander Zack Greinke from the clutches of the division rival Dodgers and Giants, then paired his new ace with a solid sidekick in Shelby Miller. Miller was acquired from the Atlanta Braves for a king's ransom of prospects, but to hear Stewart say it, it's win now or nothing else matters.
Stewart graciously took time to expand on his management philosophy and reflect on his playing career in a wide-ranging exclusive phone interview with MLBTR.
—
It's been months now since you snatched Zack Greinke from under the noses of West rivals the Dodgers and Giants. Can you tell me how it felt to get the call from owner Ken Kendrick giving you the go-ahead to get Zack?
It was an absolutely outstanding call. We were really, really glad to get the OK to go after a pitcher like Zack Greinke. It could be franchise-changing for us, if everything goes well.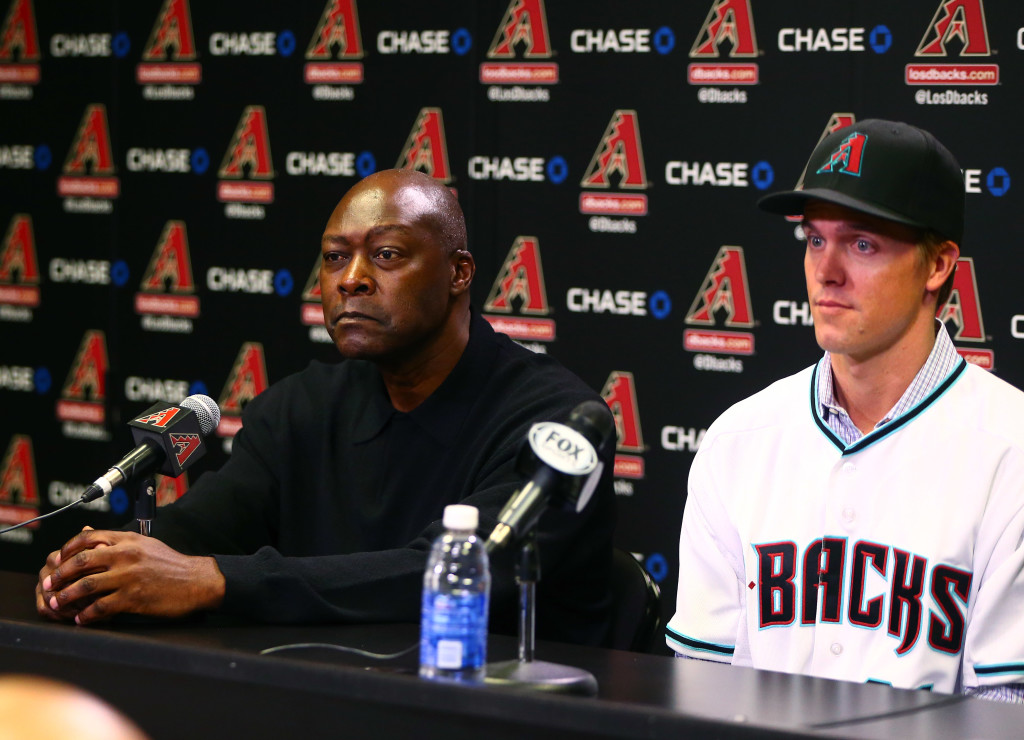 Time was of the essence, and Zack was on the verge of a decision when the Diamondbacks swept in. Can you take me through the process?
Yeah, they were real close to making a decision — at least they were before they got our call. [Laughs] Zack had mentioned that he had thought he already was close to signing somewhere. That fell through [with the other team], but it fell right for us. Our timing was good.
Is taking Zack out of the Dodgers' or Giants' plans and getting him yourself sort of like beating one of those teams head-to-head in a division race? Was an additional part of the appeal of getting Zack not just boosting the Diamondbacks but wounding L.A. or San Francisco?
No, our only motivation in signing him was to improve our staff and to improve our pitchers behind him. Zack can give us the best opportunity to compete and possibly win in our division. Not one time did I think "ha-ha, Dodgers" or "ha-ha, Giants, you didn't get him." I never thought about that one bit. Not one bit. I knew how great this would be for the Arizona Diamondbacks.
You have something in common with Zack; when you re-signed with Oakland after the 1989 World Series win (two years, $7 million) it was the biggest salary in baseball. Have you shared anything with him about the pressures that come with being baseball's highest-paid player?
No. We've talked only about pitching and pitching philosophies. Zack remembered me from back in 2002 or 2003 when I was hired as a pitching consultant for Kansas City. He remembers a talk that I had with the young pitchers back in those days. So I made an impact on him, and he remembered my philosophy of pitching, and my passion. We share those characteristics. We may show it in different ways, but there's a connection. That connection is really the main thing we've talked about.
Time and time again you are willing to be aggressive with your assets, be it prospects or payroll. You gave Zack the highest annual salary in major league history. You've caught flak for sending three blue chips (Ender Inciarte, Dansby Swanson and Aaron Blair) to Atlanta for Shelby Miller. Is your philosophy to do whatever it takes to get wins at the major league level, and a realistic shot at a World Series?
Well, we're here to win as many games as we can. The ultimate goal of this sport, which I've been fortunate to have the opportunity to achieve, is to be a world champion. Unless you've been a champion, you really don't have any idea what this sport is really about. Championships are what make all sports. That's what everybody plays for, in all sports. And so getting Zack Greinke, getting Shelby Miller, enhances our ability to do that. It makes us better. And that's really all we're here for.
[RELATED: Diamondbacks Offseason In Review]
Entering the offseason, before you even knew Greinke would opt out and that Miller would be available in trade, did you think you could shore up the club's biggest weakness—starting pitching—the way you did?
When we went into our winter organizational meetings, we talked about the things we needed to do to be better, to contend. At the top of our list was to get two top-of-the-rotation pitchers. That was the No. 1 thing our list. The second part of that was to get some bullpen help.
Now, going into this winter, quite frankly we didn't have any idea we would be able to acquire a Zack Greinke. And if we don't acquire a Zack Greinke, there's no way we go after a Shelby Miller. We were prepared to go into this winter and be prepared to take the best of the next-tier guys and try to work from there, with Patrick Corbin being at the top of our rotation. When Ken Kendrick calls and says, "OK, go after Zack, this is the way we will get it done," we were jumping for joy.
Getting a full year now from Patrick Corbin (missing the first half of last year after Tommy John surgery), how do you feel your top three starters stack up against the rest of the NL?
I don't want to be disrespectful to other teams and organizations. The Mets are a quality staff of starting pitchers. Some people will say the Giants are a quality top three. I don't want to be disrespectful toward any organization and say we're the best. But we will compete, and we can compete with anybody in baseball, with our top three guys. We can stand toe-to-toe with anybody.
The other big pitching move you made was inking Tyler Clippard on a two-year deal to close. Clippard is an iron man in the pen, and if you go back to his first full season of 2009, his 524 1/3 IP lead all big league relievers. Do you worry about the mileage on your new reliever?
What is apparent in spring training, and watching him at the end of last year, is that Tyler's pretty smart. He's learned to reinvent himself and add things that make him competitive and consistent in his job. When we signed him, we didn't have any concerns that he wouldn't be effective this year.
Is there concern about Clippard's fly ball rate [79 percent in 2015], especially pitching in a park where the ball carries like Chase Field?
I'm not really understanding what the fly ball rate really means. A fly ball can be an infield fly, or hit to shallow center field, or make it to the warning track. You look at Tyler's numbers last year, and even with the fly ball rate he had a nice [2.92] ERA and a good season. That's what we're counting on.
Chris Owings was Pacific Coast League MVP in 2013 but hasn't blossomed in the bigs. How do you get him back to form?
We think he's there. Chris is right on track. He had a little bit of a shoulder ailment, but at this point in spring training he's shown no signs of that injury this year. He's swinging the bat well. He's always been a very, very good defensive player, so we think we're going to get the complete player this year.
You showed interest in Howie Kendrick, but would have had to surrender your Competitive Balance Pick (No. 39 overall) to sign him. Given your aggressive offseason, was it inconsistent to stop short of signing Kendrick, just to keep a second-rounder?
It wasn't about getting Howie Kendrick, it was about having Chris Owings. We always thought internally that we would have a bounce-back season from CO, and knowing that Chris was going to be OK, we didn't think it was going to be a necessity to get Howie Kendrick. Also, after giving up our No. 1 pick with Zack Greinke, it posed a problem for us to give up our next pick. Knowing CO was going to be healthy and being willing to give him the opportunity to get the job done, believing that he was going to get it done, it didn't make sense for us to get Howie Kendrick.
Yasmany Tomas had a rough first year in the majors. Are you seeing anything this spring that tells you his sophomore season will be different?
We don't see it quite like everybody else sees it. We saw Yasmany in his first year as a guy who hadn't been on a competitive baseball field in over a year, and jumping in at the top level of major league baseball, he came in and coming in and hitting close to .280 [.273]. For most of the season, he was over .300. We didn't look at last year as a tough season at all. He did not hit with the power that some expected he would, but we feel that's in the making; after adjusting to the league, he's going to be able to show his skill to hit the ball out of the park. In his first year, we weren't disappointed at all in how he performed and played, considering the circumstances in which he came in.
Does parting with Ender Inciarte put additional pressure on Tomas to come through in 2016?
No, I don't think he's feeling pressure at all. So far this spring he's had some small, nagging injuries, but when he's had the opportunity to play he's swinging the bat well. I don't think he's feeling pressed at all.
The two cornerstones of your offense are not household names. How underrated are Paul Goldschmidt and A.J. Pollock?
They're both great players and All-Stars, Gold Glove Award winners. The good thing is neither player wants that type of attention. They like the circumstances in which they're playing, to go about their jobs quietly, be productive for their teammates and for our team, to be an example of what our organization is about and how we go about our business. They're both, in my opinion, very underrated, but very appreciated here in the city of Phoenix and especially by our organization here.
With a core of Greinke, Miller, Goldschmidt and Pollock, you've got three years ahead with at least those four in the fold. Is anything short of a World Series title in that window a failure?
Considering I've been in six World Series and been fortunate to win three, I know it's not easy to get there. A lot of things have to go right, a lot of things have to work for a team to even get to the World Series, never mind winning it. Our focus right now is just to get to the playoffs, and if we get to the playoffs, anything can happen. I don't think we would look at any particular result as a failure. We're not worried about coming up short in this game, because it's not an easy game to play. Other teams are competing just as we are to try to win. And the great thing about baseball is that on a given day, anybody can win.
Fans might connect your aggressiveness as a GM with the aggressiveness you brought to the mound as a pitcher. How has the pitcher with the cap pulled down, glaring in at the plate changed over the years, and evolving into a GM?
I bring intensity. The aggressiveness, well, there's no place I can use that now. But the intensity is still there. I work closely with our coaching staff. Unless somebody isn't telling me something, I'm welcome to come in the clubhouse and have private conversations with our players about things I think are important in the game that will help them to be successful. I use the intensity and experience I've had in this game in a lot of different ways, to be an asset to the organization, players and coaching staff.
It's pretty clear that you want your players to be aggressive, presumably reminiscent of your old Oakland clubs. But with the game changing so significantly, is it possible for that same A's swagger to surface today in baseball?
The game has changed, but the game is still the same, if you know what I mean. You can change certain things about the sport, but you're not going to change baseball. Baseball is still the sport that we love and we know. What's good about this is that old values are still very, very evident and clear in the game today. Certain aspects of the game have changed — players today are a little bit more emotional, they show that emotion, while back in the day we were emotional but we didn't allow it to be shown.
There are teams today that have that swag. Toronto, I like the way that those guys go out and about their business, the attack and the relentlessness that they show. All teams are different. Even the Mets, with the rotation they have and how those kids go about their business, and there's some swag there. You can look at all of the good teams, the best teams, St. Louis, the Giants, they all have their brand and their form of swag. It's alive and kicking today, it just takes different forms.
And the so-called "code" doesn't go away, it just changes and modifies?
That's what happens. It'll always be there, it just takes a different shape and form.