9:07am: Righty Hansel Rodriguez constitutes the return to San Diego, along with cash considerations, Jon Heyman of Fan Rag tweets.
7:11am: The Blue Jays have agreed to a deal to acquire outfielder Melvin Upton from the Padres in exchange for an A-ball prospect, according to Ken Rosenthal of FOX Sports (via Twitter). While financial details aren't yet known, a "very substantial sum" of Upton's contract will remain on San Diego's books, Shi Davidi of Sportsnet.ca tweets.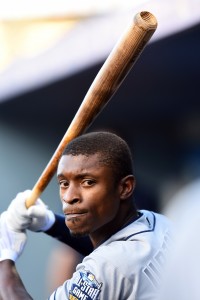 The swap is likely to be finalized today, says Rosenthal, who had reported last night that Toronto was in the lead to add Upton. Among the other teams said to have had real interest were the Orioles and Indians, each of whom will need to look elsewhere to bolster their outfield reserves.
Upton brings a versatile, right-handed-hitting bat to the Jays' alignment. He is only checking in with a league-average batting line on the year — with a .256/.304/.439 slash that reflects the fact that he has struck out in nearly one-third of his plate appearances — but has had a bigger impact than that. Upton has also swatted 16 home runs and swiped twenty bags, both of which are more reminiscent of his top-level output in those departments from his days with the Rays.
With a quality glove that is plenty capable of handling center field, Upton figures to be a frequently-used semi-regular for Toronto. The team hasn't received much with the bat from center fielder Kevin Pillar this year, though he is a top-flight defender. Left fielder Michael Saunders has been a revelation, but despite his quality numbers this season against lefties could probably stand to take a rest from time to time when a southpaw is on the hill. And star slugger Jose Bautista is likely to have the most impact — both down the stretch and, the team hopes, in the playoffs — if he isn't used too heavily in right field. Upton will likely see action in all three spots, relegating Ezequiel Carrera to a fifth-outfielder role (if he is able to hold onto his roster spot).
We're waiting to see precisely how the teams have sorted the money out in this swap, but that was a key area to watch in any deal involving Upton. He is playing in the second-to-final season of the big contract he inked with the Braves before the 2013 campaign, which was shipped to San Diego two years later. Upton has $5.63MM left on his salary for the present season, with $16.45MM still to come for 2017.
With larger-salaried players including Bautista, Edwin Encarnacion, and R.A. Dickey set to hit the open market after the year, Toronto may well have somewhat greater payroll flexibility for 2017 than it does at present. It also now has one more piece of its outfield puzzle in place for the coming season, with not only Bautista but also Saunders soon able to go to the highest bidder (even if they do so with a qualifying offer hanging over them).
For the fourth-place Padres, the deal continues a broader sell-off as the organization's attention shifts to acquiring young assets. Certainly, the fact that Upton was able to restore his stock constitutes a big win for San Diego, as his contract was significantly under water when he was included as part of the financial machinations in the pre-2015 Craig Kimbrel swap. Beyond the prospect value coming directly from this deal, San Diego GM A.J. Preller ought to be able to redirect the cost savings on Upton's deal to buy-low veterans who could themselves turn into trade chips.
Even better, clearing Upton from the roster allows the Friars to allocate playing time to some top prospects who seem prepared for a shot at the big leagues. Hunter Renfroe is presently laying waste to Triple-A pitching at 24 years of age, so he'd certainly qualify. And the younger Manuel Margot has his own case for a promotion; he's hitting well in his first go at the highest level of the minors and could represent a near-future option in center.
Photo courtesy of USA Today Sports Images.