The White Sox had an active, successful offseason in which they upgraded their pitching staff and imported multiple bats.
Major League Signings
Notable Minor League Signings
Trades And Claims
Extensions
Adam Eaton, CF: five years, $23.5MM.  Includes $9.5MM club option for 2020 with a $1.5MM buyout and $10.5MM club option for 2021 with a $1.5MM buyout.
Notable Losses
Needs Addressed
With core players Jose Abreu, Chris Sale, and Jose Quintana signed to affordable contracts, the White Sox were expected to take an aggressive approach to the offseason to fill their needs.  They met with Pablo Sandoval's agent at the GM Meetings in November, and had Victor Martinez on their wish list as well.  Around this time GM Rick Hahn also quietly explored trading for Jason Heyward, which wasn't reported until this month.  Martinez re-signed quickly with the Tigers, however, so Hahn signed Adam LaRoche at less than 40% of the commitment Martinez required.
The price difference between LaRoche and Martinez reflects the fact that Martinez is a better hitter, of course.  Still, the White Sox got their coveted left-handed bat without taking on the risk of Martinez's age 36-39 seasons.  Plus, bringing in a more capable defensive first baseman in LaRoche should help keep Abreu healthy.
The White Sox continued moving quickly by signing lefty reliever Zach Duke to a three-year, $15MM deal in mid-November.  Such a contract would have seemed absurd less than a year prior, as Duke had joined the Brewers on a minor league deal in January.  Duke was quietly dominant for the Brewers in 2014 after making a series of adjustments to his pitch mix and arm slot.  No team likes signing a reliever to a three-year deal, especially one with such a brief track record of success.  Only three other relievers received deals of three or more years this offseason, and one of those was also with the White Sox.  Still, the third year for Duke was the cost of doing business, and waiting until January for bargains is risky in its own way.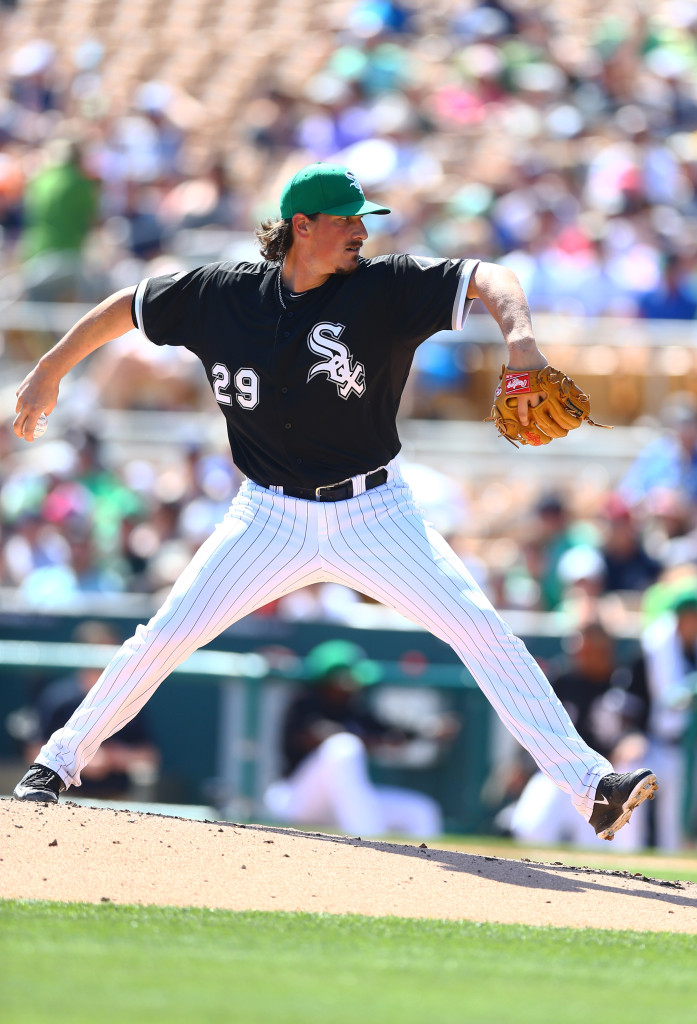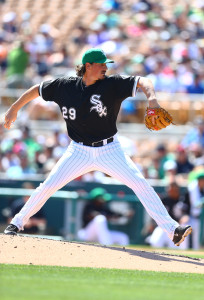 Hahn owned the first night of the Winter Meetings, grabbing headlines by closing in on a trade for Jeff Samardzija and a free agent contract for David Robertson in the course of a few hours.  The Samardzija trade was a big win for the White Sox.  I do see the sneaky value in the players the A's acquired — lower ceiling players who are mostly considered to be solid-average regulars by Baseball America.  Still, they were all players Chicago could afford to surrender to acquire one year of a potential front-rotation arm (plus perhaps an accompanying draft pick if Samardzija departs via free agency).  The White Sox would have had to take on a lot more risk in the free agent market to bring in a pitcher of Samardzija's caliber.  In Sale, Samardzija, and Quintana, Hahn has assembled one of the better rotation trios in the game.
In Robertson, the White Sox acquired the offseason's best available reliever at market price.  It's interesting to note that Robertson apparently had another team offer even more than $46MM.  As with Duke, the term is not ideal, but it was necessary to sign the elite stopper.  $61MM is a lot to spend on commitments to relievers in one offseason, but the White Sox had very few dollars invested into their bullpen prior to Robertson and Duke.  Spending that much money is kind of a blunt-force way of addressing the team's biggest problem, but it should work pretty well in the short term.  The Sox also complemented their bullpen by acquiring southpaw Dan Jennings from Miami.
Hahn continued going down his long list of offseason upgrades, signing Melky Cabrera to a three-year, $42MM deal to play left field.  (We'll have more on that signing in the Deal of Note section.)  After Cabrera, free agents Emilio Bonifacio, Gordon Beckham, and Geovany Soto were added as versatile bench pieces.  Getting Soto on a minor league deal was a plus.  Matt Albers and Jesse Crain were also added on minor league deals.
A five-year, $23.5MM extension for center fielder Adam Eaton capped Chicago's busy offseason.  The talented 26-year-old missed 124 games due to injuries over the past two seasons, but the White Sox balanced that risk with reasonable salaries and a pair of club options at the end.
Questions Remaining
With top prospect Carlos Rodon a phone call away, maybe rotation depth won't prove to be a problem for the White Sox.  Still, the rotation looks strong when Sale, Samardzija, and Quintana are pitching, and vulnerable the other 40% of the time with Hector Noesi, John Danks, Rodon, and maybe Brad Penny.  The Sox are still tied up with $28.5MM owed to Danks through 2016.
I raised the question of catching in my Offseason Outlook, and some alternatives and/or backups to Tyler Flowers were added in Soto, Rob Brantly, and George Kottaras.  The Sox did reportedly poke around on the Astros' Jason Castro and discussed Miguel Montero with the Diamondbacks, so alternatives to Flowers were considered.  Catching still seems like a weak point in both the short and long-term.
There's also the issue of executive vice president and former GM Ken Williams.  It was revealed in December that the Blue Jays sought to interview Williams to be their president/CEO, but White Sox owner Jerry Reinsdorf declined to grant them permission, and considered the attempt to be tampering.  Ultimately the Blue Jays retained Paul Beeston for one more year, and Williams doesn't appear to begrudge Reinsdorf about the situation, perhaps because the Jays' timing was indeed terrible.  Williams' future with the White Sox bears watching though.
Deal Of Note
Melky Cabrera entered the offseason as our fourth-ranked free agent hitter, and many of us at MLBTR thought he would get the five-year deal he sought.  While there was reportedly one four-year offer, Cabrera settled for three years from the White Sox.  Even accounting for his 2012 PED suspension, qualifying offer, and below-average defense, it was surprising he didn't sign for more money in a thin market for bats.  It works very well for the White Sox, who committed less to Cabrera and LaRoche than the Tigers did just to Martinez, diversifying their risk in the process.
Overview
We know "winning the offseason" doesn't mean much once games start, but the White Sox entered the winter with a long list of needs and filled most of them, finding a few relative bargains along the way.  Hahn has assembled a much more interesting team that should be in contention in 2015.
Photo courtesy of Mark J. Rebilas/USA Today Sports Images