The Dodgers' new-look front office has done a lot of wheeling and dealing already, but there's more to come as it continues to overhaul the league's most expensive roster.
Guaranteed Contracts
Other Obligations
Matt Kemp, OF: $14MM through 2019 (salary obligations remaining with Dodgers as part of trade with Padres)
Michael Morse, OF: unreported portion of $8MM salary for 2016 (likely sufficient to make up all or most of difference between it and Tabata's salary; agreed to as part of trade with Pirates)
Arbitration Eligibles (projections via MLB Trade Rumors)
Free Agents
Brandon Beachy, Zack Greinke (exercised opt-out provision, rejected qualifying offer), Chris Heisey, Jim Johnson, Howie Kendrick (rejected qualifying offer), Jimmy Rollins, Justin Ruggiano, Chase Utley
Andrew Friedman, Farhan Zaidi and co. have not been shy at all about taking advantage of the Dodgers' deep pockets since taking the helm in Los Angeles. But the group has been more freewheeling than free spending in the traditional sense. For example: the club signed Hector Olivera last March, then flipped him (and ate the $28MM signing bonus) in July — before he ever appeared with the major league club — in a trade that brought in Alex Wood, Jose Peraza, Luis Avilan, and rental pieces. In the process, L.A. ate not only Olivera's signing bonus, but also the tens of millions of dollars owed to Mat Latos, Michael Morse, and Bronson Arroyo.
That wasn't even the only multi-player deal consummated with Atlanta. In their first year of office, we've also seen this front office team ship out a former superstar (and pay down part of the contract), sell a controllable All-Star and flip the key piece of the return for a one-year veteran, acquire the Phillies' long-time double-play combo (here and here), roll the dice on risky free agent pitching, effectively purchase a draft pick, put late-season trust in an unproven prospect, and spend big internationally (on more than one occasion).
The organization also parted ways with skipper Don Mattingly, who was criticized at times for tactical decisions even as he drew strong reviews for handling a clubhouse full of personalities and payroll. In Mattingly's place, the Dodgers have tabbed Dave Roberts as the new manager. That move could open the top brass up to criticism, as it's his first time running a dugout. But, that sort of risk hasn't seemed to hold sway in Los Angeles (and the Dodgers are hardly the only team to recently hire an inexperienced manager). Roberts will be tasked with leading an expensive, talented, and carefully constructed roster to an NL West crown and beyond.
With such a wide-ranging track record, it's largely a fool's errand to predict what the Dodgers' brain trust will do this winter. But it's clear what their biggest decision is, at least at this point: whether or not to re-sign Zack Greinke. The right-hander's opt-out clause was perfectly timed to coincide with a 222 2/3-inning, 1.66 ERA masterpiece of a season. It doesn't hurt that he held opposing teams to less than three earned per nine in his prior two seasons in L.A. The net result is that he's going to be extremely expensive, in average annual value if not also years, as a free agent. With potential competition from the rival Giants, the stakes are high. Of course, we've also seen the Dodgers connected to varying degrees with top free agents (e.g. David Price, Jordan Zimmermann), and potential trade targets such as Shelby Miller, so it's prudent at this point to consider all options open.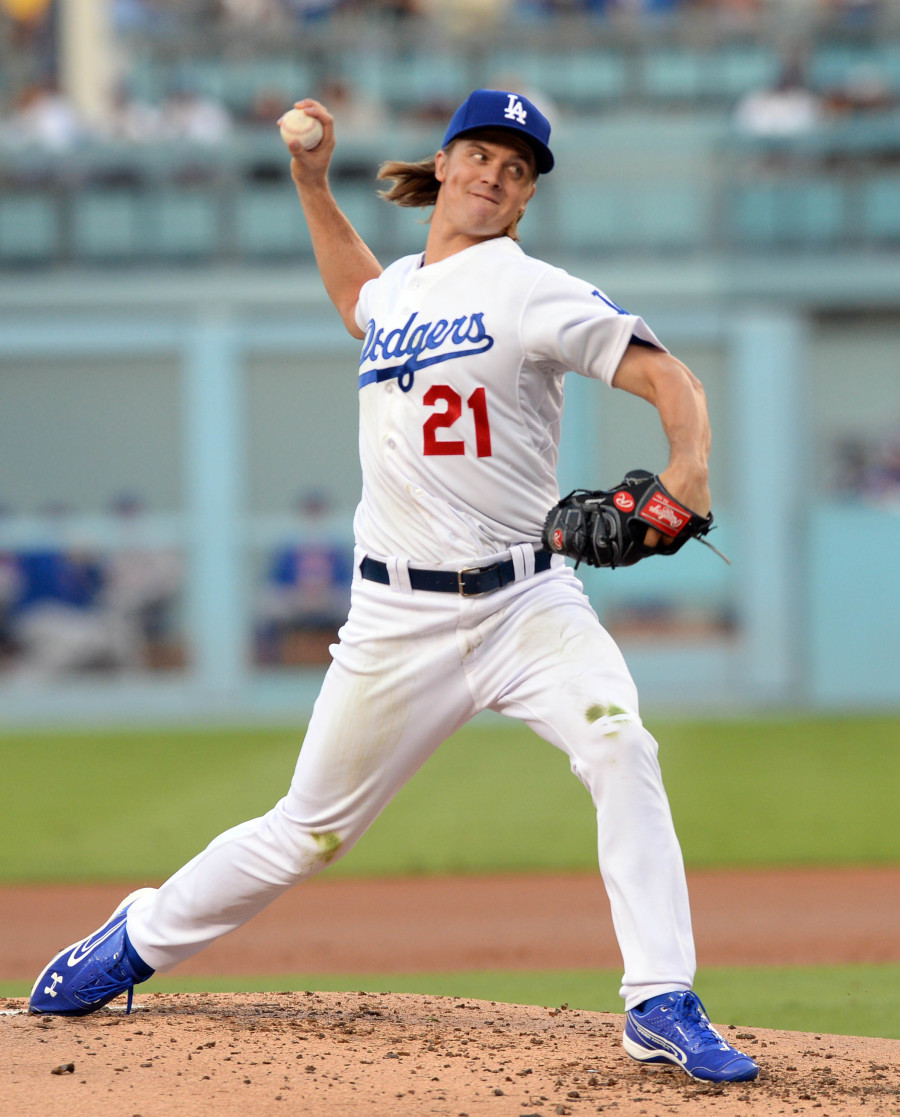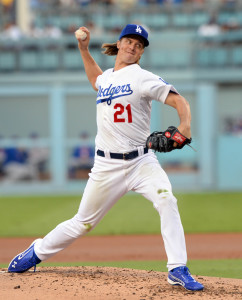 Whether or not the team brings Greinke back into the fold, moreover, the rotation figures to be an area of focus. That's true despite the fact that Brett Anderson chose to return on a one-year, $15.8MM qualifying offer. Clayton Kershaw — the best pitcher in baseball — is firmly ensconced atop the rotation, and Alex Wood joins Anderson as a nice mid-rotation arm. But there's a lot of uncertainty elsewhere, as Hyun-jin Ryu and Brandon McCarthy will each be working back from serious injuries (the former, hopefully, before the latter).
The team isn't without options behind that group. Mike Bolsinger, Carlos Frias, Zach Lee, and Joe Wieland all have had a taste of the bigs. Jharel Cotton and Chris Anderson could soon be nearing MLB readiness as well. (That's before considering the team's two highest-upside young arms — Julio Urias and Jose De Leon — who could theoretically be ready as soon as 2016, but shouldn't be pushed forward out of necessity.) But for a contending team that has seen its depth tested in recent years, there's a good argument to be made for adding a veteran, even if Greinke or another top arm signs on.
While the rotation has some questions, the pen is the area that drew the most fan ire last year. But that's not to say the relief corps has any obvious holes heading into 2016. Kenley Jansen remains a high-leverage stud. The team has right-handed middle-relief and/or set-up options including Chris Hatcher, Pedro Baez, Yimi Garcia, and Juan Nicasio — every one of whom struck out 10 or more batters per nine and carried a sub-4.00 ERA last year. And the Dodgers return southpaws Luis Avilan and J.P. Howell, with the former coming over in the aforementioned Olivera/Wood swap and the latter exercising his player option.
That looks to be a pretty strong group, and many of the younger rotation options noted above could slide into the pen if a need arose. But there's still a reasonable argument to be made that the club ought to be proactive. For one thing, there's only one elite arm in the pen as things stand. For another, that particular elite arm — Jansen — will reach the open market after the season. Whether or not the club will feel at all compelled to line up a replacement for him now, it makes sense that it is at least exploring the relief market for opportunities. We've heard talk that players such as Darren O'Day (via free agency) or even Aroldis Chapman (in a trade) might be real considerations.
The position player side of things is less interesting in some ways and more interesting in others. The infield is in good shape: Corey Seager appears set to take over at shortstop after his impressive debut, Adrian Gonzalez is locked in at first, and the Yasmani Grandal/A.J. Ellis pairing behind the dish figures to be maintained.
Los Angeles still has an array of options at second and third, with Justin Turner, Enrique Hernandez, Jose Peraza, and Alex Guerrero all on hand. (The last name on that list, Guerrero, could also end up as trade bait. And Turner is coming off of surgery, though we've not heard any indication that he'll be limited.) Of course, all of those players hit from the right side, so it would be nice to add a lefty-swinging option. The team has been said to have interest in a reunion with Chase Utley, who could fill such a role. While that mix does not scream out for an upgrade, one of those positions could also theoretically be filled from the outside if a great opportunity arose.
Things start to get fun, though, when you turn to the outfield. Andre Ethier and Carl Crawford are both expensive, left-handed hitters who should probably be part-time players at this point. Joc Pederson showed both his rather steep upside and the reasons for doubt as he followed up on a huge first half with miserable play down the stretch. Yasiel Puig had his worst season as a big leaguer and continued to generate controversy, though he still carries one of the highest ceilings in all of baseball. Scott Van Slyke took a step back last year but still offers a supplementary right-handed bat. Guerrero (in the corner) as well as Hernandez and even Peraza (up the middle) could also contribute on the grass.
It's not outlandish to imagine that group remaining intact. Those players represent a fairly intriguing blend of upside and depth, after all, as well as ample lineup construction possibilities. It didn't prove unworkable to allocate playing time last year with such a wide variety of options. And, after all, there's always injury and underperformance to account for.
That being said, there are several scenarios where this outfield mix could be shaken up — perhaps significantly. The free agent market is full of quality outfielders, some of whom could be alluring enough to force other transactions to clear space — though we haven't heard much to suggest that. Even without a major addition, change could make sense. Ethier and Crawford are somewhat redundant, and any cost savings could be re-allocated if a willing trade partner is found. The former, of course, has been much more productive of late and carries more trade value. (Indeed, the remainder of his deal looks manageable, if a bit expensive.) Pederson seems unlikely to be moved, but he'd represent a big chip if the team wants to make a deal without giving up its young pitching prospects.
And then there's Puig, who draws as many whispers as any player in baseball. There's still no reason to believe that he'll be shopped, per se, but if L.A. is really open to trading him the possibilities are more or less endless. Given his talent, established ceiling, and cost/control, it's hard to imagine any team in baseball that wouldn't be intrigued. It'd be hard to sell him now after a down season, as the return surely wouldn't be what it might've been last winter, but Puig still represents a (hypothetical) centerpiece to a major deal — possibly one that would return a high-end, controllable starter.
One thing that's clear is that there are relatively few limitations on what the Dodgers can do. Even if the goal is to pare back the payroll, the organization has not only immense spending capacity but also high-end, controllable talent (at the majors and in the minors) from which to deal. That creates an opportunity and sets an expectation for the creative front office.