This is the latest entry in MLBTR's Offseason In Review series. The full index of Offseason In Review posts can be found here.
Brandon Phillips became the latest longtime Reds veteran to be traded as the franchise continued its rebuilding process.
Major League Signings
Trades And Claims
Notable Minor League Signings
Notable Losses
Cincinnati Reds Depth Chart; Cincinnati Reds Payroll Information
Needs Addressed
With Jose Peraza and Dilson Herrera knocking on the door as Cincinnati's second baseman and shortstop of the future, the Reds needed to clear some room up the middle.  Phillips had already used his no-trade protection to reject two proposed deals to the Nationals and D-backs last offseason, and given the lack of a robust market for the 35-year-old, it seemed like the Reds were willing to simply move Phillips as soon as any sort of trade could be arranged.  It may or may not have taken multiple attempts to deal Phillips to his home state of Georgia, though in the end, the Reds eventually traded Phillips to the Braves for two unheralded young arms (Andrew McKirahan and Carlos Portuondo) and only $1MM in salary relief from the $14MM owed to Phillips in 2017.
Former Brewer Scooter Gennett was claimed on waivers at the end of Spring Training, giving the Reds some veteran depth in the middle infield behind new starting second baseman Peraza.  Between Gennett, Arismendy Alcantara, and Patrick Kivlehan (the latter two originally acquired in late-season waiver claims), the Reds have a versatile trio of bench players who can all fill in at multiple positions.  Veterans Desmond Jennings and Ryan Raburn were also signed to minor league deals this winter, but were released at the end of Spring Training.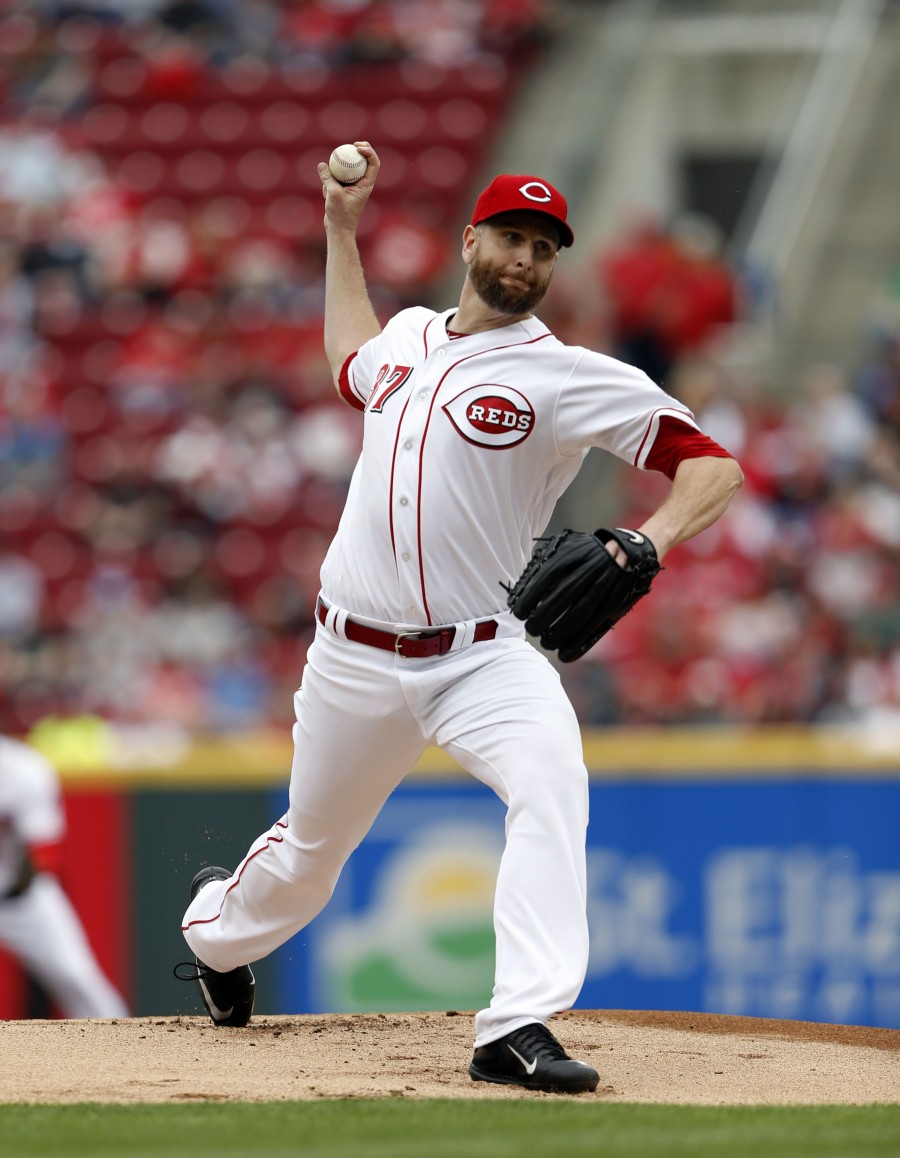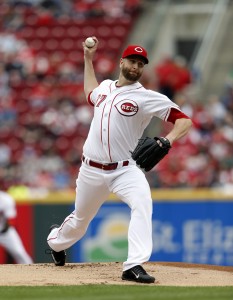 The backups' positional flexibility has allowed the Reds to begin the season with just a four-man bench, giving the team more room to add extra bullpen arms in a very fluid pitching situation.  With Anthony DeSclafani and Homer Bailey sidelined, Cincinnati gave rotation spots to rookies Amir Garrett and Rookie Davis, with former Red Bronson Arroyo currently occupying the fifth spot in the rotation.  Arroyo rejoined the team on a minor league deal over the winter and is attempting a comeback after missing over two and a half seasons due to Tommy John surgery and rotator cuff injuries.  It's unknown what Arroyo can bring to the table after such a long absence, though the 40-year-old promises to be a good clubhouse influence for the young Reds. If he can recapture any of his old soft contact-inducing, innings-eating form, he'll be a boost to an inexperienced rotation.
The Reds' higher-priced rotation addition was Opening Day starter Scott Feldman, who signed for $2.3MM in guaranteed money with almost as much available in potential bonuses as both a starter and a reliever.  Given the aforementioned injury problems in the rotation, Feldman served as the team's Opening Day starter, and his rotation role could potentially make him a trade chip at the deadline.  Feldman can give Cincinnati some rotation stability as somewhat of a younger version of Arroyo — a pitch-to-contact veteran who doesn't miss many bats. The 34-year-old has shown some solid durability as a starting pitcher in the past, when teams haven't moved him into a bullpen role.  He steps into Dan Straily's spot in the rotation, as the Reds dealt Straily to the Marlins for a package of three prospects. (More on that later.).
Drew Storen was the Reds' other MLB signing this winter, as the former Nationals closer looks to rebound after a rough 2016 season (though he already showed some signs of a turn-around after a midseason trade to the Mariners).  He'll join Michael Lorenzen as the setup men behind stopper Raisel Iglesias, giving the Reds an intriguing back-of-the-bullpen combination, though "back" may not exactly be accurate, as the Reds have already shown some creativity in their deployment of relievers.
Finally, the Reds completed a long-discussed front office move this winter, promoting GM Dick Williams to president of baseball operations.  Former president Walt Jocketty will remain in the organization as an advisor to team CEO Bob Castellini.
Questions Remaining
As you can tell, it was a pretty quiet winter for the Reds on the transactions front, perhaps indicative of this stage in their rebuilding process.  While there's no doubt Cincinnati is committed to building for the future, there's some uncertainty over whether several of the interesting young position players around the diamond (such as Billy Hamilton or Eugenio Suarez) are true building blocks or maybe just potential trade chips to further add young talent to the system.  It hasn't helped that between the Phillips deal and last winter's critically-panned trades of Aroldis Chapman (under difficult circumstances) and Todd Frazier, Cincinnati hasn't gotten much in return for three of its key veterans.  Three players from the Chapman and Frazier trades (Peraza, Davis, and Scott Schebler) look to be regulars for the 2017 Reds, though of that group, it's arguable that only Peraza projects as a true long-term piece. We'll have to wait and see how those players pan out, though, and they'll get their first full tests in 2017.
More trades seem likely, as it wouldn't be a surprise to see Feldman or Storen flipped prior to the non-waiver deadline.  Hamilton was only available at a very high price tag this winter for teams (such as the Rangers) who inquired about a trade, though the Reds did seem willing to move him and could still do so if a club meets that price.  DeSclafani also drew some trade speculation during the offseason, but since a sprained UCL will sideline until until at least June, the Reds will have to wait to see what they really have in the promising righty.  It's also fair to note that injuries have hampered the Reds' efforts both on the field and in their rebuild — besides DeSclafani, either Bailey or Devin Mesoraco could've been shopped or dealt by now had either player been healthy over the last few seasons.
It was perhaps a little surprising that Zack Cozart was still in a Reds uniform on Opening Day, given that the veteran shortstop was almost traded to Seattle last summer and the Reds were keen to create room for younger infield pieces.  The Mariners' acquisition of Jean Segura, however, took Cozart's top trade suitor off the board, and the Padres were the only other team linked to Cozart on the rumor mill.  You'd think that some team would eventually have interest in a superb defender like Cozart, though with so many contenders already set at the shortstop position, the Reds may have to wait for an injury or another unforeseen situation to develop before the trade deadline to finally move Cozart, who is a free agent at season's end.
No discussion of Reds trade candidates is complete with mentioning Joey Votto, even if both the team and the star first baseman insist that they are happy to continue their relationship.  Of the two, Votto's statement carries a bit more weight given his no-trade rights.  Despite Votto's continued superb play, his age (33) and salary (owed just under $179MM through the 2023 season) already limit his potential market.  Even if he did eventually consent to a trade, any decline will greatly hamper the Reds' ability to get either a good prospect return or a good chunk of Votto's salary off their books.
Nobody expected a rebuilding team to break the bank on pitching upgrades, especially with so many young hurlers in the system.  Still, given how dreadful the Reds' bullpen was in 2016, the club certainly could've justified adding more newcomers than just Storen.  Cincinnati is putting a lot of faith in the Iglesias/Lorenzen combo, not to mention in improvement from Tony Cingrani and Blake Wood and rookies Wandy Peralta and Barrett Astin.  The Reds did discuss Jeremy Jeffress with the Rangers as part of trade talks for Hamilton, DeSclafani, and Straily, so once the deadline rolls around, Cincinnati could well target more controllable relief pitching.
Deal Of Note
Since I noted the Reds' somewhat questionable returns on some of their trades of veteran players, it's only fair to mention how much value they received from Straily's one-year tenure with the team.  Cincinnati claimed Straily off waivers from the Padres just prior to Opening Day 2016, and the right-hander ended up being the Reds' most reliable starter, posting a 3.76 ERA, 7.62 K/9 and 2.22 K/BB rate over 191 1/3 innings.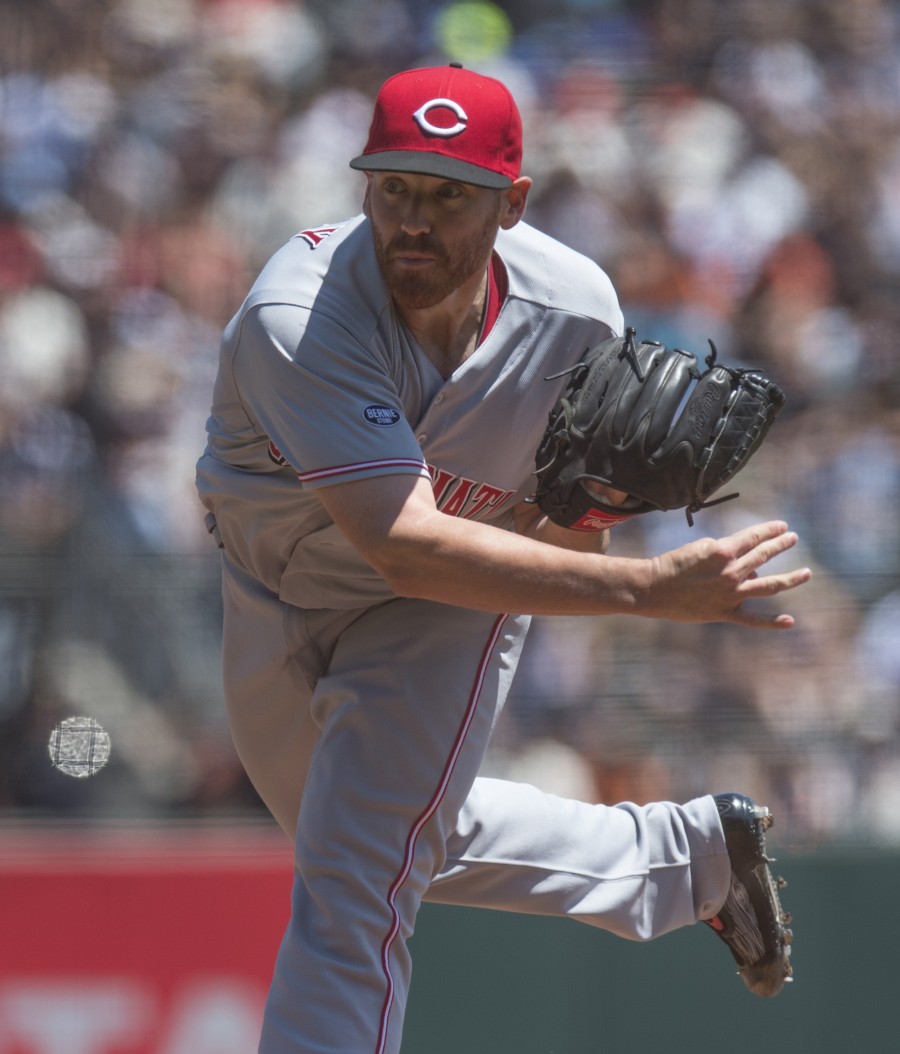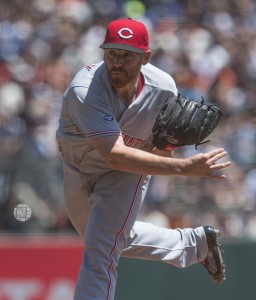 On paper, a pitcher coming off that sort of a season who is also under club control through 2020 would project as a long-term piece for a rebuilding team.  Instead, however, the Reds dealt Straily to Miami for right-handers Luis Castillo and Austin Brice, plus 20-year-old outfield prospect Isaiah White.  Brice will begin the year on the DL with an elbow injury but could factor into the Major League bullpen mix later on, White is an interesting speedster and Castillo is a very promising rotation option.  Ranked as the second-best prospect in Miami's system by Baseball America last December, Castillo owns a high-90s fastball and a potentially above-average slider (as per BA's scouting reports).  ESPN's Keith Law thinks enough of Castillo to rank him as the 94th-best prospect in all of baseball.
Will the Reds miss Straily, especially with their rotation again thinned by injuries?  It's possible, though there is evidence that Cincinnati may have sold Straily at the peak of his value.  The righty's ERA indicators (4.88 FIP, 5.02 xFIP, 4.67 SIERA) weren't impressive last season, as Straily benefited from a .239 BABIP and 81.2% strand rate.  A fly-ball pitcher throughout his career, Straily allowed a league-high 31 homers in 2016, and that was despite posting some very good numbers at the hitter-friendly Great American Ballpark.
Straily was only a borderline MLB pitcher in 2014-15, managing only a 6.42 ERA over 68 2/3 IP for the Astros, Cubs and Athletics.  Even if Straily has turned a corner and 2016 represents his new normal rate of production, the Reds still did a good job of selling high on a pitcher that cost them nothing to obtain from San Diego.
Overview
The Reds almost certainly won't be contenders in 2017, though they have started the season on an impressive 7-and-2 run. The highlight of their first half may end up being picking second overall in the June amateur draft.  It will be another season of development in Cincinnati as the team continues to plot its course through the rebuilding wilderness, though strong showings from Garrett, Davis and/or Cody Reed would go a long way towards solidifying the future rotation.  The Reds will be a team to watch in the weeks leading up to the July trade deadline.  Cozart, Feldman, Storen, Suarez, and Hamilton stand out as potential names on the move, there could be a Straily-esque under-the-radar player that also emerges as a trade chip, and business would pick up considerably if Votto consented to a deal.
What's your take on the Reds' winter?  (Link for app users.)
Photos courtesy of USA Today Sports Images