By the end of the 2017 season, the list of pitchers closing out games for their respective teams included Matt Belisle, Alex Claudio, Juan Minaya and Mike Minor. Three of them were without a career save coming into the season—Belisle had five in 13 MLB seasons—and none had been expected to fill a significant late-inning bullpen role. By way of injuries, trades or ineffectiveness from those ahead of them on the depth chart, they were given a chance to record the final out in a close win and proved themselves capable.
Things haven't changed much this year. Raise your hand if you thought Wily Peralta would have one save in 2018. He has 13! Of the 15 American League teams, only four currently have a closer situation that mirrors what they had on Opening Day. When it comes to closers, uncertainty is the only certainty. And that's why Mariano Rivera and Trevor Hoffman are Hall of Famers and the relief pitchers who will join them in Cooperstown in the future are few and far between.
Here's a look back at each American League team's closer situation on Opening Day versus where they are now and where they will be as they head into the offseason. (Click HERE to view the National League.)
[Related: MLB closer depth chart at Roster Resource]

Baltimore Orioles | Orioles Depth Chart
Opening Day 2018: Committee — Brad Brach, Darren O'Day, Mychal Givens
September 2018: Mychal Givens
Future Outlook: Brach got the majority of the committee's save chances prior to Zach Britton reclaiming the job shortly after returning from the disabled list in late June. Soon after, Givens was the last man standing following a series of July trades (Brach to the Braves; Britton to the Yankees). O'Day, meanwhile, suffered a season-ending hamstring surgery and was later traded to Atlanta in a separate deal.
A valuable setup man for most of the past three seasons, Givens has done a fine job since taking over ninth-inning duties. In his last 19 appearances, he has a 2.18 ERA and eight saves in 10 chances. With so many holes to fill on the roster, upgrading at the closer position is probably low on the Orioles' priority list. Givens, therefore, likely enters 2019 with the job — if he isn't traded himself this offseason as the O's continue their rebuilding efforts.
—
Boston Red Sox | Red Sox Depth Chart
Opening Day 2018: Craig Kimbrel
September 2018: Craig Kimbrel

Future Outlook: Kimbrel, who recently became the fourth pitcher in MLB history to record at least 40 saves in five different seasons, has been a huge part of Boston's historic season. As a free agent following the 2018 campaign, the 30-year-old will command a contract that rivals the highest-paid relievers in the game. Can the Red Sox afford to let him walk? Just in case he does, they'll have to plan accordingly.
With Joe Kelly also set to become a free agent, Matt Barnes is the logical choice to inherit the closer's gig. He's earned the opportunity with a 3.28 ERA and 25 holds while serving as the primary setup man on the best team in baseball. The 28-year-old also has an impressive 13.9 K/9 in 60.1 innings of work, an increase from 10.7 K/9 in '17 and 9.6 K/9 in '16. The only question is whether a team capable of winning over 100 games will entrust the role to someone with two career saves. If Kimbrel signs elsewhere, it seems likely that the Sox would pursue alternatives in free agency and/or trades.
—
Chicago White Sox | White Sox Depth Chart
Opening Day 2018: Joakim Soria
September 2018: Committee — Nate Jones, Jace Fry, Minaya, etc.

Future Outlook: Soria was as good as he'd been in years, posting a 2.56 ERA with 16 saves and 11.4 K/9 in 40 appearances. The White Sox cashed in by sending him to the Brewers for two pitching prospects in late July. Since then, they've handed off the closer's job to a committee that included just about any relief pitcher on their active roster—seven different pitchers have recorded saves since the Soria trade.
The next step for the rebuilding White Sox is to put together a roster that can, at the very least, be a .500 team and potential playoff contender. Having a reliable closer would be an important part of that plan. Jones looks the part, but he's missed most of the last two seasons recovering from elbow surgery and still might not be ready to take on the workload of a primary closer. A healthy Zack Burdi, the team's first-round draft pick in 2016 and one time "closer of the future," could also be in the mix at some point, though he spent 2018 recovering from Tommy John surgery. They'll likely play it safe, however, and add at least one veteran with closing experience this offseason.
—
Cleveland Indians | Indians Depth Chart
Opening Day 2018: Cody Allen
September 2018: Co-Closers – Allen and Brad Hand

Future Outlook: Allen has a lot of mileage on his arm, averaging 71 relief appearances per season since 2013, and it's showed at times during the current season. With Andrew Miller on the disabled list and Allen's ERA creeping up near 5.00, the Indians' acquisition of Brad Hand from the Padres on July 19th was a no-brainer.
Not only has it helped them down the stretch—Hand has a 2.45 ERA and eight saves while Allen has 10 consecutive scoreless appearances—it also gives the Indians a very good closer option for 2019. Allen and Miller are both headed for free agency while the 28-year-old Hand is under contract through 2021. The job should be his moving forward.
—
Detroit Tigers | Tigers Depth Chart
Opening Day 2018: Shane Greene
September 2018: Shane Greene

Future Outlook: With a 5.20 ERA and six blown saves in 37 chances, Greene is probably lucky to have held on to the job for the entire season. But on a rebuilding Tigers team, who is going to close out games for them is the least of their worries. With that said, Greene probably fits best as a setup man. Even if they don't upgrade this offseason, All-Star Joe Jimenez (11.2 K/9, 22 holds, 3 saves, 2.88 FIP) could supplant Greene in 2019.
—
Houston Astros | Astros Depth Chart
Opening Day 2018: Co-Closers – Chris Devenski and Ken Giles
September 2018: Roberto Osuna

Future Outlook: Despite a drop in strikeout rate—8.0 K/9 in '18; 11.7 K/9 in '17—Osuna has continued to perform at a high level amid abuse allegations that led to a 75-game suspension under MLB's domestic abuse policy. The Astros still decided to acquire him in a trade with the Jays despite the ongoing investigation.
Barring any struggles during the team's playoff run — he's postseason eligible in spite of that suspension — or any further off-the-field troubles, the 23-year-old Osuna seems likely to enter 2019 as the Astros' closer. He's under club control through the 2020 season.
—
Kansas City Royals | Royals Depth Chart
Opening Day 2018: Kelvin Herrera
September 2018: Wily Peralta

Future Outlook: Soon after Herrera was traded to Washington in mid-June, Peralta emerged from the closer committee to become one of the unlikeliest ninth-inning success stories of 2018. It hasn't always been pretty, but the 29-year-old has 13 saves in 13 chances and a 9.5 K/9 rate.
After getting booted from the Brewers' rotation last May, he had a disastrous 11-appearance stint as a relief pitcher (17 1/3 innings, 23 ER, 28 H, 15 BB) before getting designated for assignment in late July. He signed a Major League deal with Kansas City this offseason, only to be designated for assignment again and outrighted to Triple-A. He returned to the Majors one day before the Herrera trade and picked up his first MLB save eight days later.
Peralta has a $3MM club option in 2019, which could very well be exercised. Even if it's not, he's remain under team control for one more season via arbitration. While he's been better than anyone could've anticipated in his current role, his 22 walks in 31 1/3 innings serve as a red flag that will likely keep the Royals from locking him into the job next season without some form of competition.
—
Los Angeles Angels | Angels Depth Chart
Opening Day 2018: Keynan Middleton
September 2018: Ty Buttrey

Future Outlook: Blake Parker, who finished 2017 as the closer, picked up the team's first save of 2018 after finishing last season in the role. But it was Middleton who got the call for the next six save chances, all successful, making it clear that he was manager Mike Scioscia's preferred choice in the ninth inning. A few weeks later, however, Middleton had undergone season-ending Tommy John surgery and it was back to the drawing board for the Angels.
Parker got the majority of save chances with Middleton out. And as was the case in 2017, he got the job done with a 3.21 ERA and 13 saves in 16 chances from May 14th—the day after Middleton's last game— through September 3rd. But Buttrey, acquired from the Red Sox in the July deal for Ian Kinsler, is getting a chance to show what he can do as of late. In six appearances from September 7th through September 18th, the 25-year-old tossed seven scoreless innings with 10 strikeouts and four saves. He has failed to convert his last two save chances, though.
Regardless, there probably wasn't enough time for Buttrey to seal the job for 2019. He will be a candidate alongside Parker, though, unless the Angels acquire a closer this offseason.
—
Minnesota Twins | Twins Depth Chart
Opening Day 2018: Fernando Rodney
September 2018: Trevor Hildenberger

Future Outlook: After saving 25 games and solidifying the ninth inning for Minnesota over the first four months of the season, Rodney was traded to Oakland in August. Ryan Pressly, who would've been the logical choice to succeed him, was traded to Houston in late July. A closer committee appeared likely, but Hildenberger has been the go-to guy with seven saves in eight chances since Rodney's departure. Taylor Rogers, while serving mostly in a setup role, has not allowed a run over his last 23 2/3 innings while logging two saves and 11 holds over that span.
Between Hildenberger, Rogers, Addison Reed and Trevor May, who has five walks and 31 strikeouts in 23 innings in his first season since Tommy John surgery, the Twins have some decent late-inning options for 2019. It's probably not enough to keep them away from the offseason closer's market, though.
—
New York Yankees | Yankees Depth Chart
Opening Day 2018: Aroldis Chapman
September 2018: Co-Closers – Zach Britton and Dellin Betances

Future Outlook: Chapman might not have enough time to reclaim the closer's job before the end of the regular season—he returned from the disabled list last Wednesday—or even the playoffs for that matter. But there's no reason to think a change is on the horizon in 2019. The 30-year-old lefty, who is 31-for-33 in save opportunities and is striking out 16.1 batters per nine innings, will be entering year three of a five-year, $85MM contract.
—
Oakland Athletics | Athletics Depth Chart
Opening Day 2018: Blake Treinen
September 2018: Blake Treinen

Future Outlook: Treinen has been one of the breakout stars in 2018, saving 37 games while posting an 0.80 ERA and striking out 11.1 batters per nine innings for a playoff-bound A's team. The 30-year-old is still under team control for two more seasons, although he's in line for a significant raise from the $2.15MM he made in '18. Barring injury, there's no doubt that he'll retain the job in 2019.
—
Seattle Mariners | Mariners Depth Chart 
Opening Day 2018: Edwin Diaz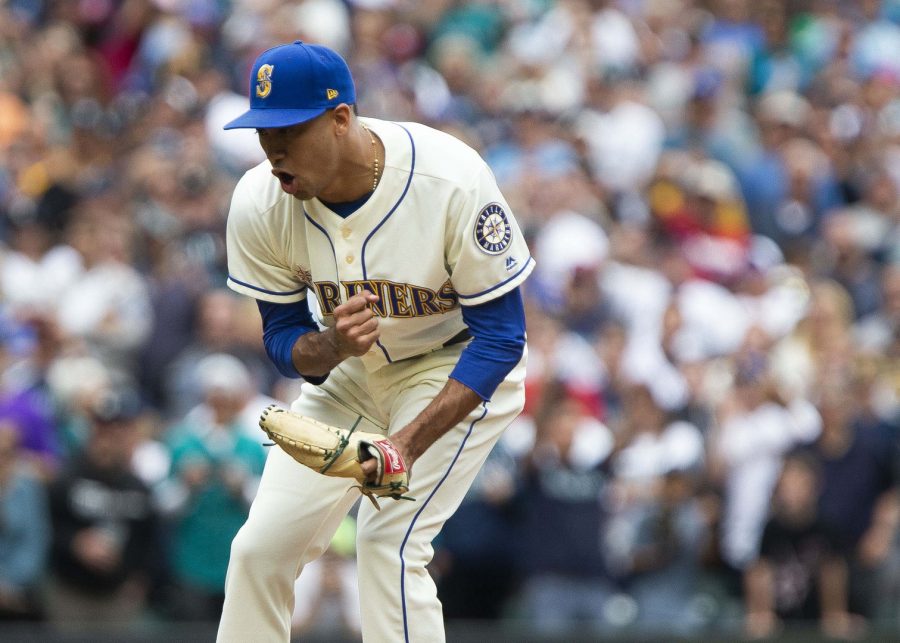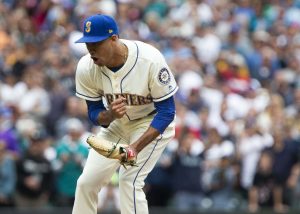 September 2018: Edwin Diaz

Future Outlook: No other closer, arguably, has contributed more to his team's success than the 24-year-old Diaz, who has 14 more saves (56) than any other pitcher in baseball and 13 more save chances (60). The Mariners play a lot of close ballgames—they are 36-21 in one-run games—and Diaz rarely gives his opponent a chance in the ninth inning. He has held his opponent scoreless in 59 of his 71 appearances and hitless in 44. He also has 41 multi-strikeout games.
The 24-year-old is going to get paid once he reaches arbitration, although he could fall just short during the upcoming offseason. The Super Two cutoff has not fallen under 2.122 (two years, 122 days) since 2009. Diaz will be one day shy of that total.
—
Tampa Bay Rays | Rays Depth Chart
Opening Day 2018: Alex Colome
September 2018: Co-Closers – Sergio Romo/Jose Alvarado

Future Outlook: When Colome was traded to Seattle on May 25th, the Rays were two games under .500 and 10 games out in the division. It's not clear whether they were throwing in the towel or whether they just had enough confidence in Romo, who had 84 career saves coming into the season, and the remaining group of young arms. In any case, it's worked out just fine.
Since the trade, the Rays are 64-44 with Romo as the primary closer (3.38 ERA, 23-for-28  in save chances) and Alvarado, a 23-year-old lefty, also playing an integral role (1.98 ERA, 7 saves). Not that you can count on the Rays to do anything conventional like name a closer prior to the season or at any point during the regular season, but Alvarez and the hard-throwing Diego Castillo would be the leading in-house candidates if they did. Tampa Bay could also look to bring Romo back into the fold.
—
Texas Rangers | Rangers Depth Chart
Opening Day 2018: Keone Kela
September 2018: Jose Leclerc

Future Outlook: No relief pitcher has boosted their value more in the second half of the season than Leclerc, who spent the first four months in a setup role. Once Kela was traded to the Pirates on July 31st, it was the 24-year-old Leclerc's chance to shine. It's hard to imagine a more convincing way to show that he wouldn't be relinquishing the job anytime soon.
Aside from converting each of his 11 save opportunities, Leclerc has allowed just two hits and six walks over 17 scoreless innings while striking out 28. The Rangers will look to bolster their bullpen this offseason, but finding a new closer isn't likely to be on the agenda. Leclerc is controlled through 2022.
—
Toronto Blue Jays | Blue Jays Depth Chart
Opening Day 2018: Roberto Osuna
September 2018: Ken Giles

Future Outlook: Despite being the primary closer on the World Champion Astros, it was clear  that Giles was not trusted with the game on the line. The trade to Toronto in late July gave the 28-year-old a chance to re-establish himself, out of the spotlight, as a reliable late-inning reliever. So far, so good.
After a few shaky appearances to begin his Blue Jays tenure, Giles has settled into the closer's role with 1.29 ERA over his past 15 appearances with 12 saves in 12 chances. It might not be enough to prevent the Jays from pursuing another option this winter, but Giles should at least be in the mix.
—