This is the latest post of MLBTR's annual Offseason in Review series, in which we take stock of every team's winter dealings.
After a disappointing 2018 season, the Nats made a broad array of additions to bolster a still-talented core — and then bid adieu to the organization's most famous player.
Major League Signings
Trades And Claims
Option Decisions
Minor League Signings
Notable Losses
[Washington Nationals Depth Chart | Washington Nationals Payroll Information]
Needs Addressed
The Bryce Harper question hung over the entire 2018-19 offseason for the Nationals, but the public saga may not really have reflected the behind-the-scenes situation. By the time he left for the Phillies, that had already become clear, making for a rather anti-climactic moment from the D.C. perspective.
It was possible to imagine a reunion for much of the winter, but the youthful superstar's departure was ultimately paved by a variety of smaller decisions in the run-up to his free agency — the decision to extend Stephen Strasburg, the acquisition of Adam Eaton, the failed pursuit of J.T. Realmuto, which left top outfield prospects Juan Soto and Victor Robles in Washington.
That last point also helped to jump-start the Nats' winter efforts. Having determined that Realmuto would not be their next catcher — he later went to Philly before being joined by Harper — president of baseball ops Mike Rizzo decided instead on a tandem. Upgrading behind the dish was a top priority: the combination of Matt Wieters, Pedro Severino, and Spencer Kieboom was among the worst in the game last year.
To do so, the Nats brought back old friend Kurt Suzuki and swung a deal for Yan Gomes. The former is a launch-angle disciple who has a bigger bat now than he did in his first tenure with the team. The latter became too expensive for the Indians but still looks like a solid value at his $7MM salary, with a pair of club options still available thereafter. Gomes is known more for his glovework but also turned in a bounceback season with the bat in 2018.
The bullpen was also addressed early. Rizzo placed a value bet on Tommy John returnee Trevor Rosenthal, a flamethrower with some highly successful seasons but also occasional control issues. The team picked up Kyle Barraclough — nearly as filthy and even wilder than Rosenthal — for a song. Veteran southpaw Tony Sipp signed on late, replacing Sammy Solis when the club didn't like what it saw from him in camp.
Another powerful, control-challenged relief arm arrived in the form of Tanner Rainey, but his acquisition was more about re-shaping the rotation. That swap sent out Tanner Roark, who followed Gio Gonzalez (traded away last fall) in wrapping up lengthy stints on the D.C. staff.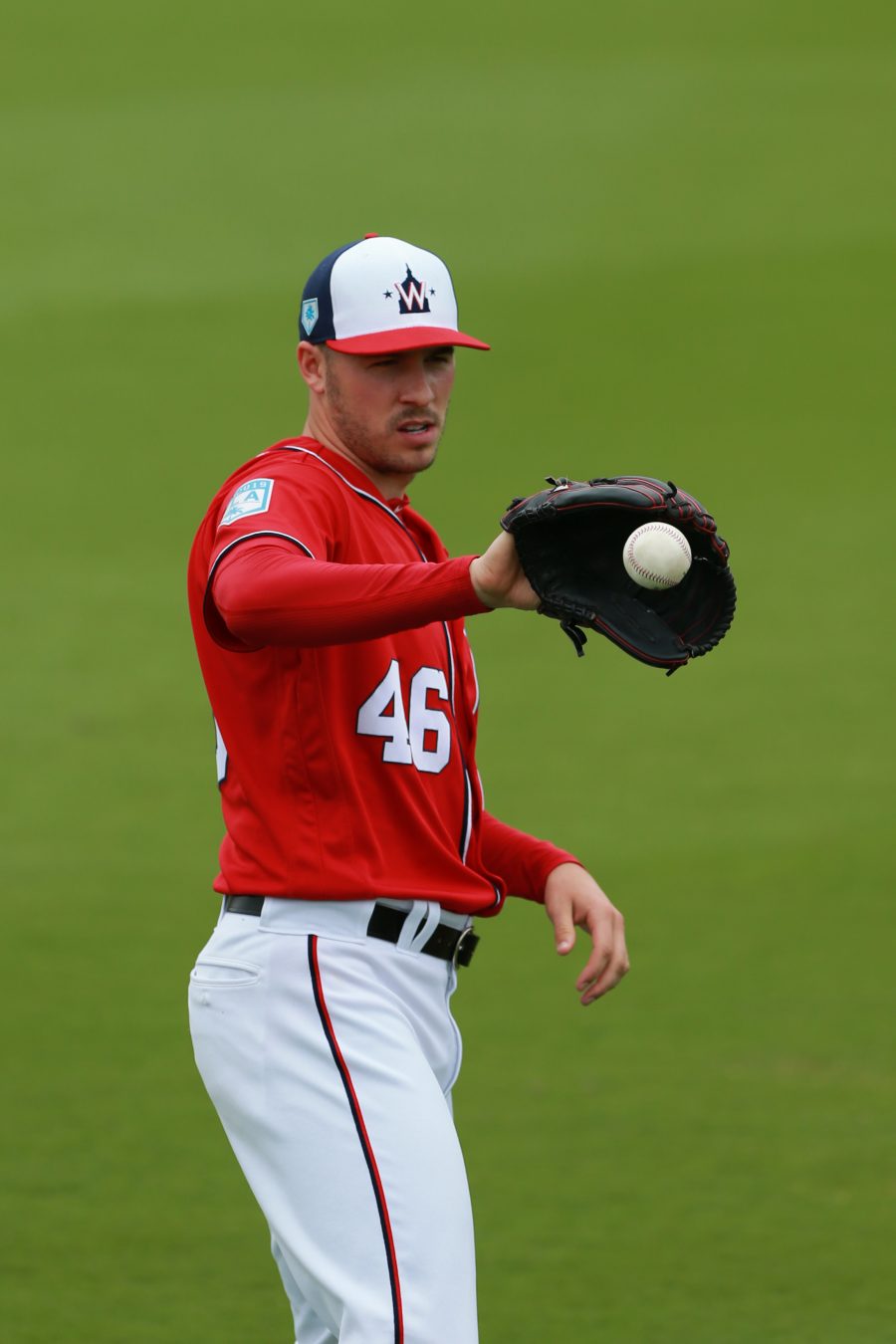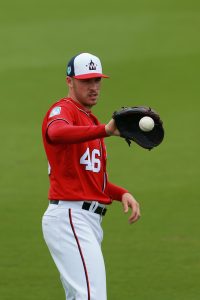 With open roster space and some funds to work with, the Nats decided to pursue a big rotation improvement. The offseason's most active bidding war broke out early in the winter on lefty Patrick Corbin, a still-youthful hurler who established a new ceiling in 2018. While the Nationals emerged victorious, they reportedly ended up topping the Phillies' and Yankees' best offers by a sizable margin. If they're right about Corbin, they may have a nearly-unparalleled trio atop the staff. If not, the lost opportunity cost could sting.
That still left a pair of rotation openings to address. The Nats might conceivably have gone after Dallas Keuchel, but another long-term entanglement was perhaps not wise. A reemerged Anibal Sanchez was tapped instead, more or less stepping into Roark's salary slot on a two-year arrangement. It remains to be seen whether he can continue to thrive after finally solving a longstanding home run problem last year with the division-rival Braves. While the Nats could have allowed Joe Ross and Erick Fedde to battle for the final rotation spot, they preferred instead to bring back veteran Jeremy Hellickson on another low-cost deal. He'll presumably again be tasked with getting through opposing lineups two times before handing the ball off to the pen.
Losing Harper obviously takes some thump out of the Nationals' lineup, but they did add some pieces to account for that loss. Brian Dozier was a star-level performer who averaged nearly 35 homers from 2015-17 before hitting a wall last year. Facing a need at second after trading away Daniel Murphy late last year, the Nats will hope that Dozier enjoys a bounce back to form in his age-32 season. The club did bring back one of the players it shipped out in the midst of an extremely disappointing 2018 campaign, nabbing lefty slugger Matt Adams on an affordable deal after he struggled in late action with the Cardinals. Adams will complement Ryan Zimmerman at first base and function as a late-inning, lefty bench bat — a Rizzo roster staple.
Questions Remaining
That's quite a lot of action. The Nationals were plainly resolved to plug their roster holes and get back on the horse after stumbling last year. Losing Harper doesn't change the fact that the club has a highly talented core. Veteran hurlers Max Scherzer and Stephen Strasburg front the staff. Trea Turner and Anthony Rendon hold down an excellent left side of the infield. Soto is one of the game's most exciting young hitters, while Eaton is an accomplished hitter who's renowned for his gritty play. Closer Sean Doolittle was nearly untouchable last year.
The talent is there. But there are some questions buried in the roster as well:
Let's start with the bullpen, an area that has long been a thorn in Rizzo's side. The current mix is … explosive. In both senses. Doolittle's heath problems are well documented. Rosenthal is now well removed from the TJ procedure and throwing triple-digit heaters, but he's got the downside to match. Barraclough calls to mind old friend Henry Rodriguez. The middle-relief unit isn't particularly inspiring. Sipp is useful, but there's a reason he sat on the market all winter. Justin Miller and Matt Grace emerged last year but don't have lengthy track records of success. Wander Suero has earned the final relief spot over a group of other unestablished arms. Koda Glover is hurt again. There are some other options on the 40-man, though none are especially promising.
If the Nats need a long-term replacement solution in the relief unit, Ross and Fedde may be the best options. For the time being, they'll remain stretched out as rotation depth along with Kyle McGowin and Austin Voth. That's not a bad group to have on hand at Triple-A, but the hope will be that the starting five doesn't need much supplementation. So … will it? That depends. Can Scherzer continue to be utterly dominant in a season in which he reaches his 35th birthday? Will Strasburg be available for most of the year? Can Corbin, Sanchez, and Hellickson approach their overall 2018 output?
That's mostly picking nits. It's as good a starting group as you could reasonably hope to compile. Likewise, the lineup is rather loaded on paper, even with some uncertainty baked in. Eaton and Zimmerman have long struggled to stay on the field. Robles is exceptionally talented but needs to show that he can hit against MLB pitching. It wouldn't be completely surprising if Dozier, Suzuki, and/or Gomes sag a bit at the plate.
There are some moving parts in the final spots on the roster. Howie Kendrick and Michael A. Taylor are working back from spring injuries and disappointing 2018 seasons (the former due to health, the latter due to performance). They could be major contributors but come with some uncertainty. Utility infielder Wilmer Difo is in something of a make-or-break year. Injuries opened the door for Andrew Stevenson and emerging prospect Jake Noll to make the Opening Day roster. It remains to be seen what courses their careers take.
That leaves the team's steadiest player, the quietly outstanding Rendon. It seemed for much of the winter that he was a prime extension candidate. But even with long-term deals all the rage this spring, he was left as one of the top potential free agents for the 2019-20 winter market.
2019 Season Outlook
There's no doubt of the goal and expectation in D.C.: a National League East crown and some progress in the postseason. The Nats have been one of the game's few truly sustained winners since a breakout 2012 campaign. Having transitioned to a (mostly) new core, the club is primed to keep the window open for some time to come. But late-season disappointments have continued to plague the franchise. Will this finally be the year that the organization enters November feeling truly satisfied about how things shook out?
How would you grade the Nationals' offseason moves?  (Link for app users.)
Photo courtesy of USA Today Sports Images.