The Twins are reportedly planning to scale back payroll into the $125-140MM range — below the approximate $154MM mark at which they opened the 2023 season. That has naturally led to trade speculation involving a handful of veteran players on the roster.
Max Kepler and Jorge Polanco are perhaps Minnesota's most desirable realistic trade candidates. Set for respective $10MM and $10.5MM salaries, they're each above-average regulars who would clearly be of interest to other teams. While they're both viable possibilities, it'd perhaps be an easier sell for the front office to part with Kyle Farmer. He's not as impactful offensively and has only spent one year in the Twin Cities — in contrast to Polanco and Kepler, career-long members of the organization who have been with the team for more than a decade.
It is somewhat surprising that Farmer is still on the roster. MLBTR contributor Matt Swartz projects the utility infielder for a $6.6MM salary in his final season of arbitration. That made him a non-tender candidate. Dan Hayes of the Athletic wrote two weeks ago that Minnesota was exploring trade options on Farmer, which seemed to suggest they could simply move on if they didn't line up a swap before last Friday's non-tender deadline.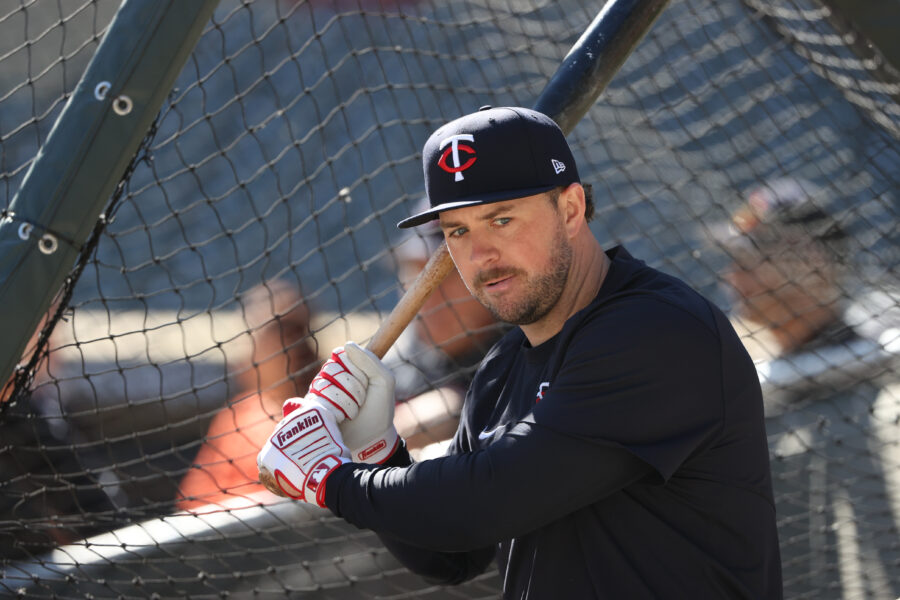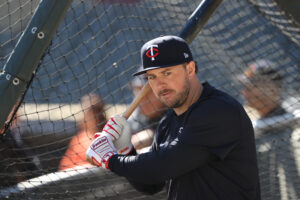 That didn't end up being the case. Now that Minnesota has tendered Farmer a contract, he's set for a payday that could land in the $6-7MM range. That doesn't preclude the front office from continuing to explore trade options. Minnesota's infield depth still leads to questions about how they should proceed.
Royce Lewis and Edouard Julien had excellent showings in the final few months. Lewis has clearly claimed the everyday third base job so long as he's healthy. Julien is stretched defensively at second base but hit .263/.381/.459 through his first 408 MLB plate appearances. Polanco is one of the better bat-first middle infielders in the league. Even if the Twins wanted to get Julien more at-bats as the designated hitter, a starting infield of Alex Kirilloff, Polanco, Carlos Correa and Lewis has significant upside.
Everyone in that group aside from Julien has a notable injury history as well. The front office surely feels better about it if it's backed up by a utility player of Farmer's caliber. At the same time, there's an argument the Twins have bigger needs. They could look for a right-handed hitting first base/DH to complement the lefty-swinging Kirilloff and Julien. Sonny Gray's expected free agent departure thins the rotation. They may need to re-sign or replace Michael A. Taylor given the likelihood they'll need to manage Byron Buxton's reps in center field.
Farmer, acquired from the Reds last offseason, had a solid year. His .256/.317/.408 batting line over 369 plate appearances was league average. The righty-swinging Farmer produced a .289/.352/.430 showing when holding the platoon advantage, a nice boost for a Minnesota team that was far better against right-handed pitching overall. Farmer started 20+ games at each of second base, third base and shortstop.
Switch-hitting Willi Castro offers similar defensive versatility. He has neutral platoon splits for his career but was quite a bit more productive against right-handers this past season. While Castro could play a utility role, he's likely an offensive downgrade from Farmer — particularly against southpaws.
That the Twins didn't non-tender Farmer indicates they're not going to simply give him away. The front office feels there's some amount of surplus value. The trade offers for one season of a 33-year-old utilityman projected for a near-$7MM salary aren't going to be overwhelming. A dreadful free agent middle infield class works in Minnesota's favor somewhat by limiting the alternatives for teams in need, but it's not going to result in a dramatically better prospect return. The primary motivation of a trade from the Twins' perspective would still be about reallocating salary.
Is that worthwhile for Minnesota? Should they deal Farmer to open some spending room while recouping a mid-tier prospect?
(poll link for app users)