The MLB playoffs are underway, which means we're just a few weeks from seeing dozens of players reach free agency in search of significant paydays. Of the major leaguers who went to the open market last winter, only 11 signed contracts worth upward of $30MM in guaranteed money. It's still too soon to fully pass judgment on those deals, but there are several that don't look good through Year 1. While those players could rebound beginning next season, it's undoubtedly troubling to see a big-money free agent struggle during the initial year of his contract, when he's supposed to be providing the most value to his team. Here's a look at how last winter's upper-class free agents have fared thus far…
Eric Hosmer, 1B, Padres – eight years, $144MM: The Padres didn't figure to contend this season even with the best version of Hosmer (they ended up 66-96), who wasn't a bastion of consistency during his Royals tenure from 2011-17. This came off as a questionable signing from the start, then, and it looks downright bad through its first season. Hosmer had his high points as a Royal, including during a career-best 2017, but also posted a negative fWAR over multiple seasons in KC. He just completed his third such season, recording minus-0.1 fWAR in 677 plate appearances. The main problem? The 28-year-old didn't pose much of a threat offensively, as his .253/.322/.398 line ranked 5 percent below league average, according to FanGraphs' wRC+ metric. Relative to other first basemen, Hosmer has never been a high-end power hitter, and that continued this season with 18 home runs and a .145 ISO. Hosmer will have a chance to opt out of his contract after its fifth season, but the way things look right now, he'll be a Padre for the full eight-year span.
Yu Darvish, RHP, Cubs – six years, $126MM: One thing you can say for Hosmer, who played 157 games this season: He was available. That wasn't the case with Darvish, whose first year in Chicago didn't go according to plan. The 32-year-old went on the disabled list toward the end of May with arm issues and suffered multiple setbacks during his rehab, forcing the Cubs to shut him down for the season in late August. Darvish, who last pitched May 20, totaled just eight starts and 40 innings in 2018. He logged a career-worst ERA (4.95), FIP (4.86) and xFIP (4.23) and BB/9 (4.73) along the way, looking nothing like the front-end starter the Cubs thought they were getting. There's still hope for the hard-throwing Darvish, who continued to strike out batters at a high clip this year (11.03 per nine), but there's no doubt he's off to an inauspicious start as a Cub. As of now, it doesn't appear he'll exercise his opt-out clause after next season. Doing so would mean leaving a four-year, $81MM guarantee on the table.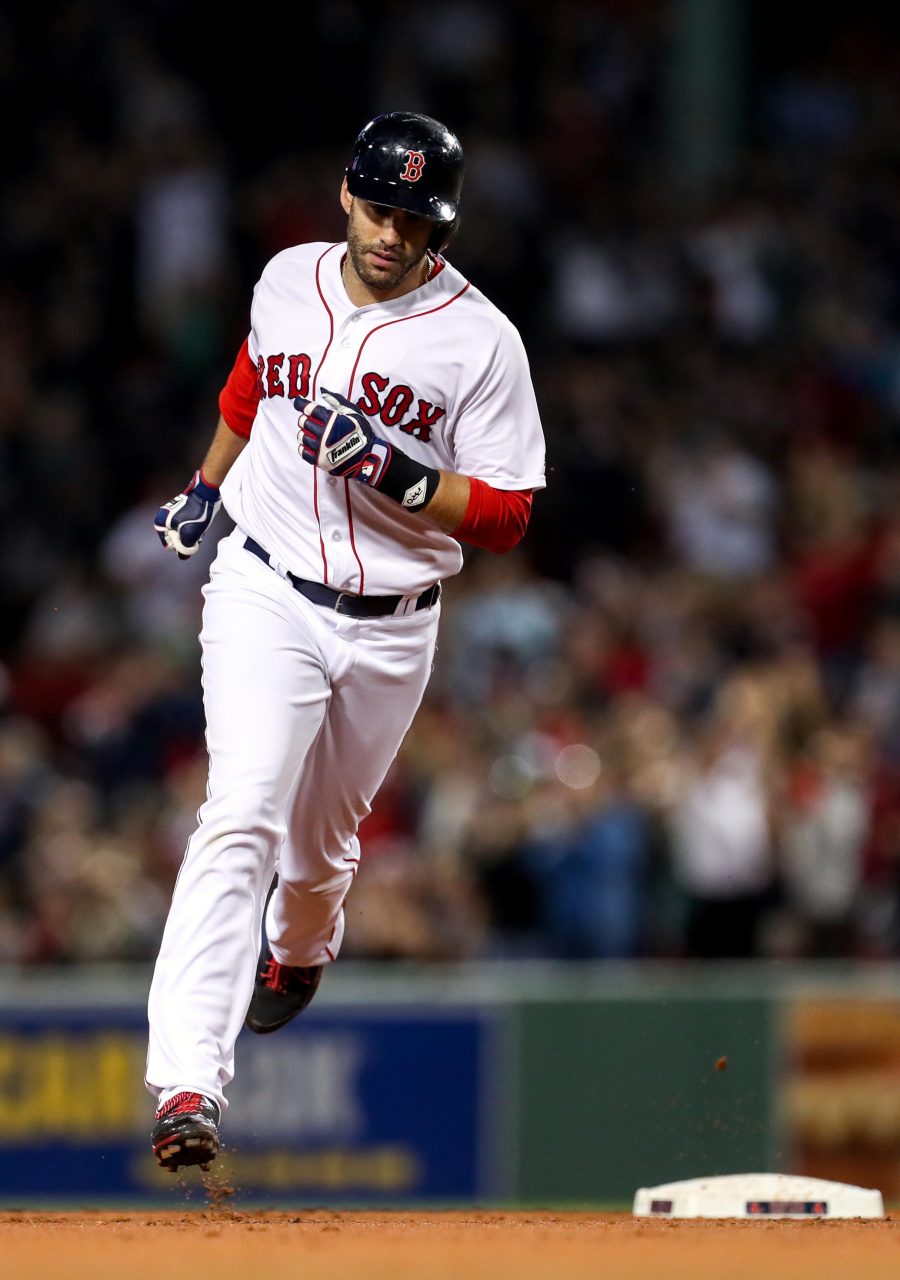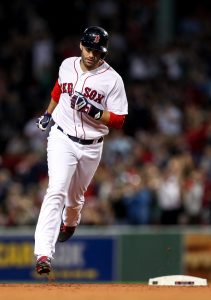 J.D. Martinez, OF/DH, Red Sox – five years, $110MM: As the Red Sox sought a game-changing bat last offseason, it seemed like a question of when – not if – they'd reel in Martinez. The two sides' standoff took longer than expected, though, with the 31-year-old sitting on the unemployment line until late February. Now, Boston's surely thrilled it won the Martinez sweepstakes.
An elite hitter since his stunning breakout with the Tigers in 2014, Martinez has joined Mookie Betts to comprise the sport's foremost one-two offensive punch in 2018. Martinez concluded the regular season second in the majors in home runs (43), batting average (.330) and slugging percentage (.629); third in ISO (.299) and wRC+ (170); fifth in on-base percentage (.402); and 10th in fWAR (5.8). Thanks in large part to Martinez, the Red Sox finished with the majors' best record (108-54) and its top offense. While the BoSox and Martinez are focused on winning a World Series this year, he's only 13 months away from potentially hitting free agency again. Martinez has three opt-outs in his deal, including one after next season.
Lorenzo Cain, CF, Brewers – five years, $80MM: So far, the addition of Cain has been a major boon for the Brewers, the just-crowned NL Central champions. Cain was among the Brewers' heroes during their division-deciding triumph over the Cubs on Monday, when he hit what proved to be the winning RBI single in the eighth inning of a tie game.  The Brewers' second-best player behind NL MVP hopeful Christian Yelich – yet another huge pickup from last winter – Cain accrued 5.6 fWAR during the regular season. As he did during his Royals heyday, Cain has delivered his value this year by relying on his all-around excellence. He has frustrated opponents at the plate (.308/.395/.417 in 620 PA), on the bases (30 steals, 6.2 BsR) and in the field (20 Defensive Runs Saved, 17 Outs Above Average, 7.9 Ultimate Zone Rating), continuing his run as one of the majors' most well-rounded stars.
Jake Arrieta, RHP, Phillies – three years, $75MM: Arrieta and agent Scott Boras fell well shy of their $100MM-plus goal last offseason, when the former's stay on the market lasted into March. While Arrieta was a tremendous starter with the Cubs from 2014-17, some cracks began to show last season, helping lead to his long stay in free agency. Arrieta continued to go downhill this year, his age-32 season, though he did perform decently and amass at least 30 starts (31) for the fourth straight campaign. Across 172 2/3 innings, Arrieta pitched to a 3.96 ERA/4.26 FIP with 7.19 K/9, 2.97 BB/9 and a 51.6 percent groundball rate. That's solid production, but it's clear Arrieta's not the Cy Young-caliber starter he was for part of his Cubs tenure. Arrieta's yet another signing from last winter who will have a chance to opt out of his contract after next season, which would mean passing on a $20MM guarantee, though the Phillies could void that clause in favor of a two-year, $40MM team option.
Carlos Santana, 1B, Phillies – three years, $60MM: Like Arrieta, Santana was closer to average than spectacular for the Phillies in the first season of an expensive deal. The former Indian, 32, continued his long run of durability, appearing in a personal-high 161 games, but he only managed a 109 wRC+ in 679 PA. Encouragingly, the ever-patient Santana easily racked up more unintentional walks (110) than strikeouts (93), and his expected weighted on-base average (.364) left his real wOBA (.334) in the dust. Although Santana's offense has long been his calling card, he's also a capable defender at first. But there's some question moving forward as to whether Santana will stay at first or shift to third, where he saw time late in the season.
Alex Cobb, RHP, Orioles – four years, $57MM: Cobb went unsigned until late March, making him one of the most notable stragglers on a slow-moving market. When the Orioles finally did sign him, it was clear they were of the belief they'd contend for a playoff spot. Ultimately, the O's finished as the majors' worst team (47-115), and they now find themselves in a full-blown rebuild. Given that he's an expensive veteran on a bottom-feeding team, it would make sense for Baltimore to try to move Cobb in the offseason. Finding a taker would be challenging, though, because Cobb has only offered back-end production as a member of the Orioles – with whom the ex-Ray has recorded a 4.90 ERA/4.80 FIP in 152 1/3 innings. The good news is that Cobb was much more effective in the second half of the season. After heading to the All-Star break with a horrendous 6.41 ERA/5.12 FIP, he came back to notch a 2.56 ERA/4.28 FIP over the past couple months.
Wade Davis, RP, Rockies – three years, $52MM: Davis was a premier reliever with the Royals and Cubs from 2014-17, but that excellence hasn't always been present in his first year with the Rockies. To his credit, Davis closed the regular season with a flourish, allowing one earned run over his last 18 innings, and then added another 1 1/3 scoreless frames in Tuesday's NL wild-card game. Good thing, too, because the 33-year-old had been amid a horrific campaign during the summer, when his ERA ballooned to a season-high 5.51 on Aug. 6. Davis had totaled six losses and six blown saves at that point, but he didn't add to either category from that point, and he ended the regular season converting 12 straight save opportunities. He wrapped up the campaign with 43, a franchise record for the Rockies, and a 4.13 ERA with 10.74 K/9, 3.58 BB/9 in 65 1/3 innings. That's not the overall production Colorado wanted when it signed Davis, but his late-season resurgence did help the club earn a playoff berth.
Jay Bruce, OF/1B, Mets – three years, $39MM – The five-time 30-HR hitter put up a career-low nine in 2018, owing in part to a hip injury that shelved him for two-plus months over the summer. Bruce's overall line of .223/.310/.370 (89 wRC+) looks ugly, but he did turn things around after coming off the disabled list in late August. That's an encouraging development for the Mets heading into next year, when Bruce – a longtime corner outfielder – may be its starting first baseman. Regardless of where Bruce lines up in 2019, the Mets will hope the soon-to-be 32-year-old returns to his long-established ways as a quality offensive contributor. Thus far, though, the team's decision to bring back Bruce last offseason looks regrettable.
Tyler Chatwood, RHP, Cubs – three years, $38MM – The Cubs thought they had a steal in Chatwood, who drew some hype going into last winter after back-to-back respectable seasons with the Rockies. But Chatwood was a dud in his first season in Chicago, with which he last took the mound Sept. 8. Control problems defined 2018 for the 28-year-old Chatwood, who posted a nightmarish walk rate (8.25 per nine) over 103 2/3 innings. Chatwood's inability to find the zone helped lead to an atrocious 5.30 ERA/5.60 FIP and cost him his place in the Cubs' rotation in late July.
Zack Cozart, INF, Angels – three years, $38MM: 2018 was a disappointing season in general for the Angels, and Cozart was among the reasons. One of their high-profile pickups in a winter packed with them, Cozart saw his season end in mid-June after undergoing shoulder surgery – a procedure which could also keep him out for some of spring training next year. When he was healthy enough to take the field this year, the substantial offensive gains he made as a Red in 2017 didn't carry over. Cozart compiled an 83 wRC+ (down from 140 last season) and a .219/.296/.362 line in 253 trips to the plate.
Photo courtesy of USA Today Sports Images.