The Rays entered the offseason with just two players making more than $10MM per year, and in case you've been hiding in a cave far, far from the Internet, they already traded one of them this week. With Blake Snell now in San Diego, rumors immediately shifted to the team's other most expensive player: center fielder Kevin Kiermaier. USA Today's Bob Nightengale tweeted that Kiermaier is "next on the trade block" for the Rays, although while the Rays may still hope to shed additional payroll, that's too simplistic a characterization of what should be a more layered discussion.
First up in any discussion of the 30-year-old Kiermaier will always be his defensive wizardry. His penchant for highlight-reel dives and wall-scaling home run robberies is well known. Frequent diving catches don't make someone a defensive master, necessarily; some players will need to dive on plays that shouldn't be that difficult in order to compensate for a poorly run route or a bad read off the bat. That's rarely the case with Kiermaier, though, who has ranked in the 89th percentile or better in each of the past four seasons by measure of Statcast's "Outfield Jump" metric. Kiermaier has been in the 91st percentile or better in Statcast's average sprint speed in each of those four years as well.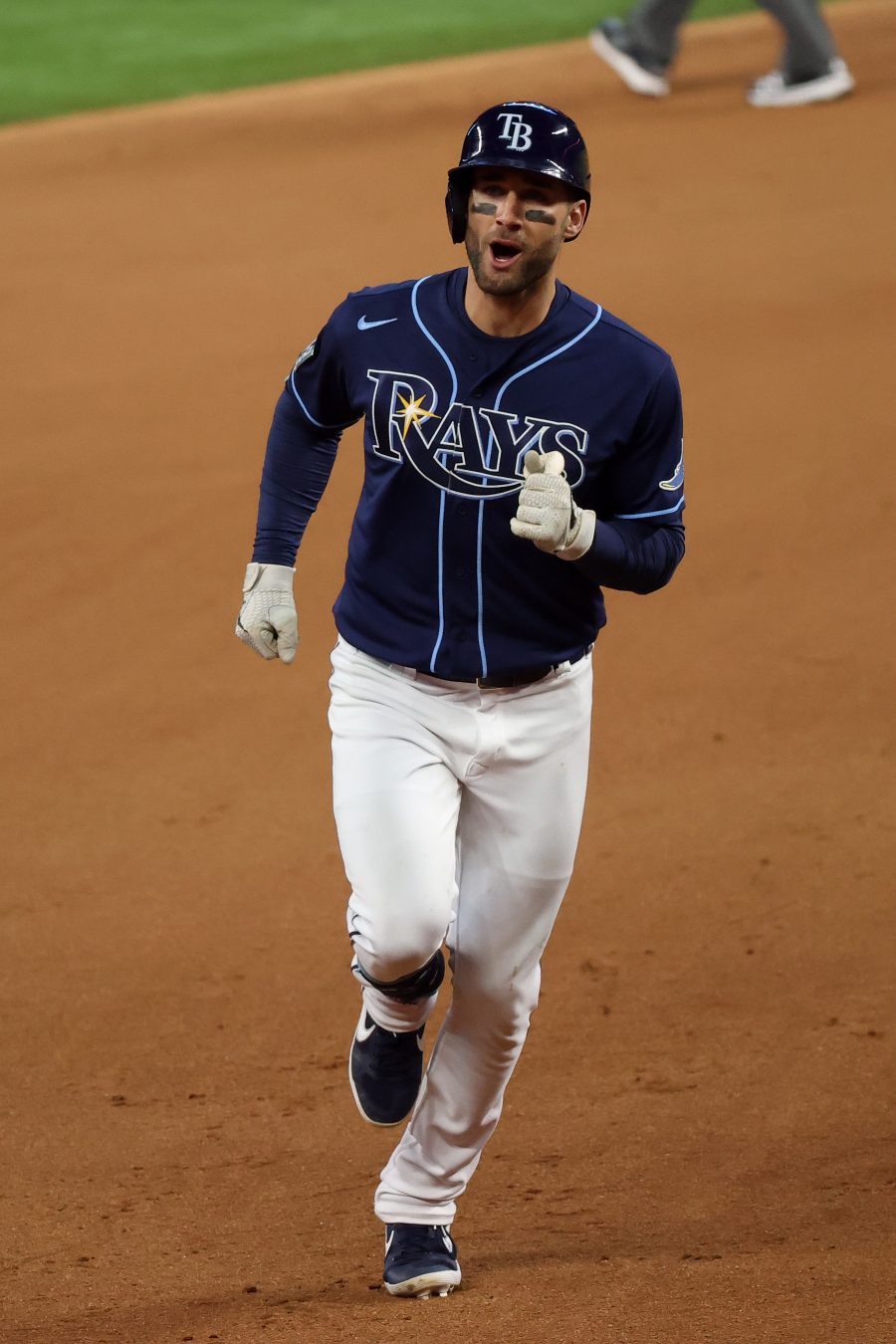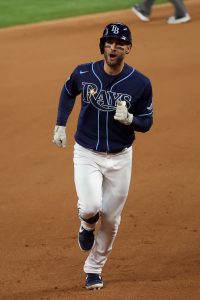 Dating back to 2017, Kiermaier ranks fourth among big league players, at any position, with 58 Defensive Runs Saved. Mookie Betts is the only outfielder who tops him. Matt Chapman and Andrelton Simmons, both infielders by trade, are the other two. That trio, on average, has played 815 more innings in the field during that stretch than Kiermaier, however. As such, there's a very real argument that on a per-inning/per-game basis, Kiermaier is the most impactful defensive player in baseball. Statcast's Outs Above Average metric dates back to 2017, and as with DRS, Kiermaier is elite. He ranks fifth among 487 outfielders in that time despite more limited chances in the field.
Of course, those limited chances are part of the knock on Kiermaier. He's played in just 364 games and taken 1427 plate appearances over the past four seasons combined. While his reckless abandon in the outfield surely dings him up from time to time and requires the occasional off day — particularly given his home park's artificial surface — that hasn't been his major issue. Kiermaier has sustained a fractured hip (2017) and a torn ligament in his thumb (2018) while sliding on the basepaths in recent years, both of which have cost him months of action.
It's somewhat remarkable that the hip injury didn't have a lasting impact on Kiermaier's superlative glovework, but it's certainly fair to wonder to what extent injuries have impacted him at the plate. Consider that from 2014-17, Kiermaier was not only a world-class defender but also an above-average hitter, posting a composite .262/.319/.431 batting line. From 2018-20, however, he's managed just a .222/.286/.386 slash in 1006 plate appearances.
His 2017 production actually improved upon returning from the hip fracture, so perhaps that shouldn't be viewed as a major contributor to his offensive decline. The torn ligament in his thumb, however, which occurred in April 2018, may have had a considerably more adverse impact on his output at the plate. Hand and wrist issues that impact a player's grip can wreak havoc on their mechanics and their production. Perhaps it's coincidental, but since 2018, Kiermaier's strikeout rate has jumped five percent and his ground-ball rate has steadily risen.
An optimistic trade partner might think Kiermaier could still return to his ways as an average or better hitter. He walked at a career-best 12.6 percent clip in 2020's shortened slate of games, which certainly bodes well. Even when accounting for the fact that Kiermaier walked just once in 57 postseason plate appearances, that's 21 walks in 216 total trips to the plate in 2020 — a 9.7 percent clip that would match his career-high and easily top the 6.5 percent mark he carried into the season.
Kiermaier has also improved his hard-hit and barreled-ball rates over the past couple seasons despite not having much production to show for it. His expected weighted on-base average (xwOBA) — a metric that reflects what a player's overall offensive output should be, based on frequency and quality of contact — from 2019-20 is right in line with his 2015-17 levels.
Given that, there's plenty of reason to consider Kiermaier a strong bounceback candidate. Even if he doesn't rebound at the plate, any team would know it's getting an elite defender with plus speed to contribute on the bases. The problem for interested parties, of course, is that Kiermaier is paid at a higher rate than a glove-first player of that nature would typically be compensated. He's owed $26MM over the next two seasons: $11.5MM in 2021, $12.5MM in 2022 and at least a $2.5MM buyout on a $13MM option for the 2023 season.
It's not an overly burdensome contract, but at a time when teams throughout the league are scaling back on payroll, it's a notable chunk of cash. That's all the more true when Kiermaier's skill set is similar to that of free agent Jackie Bradley Jr. — a player who may not command as much as the two years and $26MM still owed to Kiermaier. Bradley would cost only money for a team seeking a center field boost, and while he's not a great offensive player, he does have a steadier and more productive track record.
Also problematic is that while Tampa Bay's trade of Snell to the Padres brought a huge prospect haul, a trade of Kiermaier might resemble more of a salary dump in terms of its return. Some interested teams may even ask the Rays to kick in a bit of cash to cover a portion of the remaining money owed to the 2015 Platinum Glover. For a player of his status in the organization, a straight salary dump would be a tougher sell both to the fans and to the clubhouse.
Given all that context, it's perhaps not surprising to see MLB Network's Jon Heyman tweet that despite Kiermaier's availability on the trade market, the chances of a deal coming together "aren't great." The Rays have already weakened their 2021 roster by trading away Snell and declining Charlie Morton's option, and jettisoning Kiermaier for nothing of immediate value (on the heels of a World Series run) would only further diminish their hope of a return postseason bid.
Granted, some of the dollars that had been earmarked for Kiermaier could be invested back into the free-agent pool, but it's extremely difficult to find a player with Kiermaier's upside on the open market with the limited resources they'd save in dealing him away. Kiermaier has still topped seven WAR over the past three seasons combined, even with his bat on the decline, and in that aforementioned 2014-17 peak, he checked in at 21 wins above replacement.
Not only is Kiermaier's ceiling higher than any replacement the Rays would bring into the fold, but the possibility of trading him for pennies on the dollar, only to watch him rebound and send his value soaring, looms larger in this instance. It's a very different situation than moving Snell when his value was much closer to (or arguably even at) its apex.
I'd expect plenty of rumors regarding the possibility of a Kiermaier trade between now and Opening Day, but for all these reasons (and likely quite a few more), it's a complicated scenario that should by no means be considered a given. For debate's sake, let's tack a poll onto the end of this breakdown and open it for discussion in the comments (link to poll for Trade Rumors mobile app users):