This post is part of a series reviewing the offseasons of every team in baseball. You can find all of the posts published to date at this link.
The Blue Jays are counting on some new-yet-familiar pitching depth to help them make a return trip to the postseason.
Major League Signings
J.A. Happ, SP: Three years, $36MM
Marco Estrada, SP: Two years, $26MM
Darwin Barney, 2B: One year, $1.05MM
Gavin Floyd, SP: One year, $1MM
Josh Thole, C: One year, $800K
Total spend: $64.85MM
Trades And Claims
Notable Minor League Signings
Domonic Brown, David Aardsma, Tony Sanchez, Alexi Casilla, Colt Hynes, Wade LeBlanc, Scott Copeland, Casey Kotchman, Scott Diamond, Pat McCoy, Humberto Quintero, David Adams (Toronto also signed Rafael Soriano and Brad Penny but both pitchers chose to retire)
Extensions
Notable Losses
David Price, Mark Buehrle, Dioner Navarro, Mark Lowe, LaTroy Hawkins (retired), Maicer Izturis (retired), Munenori Kawasaki, Cliff Pennington, Steve Delabar, Revere, Hendriks
Needs Addressed
Few expected the Blue Jays to have a general manager vacancy to fill this offseason, though Alex Anthopoulos' surprising decision to turn down a new contract left team president/CEO Mark Shapiro looking for a new point man in the front office.  Ross Atkins ended up being the choice in early December, reuniting Atkins and Shapiro from their days together in Cleveland.  Whereas Anthopoulos had more or less free reign over player personnel moves when Paul Beeston was the Jays president, Shapiro's baseball operations background puts him at the top of the personnel ladder with Atkins as the second-in-command.
With longtime assistant GM Tony LaCava serving as interim GM until Atkins was hired, the Jays accomplished some of their major winter goals fairly early, as Marco Estrada re-signed with the team just a week after free agency opened.  The two-year/$26MM contract is a reasonable spend for a 32-year-old pitcher who may not be a sure thing to repeat his 2015 career year, yet whose outstanding changeup and ability to induce weak contact tend to hint that Estrada's arsenal can age well.  (We'll cover the Estrada deal more extensively later in the "Deal Of Note" section.)
The Jays also made another significant pitching acquisition in November when they brought Jesse Chavez back to Toronto in a deal that sent Liam Hendriks to the A's.  Toronto gave up four years of control over Hendriks and added payroll in Chavez (who will earn $4MM after winning an arbitration case) as well as a pitcher who is a better fit in a long relief or possible swingman role.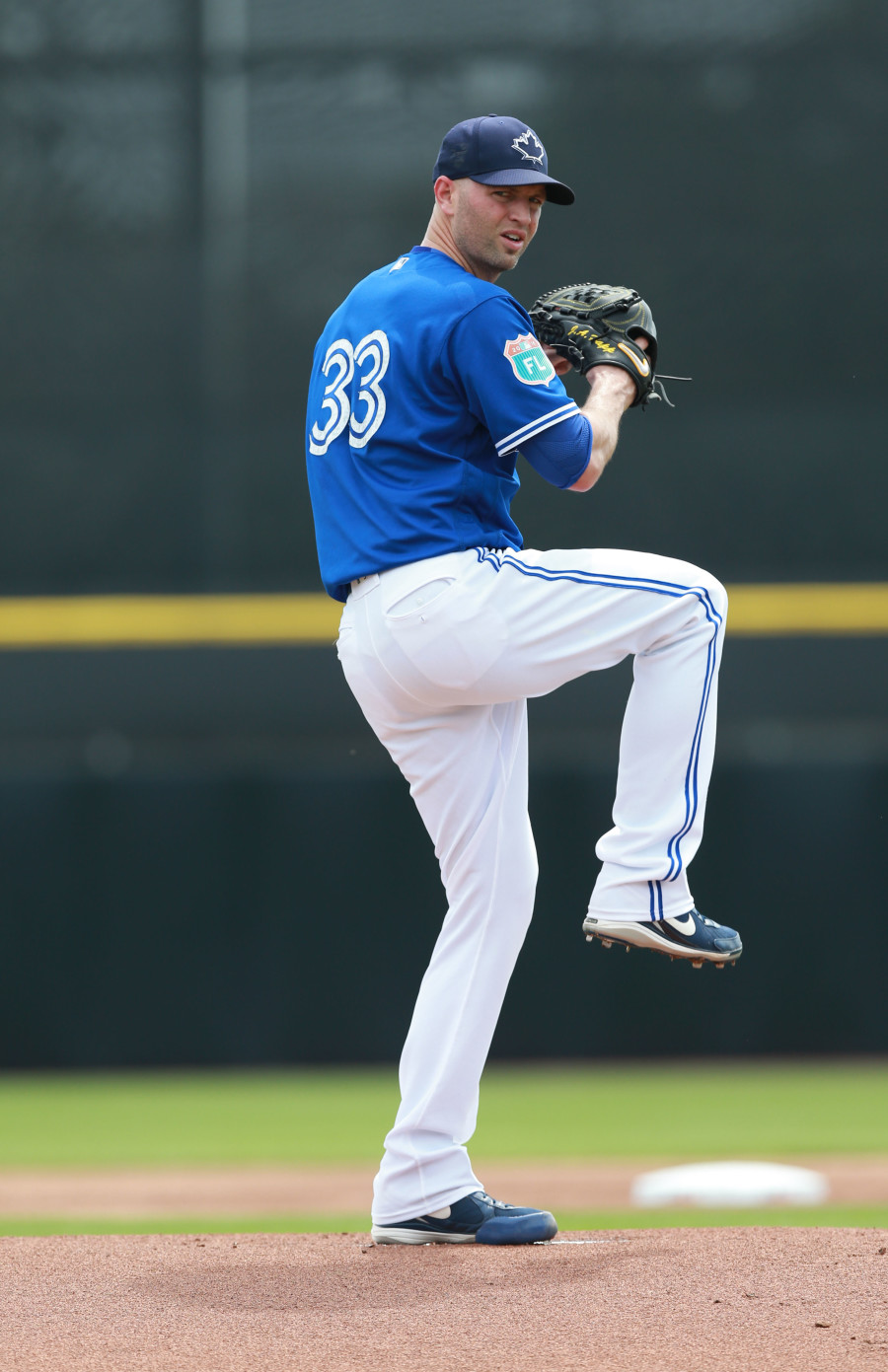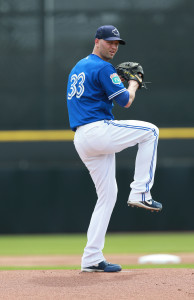 J.A. Happ is another familiar face returning to Toronto, as the southpaw dealt to Seattle last season for Michael Saunders is now back in the rotation on a three-year/$36MM deal.  Such a contract would've been hard to imagine for Happ when he was struggling through his first 21 games of the season with the Mariners, yet a deadline trade to the Pirates and acclaimed pitching coach Ray Searage worked wonders.  Happ posted a 1.85 ERA, 9.8 K/9 and 5.31 K/BB rate over 63 1/3 innings with the Bucs, easily the best extended stretch of his nine-year career.
Happ's 172 innings last season was a career high, though he's topped the 144-inning plateau four other times in his career (and likely would've done so in 2013 had he not missed time after being hit in the head with a line drive).  Even if Happ reverts to his pre-Pirates career numbers, he's a solid back-of-the-rotation arm who could have a higher upside if he really unlocked something in Pittsburgh.
The theme of adding veteran pitching continued with the signing of Gavin Floyd to a one-year deal that's essentially a lottery ticket.  Floyd earns $1MM in base salary and up to $1MM more is available in roster incentives, so on the off-chance that Floyd stays healthy and returns to his 2008-12 White Sox form, the Jays get a huge bargain.  For that matter, Floyd is still a bargain if he pitches well out of the bullpen, as the Jays recently announced that he'll start the season as a reliever.
Floyd pitched well in Spring Training during a well-publicized fifth starter's battle with Aaron Sanchez (and to a lesser extent, Chavez and Drew Hutchison), and Toronto eventually decided to go with the promising youngster over the veteran.  Since Sanchez is under an innings cap, however, he will eventually be moved back into the bullpen likely around July or August, which opens the door for Floyd, Chavez, Hutchison or perhaps a trade deadline pickup to join the rotation.
Sanchez's move to the rotation was aided by the Jays' acquisition of Drew Storen to bolster the relief corps, as Storen and Brett Cecil will serve as the setup men to second-year closer Roberto Osuna in a strong late-game trio.  Storen was undoubtedly hoping he would earn the closer's job as he heads into a contract year, though Osuna was so impressive last season and this spring that the Jays felt the sophomore righty didn't deserve a demotion.
With five bullpen jobs set and Aaron Loup battling a forearm injury, switch-pitcher Pat Venditte or veteran specialist Randy Choate could join Cecil as the second southpaw in the relief corps.  (Choate has been released by the team but the Jays are hoping he re-signs on another minor league deal as Triple-A depth at the very least.)  Cecil will be the only lefty reliever on the roster to begin the season, as Ryan Tepera, new acquisition Arnold Leon and Rule 5 draft pick Joe Biagini comprise the rest of the bullpen.
In other lower-level signings, Toronto brought back Josh Thole and Darwin Barney as bench depth and acquired Junior Lake and Darrell Ceciliani as outfield depth in the wake of Ben Revere's departure to Washington.  The Jays also picked up a few players (Jesus Montero, Domonic Brown, Tony Sanchez) formerly regarded as top prospects in the hopes of finding a post-hype sleeper in the bunch.
On the extension front, Josh Donaldson inked a two-year deal that allowed he and the Jays to avoid arbitration this year and achieve cost-certainty for the 2017 season.  Donaldson is still arb-eligible one more time due to his Super Two status.  If he continues his MVP-level play, the third baseman could possibly set a new arbitration record for his 2018 salary, unless the Jays were to sign him to a longer-term extension in the interim.
Keep reading after the break for more analysis …
Questions Remaining
Speaking of long-term extensions, the futures of Jose Bautista and Edwin Encarnacion loom as a subplot of the 2016 Blue Jays season.  Both sluggers are eligible for free agency this winter, and though teams have become more hesitant about signing players to deals through their mid-to-late 30's (and in Bautista's case, perhaps, early 40's), the elite-hitting duo will get lots of interest on the open market.
The odds of them both reaching that open market seem to be growing by the day, as each man has said they don't want to contract talks to drag into the season.  Bautista is reportedly looking for an extension north of five years and $150MM, while Encarnacion's talks with the Jays have seemingly stalled over contract length.  As per the latest reports, there don't appear to be any more talks scheduled between Encarnacion and the Jays, while Bautista's adamant stance against any negotiations whatsoever may be a bit flexible when it comes to deal length.
There will undoubtedly be a lot of speculation as the season progresses if neither player signs an extension, though for now, the Jays' dealings with Bautista and Encarnacion might be a topic best saved for next winter.  The two sluggers obviously motivated to deliver big seasons for both themselves and to help the team reach the World Series, so for the short term, Bautista and Encarnacion aren't issues.
It may be instructional, however, to look at David Price's free agency as an example of how the Blue Jays may be willing to let a star player leave if the cost is just too high.  The Jays never made a serious attempt to retain the ace lefty, as Shapiro noted that re-signing Price would've taken all of the team's offseason budget.  Price is also a 30-year-old with a long history of durability; as good as Bautista and Encarnacion are, their next contracts will begin in their respective age-36 and age-34 seasons, and both have significant injury histories.
While re-signing Price was unlikely to happen, it could be argued the Jays should've looked for a bigger pitching upgrade than Estrada or Happ.  The rotation consists of those two veterans, a steady-but-unspectacular innings-eater in R.A. Dickey, the inexperienced Sanchez and a burgeoning ace in Marcus Stroman who is nonetheless unproven over a full season.
Toronto needs Stroman to truly emerge as a front-of-the-rotation arm or Sanchez to break out for this rotation to be more than just solid.  It's worth noting that this is a better collection of starters than the rotation the Jays had in the first half of 2015, though that club had the dual benefits of the Price trade and Stroman unexpectedly returning from a torn ACL to essentially replace a struggling Mark Buehrle in the rotation.
The Jays were checking in with Yovani Gallardo's camp as late as mid-January, and even as Spring Training was wrapping up, they reportedly have interest in Miguel Gonzalez.  While these both could simply have been cases of due diligence on players Toronto didn't expect to be on the market, they could also be hints that the team is still not quite satisfied with its pitching options.  As the first line of starter depth, Floyd is not exactly a stable choice given that he's barely pitched over the last three seasons due to injuries.
Left field is perhaps also an area of dissatisfaction for Toronto given that the club attempted to acquire Jay Bruce and trade Michael Saunders as part of an ultimately fruitless three-team deal with the Reds and Angels.  Revere had an escalating arbitration price tag that was arguably too much for his production, yet the Jays also would've known what they were getting from Revere as the regular left fielder, whereas Saunders is something of a wild card after missing virtually all of 2015 recovering from knee surgery.  Saunders has hit very well in Spring Training action, though it remains to be seen how his knee will withstand a season on an artificial surface.  Ezequiel Carrera is the fourth outfielder with Lake, Ceciliani and Dalton Pompey available at Triple-A.  The Jays would probably prefer that Pompey gets more minor league seasoning with an eye towards using him regularly next year if Bautista and Saunders depart in free agency.
First base could also be an issue if Chris Colabello can't sustain his (possibly BABIP-fueled) offensive production from 2015.  The Jays plan to use Colabello and Justin Smoak in a platoon at first with Encarnacion mostly relegated to DH duty.  If the Jays can sneak the out-of-options Montero through waivers, the former top prospect could provide some depth at first, though his dominance over minor league pitching has rarely shown itself in the bigs.
Speaking of prospect depth, former Pirates backstop Tony Sanchez was acquired to add depth behind Thole, who provides little value besides decent pitch-framing and the ability to catch Dickey's knuckleball.  Dioner Navarro caught most of Estrada's starts last season, so it will be interesting to see if Estrada could be affected by Navarro's departure to the White Sox.
Devon Travis underwent surgery in November to try fix the shoulder problems that shortened his fine rookie season, and while there isn't yet a firm timetable for his return, the Jays hope he'll be back at second base in May or June.  Given Troy Tulowitzki's checkered injury history, the Jays would've preferred Ryan Goins as a middle infield backup rather than a regular second baseman.  Beyond Barney and minor league signing Alexi Casilla, middle infield depth stands out as question mark for Toronto.  Just recently, the Blue Jays showed interest in Ruben Tejada before the shortstop signed with the Cardinals in Spring Training.
Deal Of Note
While Estrada didn't exactly regret his decision to re-sign so early in the offseason, he told MLBTR's Zach Links that he would've preferred more guaranteed years and perhaps a chance to more fully explore the free agent market.  It seems as if Estrada's early acceptance of Toronto's offer indicated both a desire to return to a contender and perhaps some uncertainty about how the draft pick compensation attached to him (via rejecting the qualifying offer) would've impacted his market.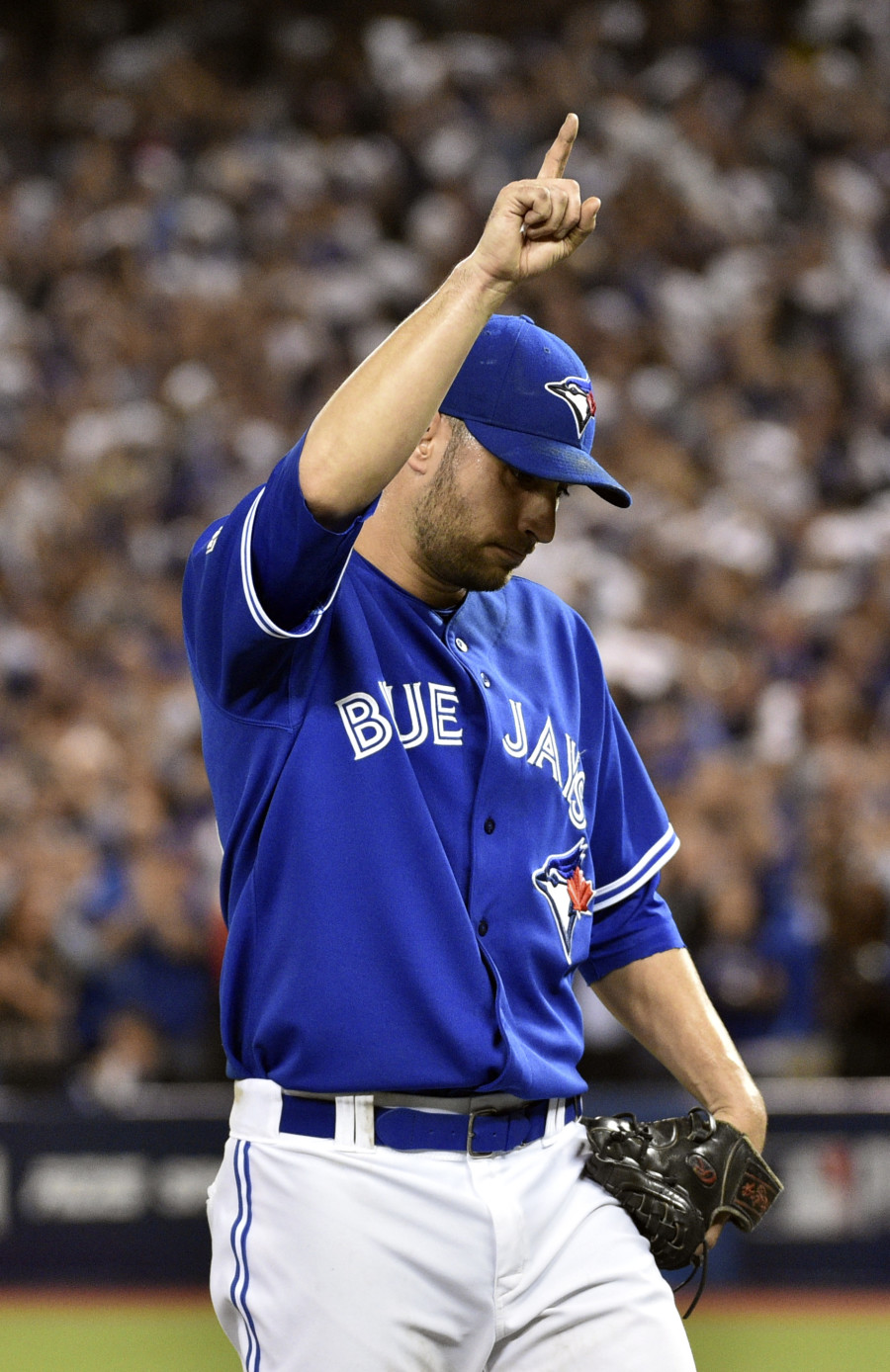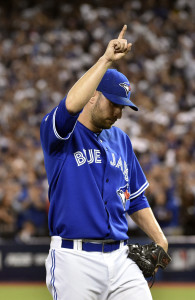 Working mostly as a starter, Estrada has delivered good results in three of the last four seasons, with the one exception being his rough 2014 year with the Brewers that was hampered by an ungainly home run rate.  Still, with declining strikeout rates over the last four years and an arsenal that relies on soft contact, Estrada lacked the pure stuff, strong track record of success or even innings-eating durability owned by the other nine pitchers who received the QO this winter.
As we've seen in four offseasons of the qualifying offer, the market isn't always kind to players in the second tier of free agency who have draft compensation hanging over their heads.  Gallardo, for instance, was on the market until late February before accepting a two-year, $22MM deal from the Orioles.  Despite being two and a half years older than his former Brewers teammate and owning a much shorter history as a reliable starter, Estrada got himself more guaranteed money than Gallardo and three months' less uncertainty about his future.
Had Estrada languished in free agency, the Jays could've possibly saved some money by re-signing him for a lesser deal later in the winter.  That scenario, however, was a risky one for a Toronto club that had several holes to fill in the rotation — perhaps Estrada would've found another deal elsewhere, leaving the Blue Jays having to either spend more on another pitcher or settle for a less-familiar arm.  Signing Estrada so early allowed the Jays to immediately check one major need of their offseason shopping list and focus on other moves.
Overview
Between the Red Sox landing Price and Craig Kimbrel, the Yankees trading for Aroldis Chapman and Starlin Castro, the Orioles spending a fortune in free agency and even the Rays swinging multiple trades for young talent, Toronto's offseason moves generated fewer headlines than their division rivals.  While the winter was short on Anthopoulos-esque surprise blockbusters, the fact is that outside of the rotation, the Jays had fewer glaring needs than the rest of the AL East.
Though the rotation still has its share of questions, it may not have to be any more than merely okay given the Jays' position player strength.  Between Donaldson, Bautista, Encarnacion, Tulowitzki, Goins, Russell Martin, Kevin Pillar, the first base platoon and potentially Saunders, the offensive and defensive quality provided by these regulars is as good as any in baseball.  The bullpen goes at least three deep with quality late-game arms, and that could only be strengthened when Sanchez joins the mix later in the year.  A recipe of relentless offense and a strong bullpen was enough for the Royals to win a title last year, as the Jays saw first hand in their ALCS defeat to the eventual World Series champs.
As MLB.com's Anthony Castrovince recently observed, the Blue Jays are an unusual example of a team that saw its window of contention fully open just as it was going through a front office change.  With so many major players (Bautista, Encarnacion, Dickey, Storen, Cecil, Chavez, Saunders) in their last year before free agency, the 2017 Blue Jays roster is likely to look quite different, so this season is the best chance to both cap off the Anthopoulos era and begin the Shapiro/Atkins era on the high note of another October run.
How do you feel the Blue Jays did this offseason? (Link to poll for mobile app users)
Photos courtesy of USA Today Sports Images