A busy offseason for the Marlins continued Tuesday, as Miami has announced the acquisition of infielder Joey Wendle from the Rays in exchange for outfield prospect Kameron Misner.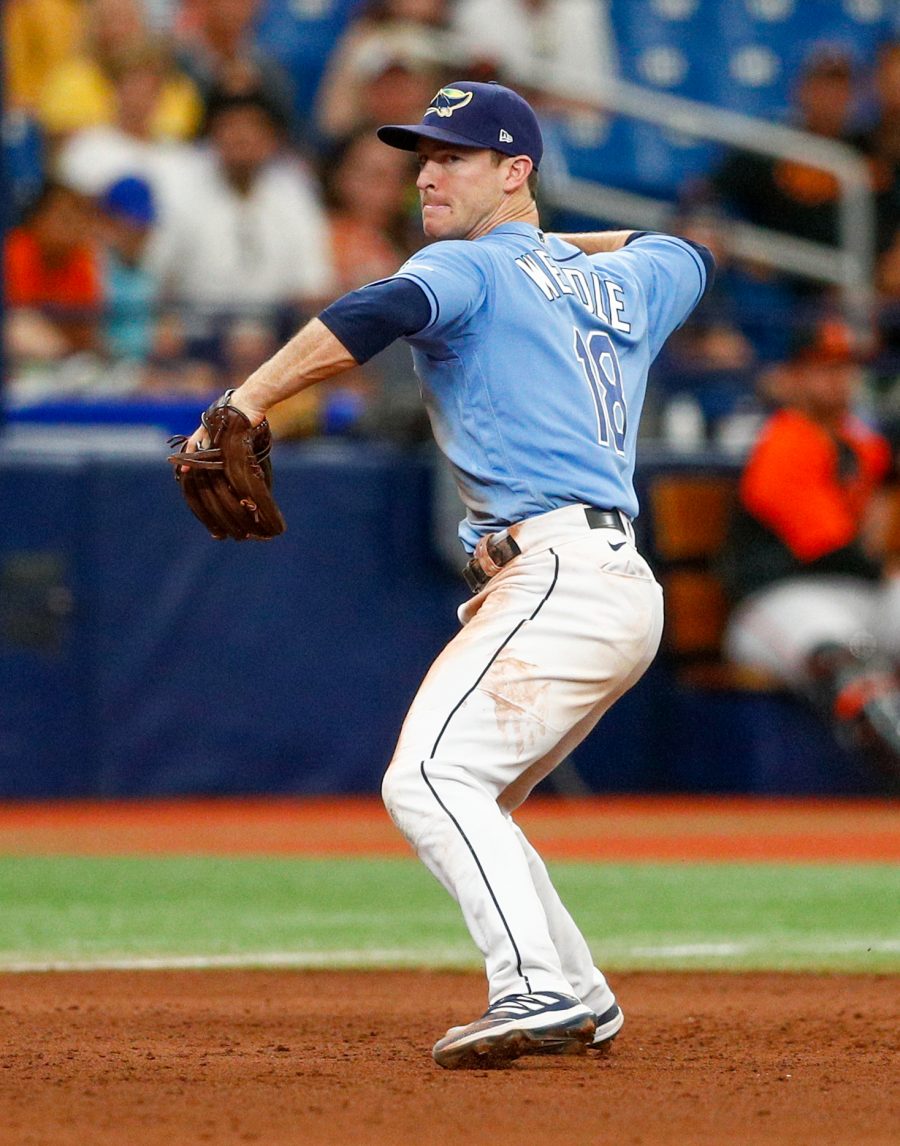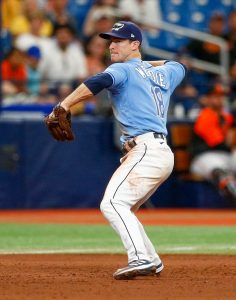 Wendle, 31, gives the Marlins an option at any of second base, shortstop or third base both in 2022 and in 2023, as he's controlled another two seasons via arbitration. The lefty-swinging Wendle provides quality defense at all three of those positions and will bring a largely contact-driven offensive approach to the plate for Miami. He's spent the past four seasons with the Rays, hitting at a combined .274/.330/.414 clip — six percent better than the league average, by measure of wRC+ — with 25 home runs, 86 doubles, 14 triples and 40 stolen bases (in 55 tries) through just shy of 1500 plate appearances.
The Marlins, according to SportsGrid's Craig Mish (Twitter link), plan to utilize Wendle as a super-utility player who'll bounce between second, short, third and perhaps the outfield or first base. Jazz Chisholm and Miguel Rojas have second base and shortstop largely locked down (respectively), while Brian Anderson has been the team's primary third baseman in recent years. Anderson, however, has been beset by shoulder troubles and spent considerable time on the injured list. He's also capable of playing in the outfield corners, so it's at least feasible he could move to the grass in order to accommodate Wendle at the hot corner at times. The advent of a designated hitter in the National League could also lead to some reps for Anderson (or Wendle) there.
The good news for Miami is that they don't have to set anything in stone just yet. Adding Wendle unquestionably improves the roster but does so while creating enough agility for general manager Kim Ng and her staff to cast a wide net in their further offseason pursuits. The Marlins are still seeking a center field option but could also pivot to add a corner bat if there's a chance for an opportunistic strike in left field or at third base.
Wendle's addition is the latest in an increasingly active offseason for the Marlins, who in the past week have signed Avisail Garcia to a four-year contract, acquired catcher Jacob Stallings from the Pirates, and signed rotation leader Sandy Alcantara to a five-year contract extension with a team option for a sixth season.
On the other side of the deal, Tampa Bay has reportedly been exploring the trade market for Wendle in advance of tonight's deadline to tender contracts to arbitration-eligible players. Wendle is projected by MLBTR contributor Matt Swartz to earn $4MM in 2022, and the Rays needed to open a spot on the roster to accommodate their recent one-year, $8MM agreement with veteran right-hander Corey Kluber. The Rays are also deep in terms of infield options; Brandon Lowe, Wander Franco, Yandy Diaz and prospects Taylor Walls and Vidal Brujan give them ample cover at second, third and short.
The addition of Misner, who'll turn 24 in January, is nothing to scoff at from the Rays' vantage point, either. The No. 35 overall draft pick back in 2019, Misner split the 2021 campaign betweenthe  Class-A Advanced and Double-A levels, hitting a combined .253/.355/.433 with a dozen homers, 29 doubles, three triples and 26 steals (in 30 tries).
Scouting reports on Misner tout the lefty hitter's plus raw power, plus speed and solid defensive tools — which make for a tantalizing package were it not for a substandard hit tool. Misner fanned at a 29.4% clip in 462 of his minor league plate appearances this season, and while he offsets those punchouts (to an extent) with a stout 12.3% walk rate, more advanced pitchers will carry greater potential to expose holes in his swing.
The blend of power, speed and defense makes Misner a relatively high-upside name to add to an already deep stockpile of prospects. Misner ranked 10th among Marlins farmhands at FanGraphs, 15th on Baseball America's midseason list and 21st on MLB.com's midseason rankings. The fact that Misner briefly reached Double-A this past season at least opens the door for a potential MLB debut at some point in 2022, though it seems likelier that he'd make an impact in 2023 — assuming he continues to produce in the upper minors.
Craig Mish of SportsGrid and the Miami Herald first reported (via Twitter) that Wendle was headed to Miami. Marc Topkin of the Tampa Bay Times reported that Misner was going back to Tampa Bay in return.
Photo courtesy of Imagn/USA Today Sports.