With 380 outstanding plate appearances under his belt this year, it seems fair to say that Wilson Ramos has finally arrived for the Nationals. And he's done so at an opportune moment for himself as well as the team, as he'll hit the open market after the season.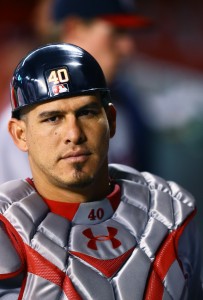 Ramos, who turned 29 just yesterday, has had quality campaigns before, but injuries and inconsistencies had raised questions about his future. Coming into the year, it wasn't even clear whether the Nats would stake an important campaign on the aptly-nicknamed "Buffalo." Though he was back at full health last year, Ramos had compiled only a .245/.275/.375 batting line over his prior two campaigns, and the Nationals were often cited as a possible suitor for a new backstop via trade or free agency.
Instead, the team bet on Ramos's talent, and that decision has paid off in spades. Over his 96 games of action entering play today, Ramos owns a .336/.384/.549 slash with a career-best 18 home runs. Even better, he has done that while improving his strikeout (12.6%) and walk (7.4%) rates. Offseason LASIK surgery was cited as a reason for optimism heading into the year, and it certainly seems as if there's reason to buy into that explanation. Ramos is hitting the ball hard and on a line more than ever before, which helps to support his .347 BABIP (which does still also point to some expected regression). Plus, as noted above, it's not as if this outburst comes totally out of the blue. Ramos ran up a .269/.327/.449 batting line over 2011-13, though he only managed 834 plate appearances in that span due to an ACL tear suffered in 2012.