Heading into the 2023 season, most fans would've expected the NL East to contain at least three legitimate playoff contenders. Few, however, pegged that trio to include the Braves, Phillies and … the Marlins. Conventional wisdom said that the Mets' $350MM+ payroll, the Braves' perennial excellence and the Phillies' 2022 World Series appearance made them the teams to watch in the division. But, here are the Marlins, sitting 60-56 on Aug. 9 and tied with the Cubs for a share of the final Wild Card spot in the National League.
Much of that success has been attributable to Miami's strong showing in one-run games. At 26-10 in such contests, the Marlins have been baseball's best team by a wide margin. Their .722 winning percentage in one-run contests leads the Brewers (21-10, .677) and Orioles (20-11, .645) and is rather comfortably the best in the game. Heck, as I was writing this, the Marlins won another one-run game, thanks to some late heroics from deadline acquisition Josh Bell and the underrated Bryan De La Cruz.
There are certain traits that make a team likely to compete and succeed in large number of closely contested games. A lineup that struggles to score runs in bulk and is heavily reliant on station-to-station baseball — as if the case in Miami — is bound to play in a lot of close games. That's been an apt description of the Marlins so far in 2023; they entered play Wednesday 26th in MLB with 465 runs scored and 27th with 106 home runs.
A strong bullpen that's capable of holding the too-often narrow leads afforded to the pitching staff is also a key factor in mastering one-run victories. Again, that's been the case in Miami for much of the season. While the Marlins shook up their bullpen prior to the deadline, swapping out Dylan Floro for Jorge Lopez (an exchange of struggling change-of-scenery candidates) and trading a pair of prospects for David Robertson, the Marlins have generally had a solid relief corps in 2023. Or rather, they've had a strong top half of a top-heavy bullpen. Adding Robertson to help deepen the group makes the team better, to be sure, but Miami was already had a strong bullpen group thanks in large part to a quartet of left-handers whom they acquired at virtually no cost.
Chief among that group is hard-throwing 29-year-old Tanner Scott. Long one of the most touted arms in the Orioles' farm system, Scott was traded to Miami alongside righty Cole Sulser just before Opening Day 2022. The O's deserve plenty of credit for the team they've put together, but this swap is probably one that Baltimore GM Mike Elias would like back. The Fish landed Scott and Sulser in a trade that sent a trio of low-level minor leaguers — Kevin Guerrero, Antonio Velez and Yaqui Rivera — to the Orioles. None of that trio ranks among the Orioles' top 30 prospects at Baseball America, MLB.com or FanGraphs.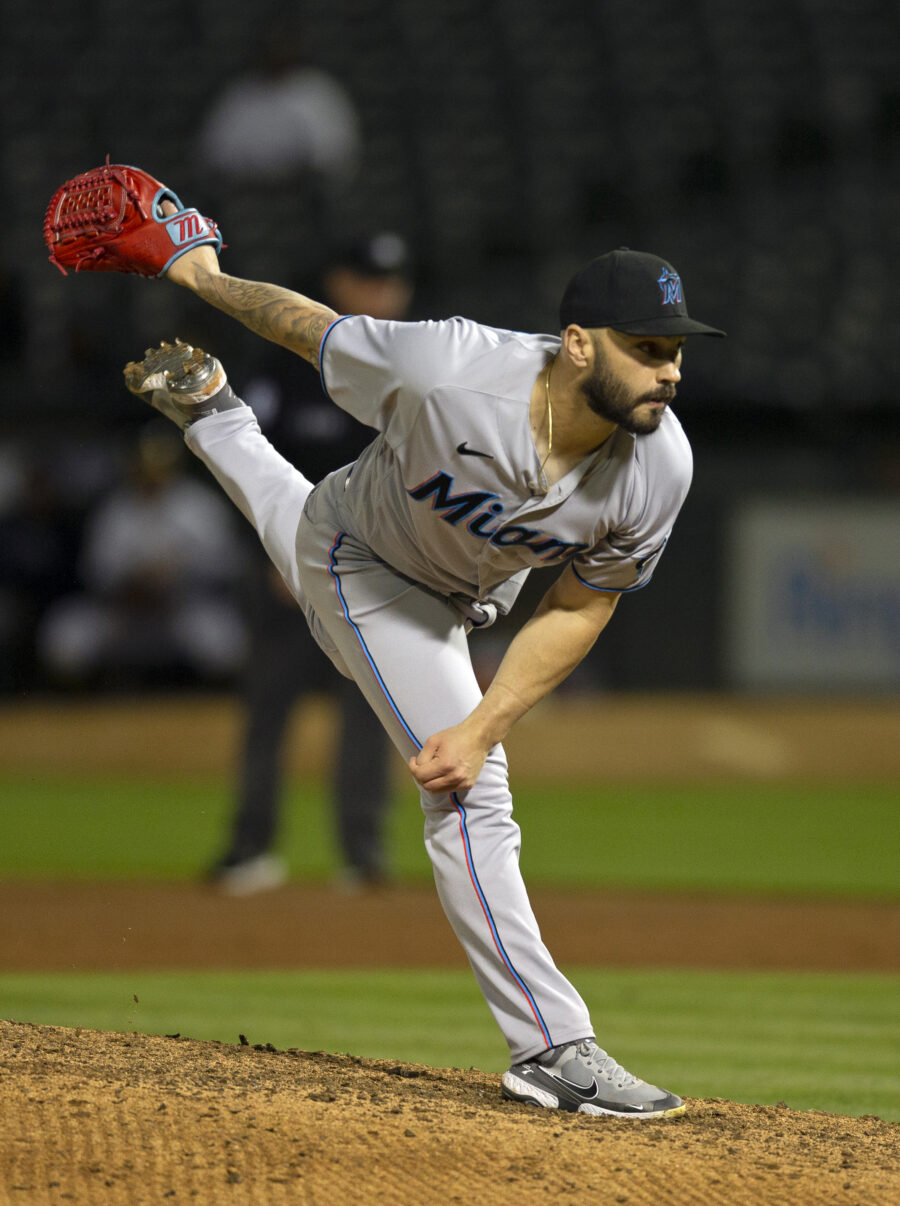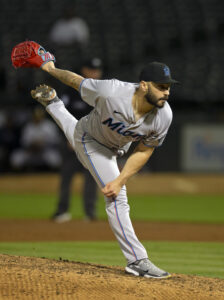 Sulser has already departed the Marlins organization — the D-backs claimed him on waivers last November — but Scott has emerged as one of the best lefties in the game. His power arsenal was always tantalizing, but Scott's lack of command continually proved frustrating for the O's. That continued into the 2022 season, his first in Miami, but the 2023 campaign has been another story. After logging a 4.31 ERA, 31.1% strikeout rate and ghastly 15.9% walk rate last year, Scott is now touting a 2.80 ERA, a 36.4% strikeout rate and a vastly improved 10% walk rate. Yes, it's still too many free passes, but he's improved it as the season has gone on. Over his past 32 frames, Scott has walked only 7% of his opponents.
Scott entered play Wednesday with a mammoth 17.2% swinging-strike rate and 36.2% chase rate — and that's before he struck out the side against the Reds in this afternoon's inning of work. There are only three pitchers in baseball who've thrown 50-plus innings and have a higher swinging-strike rate. Scott isn't working in low-leverage mop-up settings, either. He's piled up 22 holds and a pair of saves, and only four qualified relievers top him in terms of win probability added (WPA). The Fish are paying him a bargain $2.825MM this season and control him through the 2024 season.
Many clubs would be thrilled to simply have one quality southpaw of this caliber, but the Marlins are deeper than any club in MLB when it comes to lefty relievers. Scott might be the biggest name of the bunch, but the Fish are swimming (sorry, sorry) in quality southpaws. Andrew Nardi might be the most anonymous member of the group, but he's been nothing short of outstanding this season.
A former 16th-round pick by Miami, Nardi had an inauspicious MLB debut in 2022, pitching 14 2/3 innings but allowing 16 runs in that time. Few fans looked at him and saw a breakout candidate, but in 39 2/3 innings this year, he's sporting a 2.95 ERA, 33.1% strikeout rate and 6.9% walk rate. He's been limited by a triceps injury this summer but was reinstated from the IL earlier this month and is back working in a high-leverage capacity. Since picking up his first big league save back on May 7, he's pitched to a 1.80 ERA with a 36-to-6 K/BB ratio in 25 innings. He's grabbed eight holds and a pair of saves along the way — and both numbers would be higher had he not spent a month on the injured list in that span.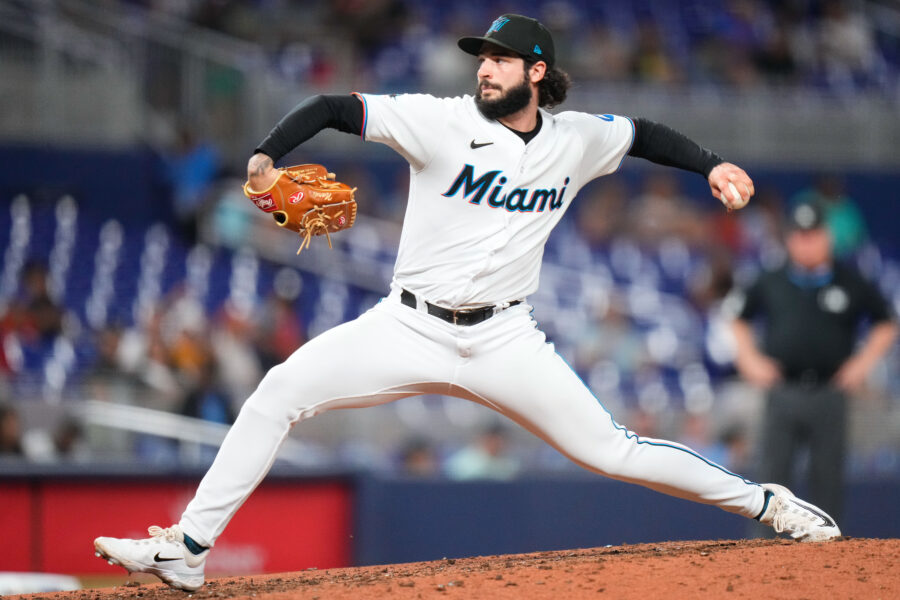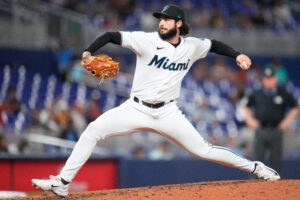 Nardi's 14.3% swinging-strike rate is excellent, and his 35% chase rate is even better. Virtually no one can square up the ball against the 24-year-old; he sits in the 99th percentile of big league pitchers in terms of average exit velocity and the 98th percentile in overall hard-hit rate. Nardi doesn't even have a year of Major League service yet, so the Marlins can control him all the way through the 2028 season, and he won't even reach arbitration until after the 2025 campaign.
There's also 32-year-old Steven Okert to consider — a gem unearthed in minor league free agency. The left-hander came to Miami on a minor league deal in the 2020-21 offseason and, at the time, had just 48 1/3 innings of 4.28 ERA ball under his belt — all coming from 2016-18 with the Giants. In three seasons with Miami, Okert has graduated from a generic depth signing to a stalwart member of a talented relief corps. He's logged 129 1/3 innings with a 2.85 ERA since relocating to South Florida, punching out 30% of his opponents against a 10.6% walk rate.
Again, the walks are a bit too high, but it should be noted that Okert has boosted his strikeout rate to a career-high 33.5% in 2023 while dropping his walk rate to 9% — his lowest mark in three years with the Fish. His velocity has ticked up each season, and the Marlins have scrapped three of his five pitches, turning him solely into a four-seam/slider reliever. Okert pitches more in the middle innings than Scott and Nardi, but he's still picked up 10 holds. The results are outstanding, and he can be controlled cheaply for three years beyond the current season. Not too shabby for someone signed to a minor league deal three offseasons ago.
Left-hander A.J. Puk might be the most recognizable name of the bunch, thanks to both his lofty draft status (No. 6 overall in 2016) and his inclusion in a reasonably high-profile trade this offseason (sending former No. 4 overall pick JJ Bleday back to Oakland). Puk's 4.62 ERA is by far the least impressive of the group, but the underlying numbers are far more impressive. He's fanned 30.9% of his opponents against just a 4.9% walk rate while recording a swinging-strike rate just shy of 15%. Puk had a sub-3.00 ERA himself in early June before a rough patch that saw him allow runs in six of nine appearances. He's since rebounded with four straight scoreless outings, whiffing five hitters without issuing a walk in 3 1/3 innings.
Puk has been hampered by a .337 average on balls in play and an abnormally low 63.1% strand rate, prompting metric like FIP (3.41) and SIERA (2.66) to cast a far more favorable light on the lefty than his earned run average does. Puk certainly wasn't flawless in serving as the Marlins' primary closer — 15-for-21 in save opportunities — and that, coupled with his rough stretch last month, might have nudged Miami to acquire Robertson. That said, lefties who average 96 mph don't grow on trees, and Puk's blend of elite strikeout and walk rates signals better days ahead.
In fact, Marlins relievers as a whole are among the best in baseball when it comes to both piling up strikeouts and limiting free passes. Each of the four lefties profiled here rank in the top 10 of all qualified relievers in terms of differential between strikeout rate and walk rate (i.e. K-BB%). The Marlins are sixth in all of baseball as a collective group in that category, and adding Robertson for the final two months of the season should help them out.
There are plenty of reasons for the Marlins' success this season. Luis Arraez's surefire batting title, big steps forward from Jesus Luzardo and Braxton Garrett, a dominant debut season from Eury Perez and a rebound effort from Jorge Soler have all helped drive this unlikely playoff push. But heading into the season, few would've pegged the Marlins to receive this type of output from their left-handed bullpen corps. Add in the fact that they came to the organization via a minor league deal, a 16th-round pick, and trades sending out three marginal prospects and a former first-rounder who's still struggling in Oakland — and the core of this bullpen is even more impressive. They'll all return for the 2024 season at least, and with Robertson helping lead the charge down the stretch in '23, the Marlins will continue to be dangerous in tightly contested games.