The Minnesota Twins surprised the baseball world in 1987 when they finished first in the American League West with an 85-77 record – just one season after going 71-91. But they didn't stop there; the Twins stunned Detroit (98-64 in the regular season) to win the A.L. Championship Series, then shocked St. Louis (95-67) to bring home a World Series title.
Just four years later, after a complete retooling of the pitching staff, the 1991 Twins rebounded from a last-place finish the year before to win the A.L. West. After dropping nine of their first 11 games, they started putting things together – and eventually went on a 24-3 tear from May 28-June 25 (including a 15-game winning streak). By the time that stretch ended, they found themselves atop the divisional standings – and never entered a day's action the rest of the season looking up at anyone. After defeating Toronto in the ALCS, they outlasted Atlanta in the worst-to-first World Series to bring home another trophy.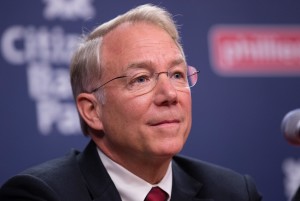 The architect of both championship clubs was Andy MacPhail, who was just 32 years old when he took over as Minnesota's General Manager in August 1985. Now the President of the Philadelphia Phillies, MacPhail took some time to speak to MLB Trade Rumors about the 1991 Twins in this – the 25th anniversary of their last World Championship.
The pitching staff was completely overhauled between 1987 and 1991. The front three in 1987 were Frank Viola, Bert Blyleven and Les Straker; by 1991, Jack Morris, Scott Erickson and Kevin Tapani sat atop the rotation. Jeff Reardon was the closer in 1987; Rick Aguilera was in that role in 1991.
"We had to turn the entire pitching staff over in a four-year period, which was no easy feat," MacPhail said. "As I recall, it was a little bit of everything – trades, free agent acquisitions, minor league free agents, major league free agents … Some came from the system, like Scott Erickson. Some were more high-profile free agents, like Jack Morris. But one of the most critical signings was a minor league free agent named Carl Willis – who ended up pitching the 8th inning and doing an extraordinary job for us. With Willis in the 8th and Aguilera in the 9th, we locked down the last two innings. It just goes to remind you that you have to get contributions from every potential artery you can to improve your club – not just rely on one aspect alone. Tapani and Aguilera were trades. Morris – major league free agent. Mark Guthrie – minor league free agent. They all combined in one year to help us completely turn over the pitching staff."
 The best pitcher on the 1987 team – and the most recognizable – was Frank Viola, who earned World Series MVP honors that season and went on to win the A.L. Cy Young Award in 1988. The trade of Viola at the July 1989 deadline turned out to be a big reason why the Twins won the 1991 World Series, as three pitchers acquired for him – Tapani, Aguilera and David West – became key members of the Minnesota staff.
"At the time we moved him, we were in last place, and it felt like we needed some volume as opposed to one great starter," MacPhail said. "We had a difficult negotiation after the '88 season. He ended up signing a three-year agreement, but we were probably going to have another negotiation that would not be easy. We just felt it was time to make a move. When he went over to the Mets, he won 20 games and pitched well there. Given our circumstances, we were looking for volume. We got Kevin Tapani – who did a tremendous job for us and was an integral piece of the '91 puzzle. And we were able to add David West, who ended up starting and relieving for us over the course of '91. And then another critical piece was Rick Aguilera, who was our closer and filled an important void for us."
From a fan standpoint, moving such a popular player and person as Viola had to be tough. MacPhail was asked if it was harder to remove him from the team because Minnesota was a small market club.
"That was a harder one to do. We ended up doing it right at the deadline on July 31st," MacPhail said. "Back then, it was a midnight deadline. We did it with minutes to spare. It was not an easy decision by any stretch. I remember just wanting to have to sit down for a moment and sort of collect myself. Independent of the market size, it clearly was not an easy decision. It was not going to be popular, because you are trading a known for multiple unknowns to some degree. While I felt conviction that it was the right thing for us to make the trade … I wouldn't say I was conflicted, but I recognized back then that of all the trades I had made in my career, this one was going to have the most riding on it. If it was not successful, it was going to come back and bite you personally – probably in a big way. You trade a potential 20-game winner to a New York club, you better be getting something back."
A year and a half later, the Twins were playing in the 1991 World Series. Vindication, or still a tad conflicted?
"No, the end game object is to be the last club standing. We were able to accomplish that. The pitchers we acquired in that deal were big parts of it. So I felt the actions of the organization were justified," he said.